Family-Owned
TLC Properties' Strong Foundation
Restructuring its management team allowed TLC Properties to weather the recession and grows its business.
By Adrienne Donica | Photos by Brad Zweerink
Jan 2017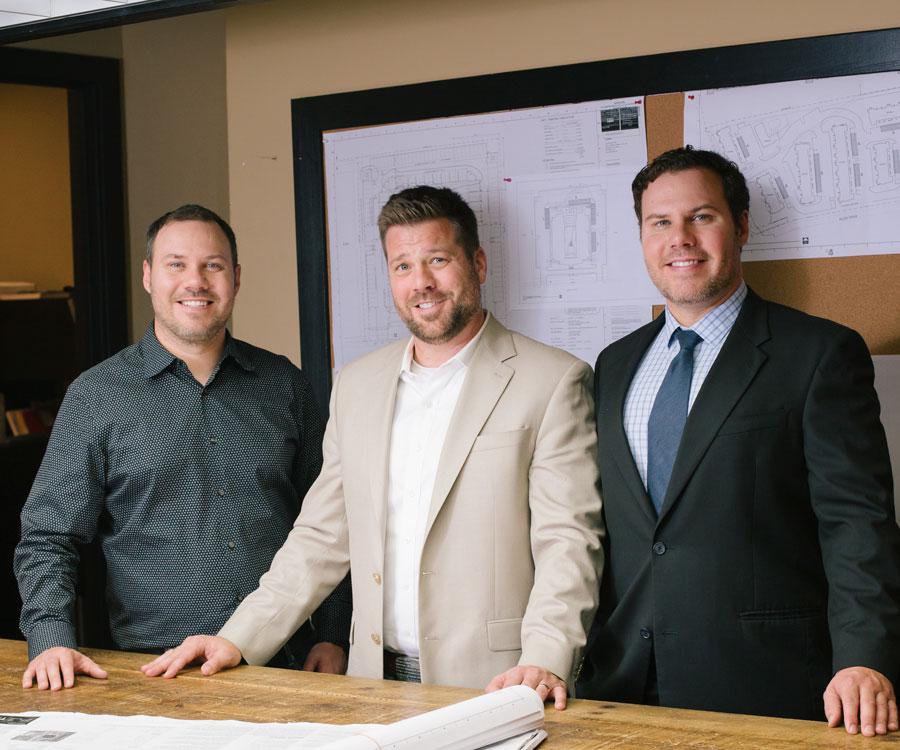 When Sam E. and Carol Coryell started TLC Properties in 1988, they did not intend for it to become a full-time operation. In fact, Sam E. was an Evangel University professor when the real estate company opened for business with a 12-unit apartment community. The couple was simply looking to build up a retirement savings. But within a decade, Sam had retired from his campus job, and the couple's three sons were stepping up to help grow the family company, which today manages more than 25 apartment communities within Springfield.


A painting of The Abbey apartment complex in Springfield, which TLC Properties built and manages.


Sam M., the couple's oldest son and current president of TLC Properties, remembers helping out at the job site of TLC's first apartment complex that was built from the ground up. "I was still in college at the time," he says. "I thought it was really neat to go out there every day and see new stuff, so I switched my major from math to construction management." After graduation, he started working for his family's business full-time and in 1999 started Coryell Enterprises, a construction company that he still runs. Soon enough, Dan and Dave, Sam M.'s two younger brothers, also joined the ranks and worked their way up.


Carol and Sam E. Coryell first founded Springfield-based TLC Properties in 1988 before passing the torch to their three sons.


And then, TLC reached a critical juncture just before the economy did. It was 2008, and the Coryells had a feeling that the economy was on shaky ground. Sam M. noticed that the family's method of leading by committee was causing some communication breakdown. "Our staff people would pick their favorite person or the person they knew would give them the answer they wanted and go to that person," he says. "Communication was a little bit clunky." 
"Try not to get too invested in any one decision."
—Sam M. Coryell
, president of TLC Properties
He suggested to his family that they reorganize, designate one person to lead daily operations and establish a clear chain of command for communication. They did, and Sam M. has been that point person ever since. "Frankly, that reorganization really allowed us to be much more flexible during the recession [and] be able to make decisions more quickly and more clearly," Sam M. says. All five members of the Coryell family still serve on the executive board of the company, along with one non-family representative.
He advises other family businesses to undergo a similar restructuring. "I think the temptation in a family business, especially as the patriarch and matriarch start aging… is to try to make everybody equal," he says. "Families should appoint somebody, one person—either the dad, the mom or one of the kids—somebody who is the day-to-day leader and point person to communicate with whatever staffing is underneath. That chokepoint of information and communication is critical, in my opinion, if you want to grow your company." Additionally, it helps start conversations about succession planning, Sam M. says.
No matter how a business operates, Sam M. encourages family members to put things in perspective and trust one another. "Family businesses are difficult because we are so comfortable with each other, and we tend to be willing to tell each other exactly what we think and if someone's wrong," he says. "Try not to get too invested in any one decision. I try to be fair and give everyone an opportunity and then sometimes say, 'You know what, let's go with that. I don't think that's the right way to go, but let's give it a try [and] see what happens.'"