Family-Owned
Industrial Companies Regroup and Rebrand as Erlen Group
What was formerly known as Springfield Underground is now the Erlen Group. The third-generation rebranded corporation is named for the family's ancestral German village, and it oversees six industrial companies.
By Sony Hocklander
Mar 2019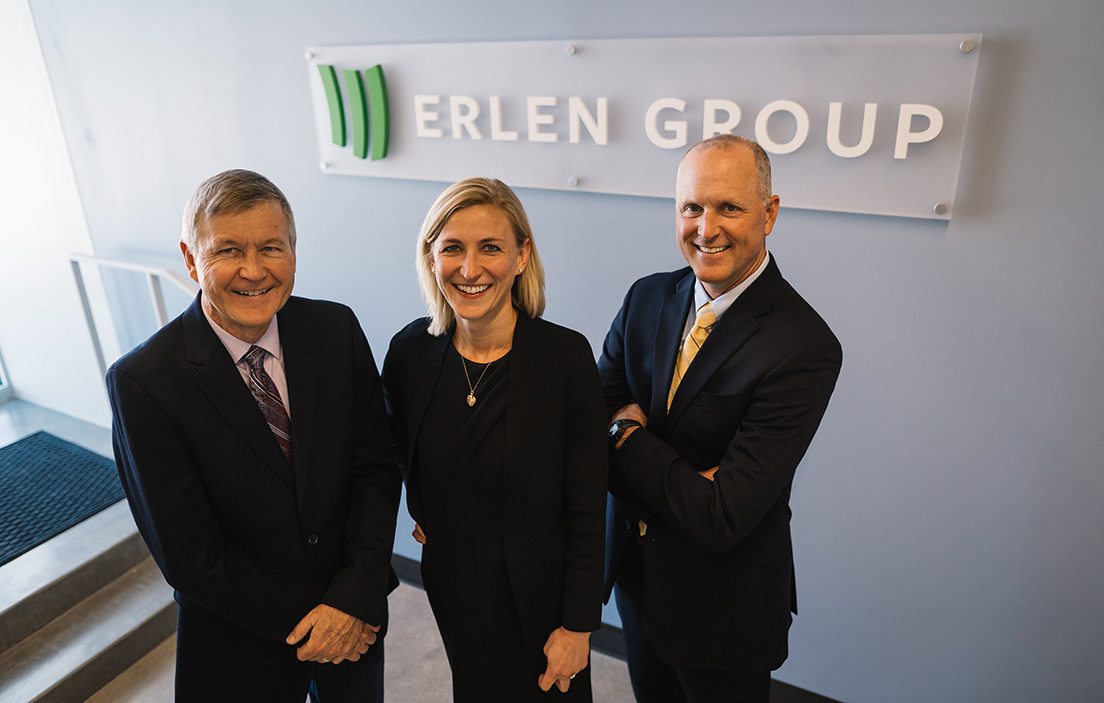 Erlen Group President and CEO John F. Griesemer has a strong business relationship with CFO Christina Angle. Never mind that he remembers when she was born and that he babysat Angle and her younger brother. Griesemer and Angle are first cousins—the third generation to run the family business formerly known as Springfield Underground. "Fortunately we don't know too many embarrassing stories about each other," Angle says with a laugh. Because when it comes to company business, personal lives stay at home. 
There's too much at stake. As both a warehouse operation and location, Springfield Underground is not the only industrial company under the 2018 rebranded Erlen Group. The family of companies also includes Joplin Stone Company founded in 1963; the Frisco Building acquired in 1999; Cold Zone warehousing established in 2008; Westside Stone, a mining company established in 2014; and Ümlaut Industrial, a rail transloading logistics business launched in 2018. It's no wonder Erlen Group's corporate tagline is "From Rocks to Real Estate."
The business has evolved since the cousins' grandfather, Joseph Griesemer, established his quarry company in 1946. He added the warehouse arm when he purchased Springfield Furniture Company, founded in 1891, and renamed it General Warehouse Corporation. From Joseph, leadership passed to son John N. Griesemer (father to John F.), and in 1994 to Louis Griesemer (Angle's father), now retired from the top position.
Today's iteration is a product of growth, board governance, current leadership and fresh ideas. No matter who holds the reins, the company Joseph Griesemer began continues to impact his large extended family. From the shared sweaty memories of working hot summer hard-hat jobs to honoring the legacy of its founder and family patriarch, "the business has helped hold our family together and gives us a common identity," John F. Griesemer says. "Not just financially, but from a work ethic standpoint too."


Rebranding
Griesemer and Angle say this rebranding was long overdue for a three-generation company like theirs. "It provided the opportunity for us to clarify who we are and what we do and to provide a platform for growth going forward," Griesemer explains. Although the business today doesn't look much like the company did when their grandfather ran it, it retains its roots. For many years they were Griesemer Stone Company, General Warehouse Corporation and Security Terminal, the real estate arm, Griesemer says. When his father passed away unexpectedly and his uncle became CEO, the three companies merged under one name: Springfield Underground.
Now the company is the Erlen Group, and Angle says rebranding helped redefine the company. "You have to do a lot of soul-searching about who you are, what you are and what you want to be," she says. "We found the whole experience to be really positive." The new corporate entity—named for the Griesemer family's ancestral German village—was well received by employees. "Overall the employees were excited because it puts all the companies on the same level," Angle says.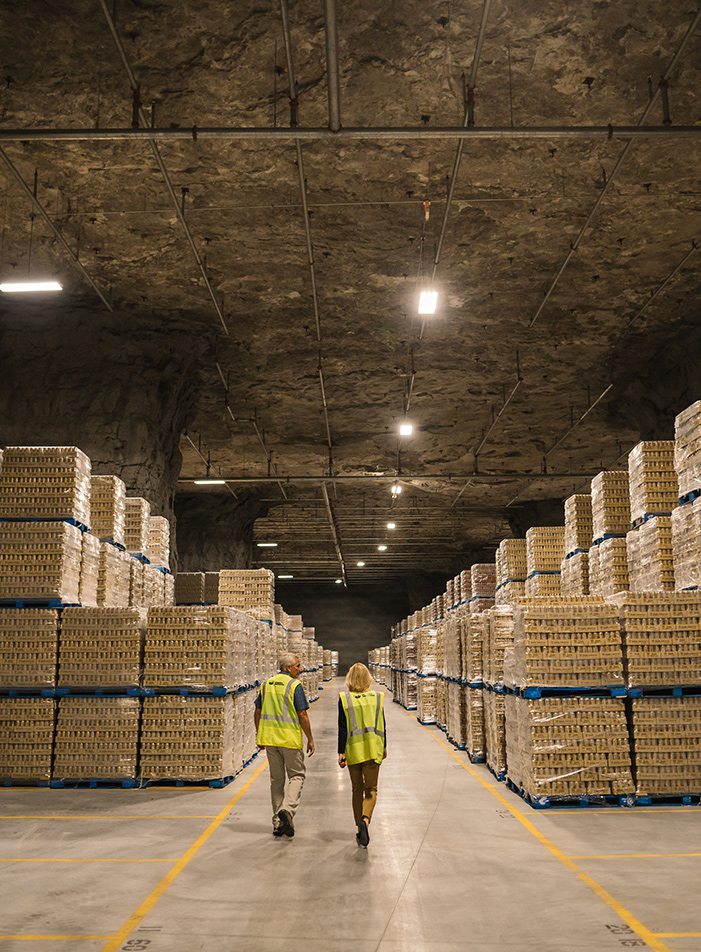 Photo by Ben Matthews
Springfield Underground is a former limestone mine that is now used as leasable storage space. The company is one of six under the newly rebranded Erlen Group.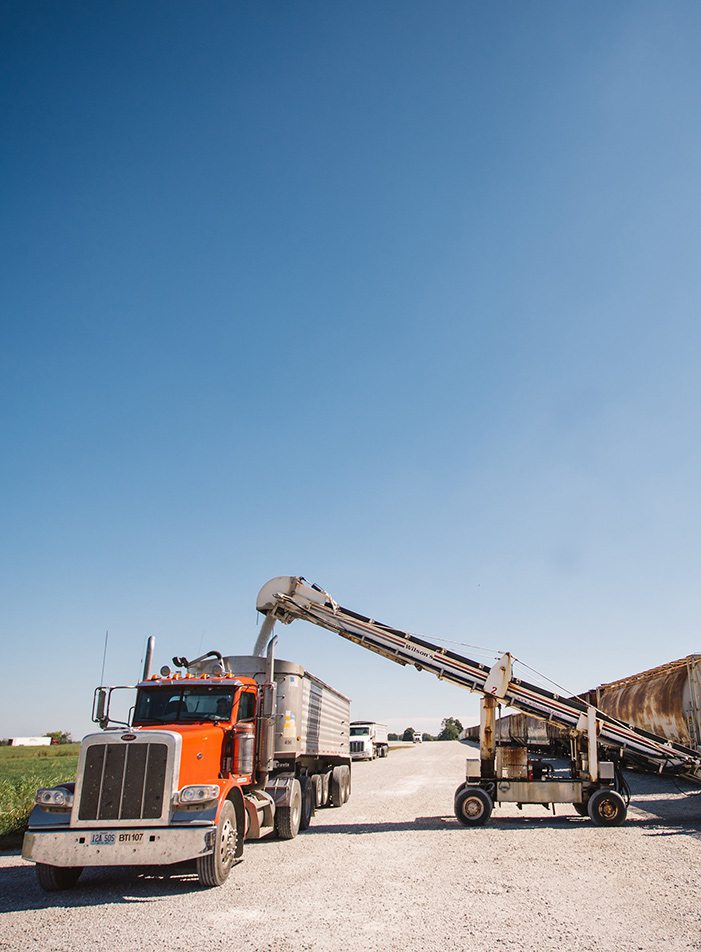 Photo by Ben Matthews
You have Ümlaut Industrial to thank for clear roads in icy conditions. The company transports road salt to MoDOT, Greene County and the city of Springfield.
Life-work balance
Working for a family business brings a unique set of challenges, Griesemer and Angle say. It's even more complicated with a family as large as theirs. Joseph had 14 children, and they in turn produced nearly three dozen offspring. John's father was second-oldest; Christina's father—born 30 years later—was the youngest. 
While many family members have divested financial ties—only 11 family members own shares—they still have emotional ties to the company. That's why this year, Erlen Group is starting a family council. "When you look at family businesses and their governance evolution, family council is one of the things you arrive at in Generation Three," Angle says. The council would address that connection, become a resource and facilitate reunions.
When it comes to balancing business and family, it's best to keep them separate. That's why, especially in second or third generations, it's time for a hard look at governance. In their case, Griesemer says, they established an outside board of directors, removing emotion from decisions about what's best for growth.


More strategies
Each cousin brings experience to company roles. Angle was on a partner track with her previous company and brings a lot of fresh ideas, says Griesemer, former COO and vice president. Family companies should be open to ideas from new generations that may propel the business forward. 
Angle advises family business owners to frequently revisit their purpose. "Do you exist to provide jobs for the family?" she says. "Do you exist to provide wealth for the family? Do you exist to provide jobs in the community? I've only been here three years, but it's a frequent topic of discussion."
Learn strategy from others, Griesemer advises. He's tapped resources through professional associations and has gleaned strategies from local family business owners. "We feel lucky there are so many family businesses in Springfield from which there are shining examples," Angle says. For Erlen Group, success is about the long game. Griesemer quotes their website: "Begin with the end in mind."