Family-Owned
Pearson-Kelly Office Products
Chelsey Bode may sell copy machines, but she's an original when it comes to running Pearson-Kelly Office Products. Even though her dad is still the owner, she's proving that fresh ideas and tenacity are what will propel the brand into the future.
By Jennifer Adamson | Photos By Brandon Alms
May 2016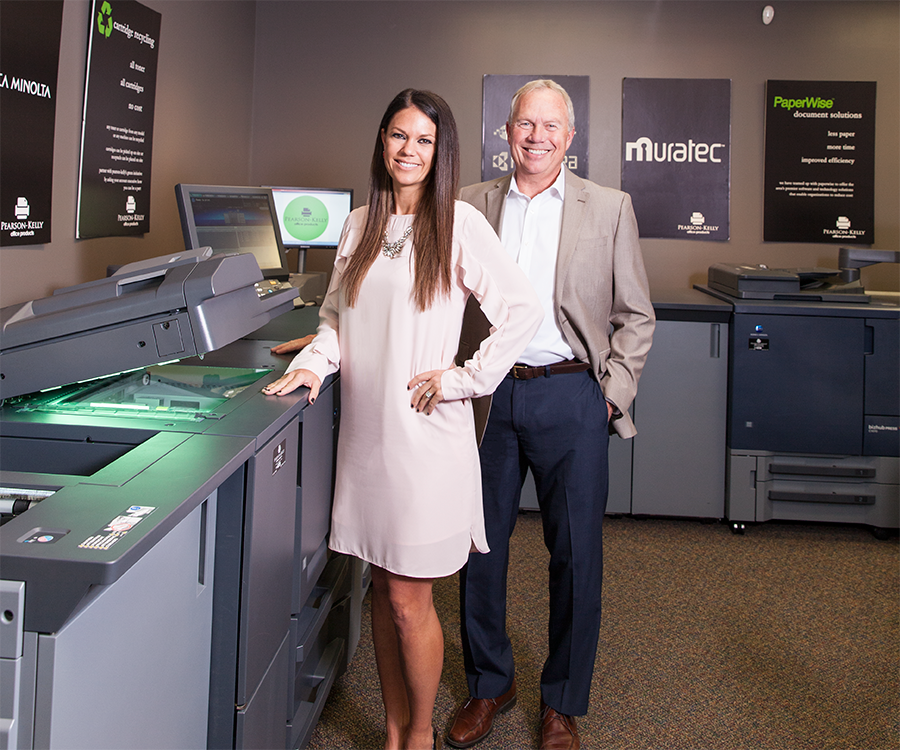 As Vice-President, Chelsey Bode is poised to follow in her father's footsteps and take charge at Pearson-Kelly Office Products. Along with her father, Mike Kelly, she's figuring out how to put her own spin on operating the business he opened 12 years ago, and she's loving every minute of it. Although it wasn't always that way. 
As a marketing major, Bode planned to go into medical sales. Looking for selling experience while she was still in school, she used her dad's connections to land a job at the same office equipment supplier where he worked at the time. The more she learned how technology can simplify workflow, the more the industry appealed to her, and she started thinking differently about her future. After graduation she signed on as a marketing manager for a local real-estate holding company, but she quickly realized she was at a dead end. "I started doing the math and saw where my ceiling was going to be financially and wanted to move on to something different," she says.
Meanwhile, Kelly had also made some professional changes and partnered with another businessman to open Pearson-Kelly Office Products. In 2007, Bode was hired as the company's seventh employee and second salesperson in addition to her dad. "I actually told him I was not going to work for him, but I'm stubborn, and I think I just wanted to do my own thing my own way," she says. Kelly bought out his partner four years later, and plans were set in motion to eventually make Chelsey sole proprietor. "The buyout was probably one of the most educational experiences to date because I was involved with everyone and the valuation process," she says. "My dad is a very hands-off mentor, and the cool thing about how we work together is I feel like [the company] is already my own. He really doesn't micromanage, and we collaborate on most ideas, and there's nothing that I wake up thinking, 'When I have him out of the way, I'd do this.' But my biggest fear will absolutely be not having him to run things past. I like affirmation, and even if I ultimately think I'll do it one way regardless, I still like that camaraderie."



Neither one knows when ownership will change hands, so Bode continues to rely on her dad's guidance and appreciates the way he does business. She's keeping some things the same, like the company's focus on putting customers first, including a promise to provide simple solutions no matter what the office needs. But she's also bringing new ideas to the table. She spearheaded efforts to create a modern logo, reinvent the website, use social media for advertising and transition from pen and paper to digital. "Back in the day when [my dad] started, you put a copier in a van and drove around doing office demos and cold calls," Bode says. "He has that logic, but the millennial generation has a completely different mind-set. I've opened his eyes to seeing things differently, that what was effective two decades ago isn't anymore."
And with at least a handful of competitors in Springfield, Bode's fight to keep Pearson-Kelly on top is working. For the past five years, the company, which now has 29 employees, has averaged 20 percent growth annually, with collective growth reaching 94 percent in the past four years. The company has also begun expanding into other markets. In 2014, Pearson-Kelly opened a small office in Joplin. "The thing I like about our growth is we're retaining our current customers, and our analytics show they're very pleased, but a lot of our growth is new business and people changing over to us based on referrals," she says. 
Bode believes this good fortune comes from having expert knowledge about the profession, offering consistent support to clients and making people more important than the bottom line, something she's gleaned from watching her dad. Translated into advice for other next gen-ers, she suggests keeping sight of foundational values and being strong enough to make decisions that matter, a skill she has picked up under the mentorship of her father. For Bode, this clear-set vision is sure to keep Pearson-Kelly on track for a bright future under her guidance.