Offices
Seven Springfield Office Pets You Need to Meet
Our office pets roundup is back! This time, we meet a collection of cats and dogs who are pulling overtime at local Springfield, Missouri businesses. Find them and give them all the pets.
By Ettie Berneking
Jul 01 2019 at 8 a.m.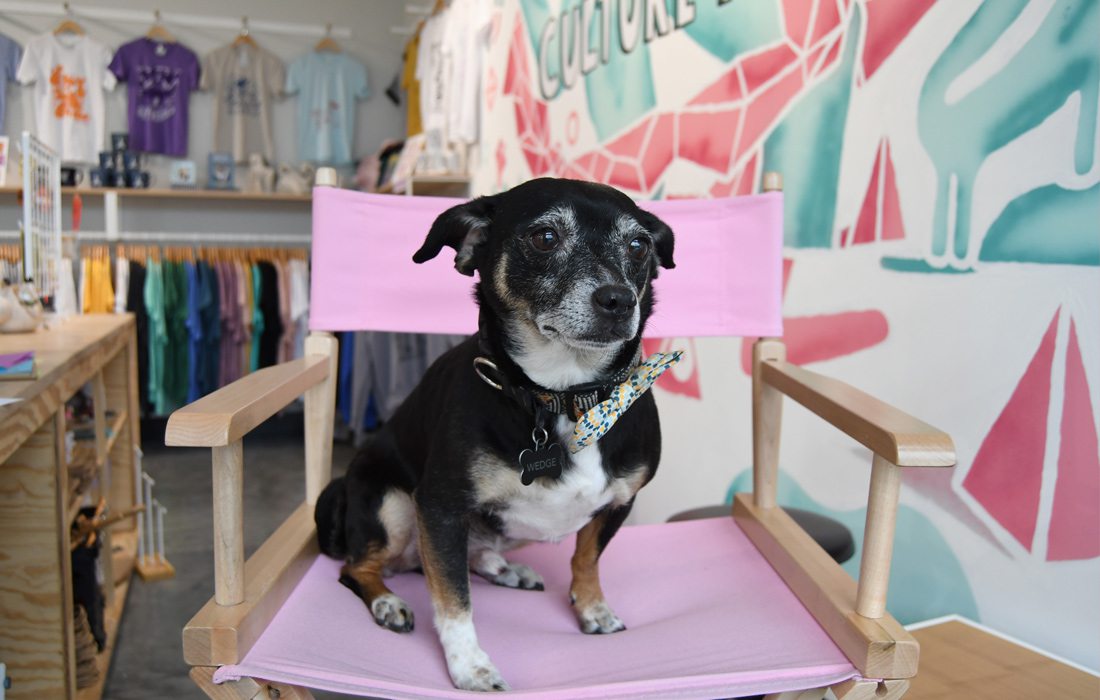 If you followed along with our first roundup of office pets, you probably noticed all the other furry friends readers told us about. They introduced us to cats, dogs, fish and birds who head to work each day, and needless to say, we couldn't wait to meet them all. For our second installment of 417-land Office Pets, we decided to stick with the classics—cats and dogs. Hopefully we haven't offended you already. We've already decided our third roundup will be dedicated to the more unusual office suite mates… get ready betta fish, we're coming for you! In the meantime, let's get to know some of the cutest coworkers here in the Springfield, MO area. Some of them can do tricks while others work overtime as security, but they all manage to improve the workplace atmosphere.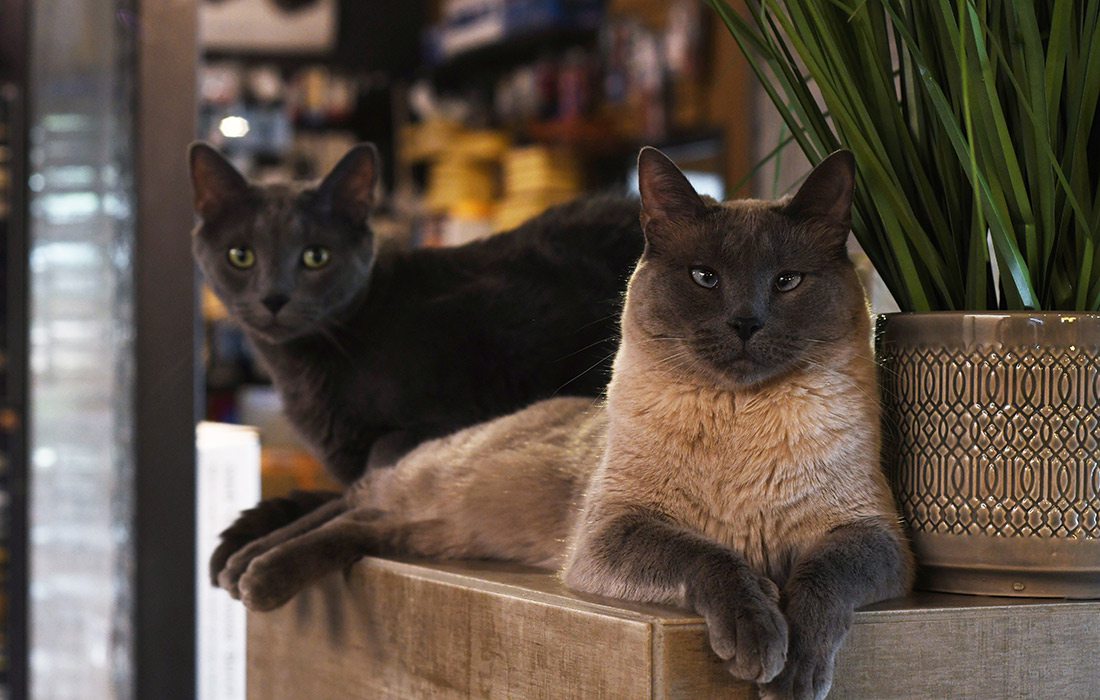 Luca and Carrara at Unique Tile

The first thing you need to know about these office cats: They aren't your ordinary felines. These cats are full-time employees at Unique Tile. Their jobs? Well, Luca and Carrara work on the Fun Committee. Luca is a master at turning any leftover pieces of tape into endless entertainment, and Carrara is always up for a good round of high five. Up high, down low or in the hole, she's a pro. These littermates were born in 2014. Luca, the hugger of the group, is a Russian Blue, and Carrara—yes, she's named after the type of marble—is part Siamese. Besides greeting Unique Tile's team members each morning, both Luca and Carrara play an important role at the shop. "They help with stress," says the showroom owner Melissa Turpin. "I had to call a customer with bad news that we weren't going to be able to deliver when we said we would, and Luca gave me a big hug. That made me feel better." The two fur balls are equally as talented when it comes to entertaining kids whose parents are choosing new tile and countertops. Because Luca and Carrara will take any attention they can get, they don't mind being the play things of bored kids who need a distraction while their parents shop.
Photo by Ettie Berneking
Penny and Wedge brighten up the room when they arrive at work at Culture Flock in Galloway.
Purchase Photo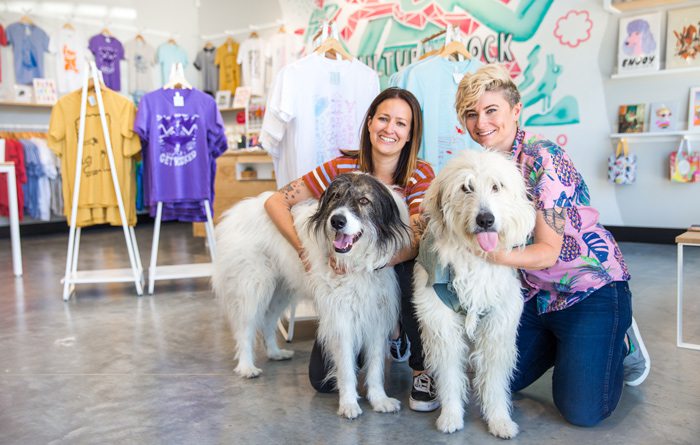 Photo by Linda Huyhn
Culture Flock owners Brittany Bilyeu and Summer Trottier with their pups Hucklebear and Maggie.
Purchase Photo
Photos by Ettie Berneking, Linda Huyhn Culture Flock in Springfield's Galloway neighborhood is a progressive, pink-tinted boutique straight out of a cheeky fantasy land. Four dogs pull shifts throughout the week at the store.
Maggie, Hucklebear, Wedge and Penny at Culture Flock

If ever there was a motley crew of office pets, it would be this bunch. Maggie is a 2-year old Pyrenees-Komondor mix and has her own Instagram @maggietrot. Penny is a 7-year-old golden retriever and collie mix. Wedge is a moody 8-year-old rat terrier chihuahua blend, and Hucklebear is a 5-year-old Pyrenees and border collie mix. While they each show up to work on different days, they all pull shifts at Culture Flock. "They always brighten up the place," says co-owner Summer Trottier. "It always feels happier when they're here. It's good for customers too." That's in part because each pup, even Penny who takes a while to warm up to people, serves as a conversation starter. There are even some customers who follow the Culture Flock team on social media just to see which dogs will be at the shop on a given day. When the front door chime jingles, the dogs are there to greet each customer. But the dogs also help reduce the stress of running the store. "They make me feel like I'm at home," says team member Wesley Hamilton. The dogs are also a great reason to head outside and enjoy the tree-lined walking paths around Galloway. If you swing by the store, be prepared to share some dog toys with whichever pup happens to be on the clock that day. This gang has a few playthings they like to pull out and show off. Finding storage options for pet accessories and toys can be a struggle when your office is already looking a little cluttered, but that doesn't mean upping the budget. "I think of extra drawers as room for pet treats and toys," Gorham says. "You don't need to buy new storage containers for your pet's accessories. Just tuck them away in your file cabinets and desk drawers so things don't look cluttered."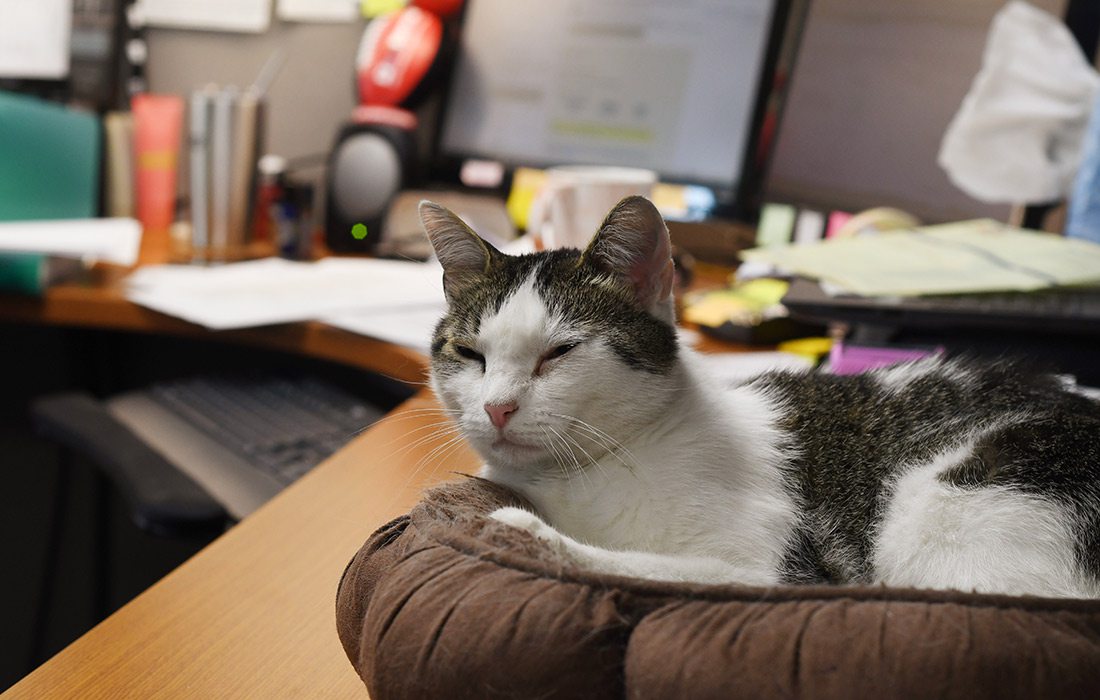 Kitty Paul at Queen City Roofing

When Kitty Paul wandered into the Queen City Roofing shop, she was just a kitten. Weighing barely more than 3 pounds, this ball of fur quickly won over the hearts of the crew including the owner's sister, who once on board, made sure Kitty Paul became a full-time employee. In no time, Kitty Paul's daily meals of lunch scraps morphed into actual cat foot. A litter box was added, and she soon had her own bed and was making regular trips to the vet. "She basically adopted us," office manager Cece Barr says. "We pretty much live in her house." As Barr puts it, every chair is her chair, which means office furniture sees some serious wear and tear. "Everyone is concerned about durability and cleanability even if they don't have pets," says Grooms Account Executive Victoria Gorham. But that doesn't mean your office furniture has to feature hard vinyl. "We steer away from light shades of upholstery just to avoid cleaning more frequently," Gorham says. "It's all about the finish applied to your furniture. For example, we have many textile companies that offer an added top finish that gives fabrics a 'Rain X' effect. Coffee, water, etc. will roll right off." That's good news for Kitty Paul who lives full-time at Queen City Roofing. She mostly sleeps during the day when she's not popping into offices to get a few head scratches or greeting the guys in the shop each morning. Once evening arrives, Kitty Paul heads outdoors when she officially clocks on. Her job is rodent control. Since Kitty Paul arrived, the mice and lizard population around Queen City Roofing has decreased dramatically. Some workers were even keeping a running tally of her kills. On the days when she gets trapped inside, especially during the weekend, Kitty Paul rages and redirects those hunting instincts toward the innocent pushpins on cubicle walls and piles of paper neatly arranged on desks. But come Monday morning, Kitty Paul is as loving as ever.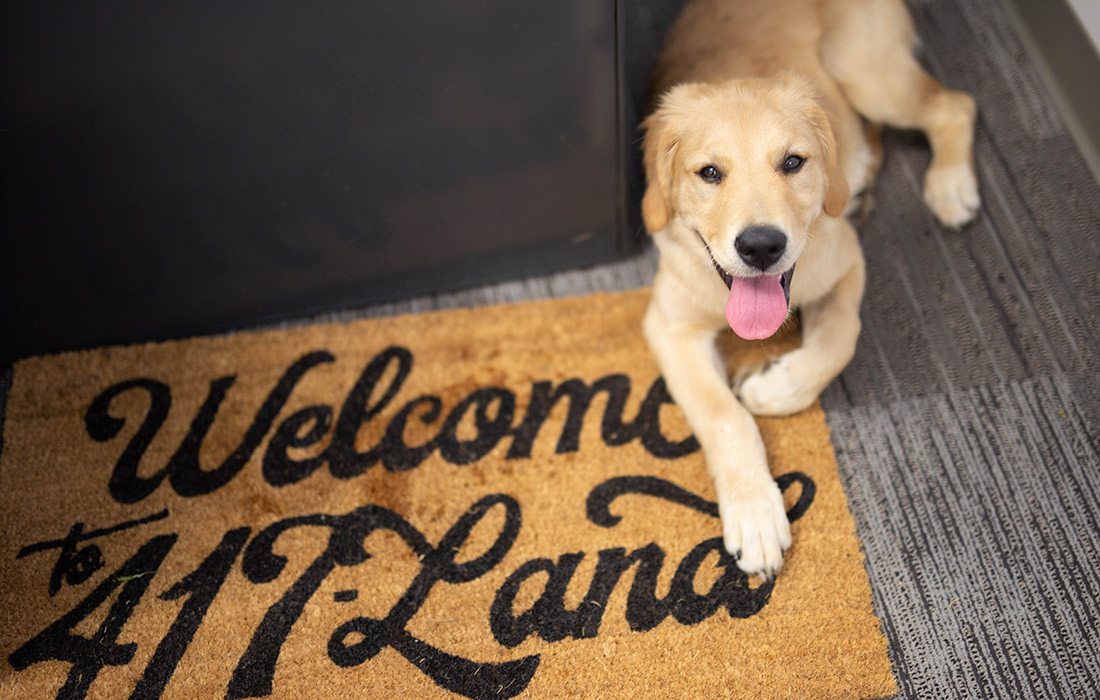 Captain at 417 Magazine

If you've ever been to the 417 Magazine and Biz 417 offices, you've probably noticed our team is made up of mostly women. It's something we've come to love and appreciate. That said, we were pretty pumped to welcome the latest male team member into the fold. At just 4 months old, Captain is now the fourth male associate at 417, but this golden retriever pup almost didn't join the team. "That wasn't really the plan at first," says President and Associate Publisher Logan Aguirre. "I knew with my schedule I wouldn't have time to run home and let him out, and no doggy day care would take him this young." The solution was simple—Aguirre needed to turn Captain into an office dog! "The first day I brought him in, everyone was so excited," Aguirre says. "I think he really charmed everyone right away." Like any true office pet, Captain spends his mornings touring the office before dumpster diving for loose Cheetos bags, take out containers and beef jerky wrappers. After that, it's nap time. For those dog-lovers who want to follow Captain on his journey in publishing, you can see what he's up to on Instagram.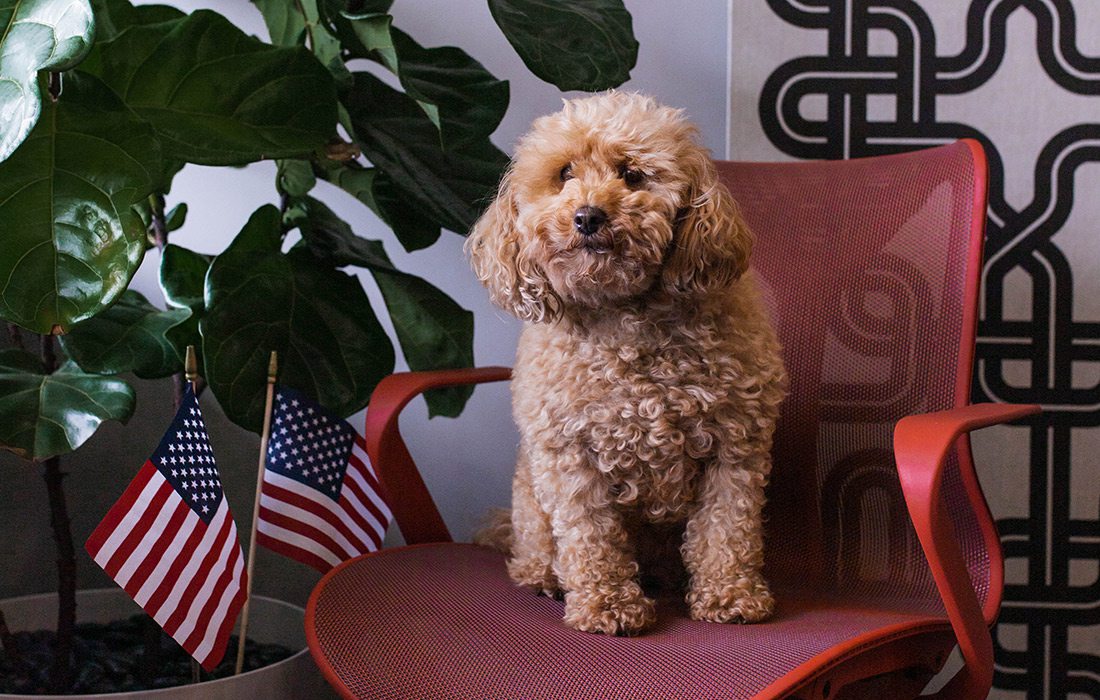 Darby at Grooms Office Environments
There are two big reasons you should stop by the Grooms Office Environments showroom in Springfield. The first is to get some inspiration for redecorating and organizing your office. This showroom always has the latest gadgets, chairs, desks and cubbies. But the second reason you should make a pit stop at Grooms is to meet Darby. This 8-year-old mini goldendoodle is one of the cutest greeters we've met yet. She's also hypo-allergenic, which is a big plus considering Groom's never knows which clients might have allergies. The curly-haired Darby has been a regular at Grooms for the last year. Her owners Audrey and Jonathan Garard—who also happen to be the owners of Grooms—started bringing her to work after Darby's fellow goldendoodle passed away. "She was hiding under the bed and not eating, so I started bringing her to work, and she loved it," Audrey says. "She was happier, and our whole staff was happier. She adds a sense of family and steadiness to the office." Her signature move each morning is a three-bark welcome. From there, Darby makes her rounds to say hi to the team and even has a tendency to find her way onto the laps of clients. "She is a total opportunist," Audrey says. "Her best moment was when she sealed the deal with a client by laying in their lap through the entire meeting." When she's not canoodling with customers, Darby has two office beds to choose from, and her selection of seating might soon increase. The Groom's team attended a trade show recently and fell in love with a new selection of pet beds. The wood-trimmed beds from National Office Furniture can double as storage or end tables and don't stand out as an eye sore like so many pet accessories. "They create a cohesive look," Gorham says. "They can actually serve as a statement piece that people love adding to their workspace."

About Grooms Office Environments: For more than 40 years, Grooms Office Environment has provided commercial interior design services including space planning, project and move management, healthcare and systems furniture as a full-service Herman Miller dealership. Whether you need to furnish a single office, a new building or even a single workout space, Grooms' expertise can work for you. Grooms clients include Jack Henry, Prime Trucking, Oak Star Bank and CoxHealth Network.