Offices
Huddle Up: Peep the Coolest Collaborative Spaces in 417-land
Six of the best places in 417-land to divide and conquer, huddle and converse. Presented by Grooms Office Environments.
By Dayle Duggins | Contributing authors Ettie Berneking, Karlee Renkoski, Stephanie Towne Benoit
Jul 14 2017 at 3:34 a.m.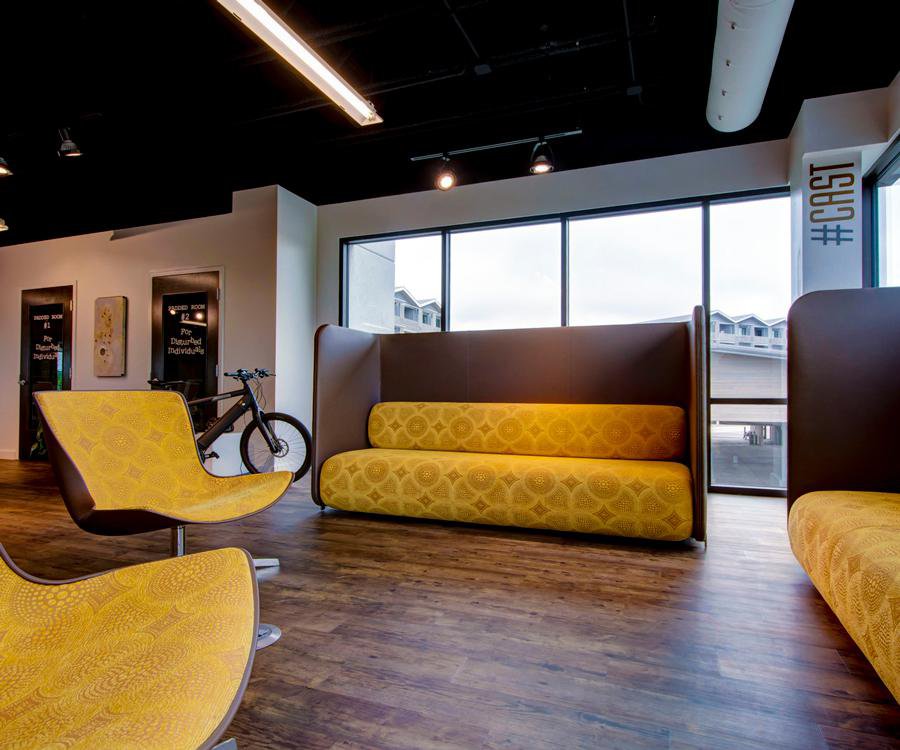 Stand up from your desk and look around your office. What are your coworkers doing? 
Most humans are probably at their desks grinding away. Others are in a conference room—all eyes locked on a TV screen. On the other side of the office, a department meeting that just concluded has overflowed to a cluster of desks. In the kitchen, a few Chatty Cathys are caffeinating while talking about an upcoming project. In the majority of these instances, people are collaborating to problem-solve or achieve a common goal.
According to Herman Miller, a leader in problem-solving design, no matter what kind of work you do, the work gets done by engaging in 10 specific activities. How many times do you find yourself chatting, playing show and tell, huddling, and creating in a day? Chances are, it's pretty frequent. And if you've ever found yourself talking in a hallway or stairwell, you're probably collaborating in less-than-ideal environments. 
Jonathan Garard, owner of Grooms Office Environments, is on a mission to help companies understand and define how their employees are working today. "Collaborative spaces are more than just furniture," Garard says. "When overall function of your space is not thoroughly considered, there's bound to be consequence." These decisions put a variety of things at risk including your bottom line, attraction, retention, sense of belonging and employee satisfaction. "The right use of space and mix of settings that are tailored to your organization will free people to realize their full potential," he says.
"You have to discover how your employees work and all the activities that are happening within your workspace and we'll give you the settings to support those activities," Garard says. Check out six local businesses that are at the top of the collaborative spaces game.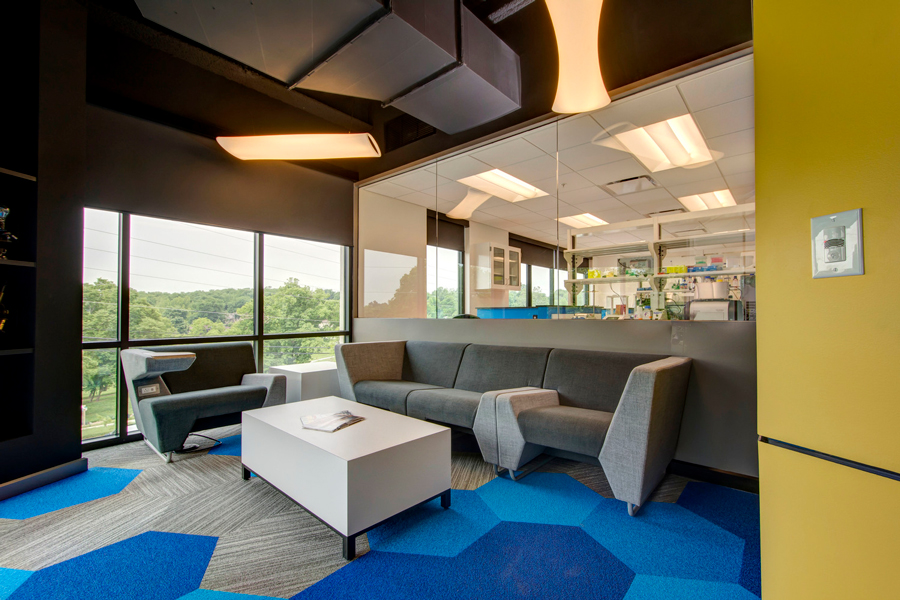 Dynamic DNA
Dynamic DNA's bright, naturally lit lounge room offers a fishbowl view of the laboratory. Senior scientist Rhy Norton says the lounge room is used for a variety of activities including client meetings, team powwows and breaks throughout the day. "There's a TV, so we'll sit down and do a webinar, or if we all need to look at a document together, we'll throw it up on the screen," Norton says. 


Springfield Public Schools Kraft Administrative Center
The open concept design of Springfield Public Schools' Kraft Administrative Center aims to maximize efficiency, according to SPS Director of Communications Teresa Bledsoe. Flexible spaces with multi-functional furnishings like variable height computer tables on wheels create an environment that allows employees to work independently or collectively. "The open layout promotes communication and collaboration, but also offers enclosed spaces such as glass booths equipped with sliding doors that can be used when privacy is needed," Bledsoe says. 


HEALTHCAREfirst
HEALTHCAREfirst's web developers work in an open environment that includes spacious desks with permanent seating, room for roaming laptop workers and endcap seating ideal for collaboration. 
"We actually have a lot of remote employees, so when they travel into the office it's extremely nice and convenient that they can have their own workspace and still collaborate with others on the team," says Erica Bradshaw, HEALTHCAREfirst's executive assistant and contracts manager.

CAST
CAST, a workspace cooperative run by Green Circle Projects at Farmers Park, recently added rolling partitions around their semi-private conference area. "The space is very popular with our coworkers," says Jessica Pearson, marketing director for the Green Circle Projects development team. "They love the natural light combined with the ability to arrange the partitions." In addition to serving as space separators, the partitions are made out of whiteboards, a useful quality during meetings. 
Assemblies of God Credit Union
According to Jon Dodd of Buxton Kubik Dodd Creative, Assemblies of God Credit Union wanted an open environment that was kind of an exposed structure, a fun atmosphere that was colorful and collaborative. "They didn't want to just stick people in rooms with acoustic walls to separate one department from another, even though there were some areas that needed a little more acoustical control than others," Dodd says.
"Thirty seconds of conversation wins over nine emails every time," Garard says, noting the importance of having areas dedicated to simplistic interactions.


Prime Trucking
Prime Trucking's recently revamped call center is pristine to say the least. This collaborative space connects allows people to chat, huddle or co-create with a TV. It's informal enough to not require a conference room booking, and can even be used by individuals looking for a place to land and spread out work. 
---
About Grooms Office Environments: For 40 years, Grooms Office Environments has provided commercial interior design services including space planning, project and move management, healthcare and systems furniture as a full-service Herman Miller dealership. Whether you need to furnish a single office or a new building, Grooms' expertise can work for you. Grooms clients include Jack Henry, Prime Trucking, Bass Pro Shops and CoxHealth Network.