Offices
How to Reopen Your Office During the COVID-19 Pandemic
We've gathered tips from locals across multiple industries to maintain safety in the office as 417-land businesses re-open.
By Christy Howell
Jun 03 2020 at 11:58 a.m.
Most of us are in business because we love it. We're passionate about the work we do, the change we make and the people we help. And while we'll all miss working in our sweatpants… we're ready to leave the home office and get back to the traditional one! 
PRESENTED BY
COVID-19 changed things for business. Many of those changes might need to be implemented long-term for companies, as we attempt to bring employees (and customers!) back on the saddle with a sense of safety and security. National and local statistics vary, and recommendations change frequently, even under the strongest leadership. Business owners have mastered the art of resilience and the "pivot." Now, how do we thoughtfully prepare to operate when the risks are still out there? How do we keep our employees safe and productive? How do we provide continuity of service to our customers and clients? 
There are no guarantees, but these five considerations focus on employee wellness, social distancing and enhanced sanitation.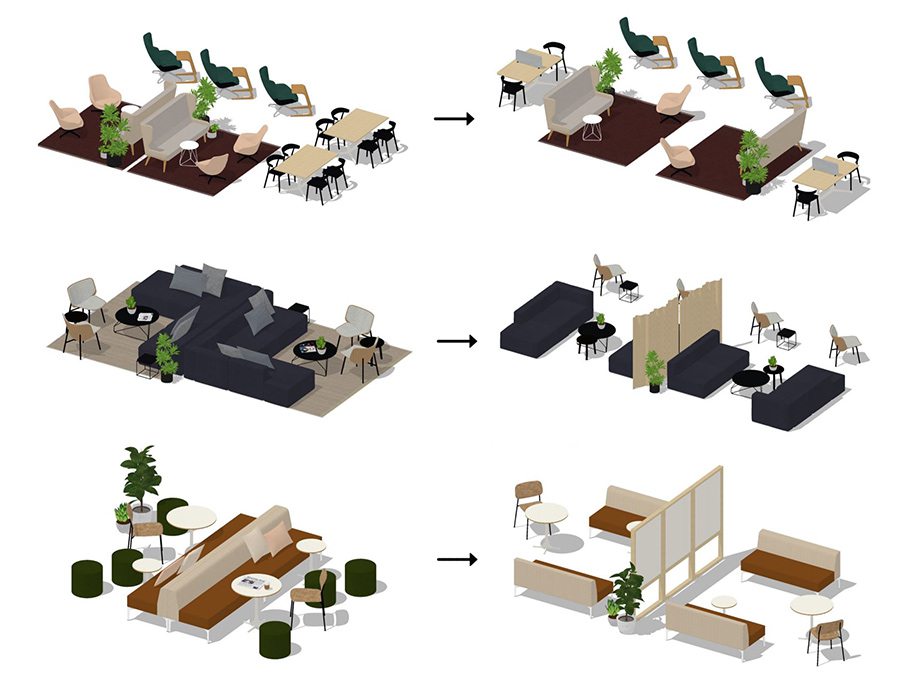 1. Play musical chairs.
It's time to eliminate some chairs from your meeting rooms, conference rooms, waiting rooms, the boardroom, the break room, the list goes on. It sounds harsh, but when you take away the option to gather in the traditional ways that employees are used to, it will help break old habits and reinforce everyone's efforts to distance. 
Emily Laurie, Marketing Director for Hogan Land Title Company, says they have removed all the seating options from their lobby. Drastic? Yes. Effective? Absolutely. 
You can also help foster an environment of six-foot-safety by reworking your current layout. This can be difficult to visualize when you've always had your furniture a certain way. The mockups above created by Grooms Office Environments Sales Manager Victoria Gorham demonstrate that re-arranging your space can be simple, free and effective.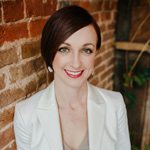 "Even though it may feel like a strange new normal, physical distancing is one of our best tools against COVID-19," says Katie Towns, Assistant Director of Springfield-Greene County Health Department. "Encouraging people to keep distance between each other limits the virus's ability to pass from person to person. And, it's still important to keep doing other things to protect ourselves, like staying at home when we are sick, cleaning regularly, hand washing and covering coughs and sneezes all help too."
2. Divide your team. 
This isn't a recommendation you hear at the annual team-building retreat. But it's something to consider for now. Is it possible to keep the majority of your employees working from home? For businesses that depend on close client relationships, can those be maintained from a distance? 
Hogan Land Title Company has been setting the standard for safety measures in the local real estate industry. Hogan's Marketing Director, Emily Laurie, explains that since their operations are essential, they've adopted shift work as one of the many precautions they're taking. Some employees work in the office in the mornings, others in the evenings and some on the weekends. 
The bottom line: Fewer people in an enclosed place at once gives your team more capacity to spread out and, hopefully, less risk of sharing anything undesirable.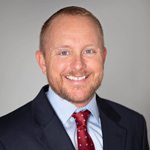 Marty Diebold, Financial Advisor with Edward Jones, says that his office has remained open and operating throughout the pandemic, but closed to outside visitors. He's helped his clients achieve their financial goals using virtual technologies. Regarding a timeline for re-opening the branch to the public, Diebold says, "That will be based on the best interests of our clients and associates, our designation as an essential business and our responsibility to our community."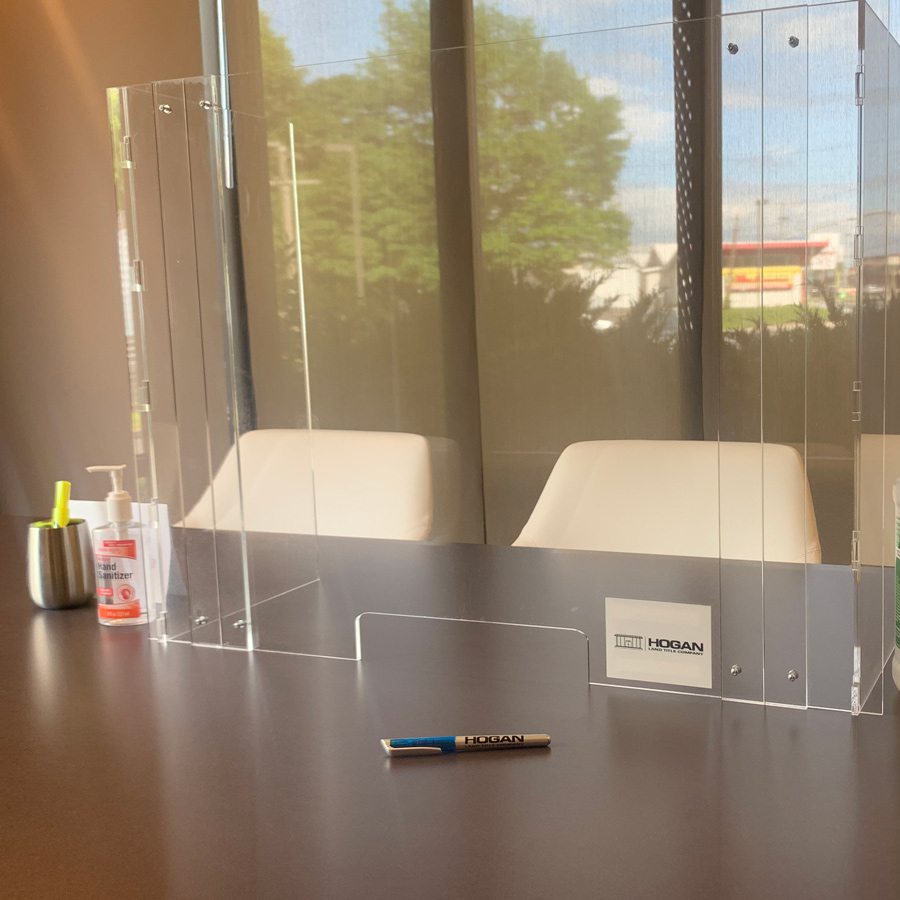 Photo by Holly Foss
Hogan Land Title uses local options for increased safety at their closing desks, including counter shields from BJ's Trophy Shop.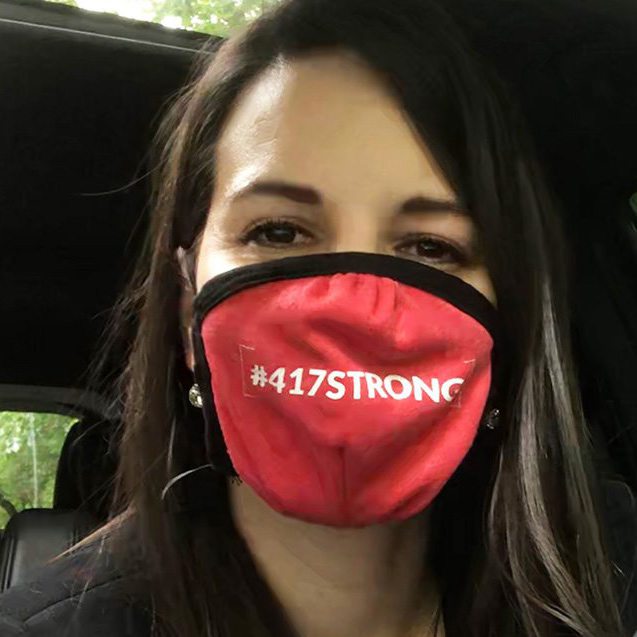 Photo courtesy Dee King
Dee King sporting a #417strong mask made by The Greek Corner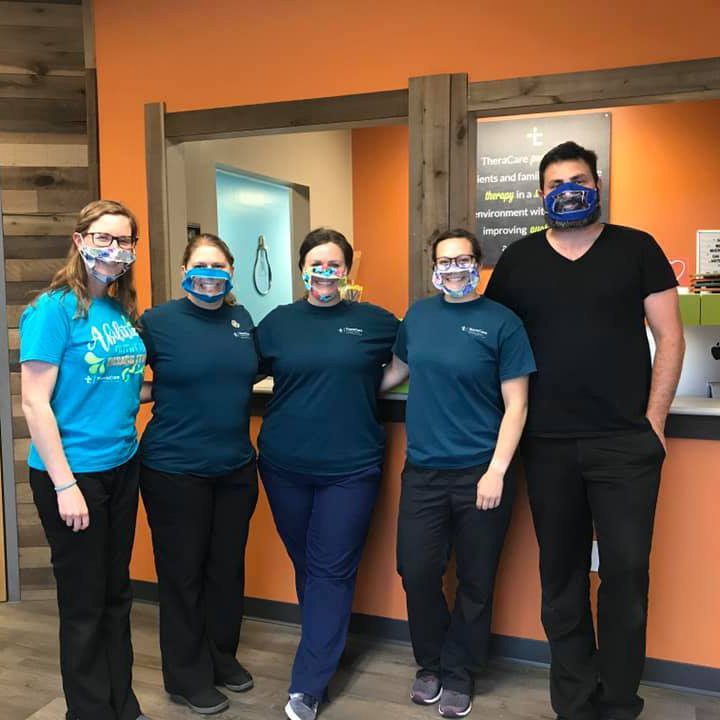 Photo courtesy TheraCare
TheraCare thanks Face Masks by Rebekah for these clear panel face masks, which make it easier for them to provide essential speech therapy to children while lowering the curve.
Different employees and customers will have different levels of concern over COVID-19 risks. You can help them all feel comfortable with the help of local businesses.
3. Work fast. 
Small changes can make a big difference in the security your employees feel about being back to work, and local companies can help right away. 
BJ's Trophy Shop is producing acrylic counter shields and can customize them to the size you need with your full-color logo or other information on them. 
Local seamstresses like Face Masks by Rebekah are taking orders and working all-nighters to fill the demand for face masks as quickly as possible. Branded masks are even catching on—you can make yours with The Greek Corner Screenprinting and Embroidery. 
Nixall's disinfectant/sanitizer has been approved by the EPA! It can make a big difference if all employees make it a habit to disinfect hands and surfaces anytime they pass by a bottle.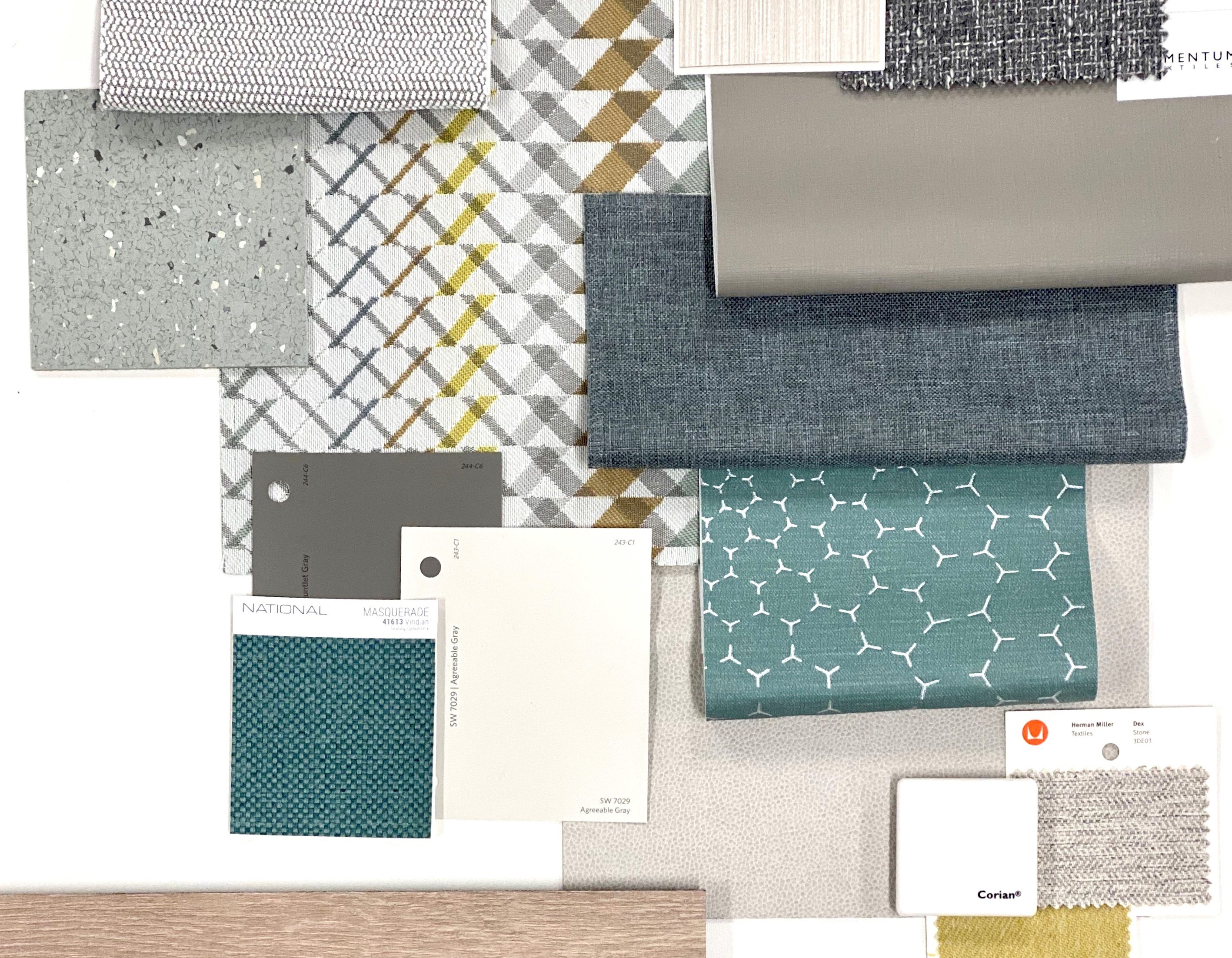 4. Cleanability is key. 
Speaking of sanitation, start asking questions about how your office space is cleaned. 
Robert Davis, President of Champion Professional Cleaning Services, says that approximately 50 local businesses trust his company with recurring cleaning services. For a business with employees and customers returning after the shutdown, Davis suggests a one-time deep cleaning of all surfaces in the facility. After that, sanitization should be maintained regularly, with extra attention on high-touch areas such as door handles, desks and countertops, computers, telephones and even pens or pencils that may be shared.
Of course, thorough and repeated deep cleanings have the potential to quickly wear out sensitive materials and fabrics. "Many people will want to move toward only allowing vinyls or polyurethane materials into their space," Gorham says "But we can show business owners that there are a lot more sophisticated options available that offer similar benefits."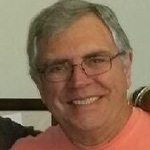 Champion Cleaning has seen an increased awareness of the need for sanitizing procedures to both protect the health of employees and customers, as well as the need to help people feel comfortable in the office."Going forward, Champion is taking the temperature of our cleaners at the start of each shift, as well as requiring the wearing of face masks and the expanded use of gloves and hand sanitizer," says president Robert Davis.
5. Plan ahead. 
If designing an expansion or a new build is in your future, plan to incorporate the things we've learned from this experience, regardless of whether you think we're likely to face a global pandemic again. 
"Instead of worrying about spending a bulk amount to change employees' workstations to be taller or larger, work to focus on community areas," Gorham says. "Make special accommodations for your meeting rooms, printing areas or break rooms. Open environments allow people to spread out while still being able to collaborate." She feels this is an opportunity for well thought-out, functional spaces where employees can thrive.
Will things ever go back to business as usual? In some ways, we hope not. But we're preparing to move forward in a way that's functional for a post-COVID future. 

About Grooms Office Environments: For over 43 years, Grooms Office Environments has provided commercial interior design services including space planning, project and move management, healthcare and systems furniture as a full-service authorized Herman Miller dealership. Whether you need to furnish a single office, a new building or even a home office, Grooms' expertise can work for you. Grooms clients include Rooney McBride & Smith, Burrell Behavioral Health and Guaranty Bank.