Offices
Inside Mid-Missouri Bank's New Modern Headquarters
Local partners, led by Buxton Kubik Dodd Design Collective, worked together to create Mid-Missouri Bank's new state-of-the-art building in Springfield.
By Brian Riedy | Reported by Christy Howell
Nov 11 2020 at 11:50 a.m.
Mid-Missouri Bank (MidMo) opened its 13th retail facility and headquarters in October. If you've driven down James River Freeway, you've probably spotted its super-modern glass exterior or experienced the glow emitting from it in the evening. We needed to know more, so Biz 417 got all of the details from MidMo's President and CEO Brian Riedy.
PRESENTED BY

MidMo had specific goals and priorities for the new facility, that include:
Energy Efficiency
MidMo's priority was to promote an energy-efficient facility by focusing on passive solar building design. Solar gain assists with warming the building in the winter through southern glass exposure, while limited windows and ample reflective surfaces on the east and west sides of the building limit solar gain in the summer. They believe it is a responsibility during every building design to prioritize energy efficiency.

Modern Design
"I believe simplicity is the ultimate form of sophistication," Riedy says. "The design of this building is both function and form, resulting in a space that focuses on both the customer and employee experience." The goal of MidMo's retail bank facilities is to provide the best customer experience by focusing on consultative sales, education and support—highlighted through an Experience Center and cafe. These goals are accomplished through facility design and employee approach. Digital signage allows for highly visible, simple and efficient messaging.

Daylighting
In addition to the energy efficiencies gained, daylighting through expansive windows provides effective internal lighting, which is extremely beneficial for both customers and employees. Daylighting benefits include improved mood, enhanced morale, heightened energy and reduced eye strain. Almost the entirety of the north and south sides of the new facility are covered with glass.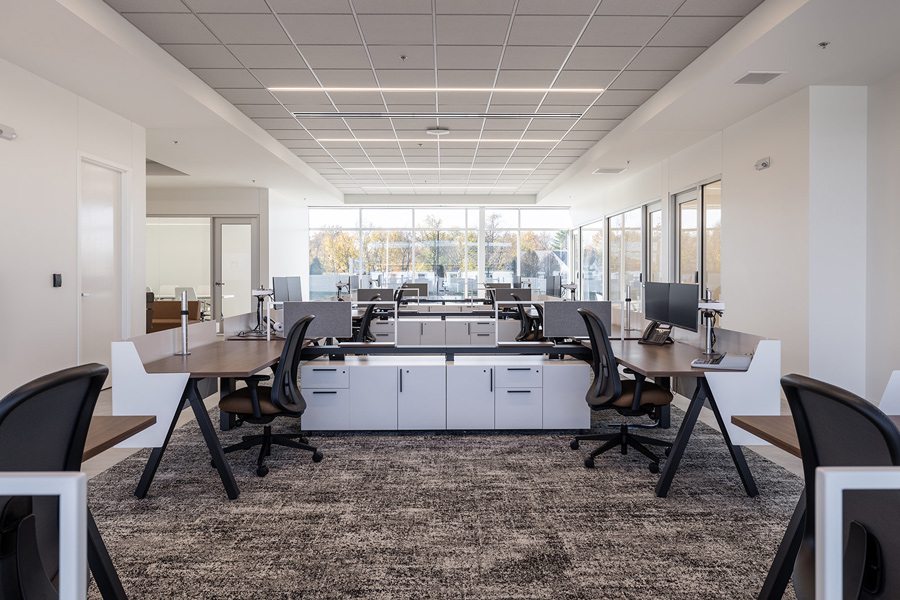 Collaborative Spaces
In addition to the above, the floor plan was designed to encourage communication and collaboration. Offices were de-prioritized in favor of open office spaces, highlighted by daylighting and efficient workspace design. Buxton Kubik Dodd Design Collective designed these open area workstations to achieve the look and function with the Herman Miller Vista line. The true collaboration feature to highlight the new building is the third floor rooftop patio and break room, which includes a café, lounge, dining area and informal meeting amenities.
Mid-Missouri Bank is building the community bank of the future in the Ozarks today. You can see their newest location for yourself at 1615 East Independence in Springfield or learn more about their easy online banking and free mobile apps here.
Mid-Missouri Bank is building the community bank of the future in the Ozarks today. Learn more about MidMo's online banking and free mobile apps.
1615 East Independence, Springfield
417-890-3333


About Grooms Office Environments: For more than 40 years, Grooms Office Environments has provided commercial interior design services including space planning, project and move management, healthcare and systems furniture as a full-service Herman Miller dealership. Whether you need to furnish a single office, a new building or even a single workout space, Grooms' expertise can work for you.