Offices
Four Color Palettes That Won't Kill Your Mood or Creativity
Put down that color wheel, and ditch those paint samples. Finding the right paint color for your office should start with these four options.
By Ettie Berneking
Nov 02 2018 at 2:14 p.m.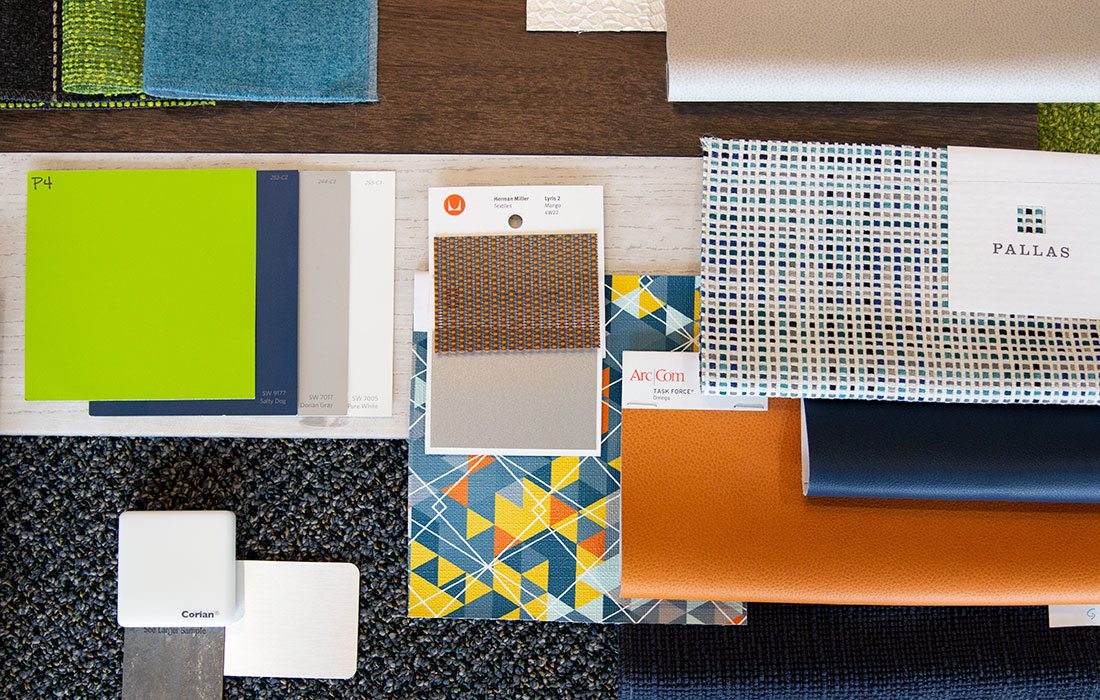 Behold the power of a new paint job. Fresh paint can inspire, motivate, empower, relax and, most importantly, provide an updated and polished look to even the most outdated office buildings. But finding the right color that looks great, blends into your office environment and appeals to even the crankiest of employees is not always easy. "Color is subjective to everyone," says Mykayla Thompson, an interior designer at Grooms Office Environments. "There is a significant amount of research regarding color theory and the psychological impact it can have on individuals. Color influences productivity, creativity and mood at work." And because we can't all pick Pantone's color of the year, slap it on the wall and call it a day, Mykayla has narrowed down the best four colors for a happy and productive office.

PRESENTED BY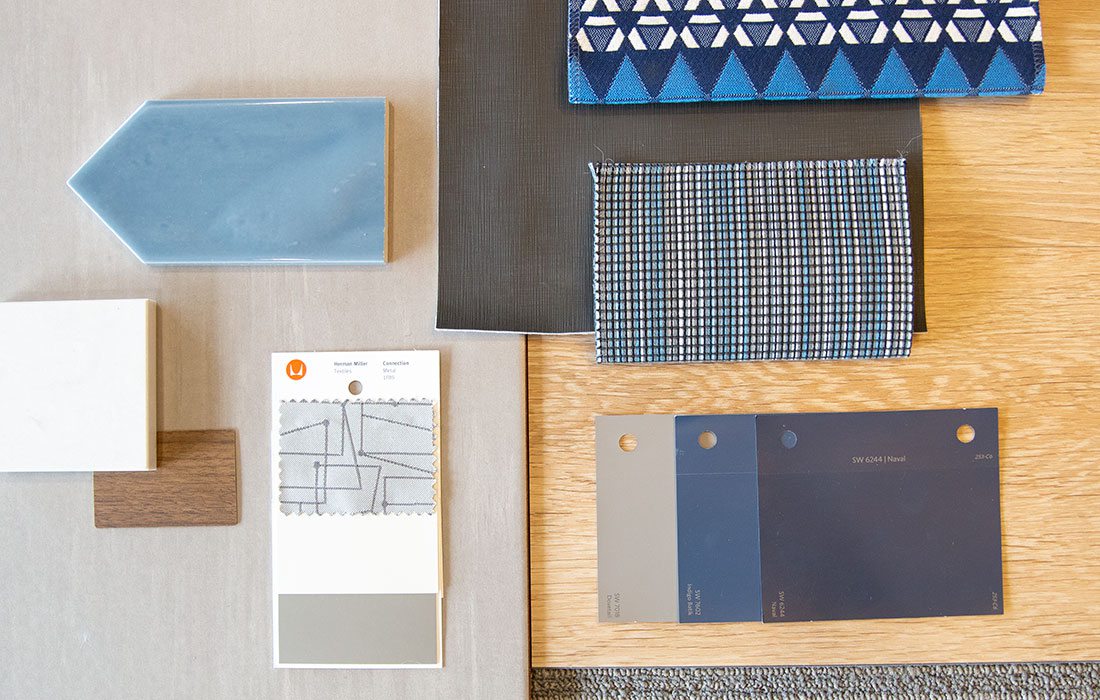 Blues
"Blue represents trust, logic, communication and efficiency," Mykayla says. "This is a great color to use if your employees require focus and mental strain while working." Choosing the right intensity of blue depends on your office. Mykayla says this is true for all paint colors, which is why she recommends working with a designer who has a trained eye and can catch small details most of us would overlook. But in general, lighter blues are more soothing, while a higher intensity hue can amp up stimulation. 
It's not just office buildings that are paying more attention to their paint colors. Schools and early education centers are also carefully sorting through their color wheels. While Mykayla was working on the interior design of Neosho Junior High, she used different colors to separate louder and more social environments from classroom settings. "Their school colors are black and gold, so public spaces are school spirit focused, while the learning spaces have greens and blues to stimulate learning and focus."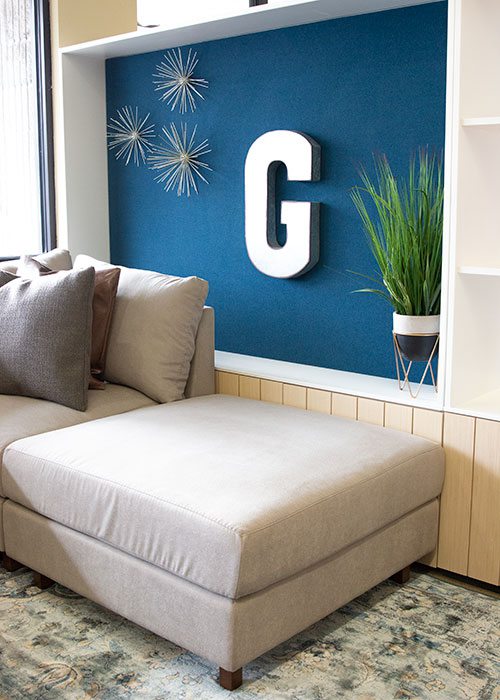 When in doubt, ask a designer to help narrow down the right shade for your office environment.
Purchase Photo
Photos by Linda Huynh
Reds
There's nothing subtle about the color red, but used wisely, this vibrant hue can empower and motivate your crew. The key to success, as Mykayla explains, is using reds in smaller more strategic areas. "Red represents courage, strength and excitement. Use red in areas of your office that require physical exertion." Use it on a statement wall or as a bold backdrop. Coat the rest of the office in a more subdued shade, and that pop of red will stand out without overpowering the senses. Plus, it's a great way to break up the monotony of greys and whites that have taken over the office place.
"Lots of offices are going modern and using a cool grey palette," Mykayla says. Used correctly, that crisp shade of grey can look modern and sleek, but "when used inappropriately, it can also create a lack of confidence and depressing mood." Solution? Add a pop of bright color or bring in some new office furniture that features bold patterns and colors.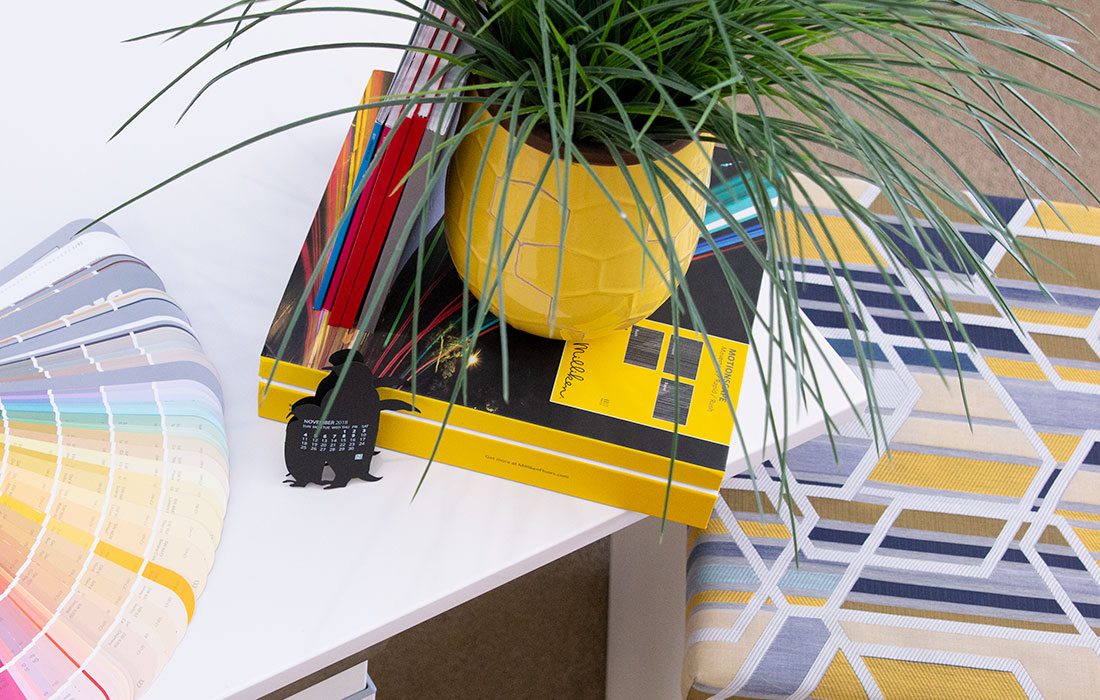 Yellows
Chances are, you grew up or lived in or worked under the sheen of an outdated yellow color palette. Yellow was wildly popular in the '90s—especially that mustard yellow. But despite its almost vintage status, yellow is making a come back. Just be sure to use it sparingly. "It can look dated if you use too much of this color," Mykayla says. Plus, yellow can be a surprisingly divisive color. "I feel like people either love it or hate it," she says.  
But if they do love it, it's probably because yellow represents creativity, friendliness, optimism and confidence. It's an emotional color, much like purple. But, unlike purple, yellow is more approachable and won't evoke a sense of spirituality and luxury you might not be looking for at the office.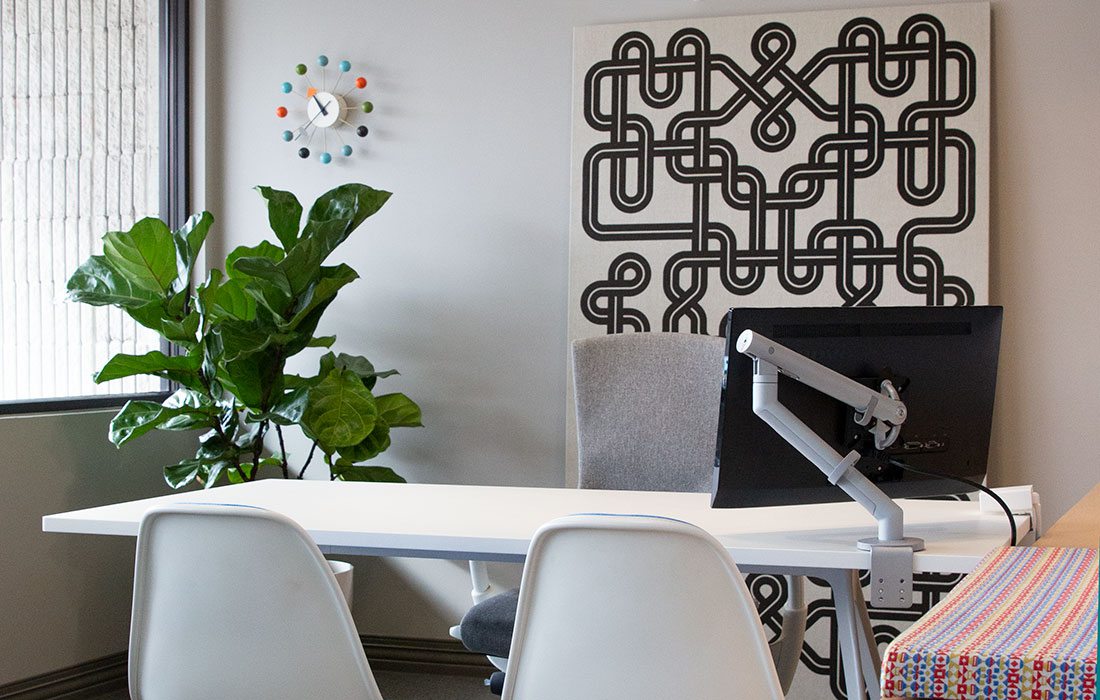 Greens
From Yoda and Frankenstein to It's Always Sunny in Philadelphia's green man, some of the most beloved characters are green. Which is why it's not at all surprising that green is one of the best colors to use when freshening up the workplace. It works well as a statement piece or as an accent and can swing from soothing and uplifting to moody and stylish. The best way to find the right shade is to simply test it out. "Get a sample and test it on your wall," Mykayla says. "Everyone's lighting will be different, so test in a well-lit area and in a shaded area to make sure you'll like both of the colors you're going to get." 
Green represents harmony, nature and restoration, it's also the easiest color on the eyes. So if you have employees working long hours, Mykayla suggests checking out shades of green. "Connect with a design professional who has experience in the field and a trained eye," she says. "A design professional can help narrow down a palette and also help identify what colors will work best for the end users."


---

About Grooms Office Environments:
For 40 years,
Grooms Office Environment
has provided commercial interior design services including space planning, project and move management, healthcare and systems furniture as a full-service Herman Miller dealership. Whether you need to furnish a single office, a new building or even a single workout space, Grooms' expertise can work for you. Grooms clients include Jack Henry, Prime Trucking, Bass Pro Shops and CoxHealth Network.