Offices
5 Keys to Creating a Home Office Even When You Have Limited Space
Turn any empty corner of your home into a cozy office with these tips from Grooms Office Environments.
by Ettie Berneking
Jan 18 2022 at 8 a.m.
Growing businesses aren't the only ones updating their office spaces these days. The home office is also getting plenty of love. "We have seen an uptick in people creating home offices," says Lisa Gaunt, Design Director at Grooms Office Environments. "Most of the time they're looking for an ergonomic chair," but that's really just the start. From there, creating a home office is all about carving out a nook where you can be productive. But how do you do that if you don't have an extra room in your home to dedicate to a home office? Gaunt has a few tips.
PRESENTED BY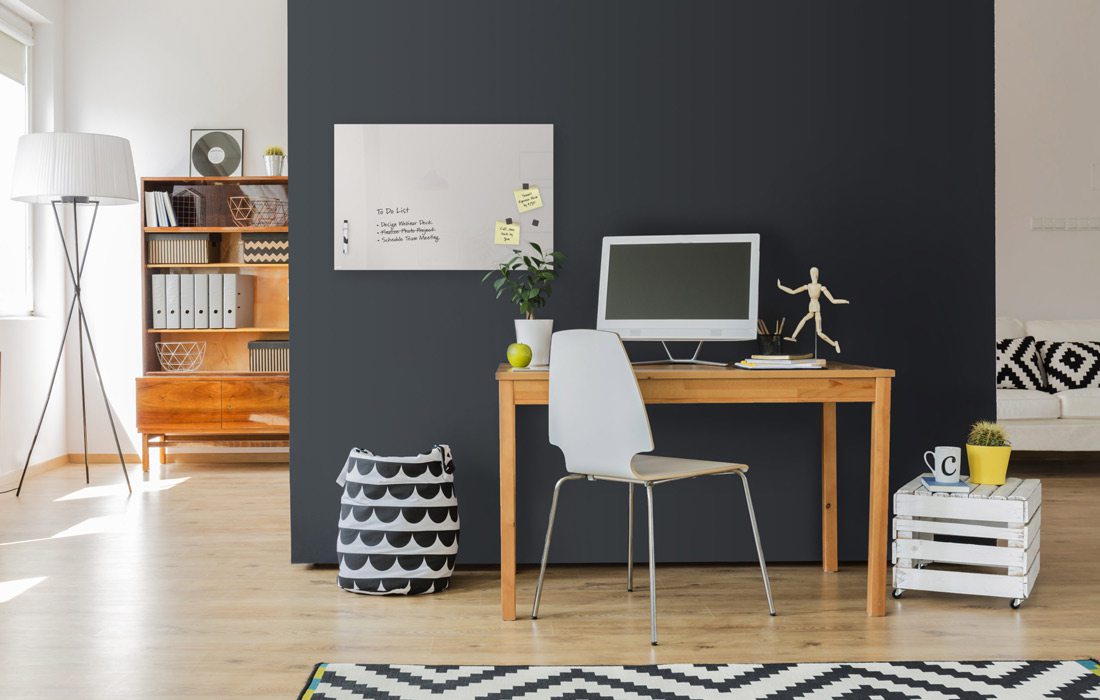 1. Designate Space 
If you're setting up a home office in your living room, kitchen or basement, make sure to designate a clear work space. Sometimes, even a closet or a section of your kitchen counter is all you need, but as Gaunt says, you need to clearly designate that space for work. If you're in the kitchen, put up a bulletin board and small desk lamp and maybe a potted plant to create a setting that's different than the rest of the kitchen. If you're in the living room, adding an area rug to your work space can quickly separate your home office from the rest of the room. "It's about tricking your mind into thinking you're not at home, you're at work," Gaunt says. "If you're trying to work while staring at a pile of laundry or dirty dishes, it can be hard to focus." Grooms' moveable glass marker boards have been especially popular as home office accessories because they can quickly separate a home office from the rest of a room and simply be wheeled around when needed.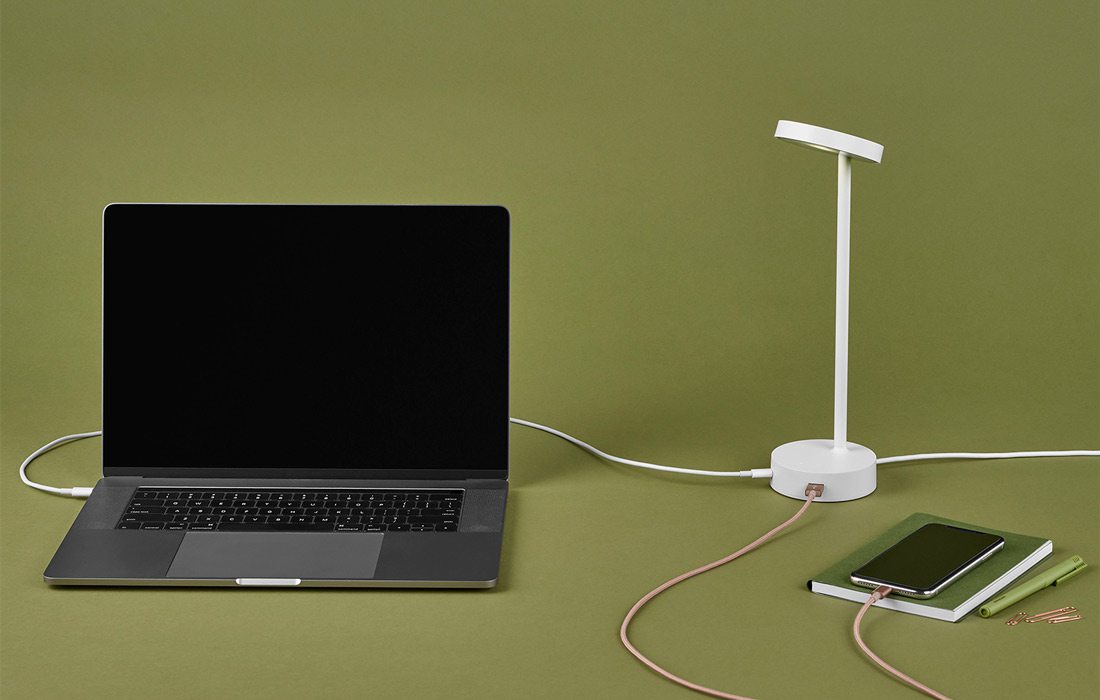 2. Add Good Lighting 
"Good lighting can be crucial," Gaunt says, and if you can't set up your home office near a window, it's time to look for some task lights. One nice new feature you'll often find with task lights is the ability to dim the light and change the color from cool to warm. "This lets you find the setting that works for you and change it throughout the day," Gaunt says. "Another cool thing with task lights that sit on your desk is they often incorporate USB ports and plugs in them so you can charge things without having to be near multiple wall outlets." 
3. Limit Clutter 
This might seem obvious, but if you're working from a small home office, even a little clutter can start to be distracting. This is where office organizers like mobile filing cabinets and cubbies come in handy. Have a bunch of cables? Toss them in a basket stored under your desk. Leave yourself lots of notes? Arrange them on a bulletin board.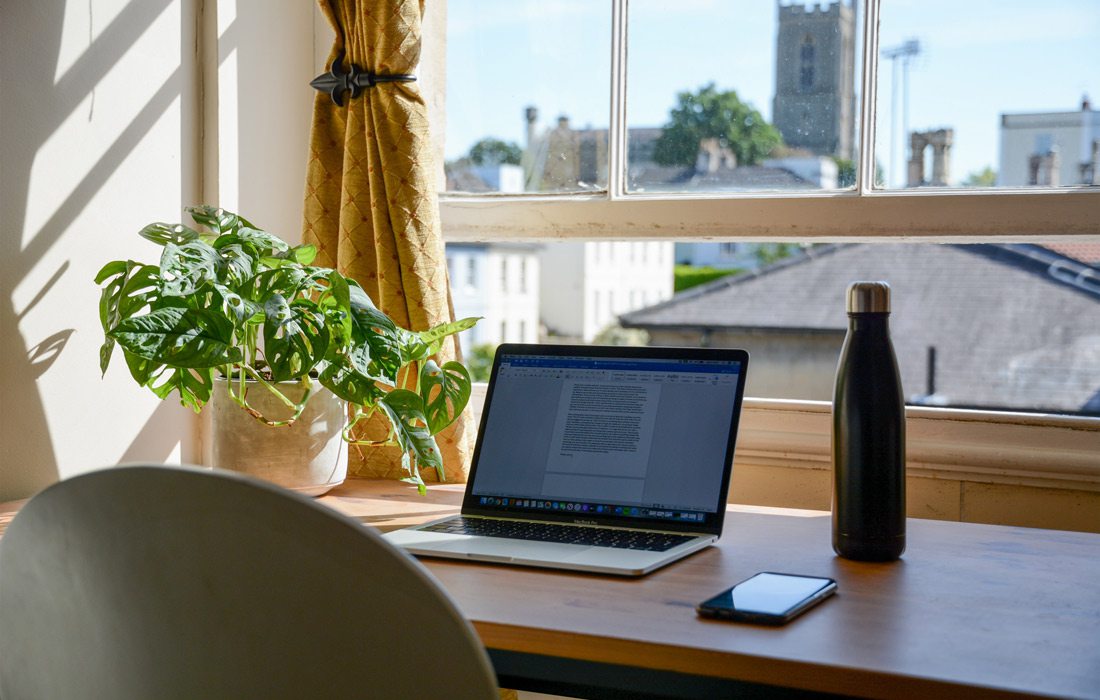 4. Make It Cozy  
If you're sharing space with your living room, kitchen, kids' playroom or basement, creating a cozy atmosphere that you're comfortable working in will make it a whole lot easier to focus on work and not get distracted by what's happening in the rest of the house. For Gaunt, it's all about having ambient noise around her. "I work in an open office setting here at Grooms, so even though I still come to an office each day, I'm surrounded by possible distractions," she says. "Having ambient noise going makes it easier to tune everything out and focus on work." Another thing she loves adding to her workspace is plants. They bring a little extra life and energy to a space and don't take up much real estate. If you're looking for local places to check out plants, Springfield has several options including The Plant Room, Wickman's Garden Village and Schafittzel's.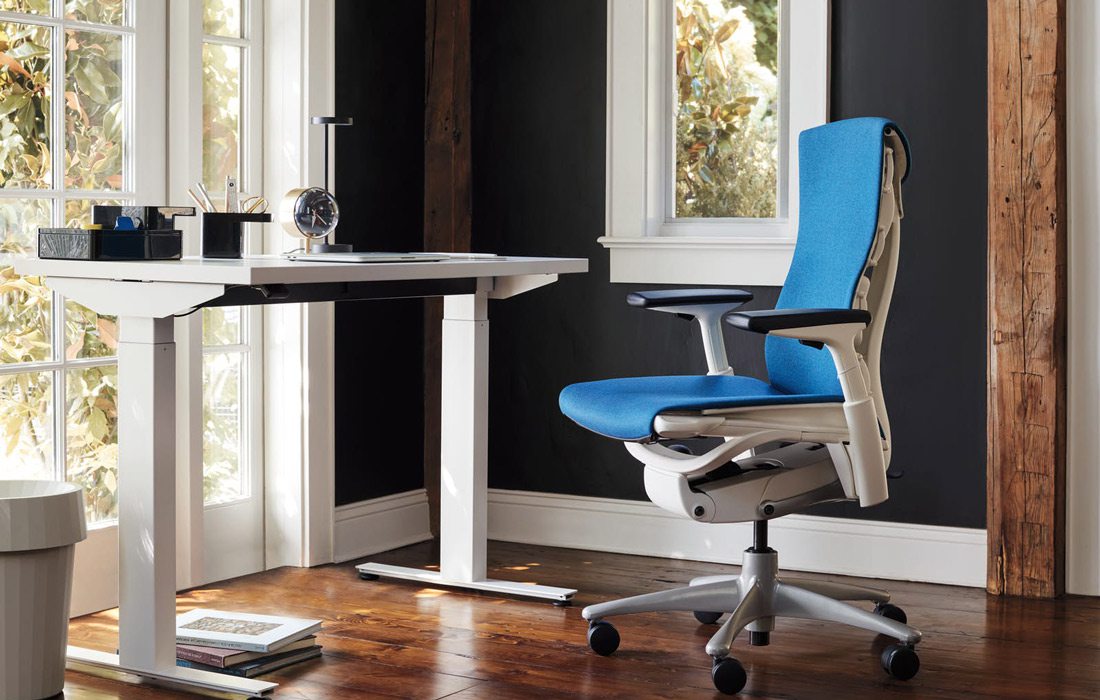 5. Get A Good Chair 
Even if you're working from home, you need a good chair. Even better, Gaunt is seeing more employers cover the cost for an employee's home office chair as part of an initiative to provide work-from-home employees similar benefits to those in the office. "Comfort and productivity often go hand-in-hand," she says. "The Embody chair by Herman Miller is one of our most popular options, but we also have a large variety of other task chairs to hit any price point." Another noted fan favorite is the Focus 2.0 chair by SitOnIt, which has an all mesh back and variety of adjustments for any individual.
About Grooms Office Environments
For more than 44 years, Grooms Office Environment has provided commercial interior design services including furnishings, space planning, and project and move management as a full-service Herman Miller dealership. Whether you need a new office chair, design for your new office space, or to furnish an entire a new building, Grooms' expertise can work for you. A few of Grooms' clients include CoxHealth Network, Jack Henry, Legacy Bank and Drury University.