Offices
Office Design Trends to Watch in 2020
From planters to patio seating, these seven office must-haves set the tone for 2020.
By Ettie Berneking
Jan 31 2020 at 8:57 a.m.
The new year is off with a bang, and already resolutions are in full-swing. So along with that new workout routine you've dedicated yourself to, how about resolving to show your office some love? Maybe you need to add a few personal touches, declutter or finally ditch those bulky and tattered lounge chairs. You're in luck! Grooms Office Environments helps clients update, renovate and innovate their offices, so they're always in the know when it comes to the latest and greatest office must-haves. To get the scoop on the top 2020 must-have items, we talked with Grooms Sales Manager Victoria Gorham and narrowed the list down to her favorite seven office accessories that pack some serious style without breaking the bank.
PRESENTED BY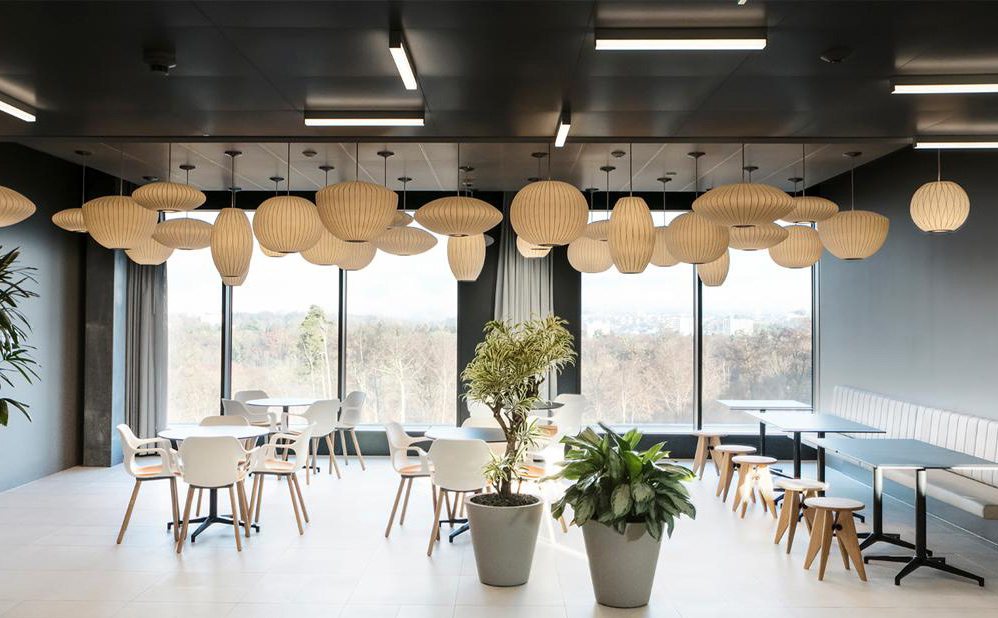 1. Accent Pendant Lighting
Price Range: $400 –1,500
Why We Love It: More and more offices are either foregoing overhead lighting or turning down the intensity. Less intense lighting can create a more relaxing and welcoming atmosphere, but accent lighting is another way to let your team determine the type of lighting that works best for them. "This type of lighting also works great in conference and dining areas," Gorham says. "It can add style while also intentionally creating the right atmosphere." If you want something a little different for your overhead lighting in your conference room, and you like the feel of pendant accent lights, Gorham suggests checking out Herman Miller's bubble lights. The collection is designed by George Nelson and is reminiscent of paper lanterns.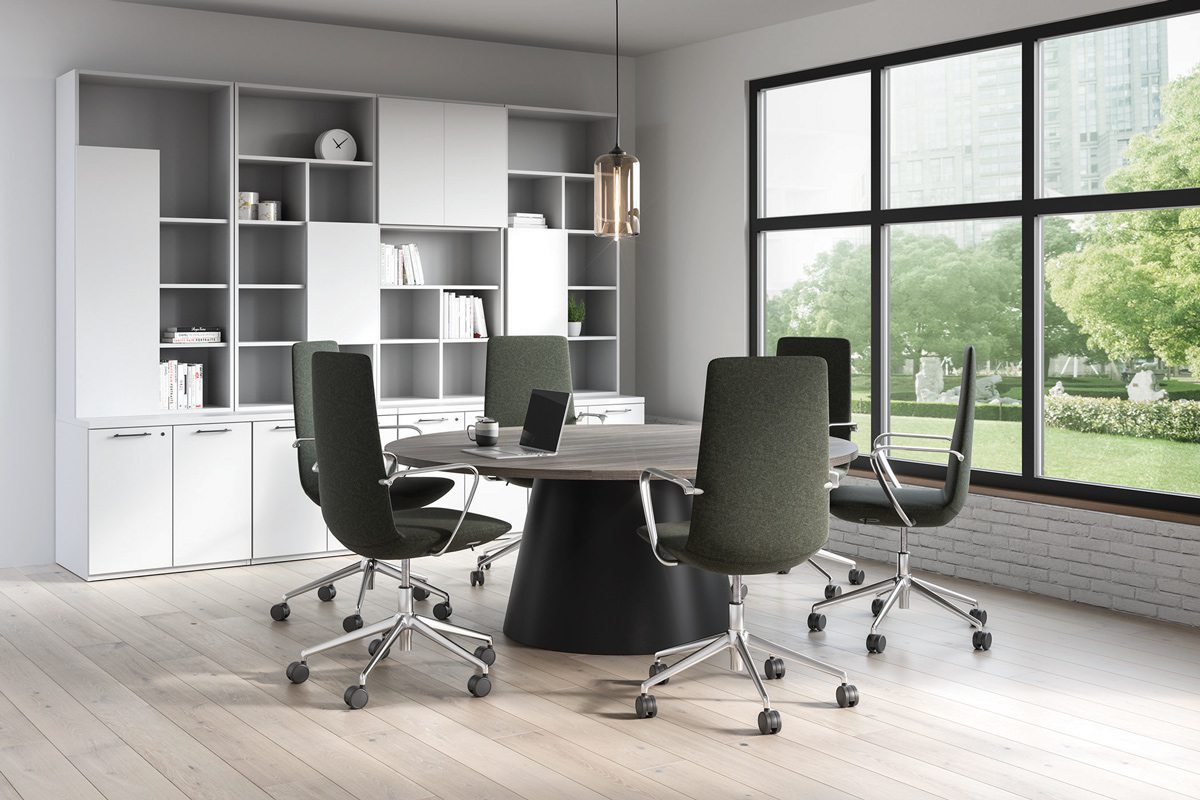 2. The Mabel Conference Chair
Price Range: $700 –1,200
Why We Love It: Finding comfortable conference chairs that won't look outdated in a few years is not always easy. Enter the Mabel conference chair. This sleek profile means you can fit more chairs around the conference table, and the vintage-inspired design is simple and timeless. "This design can blend in with modern or traditional environments," Gorham says. Even better, you can customize the look with a wide selection of fabrics, vinyl or leathers.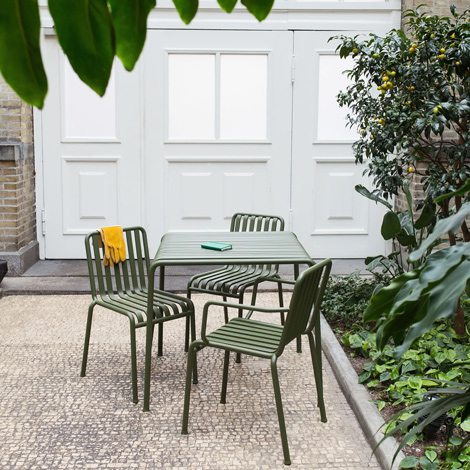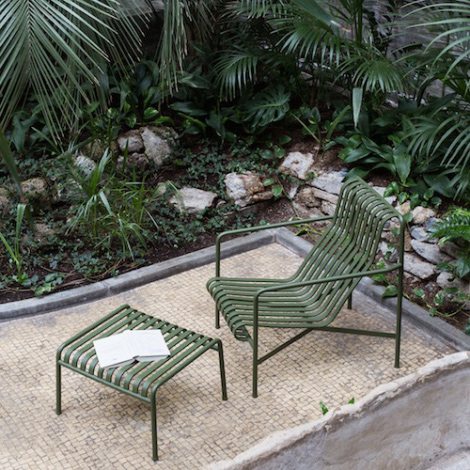 Courtesy Grooms Office Environments Need a surefire way to land that new recruit? Create a peaceful outdoor space.
3. Hay Palissade Outdoor Set
Price Range: $200–2,500
Why We Love It: Outdoor spaces are quickly becoming a selling point for offices looking to recruit new team members. Having an outdoor lounge or kitchen is one of the hot new amenities potential employees often look for. So, don't skimp on your seating! "This timeless outdoor set is really durable and will last in any outdoor setting," Gorham says. "I like its versatility. It feels like it could be on the back porch of your home or in a public setting outside a school or library." It also has a classic design, so you won't have to switch it out every five years as trends change.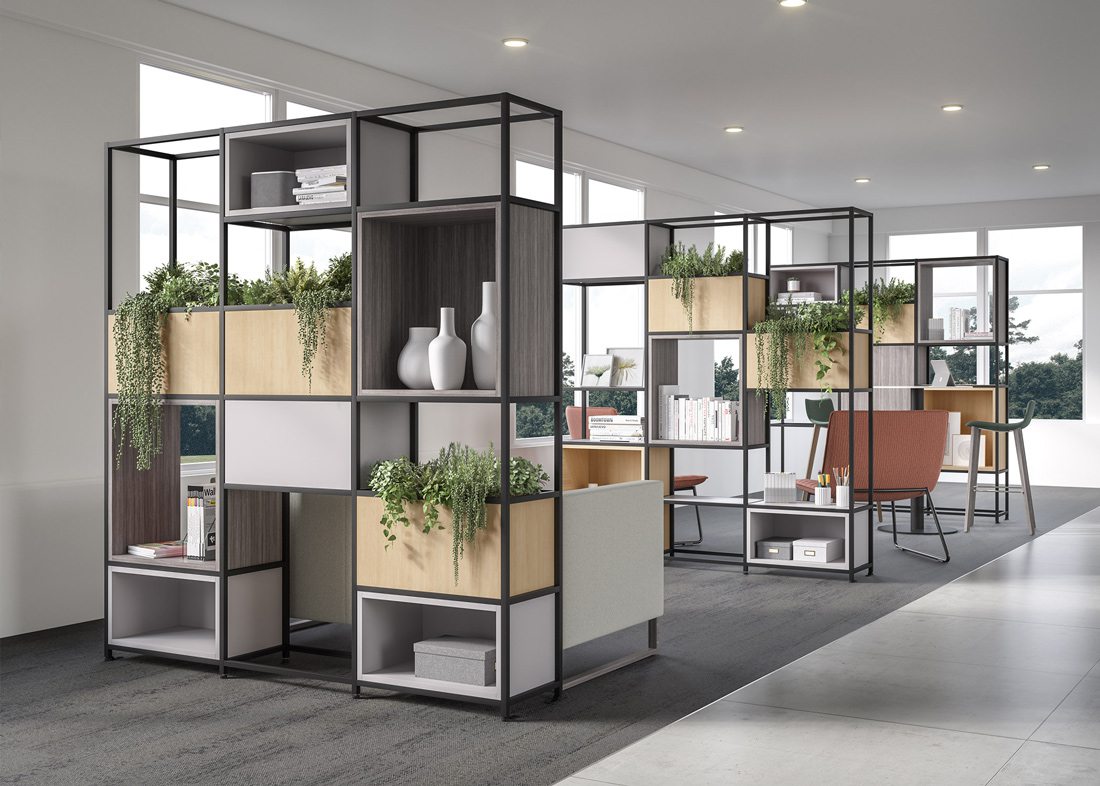 4. Lochlyn Space Dividers 
Price Range: $1,400–3,000
Why We Love It: This is a great addition for offices that want a more open floor plan and are getting rid of traditional boxy cubicles. "Accent space dividers help provide height in places where you need to purposely divide space," Gorham says. "These can also help minimize sound from traveling around the office and provide space for office plants, awards, displays and personal items you might not have room for if you've ditched your cubicles."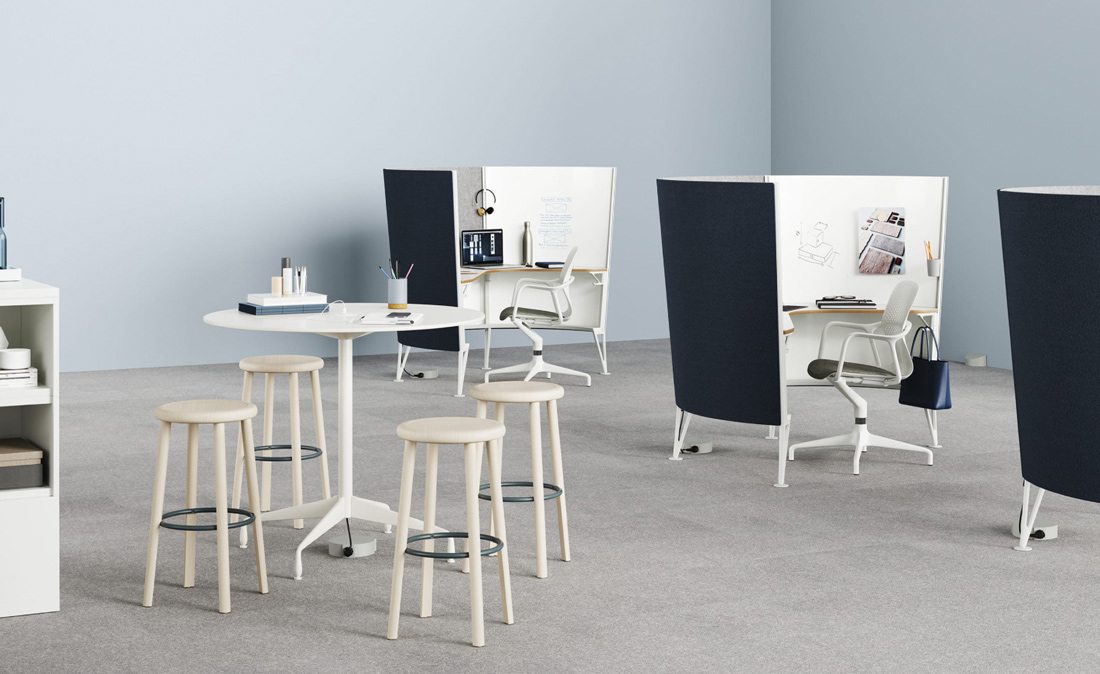 5. Herman Miller's Logic Reach
Price Range: $1,000–2,500
Why We Love It: Most offices weren't designed with nearly enough outlets, and because those same offices don't allow you to easily move power, Herman Miller created the Logic Reach. This little guy is a power distribution system that allows you to create electrical hubs within your current workspace with minimal changes. "This is finally a solution for old buildings that only have power in the walls," Gorham says. "This allows you to hardwire into a wall and run power under the carpet and out into an open area for workstations or meeting spaces. It's a great tool that keeps you from feeling limited when you redesign your office."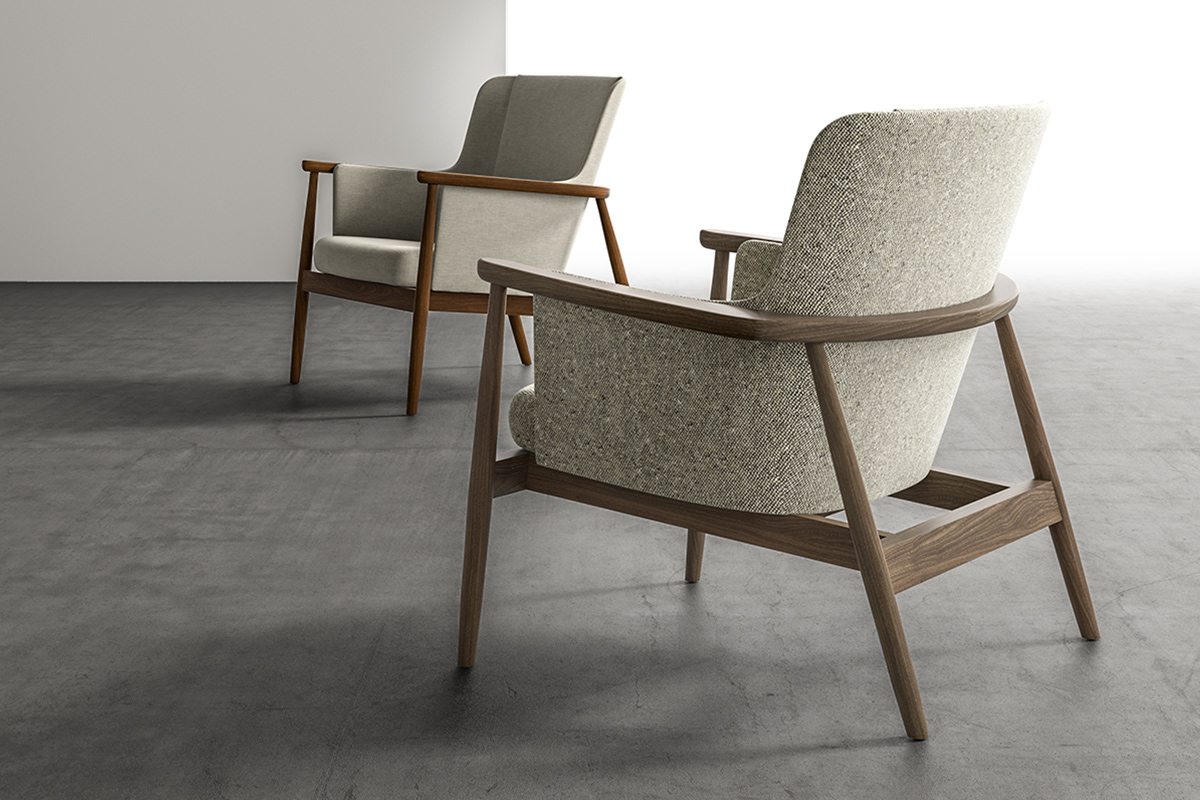 6. Hobsen Accent Seating
Price Range: $900–1,500
Why We Love It: Finding the right accent chairs for your office or lobby can be maddening. They need to be neutral, blend in with your existing style, be comfortable and be durable. This is where Hobsen can help. These mid-century-inspired chairs have a minimal profile that won't interrupt the flow of your office. Move them around as needed and see why this timeless design looks great with almost any decor or style. They're comfortable and can be designed to meet your personal taste. Oh, and there's a matching ottoman because who doesn't love an excuse to kick up their feet and unwind during a mid-day coffee break?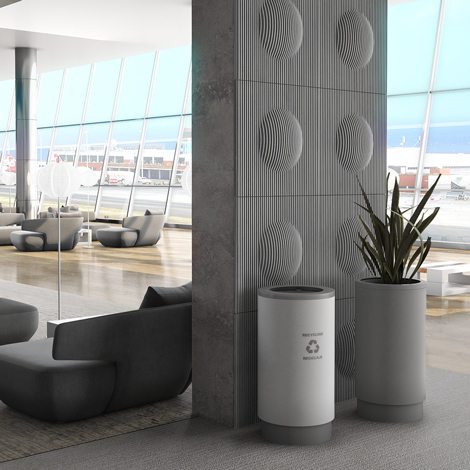 The Magnuson Cirkel Planter mimics a modern waste bin to blend into your office without breaking the bank.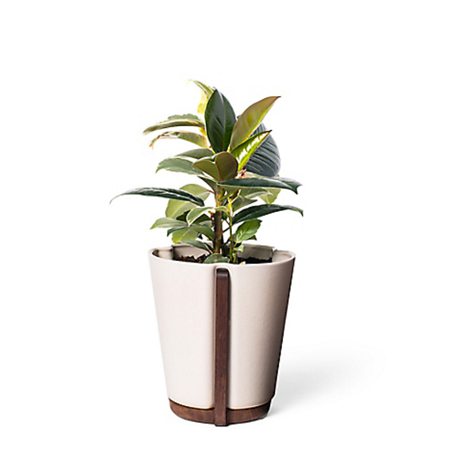 Courtesy Grooms Office Environments
The Base Planter, designed for indoor spaces featuring succulents, evergreens or cacti, presents a fluid and interesting mix of materials to help elevate any space.
Courtesy Grooms Office Environments "Personally, I think of most plants as very transitional, but how you display them can really change their appearance," Gorham says. "The pot or planter can transition towards more traditional or trendy depending on your office's vibe."
7. Accent Planters
Price Range: $100–750
Why We Love It: Office plants are the hottest new accessory right now, so if you're wondering which low-lights plants work best in your cube, we have a whole list of suggestions. And when it comes to stylish planters, the Roo planter by OFS is a favorite of Gorham's. It's tall without being bulky or too bold. It can fit easily behind a chair or in a corner or next to a bookcase. Gorham's other go-to planter this year is the Magnuson Cirkel Planter that looks almost like a modern waste bin. Its tall and bulkier design means this planter makes a statement, which is great when you need to fill a corner or wall with something aesthetically pleasing and budget-friendly.
About Grooms Office Environments: For more than 40 years, Grooms Office Environment has provided commercial interior design services including space planning, project and move management, healthcare and systems furniture as a full-service Herman Miller dealership. Whether you need to furnish a single office, a new building or even a single workout space, Grooms' expertise can work for you. Grooms clients include Jack Henry, Prime Trucking, Guaranty Bank and CoxHealth Network.