Culture
Meet Southwest Missouri's Cutest Office Pets
Golden retrievers, Maine coons and terriers, oh my! Local businesses are becoming second homes for southwest Missouri's furry friends, and office materials are more pet-friendly than ever before.
By Ettie Berneking
Apr 03 2018 at 10 a.m.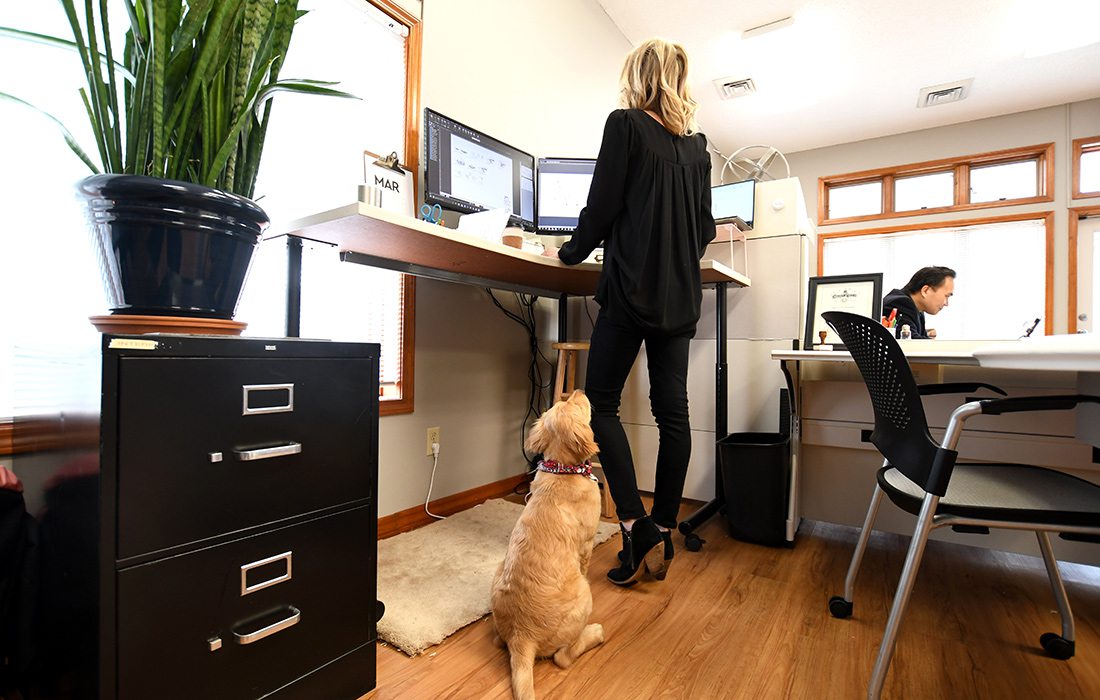 If Lassie, Beethoven, Milo and Otis were allowed at work each day, why shouldn't our own beloved pets be able to join us at the office? Thanks to more durable fabrics and washable finishes and flooring, even the most traditional offices can become pet-friendly even on a tight budget. Just ask Darby—the mini goldendoodle that hangs out at Grooms Office Environments. At home, Darby isn't allowed on the furniture, but once she gets to work, she can lounge wherever she wants. The relaxed rules are the result of modern fabrics and finishes that make almost every surface at the office durable and cleanable. When they first hit the market, these finishes were mostly found in commercial and medical settings, but now, these high-performance materials are being installed in offices and workspaces of all sizes and industries. And it's a good thing too, because the workplace is quickly becoming a second home for our pets.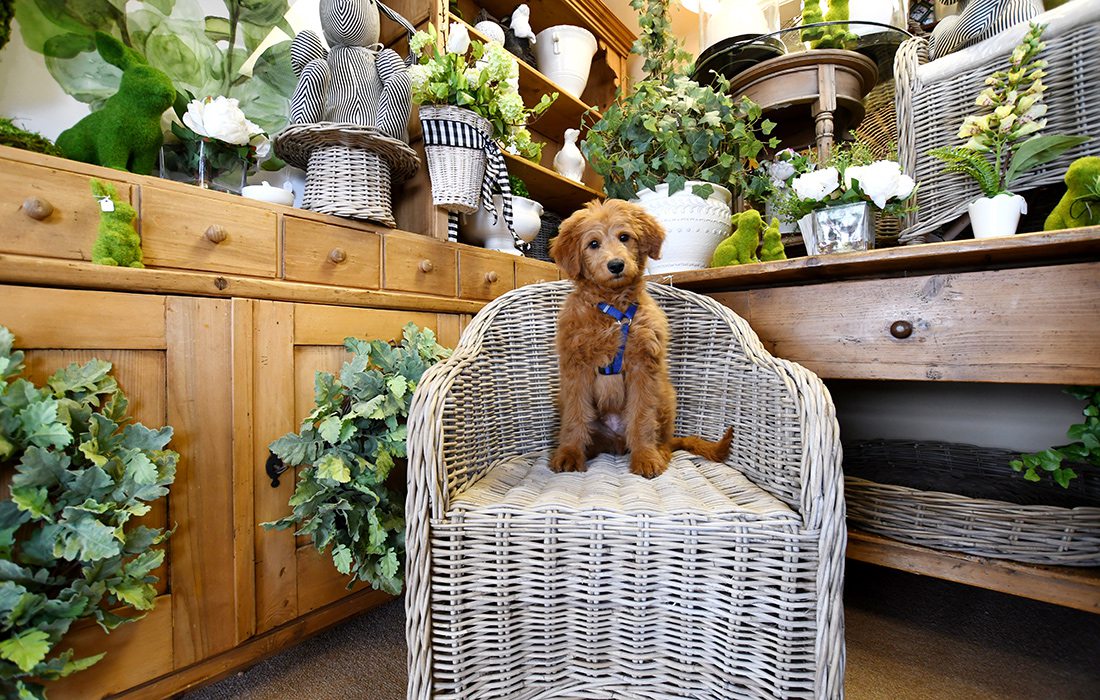 Oaks: 3-month-old goldendoodle
He might not be on the payroll, but Oaks is undoubtedly part of the team at The Thicket. In fact, Oaks had visitors waiting for him at the store before he even arrived for his first day. The 3-month old goldendoodle is The Thicket's second office dog. Oaks' predecessor, a wheaten terrier named Sadie, was part of the team for 13 years. After Sadie passed away recently, the shop's owners, Ron and Debbie Johnson, knew they were going to bring another lovable pet into the fold. "Our employees were just as devastated as we were when Sadie died," Ron says. "Having a dog here is therapeutic for all us of." When store employees lost their own family pets, they had Oaks waiting to cheer them up at work the next day. Even customers stop by for a regular dose of puppy love. "Every single day, people come in to see him," Ron says, "They bring him toys and treats and sometimes stop in just to give him a hug." Just like Sadie, Oaks already has his own fan club.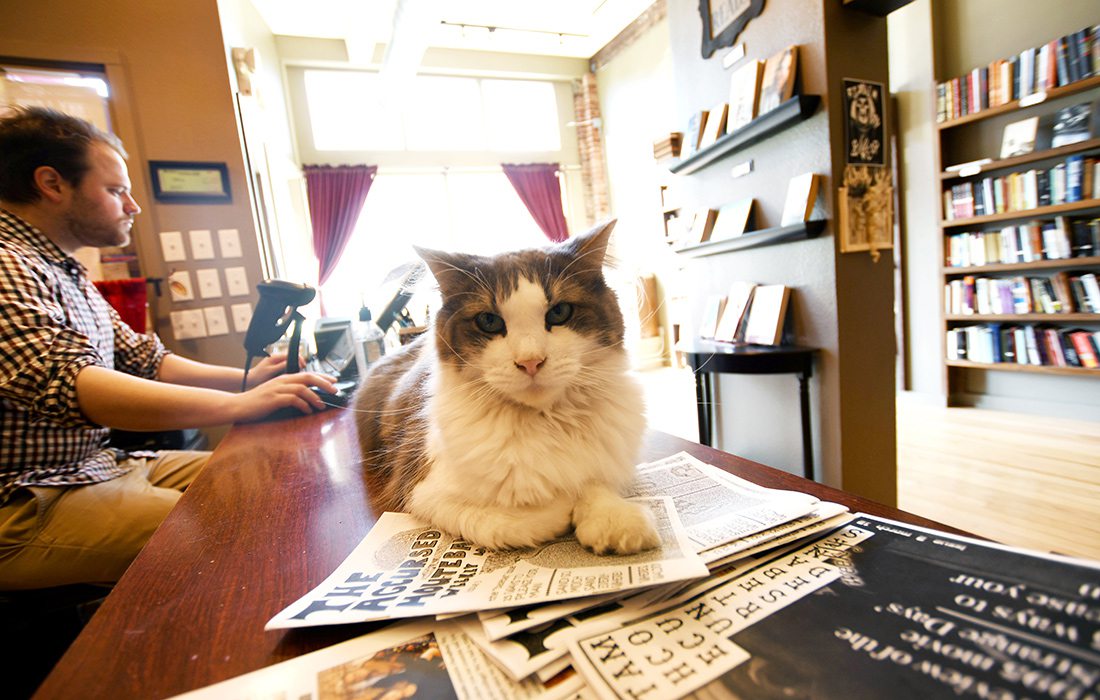 Squash: 4-year-old Maine Coon mix 
Of course it's not just pups who are enjoying life at the office. Even some feline associates are clocking in around Springfield. One hard working cat is Squash, the book monitor at BookMarx. When Squash's owner, Josh Arnett, first picked him up from the Humane Society of Southwest Missouri, Squash's future plans mostly involved lounging around Arnett's home. But two weeks after joining the family, Squash was with Arnett at BookMarx. Like most cats, his first car ride was stressful, but now Squash curls up on the center armrest and takes a quick cat nap during the drive downtown. Once at the store, Squash patrols the inventory and greets customers walking by the bookstore's front window. If he's not taking in the view outside, he's usually curled up on the checkout counter where he can hide from Arnett's other two cats who sometimes join the gang at the store. With little furniture for the cats to damage, Arnett hasn't had to make any changes to the store, but he does burn incense to help kill any lingering cat odors. It might be the incense or the cats themselves, but having his feline family with him at the shop adds another layer of calm to an already relaxing work environment.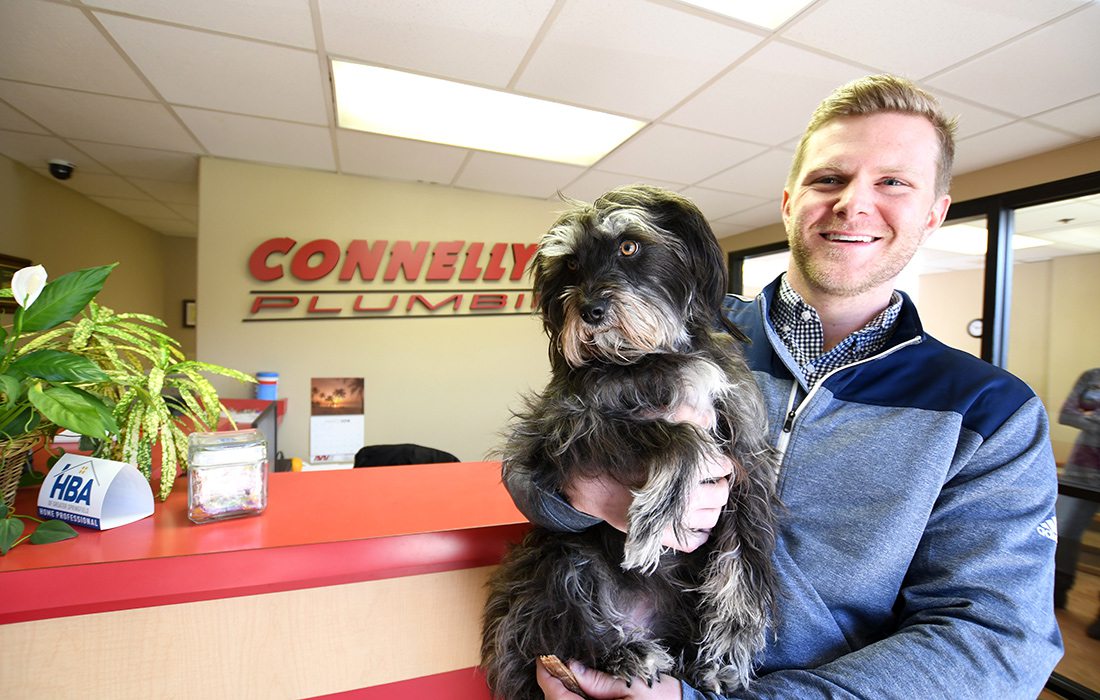 Lucy: 4-year-old terrier mix
Before Lucy wandered into his life, Brett Edwards wasn't planning on having a pet, let alone an office pet. Then he met Lucy—the nervous puppy who wandered into the garage at Connelly Plumbing, Heating & Air. After taking Lucy home with him that night, Edwards realized he couldn't just leave a new puppy alone while he went to work, so he hauled Lucy back to the shop that day and every day since. With Edwards at work in his office, Lucy has free-reign around Connelly and spends most of her day checking in on her co-workers. She has beds in several of the shop's offices including Edwards's office. "It's nice to have a dog here that you can pet and take outside," he says. "It reminds you that working isn't everything, and it helps when you're having a stressful day." 
While there isn't much risk of Lucy damaging carpeting and upholstery, Garard has helped several customers install more durable and washable fabrics. "Commercial-grade fabrics and finishes are ideal for this application," she says. "The healthcare industry has driven the need for durable, cleanable and beautiful options for commercial clients. These finishes put the old Scotchgard to shame. Manufacturers are making wood desk and chairs with finishes that include antimicrobial elements as well." So if Lucy snuck out one day in search of the rest of her westside family, the crew at Connelly Plumbing wouldn't have to worry about muddy paws.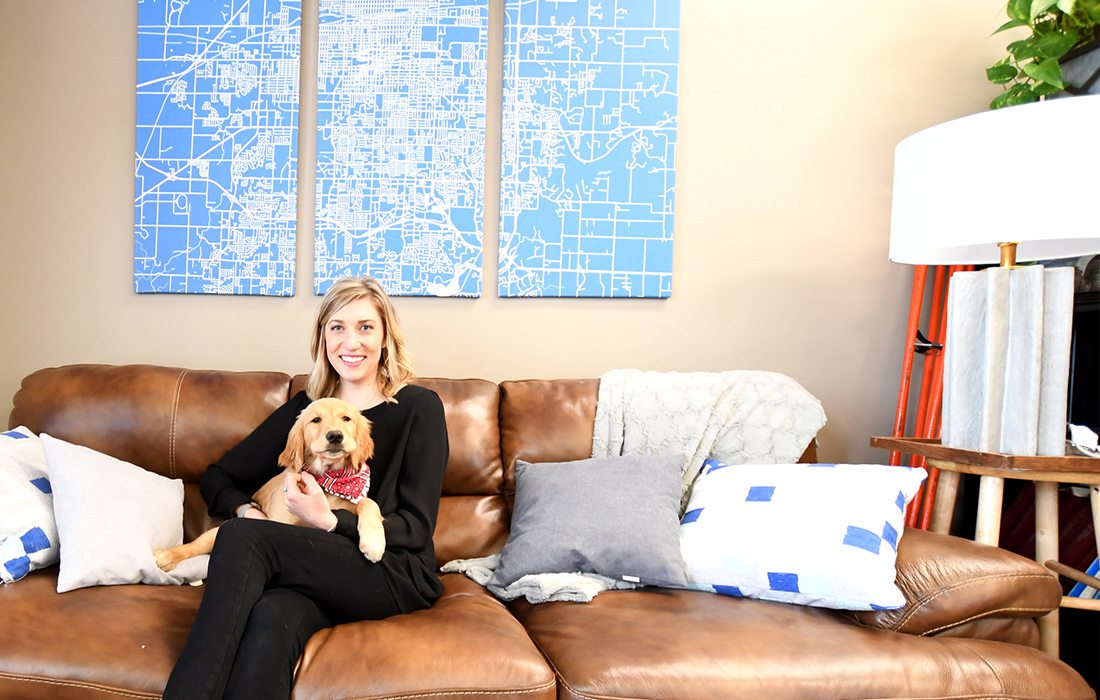 Margie: 3-month-old golden retriever
Sharing a workspace isn't always ideal unless your office mate is a 3-month-old golden retriever named Margie. Playful, loving and always up for a game of fetch, Margie is already a favorite of every delivery service that stops by Bergmann Engineering Company. And with a little planning and attention to detail, Margie's adjustment to daily office life was surprisingly easy. "I didn't have to do much," says Margie's owner and co-worker Kathryn Bergmann. "I picked everything up off the floor, brought in a crate for her to rest in, and put a bunch of dog beds and toys around my desk." Those extra toys come in handy. Margie is well-behaved, but when her puppy instincts kick in, she can't help but snag one of the office throw pillows or dig in the potted plants and chew on the leaves. When Bergmann catches Margie in the act, all she has to do is swap in one of the handy dog toys and redirect Margie's focus. Situations like these are when Audrey Garard, owner of Grooms Office Environments sees customers add in hidden storage. "A common storage item is a pedestal under the desk," she says most people don't want their personal items on display like snacks, medications, purses and dog treats or toys. These can be hidden away in a piece of office furniture, so your space is aesthetically pleasing."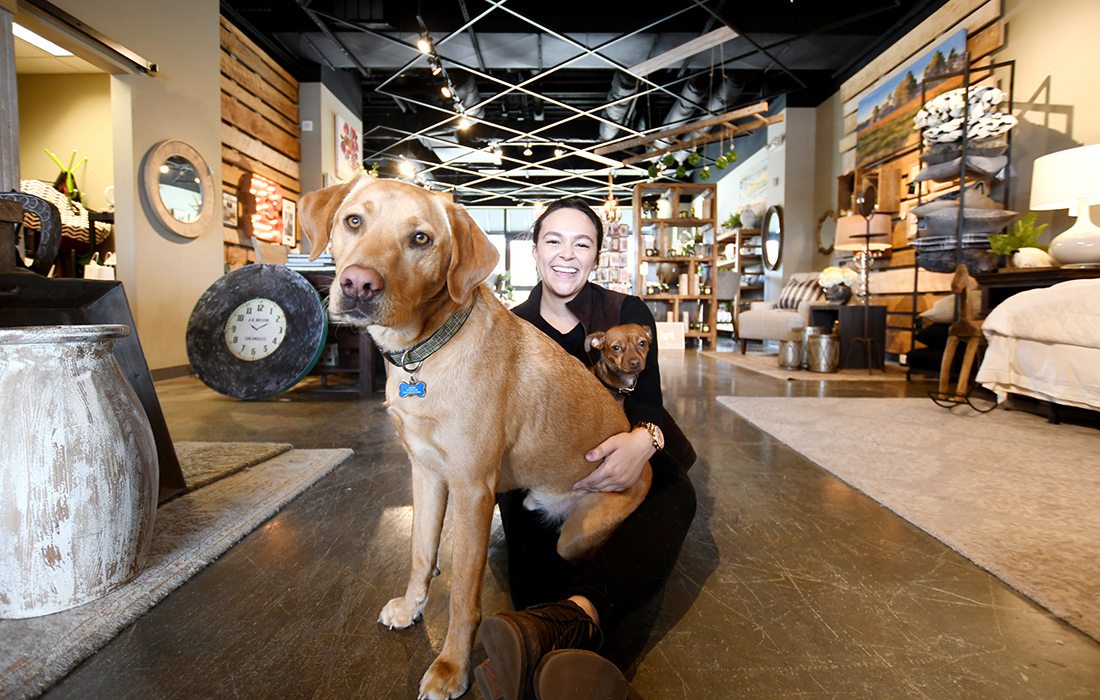 Zeke: 1.5-year-old lab

Kallie: 2-year-old Chihuahua dachshund mix
Most animal-lovers probably already know one of the best spots to revel in a few hours of dog-watching is at the Farmers Market of the Ozarks. Restaurant patios are pet-friendly, and there are more than 4 acres of green space for you and your canine friend to enjoy. But the pets don't all head home after the market. Several shops around Farmers Park have their own pets in residence. Two canine besties, Zeke and Kallie, hang out at the home decor and design shop Ellecor Design & Gifts. During the day, the furry friends romp around the store, greet customers and lounge on the plush corduroy couch, which serves as just one example of the store's more durable and washable fabrics. Kallie and Zeke aren't the only pups to be found at Farmers Park. Just across the way is Lemon—a black lab that runs the show at 5 Pound Apparel. Between the pet stations, the walking paths and the water bowls, Zeke, Kallie and Lemon are living the doggie dream. For store owners or business that have messy pets or employees wandering around, Garard recommends installing luxury vinyl tile or carpet tiles. They look great, plus they're easily cleanable and replaceable.
More Reader-Submitted Office Pups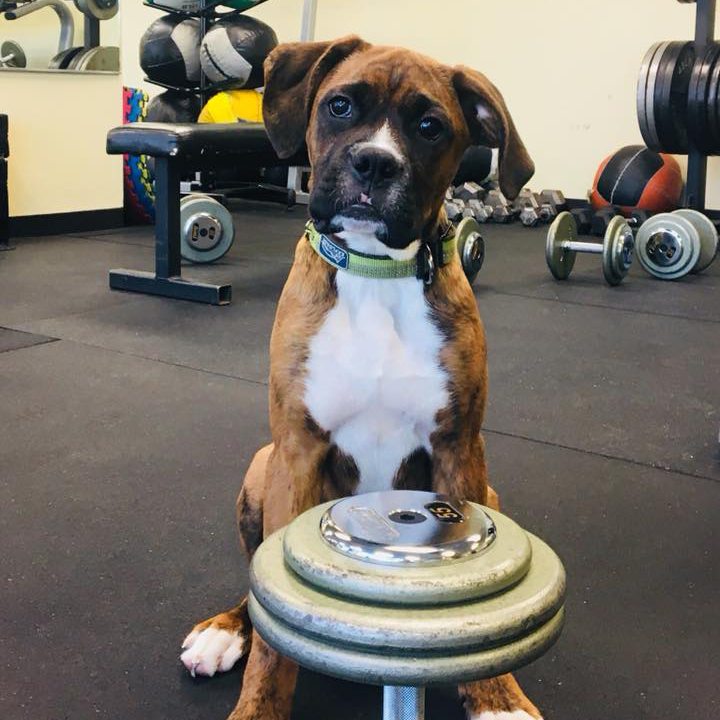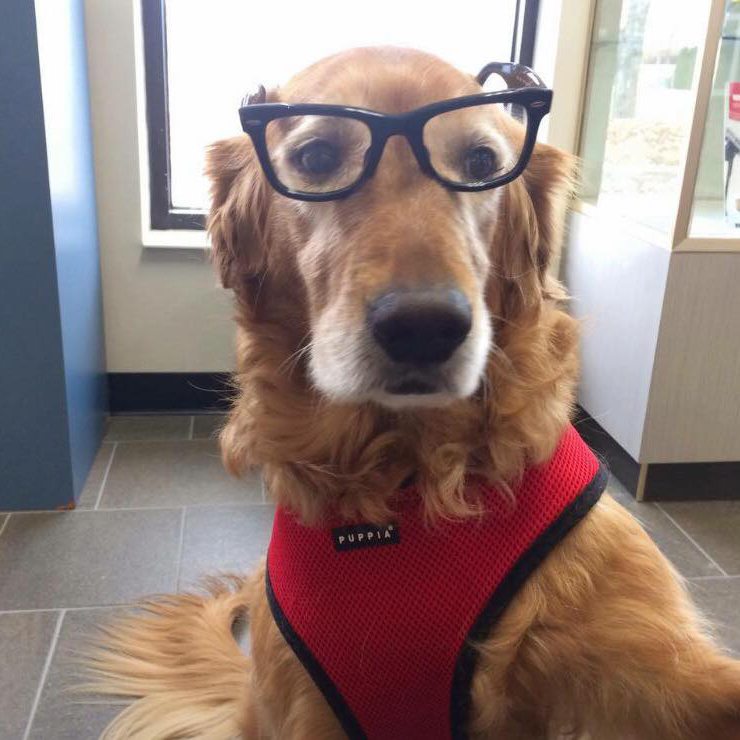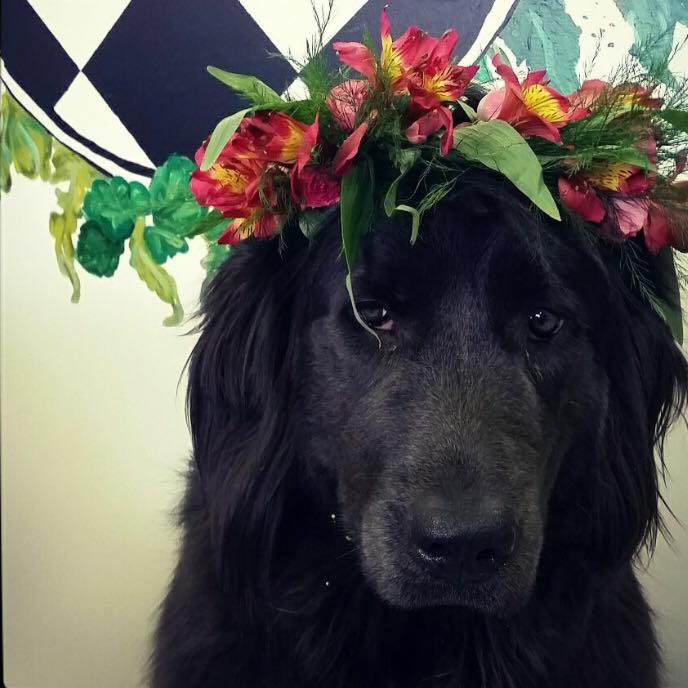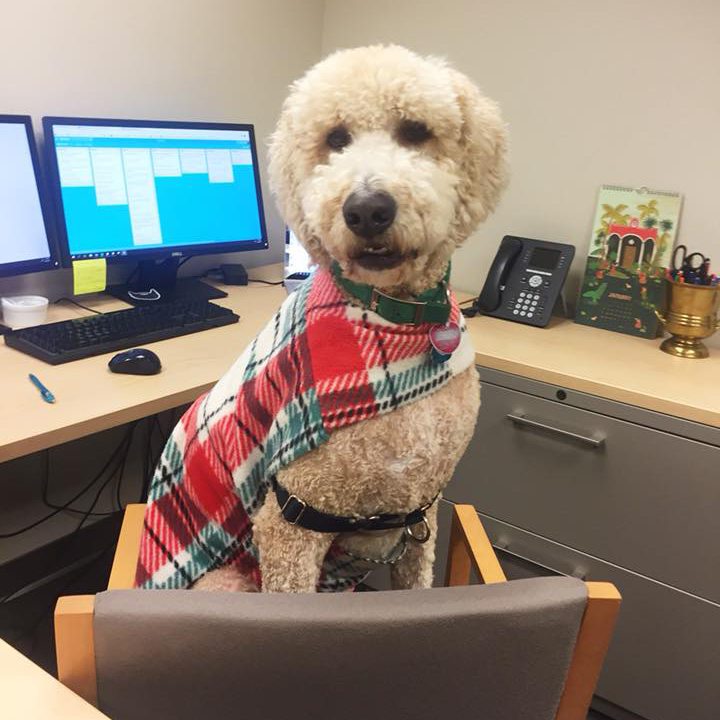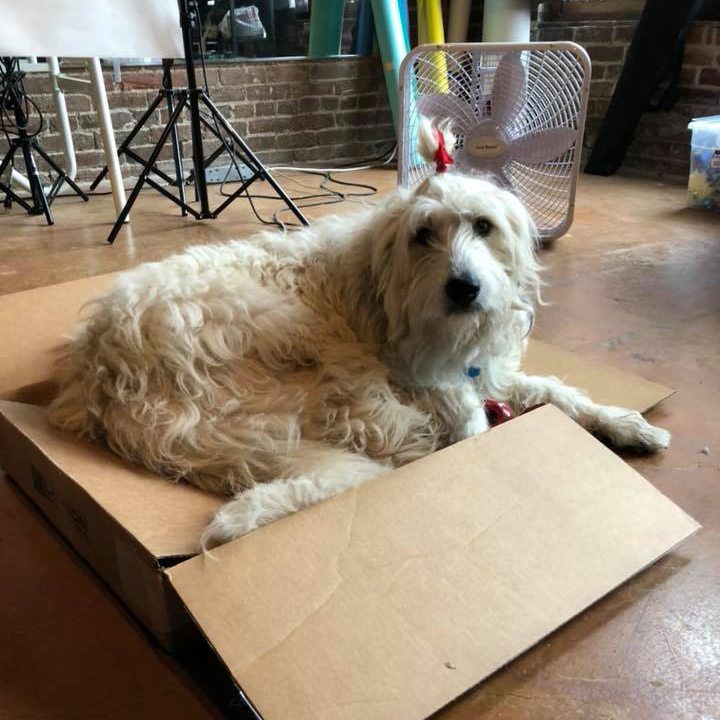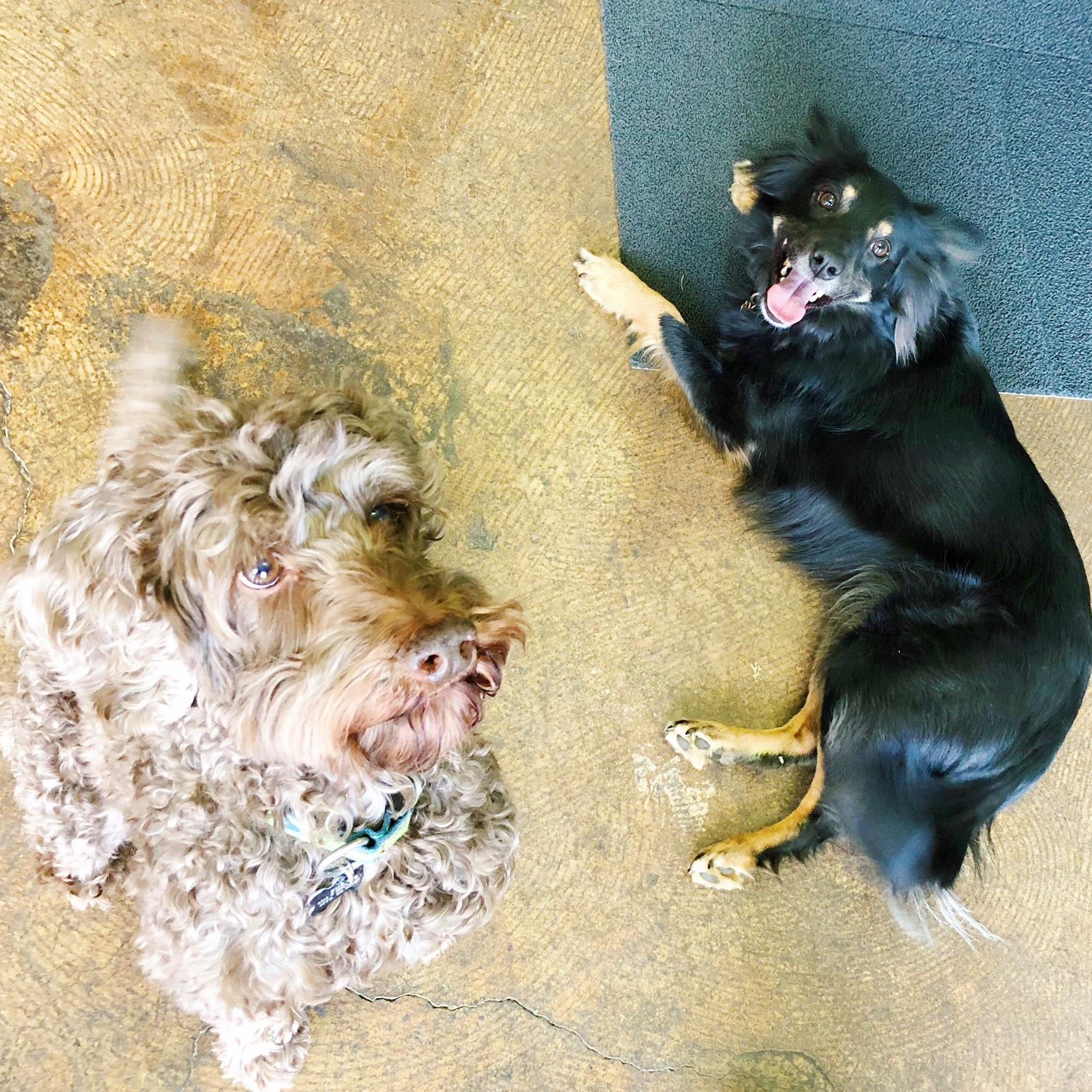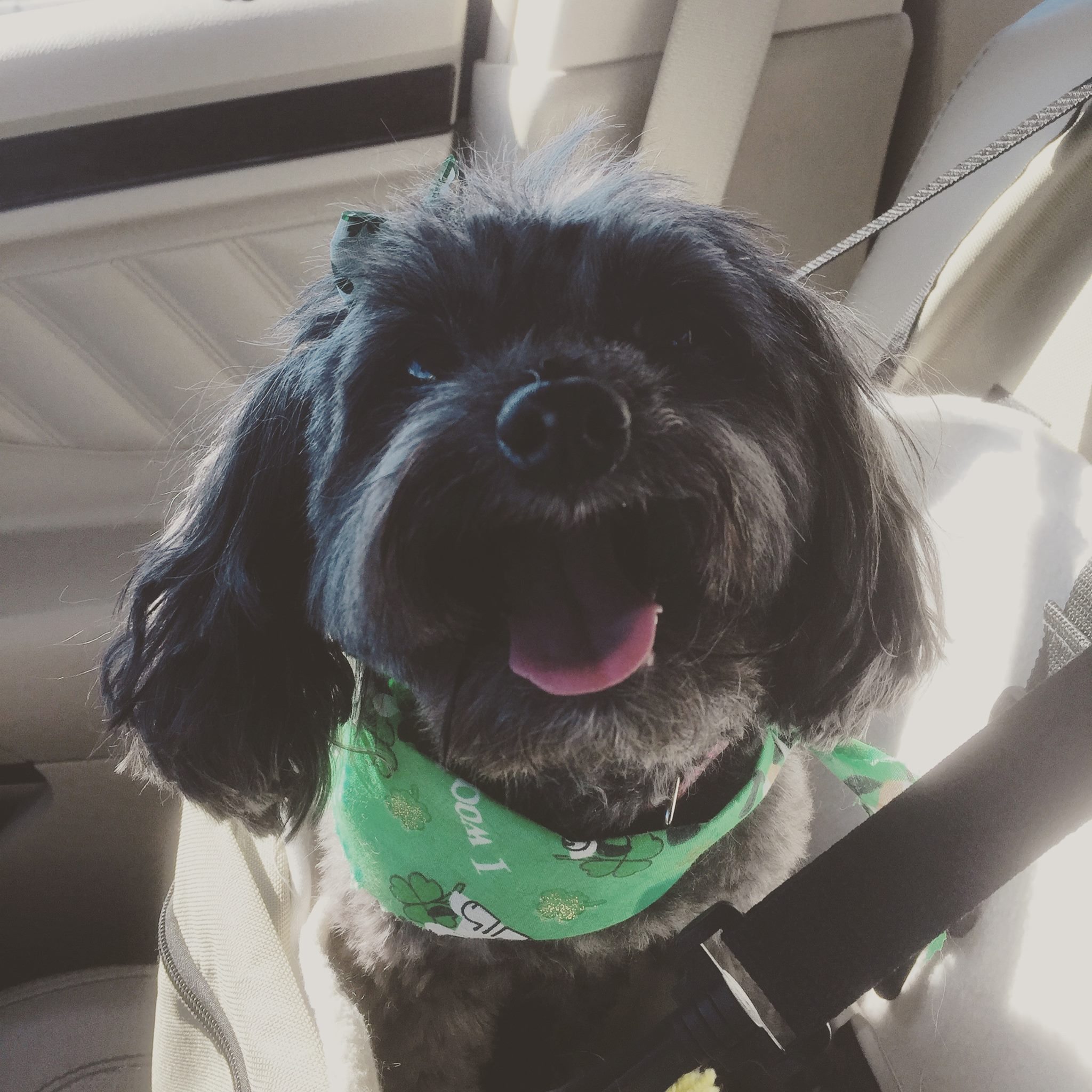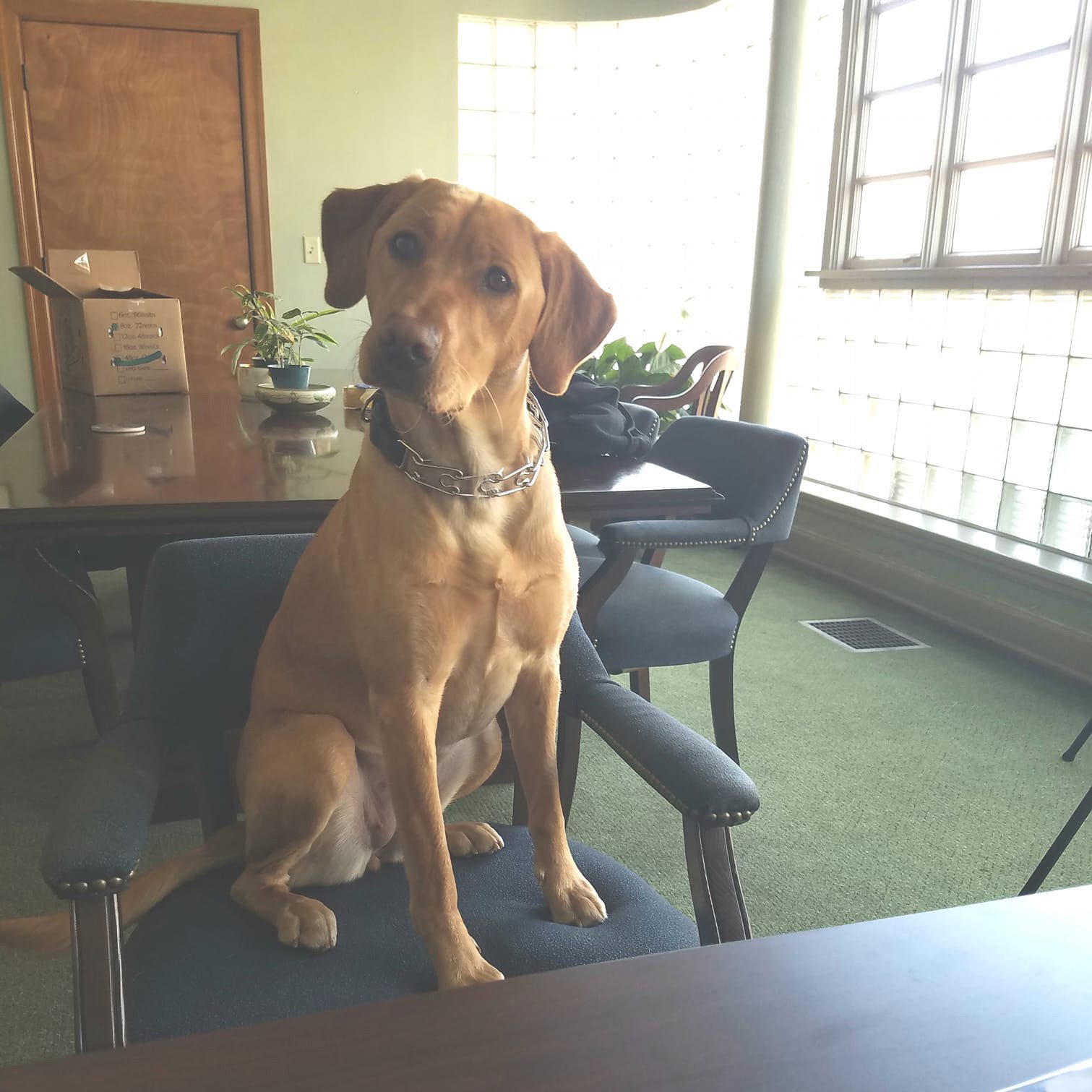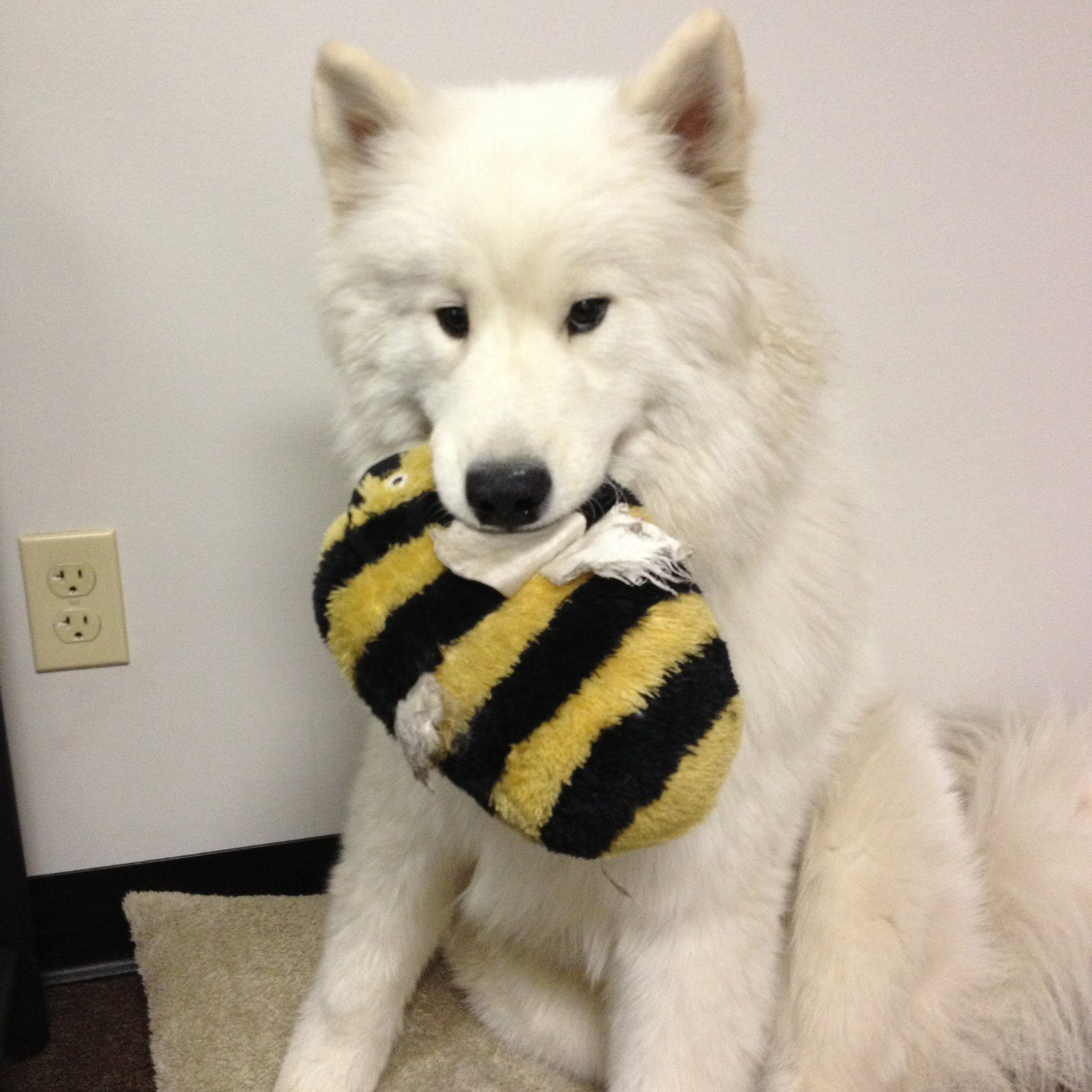 ---
About Grooms Office Environments: For 40 years, Grooms Office Environments has provided commercial interior design services including space planning, project and move management, healthcare and systems furniture as a full-service Herman Miller dealership. Whether you need to furnish a single office, a new building or even a single workout space, Grooms' expertise can work for you. Grooms clients include Jack Henry, Prime Trucking, Bass Pro Shops and CoxHealth Network.