Commercial Design Awards
Commercial Design Awards 2022 Winner: Renovation
A dated and segmented office space was transformed into a fun, bright and collaborative environment for a fast-paced, growing local company.
by Colin Shea Denniston
Jul 2022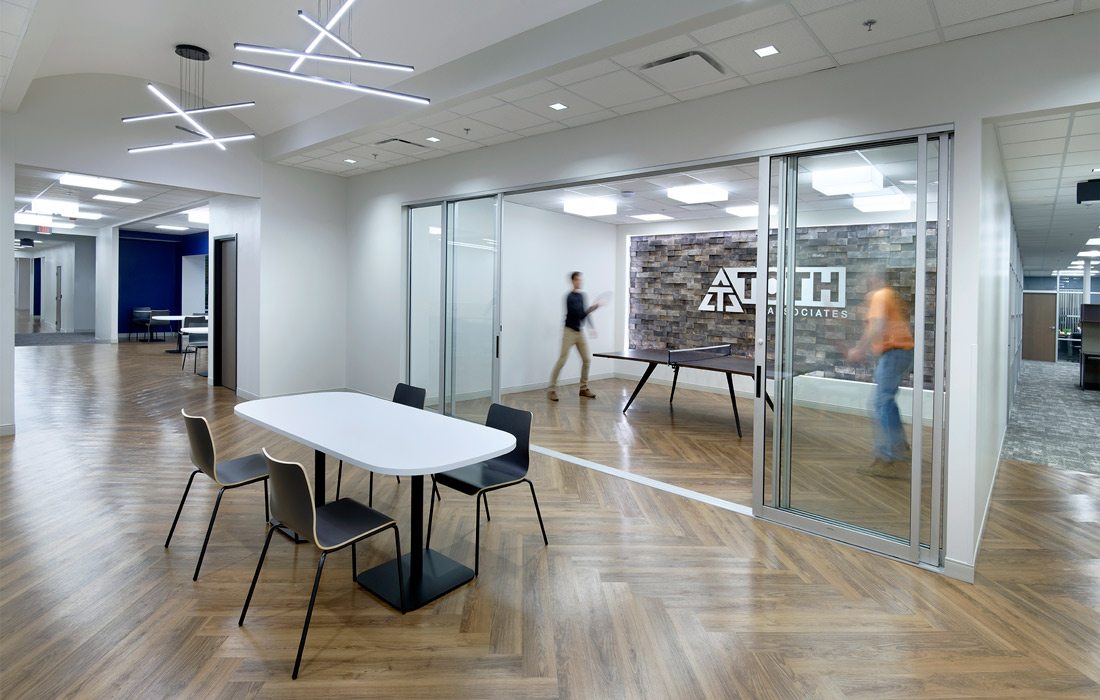 CATEGORY: Renovation

Director of Interior Design: Cheryl Doran, Sapp Design Architects
Architect and Project Manager: John McNabb, Sapp Design Architects
Architectural Intern: Kate Stockton, Sapp Design Architects
Project Goal: To transform a dated and segmented office space into a fun, bright and collaborative environment for a fast-paced, growing local company.
---
It's one of the great modern day office debates—open concept and collaborative or defined, focus-forward spaces? When hired to renovate a dated 35,000-square-foot office space for Toth & Associates' Springfield headquarters, the team at Sapp Design Architects asked, "Why not both?"
"They were moving from an existing facility where they were really cramped, and they were on separate floors," says Cheryl Doran, Director of Interiors at Sapp Design Architects. "Adam Toth hired me to come in and give them a vision of how they could operate as one." That vision included sleek modern lighting, open concept gathering spaces and a communal dining area for family style meals. A major impact maker of the Sapp team's design was the replacement of existing solid interior walls with glass—opening up the space and increasing visibility without sacrificing privacy.
With the perimeter private offices now accented with interior glass walls, engineers working in the center of the office can enjoy the natural light coming in from the exterior windows. "That was important to the team and to the managers, to where they could all be and work together, but they could still feel like they could have a view of the outside," says Doran.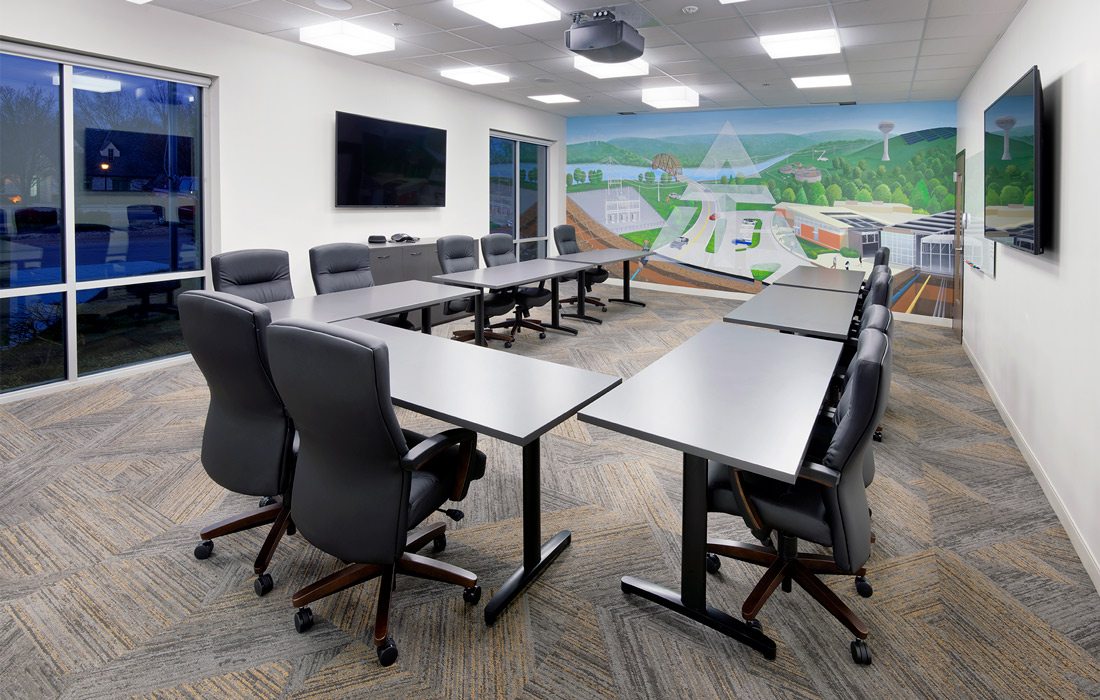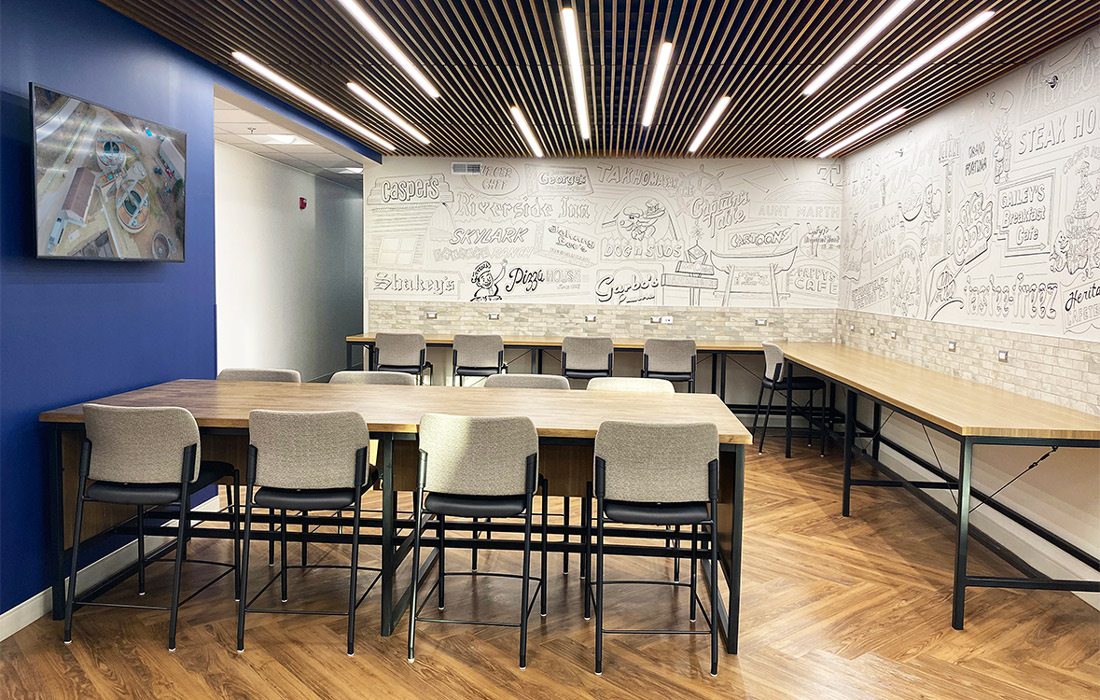 Photo by Architectural Imageworks, LLC
Another important part of the renovation process was finding a way to reflect the company's impact on the local landscape. For that, Doran turned to artist Andrea Ehrhardt. "She came and spoke to my Rotary Club a couple weeks before we started designing this," Doran says. "I wanted to bring in some of their local flair…mapping out some of their projects that they had done locally."

The break room features a mural of local eateries such as Gailey's and Garbo's, while a second mural in the conference room showcases schools the company has worked on. In the lobby, custom millwork in the form of vertical slats covers the glass wall of an adjacent conference room. Functioning like vertical blinds, the slats can be rotated shut during private meetings but otherwise kept open. "They love it. They're really proud of it," says Doran.
RESOURCE LISTINGS
Where to find the looks and materials used to create this winning business space in Springfield, Missouri and surrounding areas.
Interior Design/Decorating Project Lead(s)
John McNabb, AIA
Sapp Design Architects
3750 S. Fremont Avenue
417-877-9600
Cheryl Doran, ASID
Sapp Design Architects
3750 S. Fremont Avenue
417-877-9600
Kate Stockton, AAIA
Architectural Intern
Sapp Design Architects
3750 S. Fremont Avenue
417-877-9600
Architect/Project Designer(s)
John McNabb, AIA
Cheryl Doran, ASID
Sapp Design Architects
3750 S. Fremont Avenue
417-877-9600
Photographer of Provided Images
Architectural Imageworks LLC
Sapp Design Architects
Office Furniture
Office Essentials
Springfield, MO
417-866-3100
Kitchen/Break Room Cabinets
Alpine Cabinets
Kitchen/Break Room Countertops
MSI Quartz
Carpet
Masland, Milliken, Shaw Contract
Stone/Tile
Unique Tile
Nixa
417-725-5515
Artwork
Andrea Ehrhardt
Hand Painted Wall Graphics
417-536-1767