Commercial Design Awards
Commercial Design Awards Winner: Quarry Town
Quarry Town is an expansive project that combined the historical significance and natural resources of the Galloway district, earning Matt O'Reilly and Green Circle Projects the Lifestyle category award.
By Briley Rakow
Jul 2020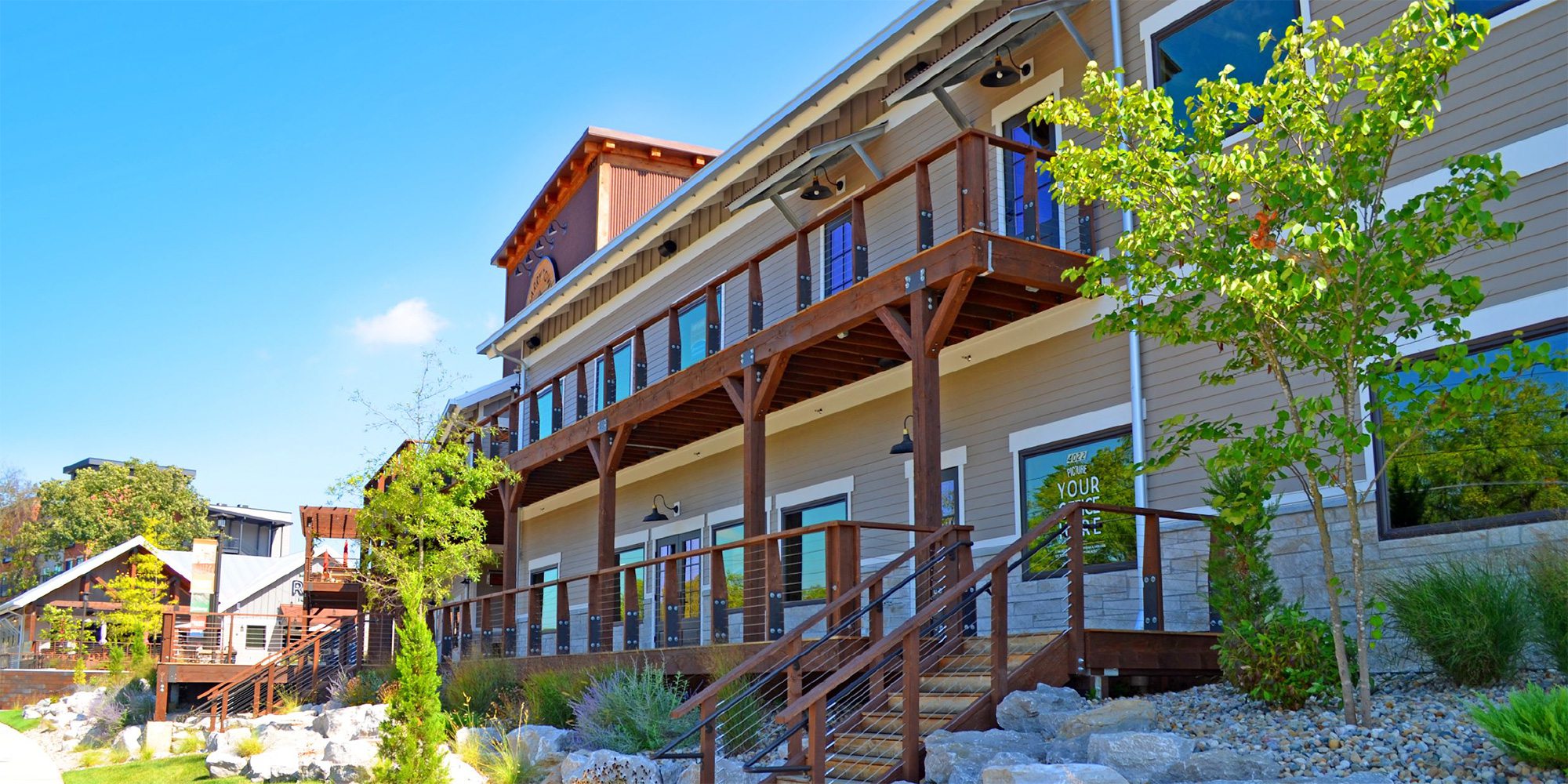 CATEGORY: Lifestyle
Combining the historical significance and natural resources of Galloway, Matt O'Reilly and Green Circle Projects created a space reminiscent of the past that will last long into the future.


---
When Matt O'Reilly and his team at Green Circle Projects began working on Quarry Town, an apartment complex located in Galloway, it was clear that building in the area would come with some challenges, such as flooding issues. He and his team also needed to balance the idea of creating a space large enough to accommodate hundreds of people with the desires of the local community. With a collaborative spirit and determination to keep the area true to its roots, the team worked to create a space that showcased the history and natural beauty of Galloway.

"The idea was to figure out how to preserve the integrity of the past while reinterpreting how it could be a meaningful place for people to live in the future," O'Reilly explains. The design team drew inspiration from historical photos of the land and buildings in the area. From the pitch of the roof to the building's signage, the project exemplifies the historic context of Galloway. Typically, commercial buildings such as this one would use a steel frame, but O'Reilly and his team found a way to use wood frame construction to give the space a cozier feel. The mix of industrial forms relate back to the train depot that used to take up the land, and the rock used throughout the structure is from the quarry down the street.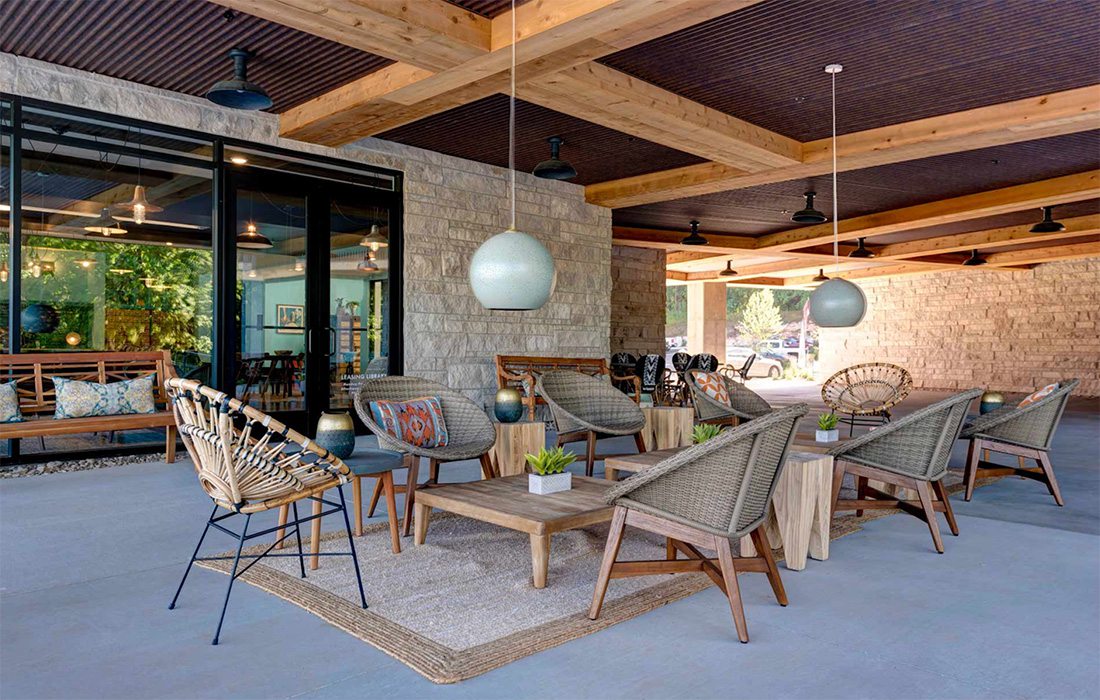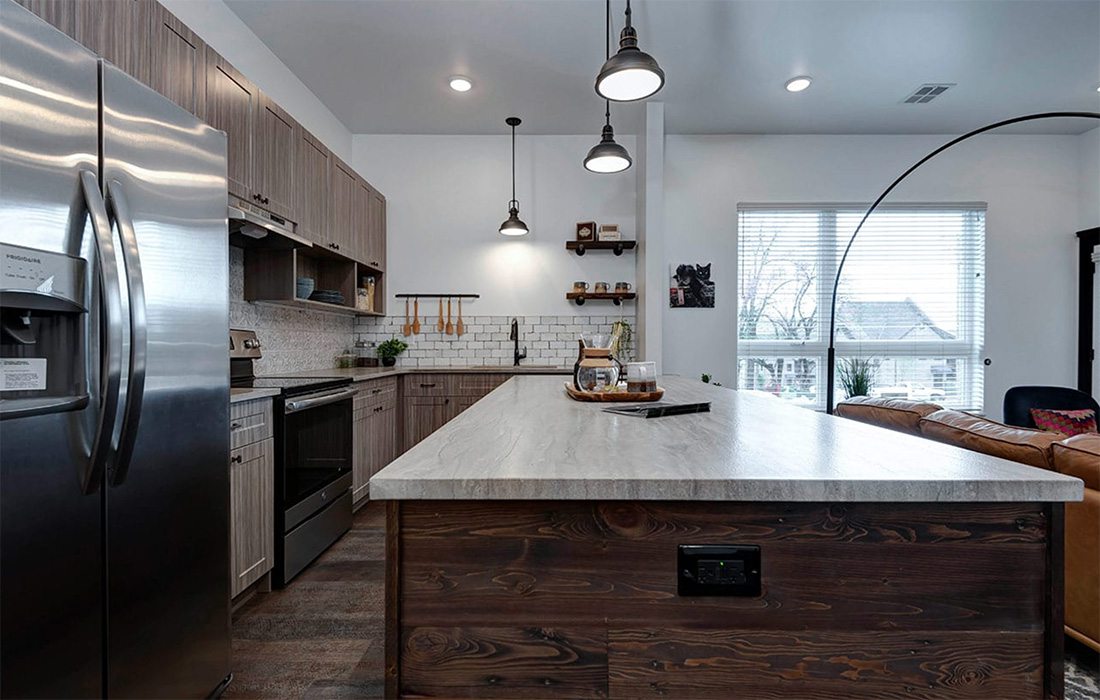 The project's community ties don't end with the building design, either. O'Reilly and his team worked to ensure the land itself was protected from the new developments over the course of this project. "Water quality and quantity, because of frequent flooding, is one of the biggest sensitivity issues in the area, and under normal development code, the problem would be worsened," O'Reilly says. The team joined with several local organizations to test the water quality of Galloway Creek before work began so they could track their impact on the environment in efforts to develop the land while helping the community along the way.
RESOURCE LISTINGS
Where to find the looks and materials used to create this winning business space in Springfield, Missouri and surrounding areas.
Contractor
Ross Construction Group
Architect
Jon Dodd, Buxton Kubik Dodd Design Collective
Window Coverings
Benton Daylight Control Systems
Flooring
The Carpet Shoppe
Hardware
Ron Miller Hardware
Light Fixtures
Fitch Electric
Plumbing
Fixtures: Lorenz Plumbing
Cabinets
CBS Cabinets
Stone
Phenix Stone
Rosales Masonry
Paint
Elliot Painting
G&G Painting
J&M Painting
Lumber
Meeks Lumber
Herrman Lumber 
Dyke Lumber
Concrete
Advanced Concrete
Drywall
Brock Drywall 
Landscaping
James River Landscaping 
Steel
Doing Steel
Roofing
SRS Roofing 
Truss
Mid-America Truss
Glass
Wildcat Glass 
Fencing
Carnahan-White Fencing
Other
Springfield Door Service
JJ's Fire Protection
Sundance Construction
Advanced Surfaces
APAC
Journagan Construction
Tom Boyce Excavating
Advanced Metal Fabricators
Insulation of the Ozarks