Commercial Design Awards
Commercial Design Awards Winner: Century 21 Integrity Group
Using an existing space to their advantage and creating an open and inviting space at Century 21: Integrity Group earned Heather Smith and Decorating Den Interiors the Renovation category award.
By Briley Rakow
Jul 2020
CATEGORY: Renovation
Focusing on creating an open and inviting space, the team at Decorating Den Interiors remodeled an old bank into a cozy office space both agents and clients can enjoy.


---
After several years of research, Angie Mullings, owner of Century 21: Integrity Group, found the perfect space for a new company office. With the help of Heather Smith at Decorating Den Interiors, the site of what was formerly Simmons Bank and picked for its excellent signage visibility and easy access to the highway, was turned into a welcoming office. 
"We had to make sense of what we could do, in the most cost-effective way, to make this huge space have the feel she wanted," Smith says. The team started with the entryway, removing the marble flooring and replacing it with a wood-looking porcelain tile. The goal was to transform the space into an industrial modern, eclectic farmhouse look. The entry walls were covered with a faux-stone veneer, adding texture to the office. 
Once the basics were completed, the team focused on the community spaces to make the office inviting to both agents and clients. "This client has many agents that work under her," Smith explains. "She really needed a flexible space for her agents to use when they're there and for her to have clients and host educational workshops." To accomplish this, the team created a coffee bar and community kitchen with open shelving and an eye-catching backsplash. This area extends into a classroom space where Mullings can host meetings.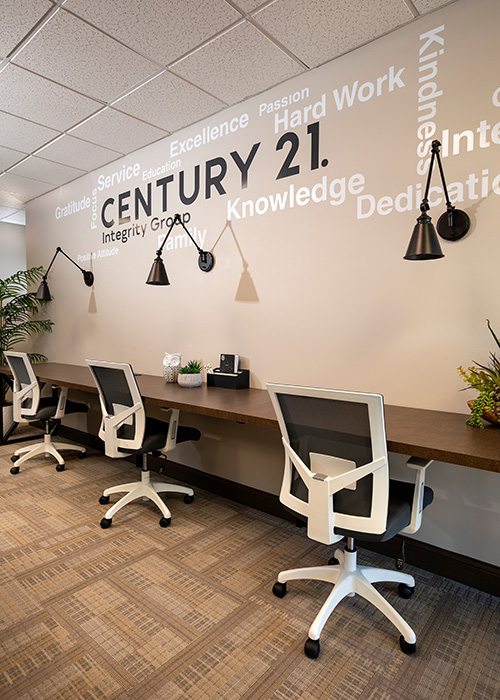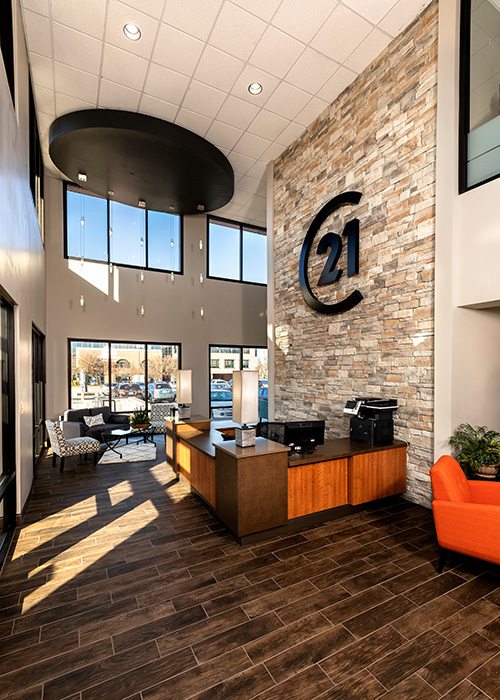 "With that open workspace we were working with, the challenge was how to separate it enough to give people privacy and sound control without blocking the natural light or adding physical walls," Smith says. "That was when we came up with having the open shelving pieces." The shelving in the space is modular, but the feel is there to stay. The team wanted the office to be breathable with natural light and custom wallpaper to make it feel uncluttered and comfortable for everyone who walked through the door.
RESOURCE LISTINGS
Where to find the looks and materials used to create this winning business space in Springfield, Missouri and surrounding areas.
Remodeler
Addison White, White House Renovations
Wall Coverings
Century 21 Corporate Office Custom Wallpaper
Window Coverings
Decorating Den Interiors
Flooring
Decorating Den Interiors
Furniture
Decorating Den Interiors
Light Fixtures
Decorating Den Interiors
Tile
Decorating Den Interiors
Stone
Decorating Den Interiors
Accessories
Decorating Den Interiors
Cabinetry
Addison White, White House Renovations
Plumbing Fixtures
Addison White, White House Renovations
Countertops
Addison White, White House Renovations
Paint
Johnny Smith, Wonder Faux Finishes