Commercial Design Awards
Commercial Design Awards 2022 Winner: Lifestyle
Through renovation and new construction, a modern, flexible, multifunctioning school building was created to serve the district's students, teachers and community at large.
by Colin Shea Denniston
Jul 2022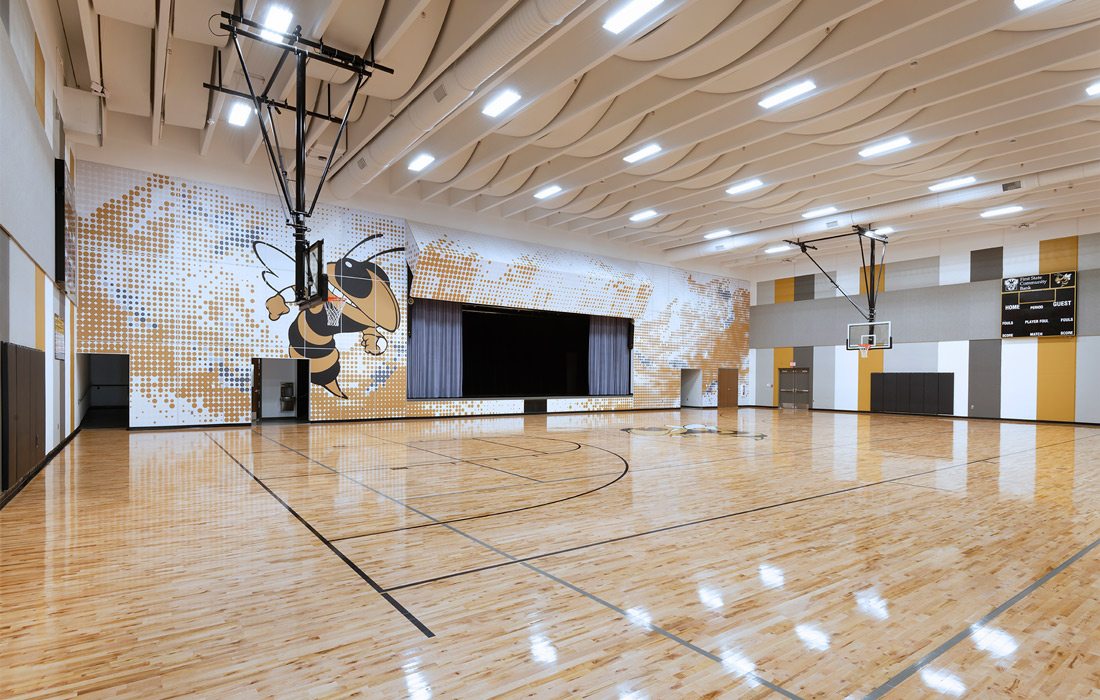 CATEGORY: Lifestyle
Architect and Project Manager: Kristi Beattie Sapp Design Architects
Interior Designer: Jennifer Fick Sapp Design Architects
Project Goal: Through renovation and new construction, create a modern, flexible, multifunctioning school building to serve the district's students, teachers and community at large.
---
Education is ever evolving. With new research comes new understandings, leading to innovation and advancement in the learning process. But what happens when the school buildings no longer support the teachers and students inside? For phase one of a multiphased construction and renovation process to Maplecrest Elementary School in Lebanon, Missouri, the team from Sapp Design Architects looked not only at what the school district needed now, but what they needed next.
"I feel like there were several goals within this project. We had the new addition, and we had the renovation of the existing multipurpose room to expand their cafeteria," says Jennifer Fick, Interior Designer at Sapp Design Architects. "I think the main goal was just that the school's building was only about 57% of the square footage required for the student population."
A common thread connecting both the re-imagined existing spaces and newly constructed ones was to match the school's modern teaching approach with flexible classroom and common spaces, while also keeping future growth in mind. First constructed in 1955, the original Maplecrest school building includes several additions—without much focus put towards cohesion or adaptability. "Education used to be more confined to a single classroom. Students sit there and the teacher teaches to them for eight hours a day," says Architect and Project Manager Kristi Beattie. "Now it's much more project based, collaborative, interactive, one-to-one. So, the spaces that we're designing have to be able to adapt to that new teaching method."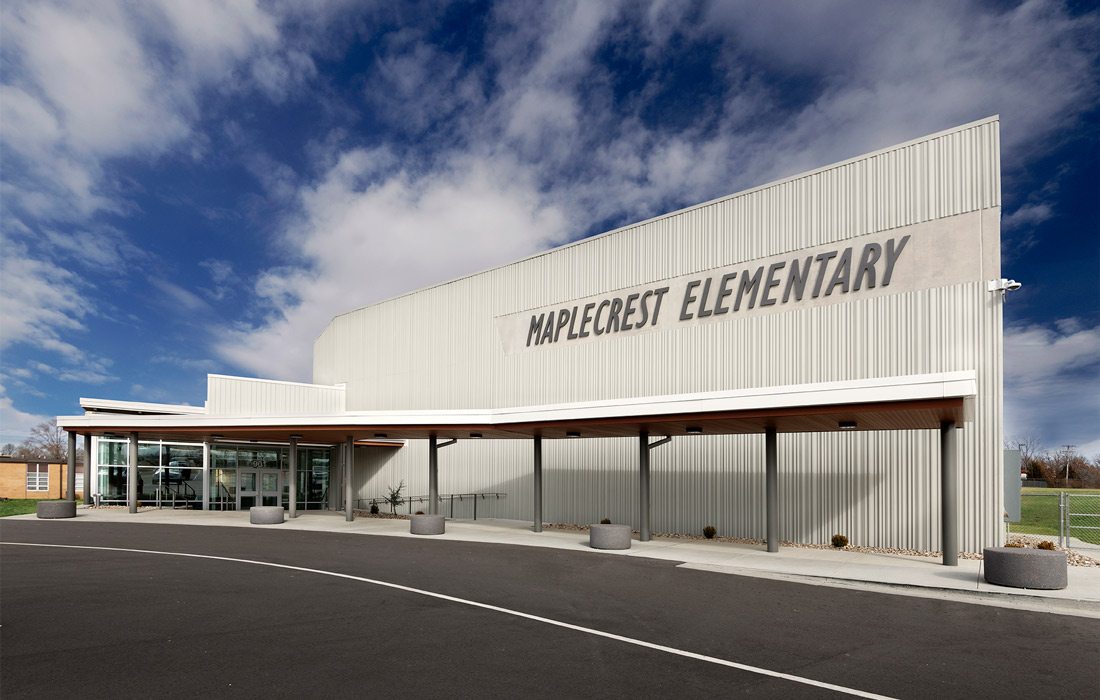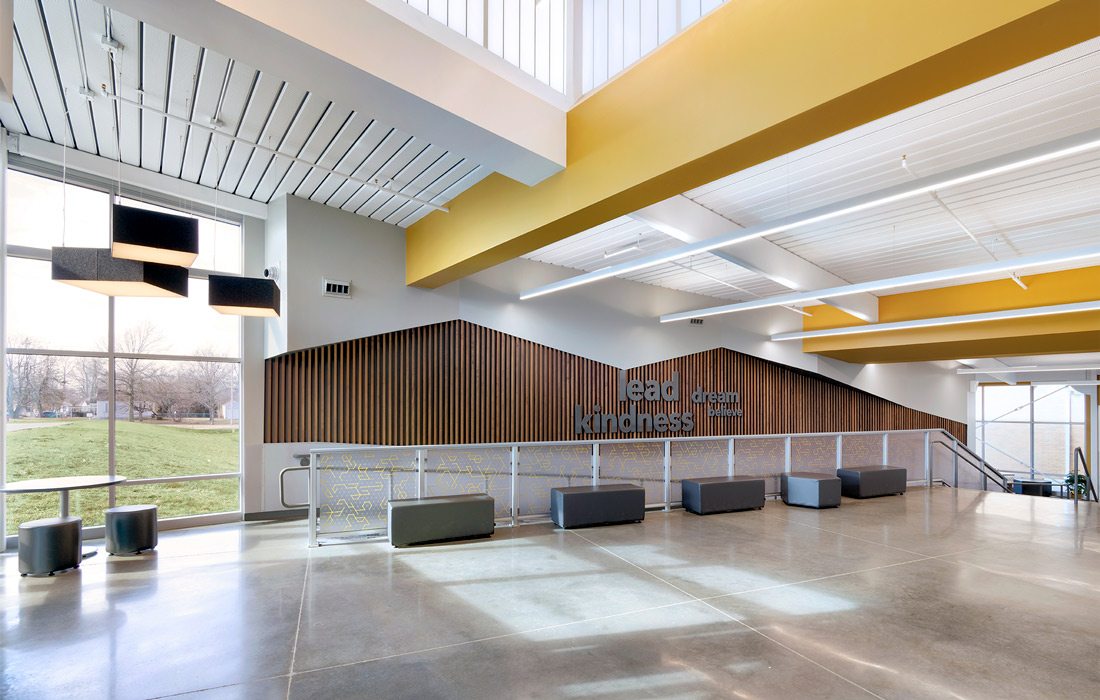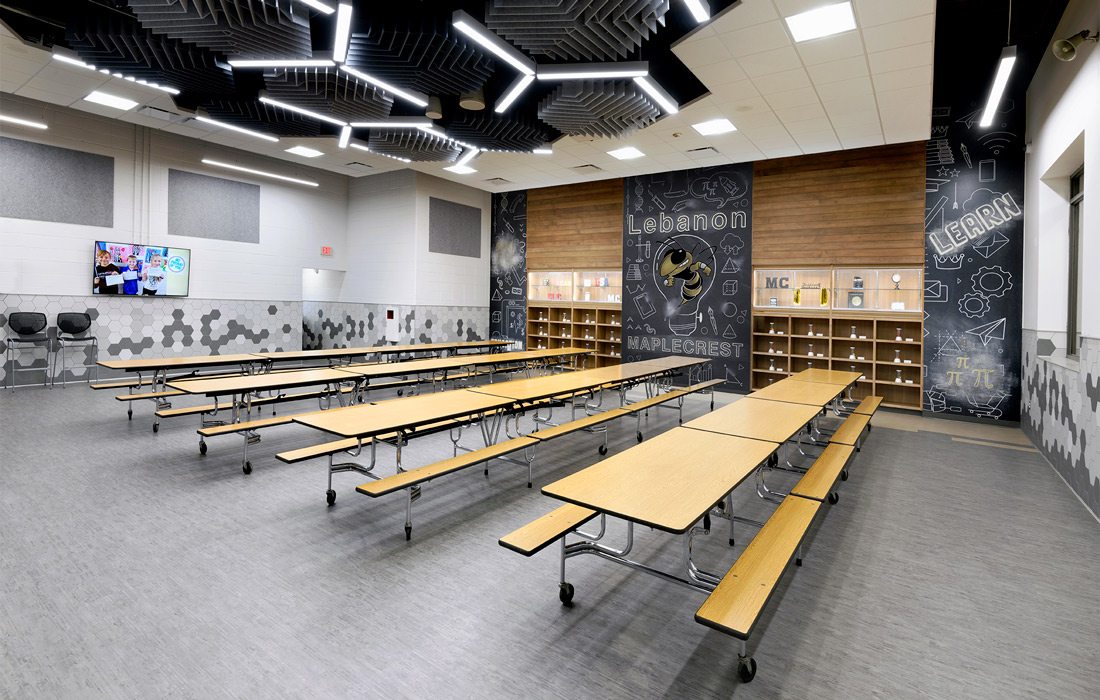 A forward-thinking focus was put on modern teaching methods—propelling the school into the 21st century. "To do that, we had to make every design vision an opportunity to create space for learning," says Fick. Overhead garage-style doors can be opened, for lunchtime or collaborative learning, and then closed to create two independently functioning classroom spaces. "Every move was intentional for learning," adds Fick.
And while the school building itself is for second and third grade students, the newly built gymnasium serves as a gathering place for students district wide and as a symbol of community pride. According to Fick, "the Lebanon community—they love to emphasize their school colors and their mascot, Buzz, so balancing that with this idea that this was just phase one was extremely important.
RESOURCE LISTINGS
Where to find the looks and materials used to create this winning business space in Springfield, Missouri and surrounding areas.
Interior Design/Decorating Project Lead(s)
Jennifer Fick, Interior Designer
Sapp Design Architects
3570 S. Freemont Ave., Springfield
417-877-9600
Architect/Project Manager
Kristi Beattie, AIA
Sapp Design Architects
3570 S Freemont Ave, Springfield
417-877-9600
Architect/Project Designer(s)
Jennifer Fick, Interior Designer
Sapp Design Architects
3570 S Freemont Ave, Springfield
417-877-9600
Photographer of Project
Architectural Imageworks, LLC
Office Furniture
Justice Furniture
Lebanon
Kitchen/Break Room Countertops
Acer Cabinet Company, LLC
(Manufacturer of finish product: Wilsonart)
Bolivar
417-422-3257
Carpet
Flooring System, Inc.
(Manufacturer of finish product: Bentley Mills)
Springfield
417-865-3076
Stone/Tile
Unique Tile
Nixa
417-725-5515
Wood Floors
Lankford Enterprises Inc.
(Manufacturer of finish product: Robbins Sport Surfaces)
913-681-2244
Paint (brand)
Sherwin Williams
Audio/Visual Equipment
Morgan Music
Lebanon
417-588-1970
Custom Woodwork
Acer Cabinet Company, LLC
Bolivar
417-422-3257
Other Suppliers
Floorings
Flooring Systems, Inc.
Springfield
417-865-3076
Vinyl Graphic Art
nPrint Graphixs
Springfield, MO