Commercial Design Awards
Commercial Design Awards Winner: Miller Engineering
Miller Engineering underwent a transformation to create an office that showcases vital yet beautiful structural materials used in the engineering field.
By Tessa Cooper
Jul 2021

CATEGORY: General Office & Professional Services
Senior Structural and Forensic Engineer: Travis Miller, PE, CSI, CDT, Miller Engineering, PC
Principle Architect: Jon Dodd, Buxton Kubik Dodd Design Collective
Project Architect: Kyle Yarbrough, Buxton Kubik Dodd Design Collective
Principle Interior Designer: Kris Evans, Buxton Kubik Dodd Design Collective

The goal of this project was to create an office that showcases vital yet beautiful structural materials used in the engineering field.

---
After a significant growth spurt over the previous few years, Miller Engineering was due for an office upgrade. For one thing, the company had simply run out of space in their previous office.
Now standing at 8,700 square feet with a 2,000-square-foot workout facility, the Miller Engineering building has an upgraded space and design. Using the existing ground slope, the team created a training room and outdoor workspace.
By partnering with Buxton Kubik Dodd Design Collective and BP Builders, they were able to show off structural elements in the building typically covered by drywall and acoustical ceilings. Most impressive is the fact that two-thirds of the building has the illusion of free-floating in the air thanks to a 14-foot-tall Vierendeel truss.
"Normally, an office building would have structural steel parts and pieces, but they would be much smaller and a lot less ornate," Travis Miller says. "They wouldn't have all the curved shapes with architectural fabrication and welding."
Even the exposed ductwork is more aesthetic than your run-of-the-mill type due to its flat oval shape. "It has a smaller profile and [doesn't] steal the show away from some of our structural elements," Miller says. "It has kind of a dull finish on it. We specifically ordered ductwork that had that type of finish on it, so it would continue the rustic look that we were doing with some of the other structural steel elements."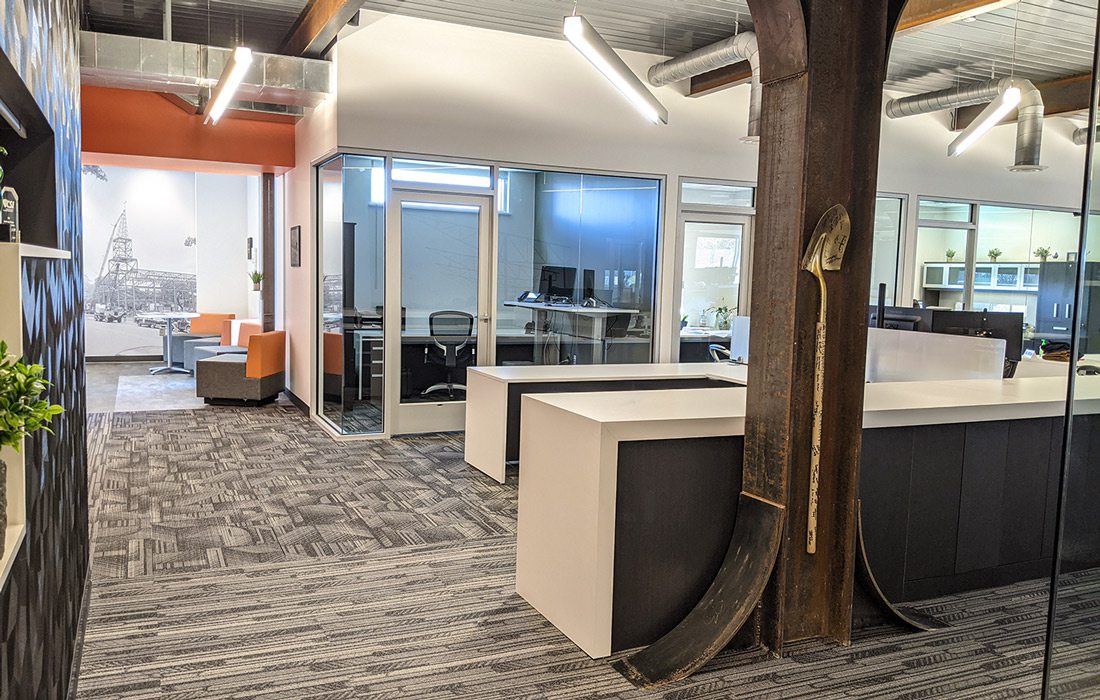 The structural steel elements in the space look effortlessly aged, but Miller admits they put quite a bit of effort into testing steel treatments. They ultimately cleaned off some of the rust and worked traces of its orange hue into the overall design.
The wood planks are mass timber roof materials. This eco-friendly construction technique utilizes lumber in a butcher block fashion to create large open-span areas. Several Miller Engineering employees took on both the design and fabrication of several of the structural and architectural elements that make up the entire office. With the project complete, the Miller Engineering team is surrounded by the same structural elements they are designing for other buildings Monday through Friday.
RESOURCE LISTINGS
Where to find the looks and materials used to create this winning business space in Springfield, Missouri and surrounding areas.