Commercial Design Awards
Commercial Design Awards Winner: Employer Advantage
For this project, a former bowling alley was transformed into an office building with ample natural light for Employer Advantage.
By Tessa Cooper
Jul 2021

CATEGORY: Renovation

Principle Architect: Brad Erwin, Paragon Architecture
Project Manager: Jessica Struckhoff, Paragon Architecture
Interior Designer: Kari Smith, Paragon Architecture
Project Manager: Richard Nepote, R.E. Smith Construction Co.

The goal of this project was to renovate a former bowling alley into an office building with ample natural light.

---
It's not uncommon for shuttered bowling alleys to remain vacant for years. These former community hubs typically lack natural light and pack almost too much square footage for the average business.
Yet, one vacant 1980s era bowling alley in Joplin recently got a second life as Employer Advantage's new headquarters. This bustling business provides human resource services to businesses all across America, so the company needed a place for employees to both collaborate and also quietly focus on their work.
The building is just shy of 30,000 square feet, and Paragon Architecture laid the groundwork for a highly flexible workspace on the first level with room for private business operations on the lower level.
According to Jessica Struckhoff, project manager at Paragon Architecture, the team discovered one of the top requests among Employer Advantage employees was ample natural light in their new office. To achieve this, the contracting team cut large windows into the walls at multiple heights to allow sunlight to penetrate deep within the space and bring in that natural light.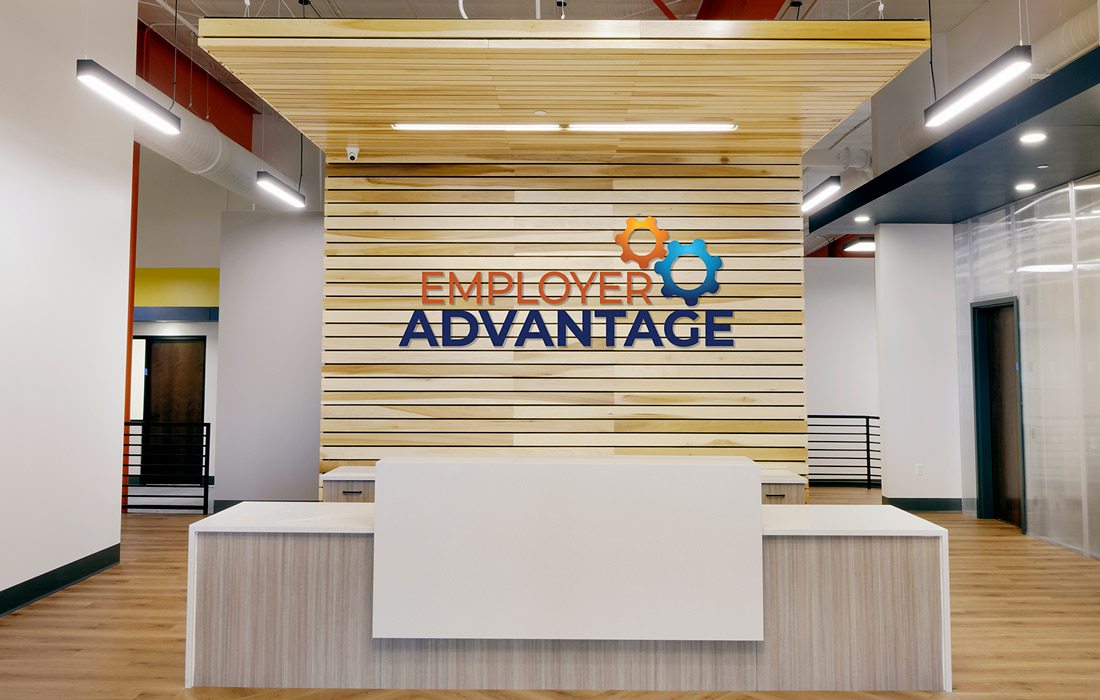 "Bowling alleys, by nature, don't have windows, so we had to punch several openings to flood the space with natural light," Struckhoff says. "This was a challenge because the original structure is a pre-engineered metal building. We had to keep in mind that the metal panels on the exterior were used as part of the structural system, so we had to maintain a substantial amount of building skin."
Although the interior required a complete demolition, the project team salvaged a few bowling alley relics. For example, they used the old wood flooring planks to make tables in the company's break room.
"They also wanted their own brand to shine through in the interiors," Struckhoff says. "They have a very vibrant color scheme, which ironically played to that retro 1980s bowling alley color scheme." With thoughtful planning, Employer Advantage's office now reflects the company's culture and pays homage to all the strikes and spares once scored between the walls.
RESOURCE LISTINGS
Where to find the looks and materials used to create this winning business space in Springfield, Missouri and surrounding areas.