Commercial Design Awards
Commercial Design Awards Winner: CoxHealth Pediatric Specialties Center
The CoxHealth Pediatric Specialties Center was developed to provide a creative, imaginative space for younger patients at CoxHealth.
By Tessa Cooper
Jul 2021

CATEGORY: Health Care
Senior Architectural Project Manager: Torgerson Design Partners
Interior Design Associate: Kate Nimmo, Torgerson Design Partners
Architect and Senior Project Manager: Aaron King, Torgerson Design Partners
Contractor and President: John Grady, Dynamic Construction Systems, LLC

The goal of this project was to create an imaginative space for young CoxHealth patients.
---
Each day, children arrive at the CoxHealth Pediatric Specialties Center. No matter how the patients feel that day, life-like trees, cheerful colors and even a whimsical hot air balloon mural invite the imaginative minds to play.
"The main directive from the client was to provide a fun and inviting space for young patients without leaning too much toward the youngest or the oldest," says Jeff Masters, senior architectural project manager at Torgerson Design Partners. "For this reason, an outdoor theme was created, allowing the minds of each child to generate their own perception of this fun environment."
Torgerson Design Partners led the redesign of this project, but the project team was rich with local talent from other area businesses as well. Paragon Fabrication brought the design vision to life, Adam and Aaron Wolken created murals throughout and Schober Engineering, LLC and Dynamic Construction Systems, LLC worked as contractors and builders.
"This project was able to succeed due to the extensive amount of communication and coordination from everyone involved," says Kate Nimmo, interior design associate at Torgerson Design Partners. The goal was to create an immersive environment that made children excited for a trip to their physician's office, but cleanliness and safety were also at the forefront of every decision made on this project.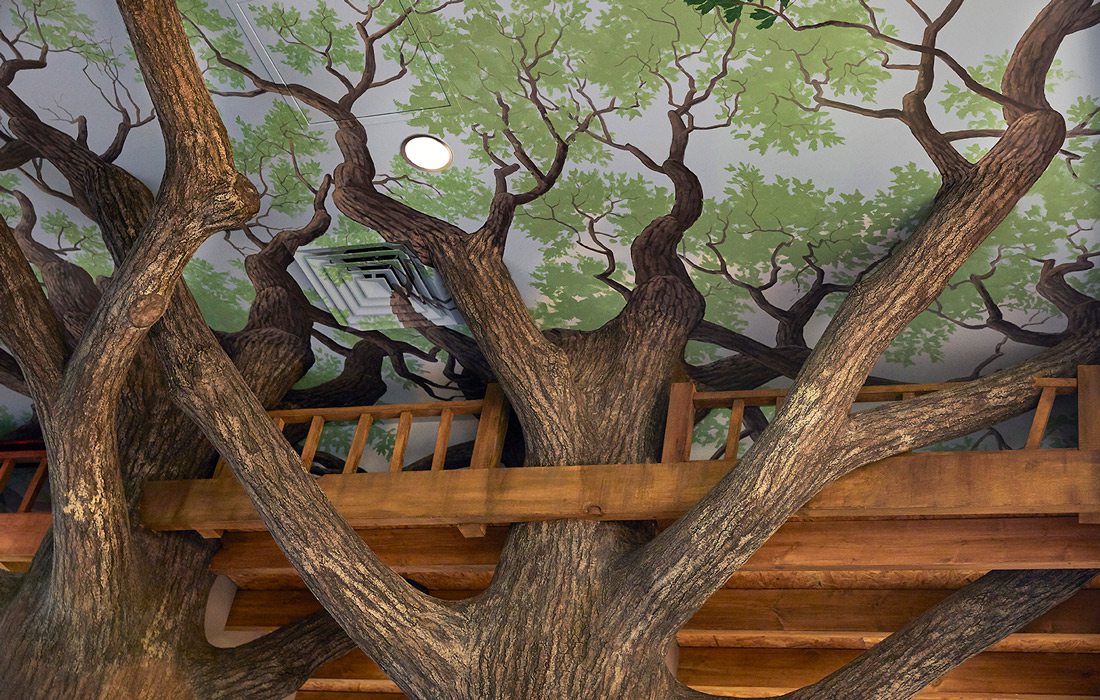 The fabrication team, Paragon Fabrication, created multiple samples of complex surfaces and gave them to CoxHealth's environmental services team to test cleanability. Through this elimination process, Paragon Fabrication was then able to create fixtures that met design and cleanability needs.
"Many of the children who visit this building spend a lot of time in and out of hospitals and clinics," says Aaron King, architect and senior project manager at Torgerson Design Partners. "Our hope is the environment we helped create here puts a smile on their face and helps make their visit a positive and fun experience."

RESOURCE LISTINGS
Where to find the looks and materials used to create this winning business space in Springfield, Missouri and surrounding areas.
Decorative Paint Contractor and Muralist