Family-Owned
The Thompson Sales Company
The Thompson Sales Company has long been a household name for Springfieldians shopping for a new car. The fourth generation of Thompsons is now leading the company and keeping a reputation for success.
By Rose Marthis | Photo by Brad Zweerink, courtesy Thompson Sales Company
Sep 2016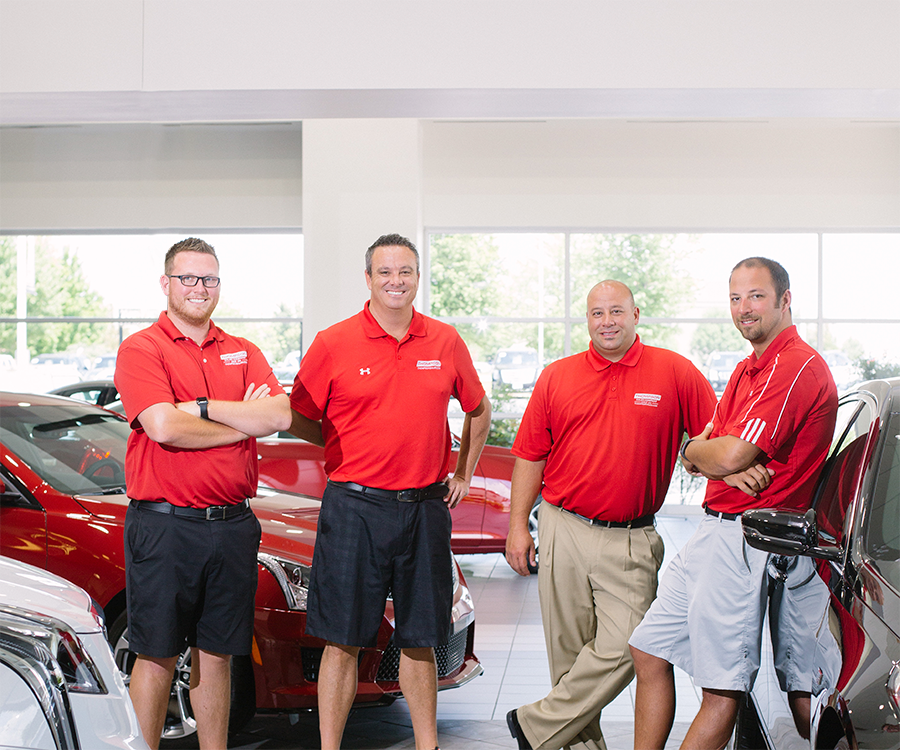 "When you think about Thompson Sales, you think about cars. That's the way it's been for 97 years," says Miles Thompson, the vice president of Thompson Sales Company and a fourth-generation employee. Miles is one of eight family members who are currently working for the company, but there have been many more since 1919, when the auto sales company first opened its doors in Springfield. The auto industry has made huge strides since then, and the company has kept up with every one of them. Throughout the years, the Thompsons have learned one thing above all else: The car business is really just a people business. 
George Thompson Sr. founded the company in downtown Springfield as a franchise for Racine Tires. The company continued to grow for decades, and a second location was built in south Springfield in 1987. With George Jr.'s passing in 1991, siblings Lynn Thompson and George Thompson became third-generation owners and presidents, positions they hold to this day.



1. In the early 1950s, the Thompson Sales Company was located at 727 Saint Louis St. in downtown Springfield before moving to the south side decades later.
2. George Thompson Sr. stands in front of the first dealership location in 1919 at 300 S. Kimbrough Ave. in Springfield. 
 
Miles started working with his father, George, when he was in high school. He worked in all five departments—new cars, used cars, body shop service, parts and financing—for at least six months until he became assistant truck manager when the company added the GMC franchise in 1996. Miles worked alongside his cousin Tyler, Lynn's son. They both made the move in 2000 to the new building, Thompson's current location at 1555 E. Independence St. 
Tyler worked his way through every department as well, and now he manages the sales staff with Miles but specializes in the digital and social media side of the business, along with finance and insurance and staff relations in his role as General Manager. Miles handles dealership operations, including inventory and the buying and pricing of new and used cars. He also focuses a lot of his time on improving customers' online experiences. "How you're found on the internet is really a big key to how many cars you sell now," Miles says. Throughout all the change, one constant in the company is the longevity of employees. Some managers have worked there for 50 years. "It kind of runs itself if you have a good staff of people who enjoy what they do," Miles says. "We want everyone to feel like part of the family." 
There's a fine line between enjoying your family and enjoying your family business." —Lynn Thompson, President of Thompson Sales Company
Lynn says he's been very happy watching his son and nephew learn what it takes to make the family business successful. "The biggest asset you have in a dealership is the people you have working for you," Lynn says. "We have the best staff right now that we've ever had." The 120-person staff all work in the 75,000-square-foot building that houses the sales, finance and accounting offices, a business development center, the body shop and parts center and five showrooms. 
Keeping the business in the family for nearly a century has taught the Thompsons some hard life lessons. Miles says a challenge for him has been learning how to keep work and family separate. "When you get together, it's important to have something else to talk about and share," he says. "There's a fine line between enjoying your family and enjoying your family business." Tyler also has learned how to separate family members and employees while on the job, as three of his brothers also work there. "It's hard to treat your brother one way and then turn around and have to talk to another guy with a complete smile," he says. "It takes lots of patience. I imagine it's just as hard for a manager to work here and sit in a board room with seven family members." 
Both Miles and Tyler knew they would be joining the family business, but they have plenty of family members who haven't. They learned to love it by watching their dads. "If you're going to model yourself off of someone, follow someone that's been doing a great job for a lot longer than [you've] been here," Miles says. "There's no reason to try to reinvent anything. Find out how they were successful, take the lead there and adapt when times change."