Family-Owned
DeLong Plumbing Heating & Air Has a Family-Laden Livelihood
Garry DeLong started DeLong Plumbing Heating & Air in 1991 as a two-man operation. As the business has grown to 60 people, more and more members of the family have enthusiastically gotten behind his vision.
By Claire Porter | Photos By Kevin O'Riley
Nov 2015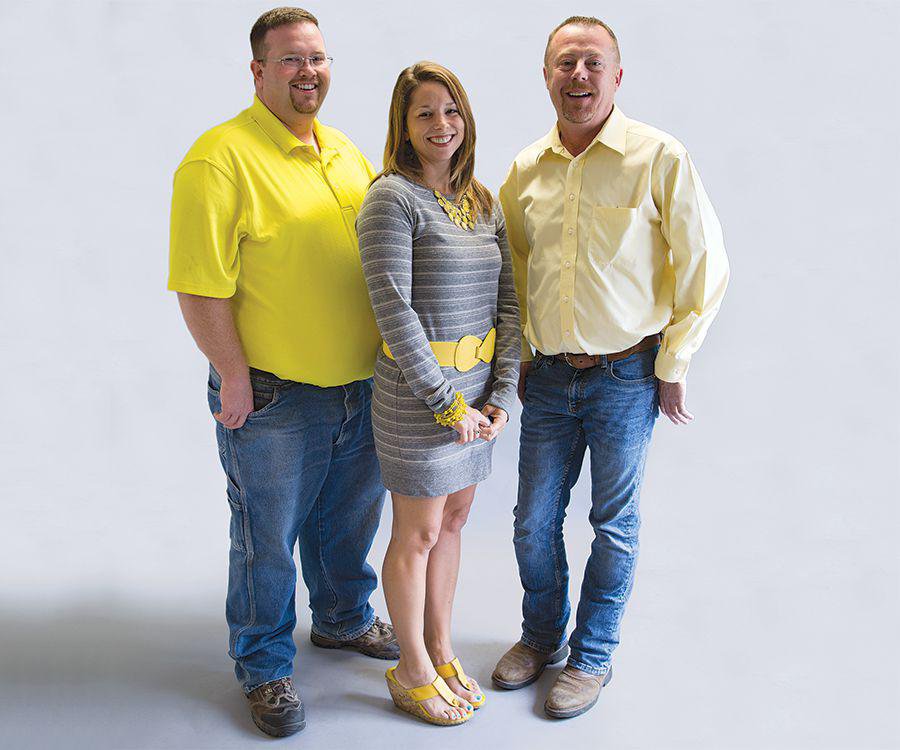 With eight members of the same family working under one roof, DeLong Plumbing Heating & Air is truly a family business. Garry DeLong was a commercial plumber doing large industrial jobs when he branched out to form his own business in 1991. "We all got roped into it from the day my dad started," says Jennifer Warner, Garry's daughter and secretary of the company.
Garry's children, Garra Crews, JW DeLong and Warner, grew up cleaning the shop after school, going on jobs with their dad on weekends and getting picked up and dropped off from school in the company's signature bright yellow trucks. When you grow up in a business, it's hard to leave it behind. Now, the three children plus Garry's first employee, Michael Johnston, are running the multifaceted business that grew out of the original two-man operation. Not only are the four family members (Johnston's great-grandmother and the siblings' great-grandmother are sisters) leading the show, but four others in the family, Garry's wife included, work in the company. "We're a strange family in that we all get along somewhat well," says JW, who is now company president. "We don't always get along, just like any family, but we somehow get through it," Warner adds." We're not a grudge family that's for sure." 



1. In the early days of the company, Garry drove a yellow bread truck. The style has evolved into the signature yellow truck seen above.  2. As part of their eco-friendly initiatives, the family recycles as much as they can and makes spare parts available for others to reuse. 3. Each morning starts in the plumbing warehouse where alongside supplies and tools the staff meets to receive the day's assignments.


The ability to let arguments go and communicate through disagreements has been a key to the DeLong family success—that and Garry's leadership style. While he was still in charge, Garry was open to suggestions and experiments the next generation proposed. "He gave us the ability to make some of these changes while he was still here," Johnston says. "If I did something that wasn't a good idea, he'd catch me." A lot of those changes today have to do with the size of the company. Since Garry retired in 2012, the company has doubled the number of employees from about 30 to almost 60, keeping up with the expansion of their construction, commercial and industrial services. Garry also initiated an eco-conscious initiative, which Jennifer has spearheaded and expanded to keep up with the ever-increasing green product options. 
At this size, the four can no longer run DeLong as a relationship-based two-person business. They've become more streamlined in their scheduling and supervision processes while still maintaining an all-in-the-family outlook. "We're not just trying to feed our families and our kids, but there are 50 other families out there that we have to look at," JW says. "When you don't work one person one day, that's a whole family that's getting shorted. We try to keep that aspect in mind. That's why our motto is our family helping your family."
"We're not just trying to feed our families and our kids, but there are 50 other families out there that we have to look at." —JW DeLong
Working with family has its advantages. The four can trust each other to be honest and open, and they're able to rely on each other when they need help. On the other hand, working with relatives has its challenges. "It's tough to get that age difference out," JW says. At times, they've had to grapple with the little sister versus big brother mentality. "I won't lie," Warner says. "There's been a time or two when we've almost duked it out in the parking lot, but in the end, we're all family, and we all have each other's best interests at heart." In addition to looking out for each other, Warner recommends that business owners have pride in the company they've built. "We're so proud of it—maybe not back when we were in seventh grade having to ride to school in a plumbing truck," she says. "But now when I see those trucks around town, I get so excited."
As the company has steadily grown, the four owners have stayed grounded in their work, sometimes going out in the field themselves. "If we're willing to send our guys out to do it, we should be willing to do it ourselves," JW says. That hard work and humility are all thanks to the example Garry set and ingrained in his children. 
Although he is now retired, Garry still makes it out to company events and fundraisers to promote the family business. "Garry had a lot of energy," Johnston says. "He had a lot of energy, and he had a lot of vision—sometimes more energy than vision. He didn't want to make a multimillion dollar business. He didn't want any fame, glamour or riches. He wanted a place where he could work and do the kind of work that he wanted to do, and that's what he built." 
The DeLong leaders plan to keep it that way for yet another generation. JW plans to pass the business on to his son, GP, 5, and Johnston's son Braden, 11. "I see the two of them riding around in a truck discussing the same problems we have today," he says. With a little grooming—and a lot of time—the two children are next in line to carry DeLong into the third generation.