Family-Owned
417 Smiles Has a Pearly White Legacy
Not only has Sara Bauer taken over 417 Smiles from her father, Dr. Stephen Young, but she's expanded the family business to include her husband, Nathan Bauer, and together the two are polishing smiles at their practice 417 Smiles.
By Claire Porter | Photo By Brandon Alms
Nov 2015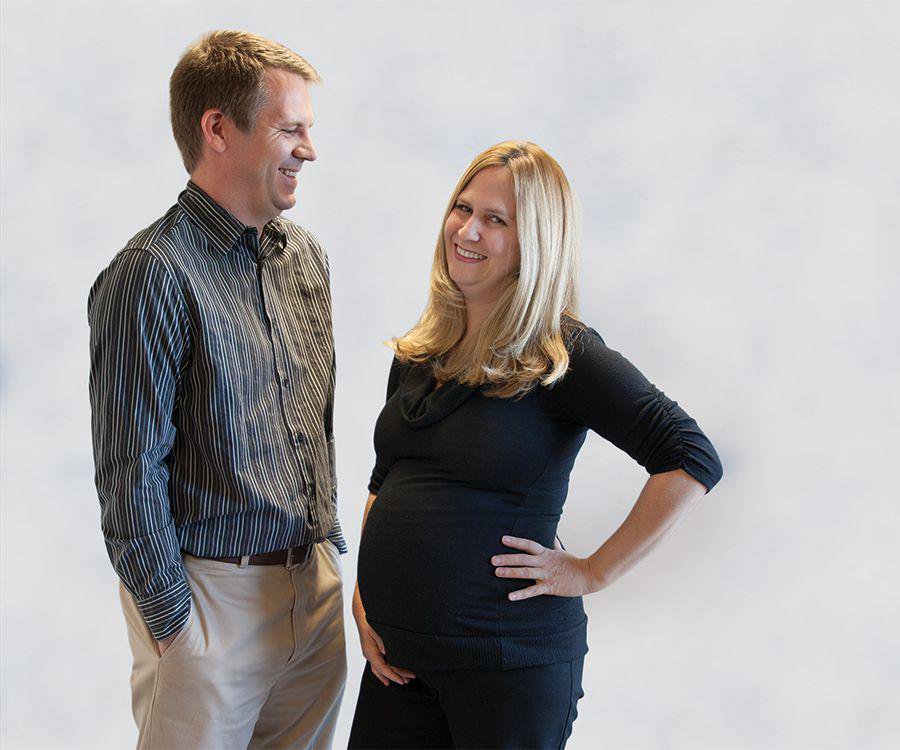 For almost 25 years, Dr. Stephen Young ran his own dental practice off of Sunshine Street and Lone Pine Avenue. He had always intended to run his practice alone, as is common in the dentistry industry. However, when his daughter, Dr. Sara Bauer, became a dentist as well, his solo practice turned into a family business.
"Never once did he push me into dentistry," Sara says. "I actually went into Mizzou not wanting to be a dentist." After shadowing her father, Sara joined the pre-dental club at the University of Missouri in Columbia and then applied to the University of Missouri–Kansas City Dental School. After graduating in 2007, Sara worked for the Jordan Valley Community Health Center for four years while working part-time at her father's practice. When Sara, who was Sara Young at the time, started to take over the business, she and her father tried using a motto, "Think Young D.D.S." "We didn't have a logo or a brand at all," Sara says. "There was nothing catchy about that. We always kept striving for, 'What can we do to get our name out there?'"



1. All three doctors use magnifying glasses like these loupes to examine close details. 2. The 417 Smiles space has been recently revamped with top-of-the-line operatories. 3. A total renovation means shiny new chair-side tools at each operatory. 


Meanwhile, Dr. Nathan Bauer was working for Dr. Charlie Vogel and took over the practice in 2010 when Dr. Vogel partially retired. One of Nathan's first moves as business owner was to rename the practice 417 Smiles, a marketing decision that buys the brand longevity because no single doctor's name is associated with it. "Being a dentist is only half of our job," Nathan says. "We're the CEOs and the HR people and IT technicians. We have some of the headaches of both sides and some of the rewards of both sides, too." 
"Being a dentist is only half of our job. We're the CEOs and the HR people and IT technicians." —Nathan Bauer
Both Bauers were tackling the trials of business ownership on their own, but each had the added advantage of working alongside their predecessors. "In dentistry, you learn so much in school, but really, you learn a lot more when you get out," Sara says. "[My father] guiding me there has made me, I think, a better, more well-rounded dentist." Both Sara and Nathan also benefitted from using an outside broker to negotiate the purchase of their individual practices. Not only are brokers experts at assessing a practice's true value before new ownership, but they also serve as a buffer between family members when awkward or difficult conversations come up. "It's important to have some outside person there to make sure there's no animosity," Nathan says. In Sarah's case, that meant a third party was able to handle the hard business negotiations, keeping it out of her relationship with her father.
After getting married in 2010 and with several years of business acumen under their belts, Sara and Nathan decided to merge practices to form what is today 417 Smiles. Because both of them had one-on-one mentoring on how to manage a business, the combination of firms went smoothly, with the only hiccup being acclimating Nathan's clients to the new location. With two brains in the business, the Bauers could capitalize on the best practices of each practice. For Sara, the biggest improvement was the new name. "Branding was so much easier because now we have a sign out there, and it's not just all of our names. It's our logo," she says. Nathan says he likes that the name is flexible and generic, so they can move locations, take on more dentists or expand their practice without giving up their identity. 
As part of their transition to owners, the Bauers had to sit down and plan all of the hidden details that go into owning a business, such as new vacation and benefit policies, practice hours, fee schedules and insurance options. The new firm completely moved into Dr. Young's well-known location, which the Bauers renovated  to reflect their bright and modern branding. The merger also allowed the team to keep more procedures in-house. Instead of referring patients to other specialists or outside surgeons, the 417 Smiles team can send patients to other doctors within the practice for procedures such as implants or Invisalign. 
Through the whole transition, Dr. Young has continued to work in the practice to serve as a sounding board. "He's been really good at saying, 'This is how I did it, but how are you going to do it?'" Sara says. "He never really pushes us on how he did it, but he at least lets us know how he ran a practice, which was very successful." As Dr. Young nears retirement, the Bauers are working through their plan for the next phase of the business, though with their three children ranging in age from four years to just one month old, they might have to turn outside the family to find his replacement.