Culture
Creating Culture with Canines
J. Kent Martin and Nathan Taylor love their dogs, so when the two owners of Bridge Blue, Obelisk Home and Unleashed Life wanted to find a way to make their employees enjoy coming to work, the answer seemed obvious: bring the dogs.
By Claire Porter | Photo By Brandon Alms
Nov 2015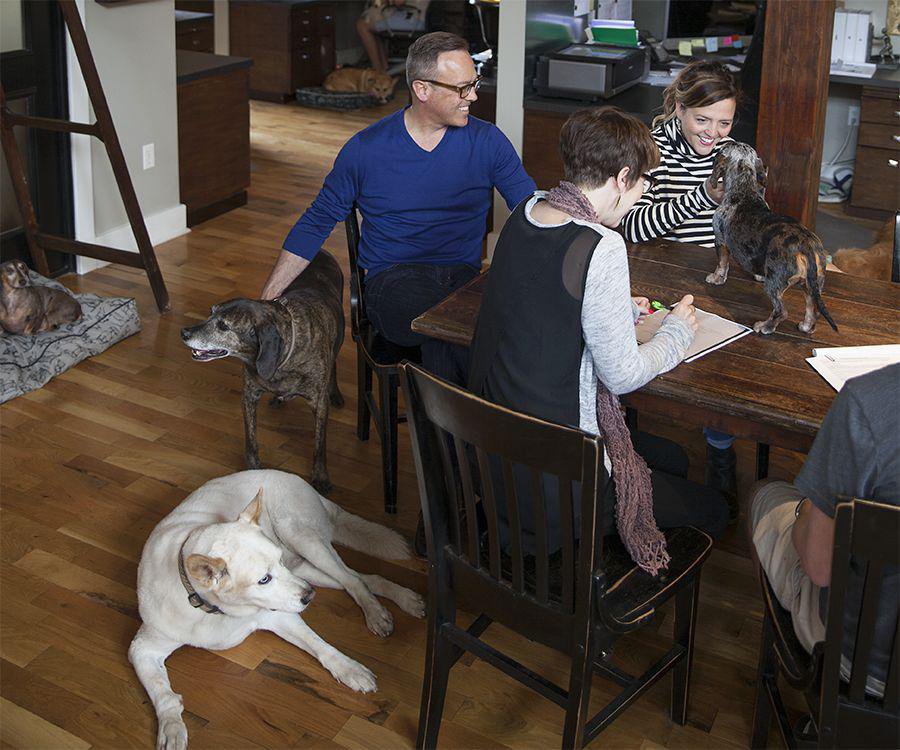 As you climb the airy and impeccably decorated staircase to the Bridge Blue and Obelisk Home offices, you're greeted by a smiling face, a hot cup of coffee and several wagging tails. J. Kent Martin and Nathan Taylor are dedicated to their pets, so much so that they work beside them each day. On average, there are six dogs in the office, including Taylor and Martin's two dogs, Willie and Blue.  
Why go through all the hassle? "It creates chaos, obviously, but everybody loves it," Martin says. "It's a stress relief," adds Nicole Fuller, director of strategic relations. "If they come up and they nuzzle you, you're like, 'Okay, this is nice.' You snuggle them, then you go back to work." Martin notes that clients who come into the office love meeting the furry employees, and customers in the shop appreciate that their own pets can tag along as they browse.
When Taylor and Martin founded the company 13 years ago, they let their first employee bring her poodle in each day as a perk. Then, when they got their first dog and started bringing him into the office, the rest of the employees followed suit. "I don't know that we ever really made it a policy," Martin says. "It just kind of evolved." 
To some, including pets in the workplace might seem like an afterthought, but to the 16-person team, their pets are an integral part of the culture. "The dogs start the family feel, but in the end, it just feels like a big family, including dogs, including Christmas trees, including having dinner, having birthday parties," Fuller says. "I think that that's one of the main staples of the culture here." 
Dogs napping under desks, food bowls strewn about and beds tucked into every corner certainly contribute to a casual environment. The bring-your-dog-to-work spirit is laid back, but it's not without its rules. "The only thing is everybody has to get along," Martin says. "Obviously they have to be current on their shots and have to be on flea and tick medication because we don't want an epidemic here." 
The very nature of dogs leads to interruptions as well, be it accidents, barking at the doorbell or needing to be let out. "You need to have some sort of facilities to accommodate their needs just as you do the employees' needs," Martin says. Dogs were already part of their workday when they moved offices, so the company redesigned its current space in 2008 to include a dog run and a rooftop deck, which are also available to the dogs of loft residents who share the building. 
For Martin and Taylor, their company's family-style culture doesn't stop at the office door. In the past eight years, they have taken their dedication to accommodating pets a step further by launching a line of pet products, Unleashed Life. "One thing that we as a company have realized is that more and more people are integrating their pets," Martin says. "They're not just a dog in the backyard anymore; they're a member of the family. That's really the reason Unleashed Life was born: to incorporate pets into the human living environment, so that's part of our culture here." And judging by the three panting tongues and wagging tails held back from the stairwell by an outstretched foot, it's evident that the happiest employees in that culture aren't necessarily the ones with only two legs.