Strategy
Creatively Brand Your Business
London native Neil Gomme, co-owner of London Calling Pasty Company, shares how he developed the British-themed brand, creating success for the Springfield food truck.
By Savannah Waszczuk | Photos by Brandon Alms
Mar 2016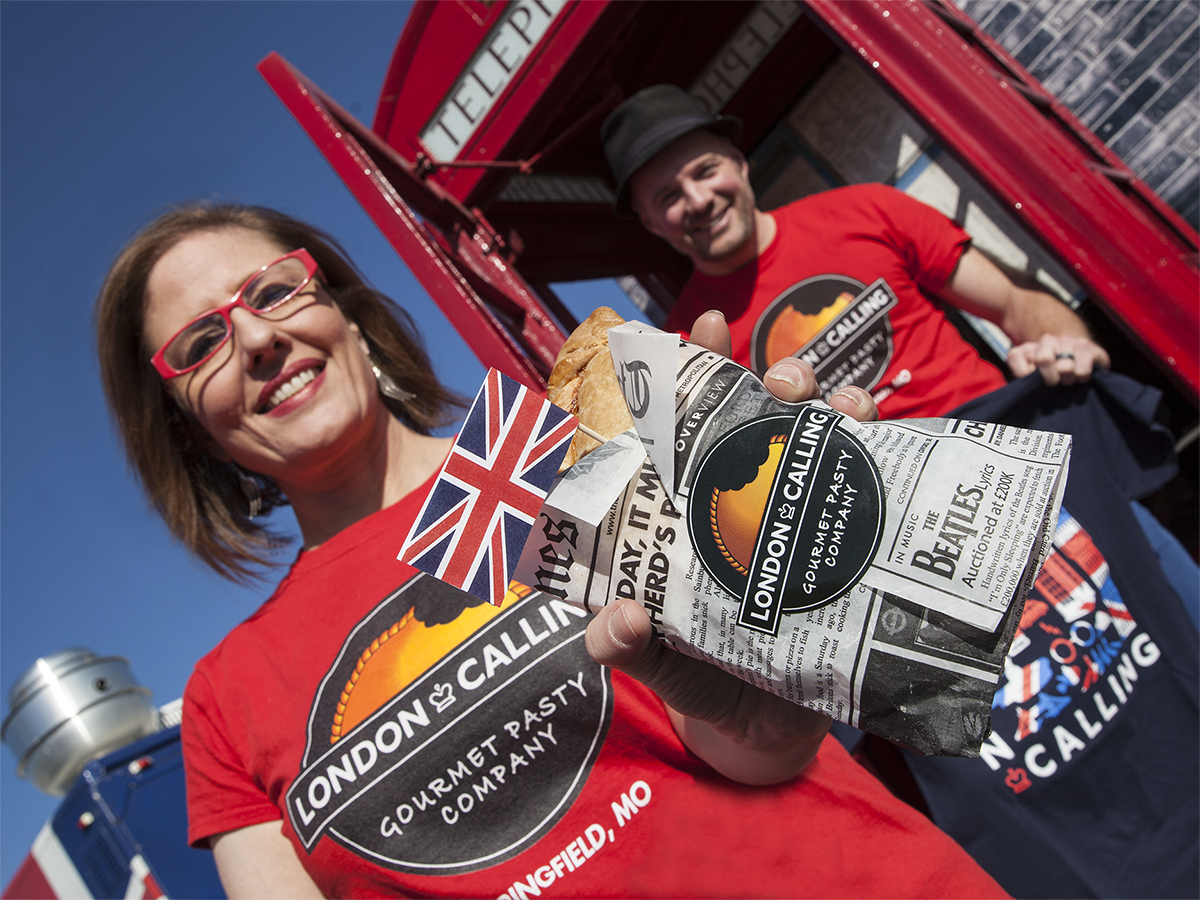 While Carrie Mitchell was in London visiting her brother-in-law, Neil Gomme, she tasted her first-ever pasty—a baked pastry filled with savory ingredients that's popular all over Britain—and it changed her life. The two decided to open a restaurant that specializes in pasties in Springfield. For the next two years, Mitchell, back in Springfield, and Gomme, still in England, developed business ideas for their proposed eatery. Gomme moved to the United States in 2013, and the two used the next six months to plan out every last detail about their food truck: London Calling Pasty Company. The duo knew that if they wanted to succeed, they needed to not only knock their pasty recipe out of the park, but also convince Springfield that they were experts in all things British. 


Step 1: Perfect Your Product 
A huge part of branding your business is perfecting the driving product that comes along with it. For Mitchell and Gomme, this product was British pasties, and they spent many months developing just the right recipe for a taste both delicious and authentic. 


Step 2: Choose Your Theme
A British-themed food truck was the obvious choice for Mitchell and Gomme's business with their key product of pasties. But this natural connection may not come quite as easily in other companies. While choosing a theme for your brand, be sure it not only makes sense with your products but is also something you can build on and carry out.
 
Step 3: Become Your Brand
By publicly branding themselves as "British" rather than just "some pasty shop," Mitchell and Gomme got people talking. "We wanted people to feel like they were walking down the streets of London when they came here," Gomme says. This included creating an atmosphere using a double-decker bus, an English telephone booth, and servers with strong British accents. Whatever your theme, be sure to carry it across all facets of your business.


Step 4: Build Some Buzz
Long before they opened, social media posts hinting that "Britain is coming" stirred up interest, and the double-decker bus and telephone booth outside of the food truck caught the attention of passers-by. "We knew if we had some iconic elements, people would at least be talking about it," Gomme says. 


Step 5: Expand and Brand
Once they perfected their pasty recipe and production schedule, London Calling started selling its pasties frozen, selling in more locations and selling London Calling–branded merchandise. "You have to go to the people," Gomme says.