Culture
Learning from the Trees
When it comes to running a business, All About Trees Owner Noel Boyer says it's all about encouraging learning, which he does by entering tree-climbing competitions with his team. Learn how the educational push has helped develop his company's rich cultur
By Savannah Waszczuk | Photo by Jessica Murphy
Mar 2016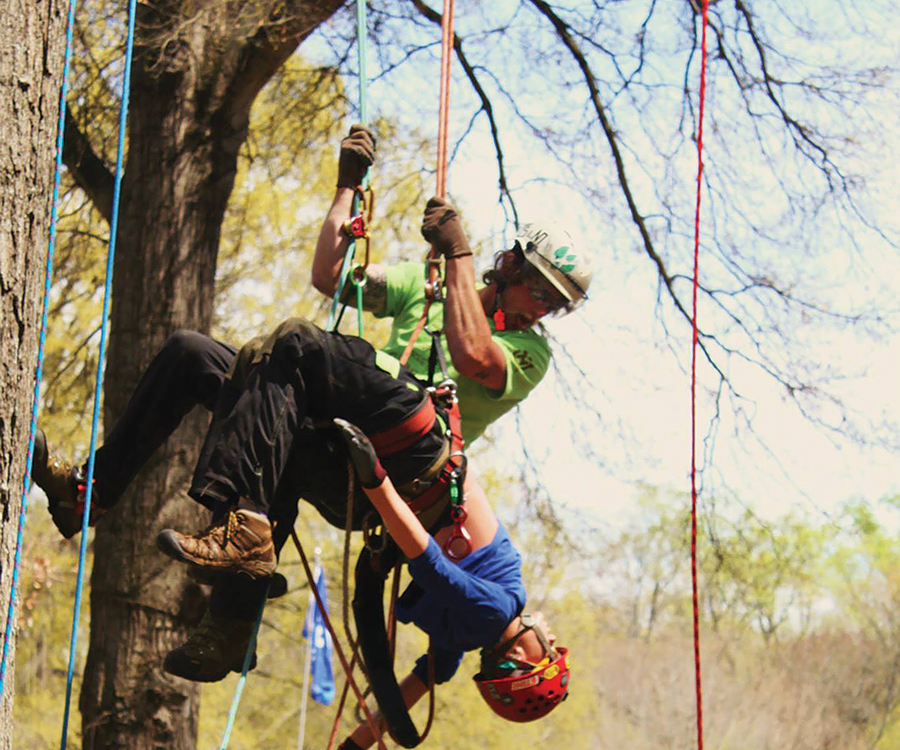 Noel Boyer never dreamed he would own his own tree service company. After graduating from Willow Springs High School, he studied psychology at Southwest Missouri State University, soaking in a world of knowledge that couldn't be more different than trimming branches and snipping shrubs. But after getting his degree, he needed employment. "I took a job with a tree service thinking it would be a temporary thing," Boyer says. Then his boss took him to a tree-climbing competition, and everything changed. He was hooked. As of today, he's earned the Midwestern Chapter–International Society of Arboriculture's tree-climbing title seven times.
Ten years ago, Boyer purchased All About Trees, a full-service tree-care company that offers tree pruning, trimming, removal, planting, stump grinding and more. The company currently employs 10, two in the office and eight in production. Production workers share all of the service duties, from climbing trees and trimming branches to raking downed limbs and dragging away brush. "Most companies have a couple of crew leaders that do pruning and climbing, then other ground guys," Boyer says. "Not us. Everyone knows how to prune a tree." Boyer says having all of the guys fill multiple roles helps keep morale up, since nobody wants to be a full-time brush dragger. "A lot of our guys are talented and skilled, because that's part of our culture," Boyer says.
Just as his boss did with him some 20 years ago, Boyer and his team annually compete in tree climbing competitions around the country. "It's been a great source of enthusiasm and training for my guys," he says. "We go out there, do what we know and learn from everyone else." 
 But this isn't burly men throwing logs. "This is a finesse game," Boyer says. "It's pretty much an obstacle course in the tree tops. You're flying through the trees, ringing bells and hitting targets." But it's not all just for fun. "It's made to mimic what guys like us do," Boyer says. It includes many things they do on the job every day and stresses the importance of being careful. "Our industry has a lot of people who get injured and killed every year," Boyer says. "This competition is very much meant to drive safety." 
Being involved in the contest also feeds the team knowledge, and his employees' desire for more credentials. All About Trees hosted its own school where team members could stay after work to prepare for exams. "Because of that class, five more of our team members passed the Certified Arborist exam," Boyer says, making a total of nine certified employees. And he does things like fund tree competition trips and host after-hours classes not because he has to, but because he wants to. "You want to invest in your team, because you want them to feel that they're valued," Boyer says. "I would tell anyone to invest in their employees, and to do something regularly that they can learn from." For many companies, this can land you a team that's hungry to learn and reaches for the stars. But for Boyer and his team, they couldn't be happier settling among the trees.