Family-Owned
Nick St. George Upholds the Tasty Legacy of St. George's Donuts
At 35 years old, Nick St. George is leading the east Sunshine Street location of St. George's Donuts into its fourth decade of business. With the guidance of his mother, Katy, the future is bright.
By Hannah Brashers
Jul 2018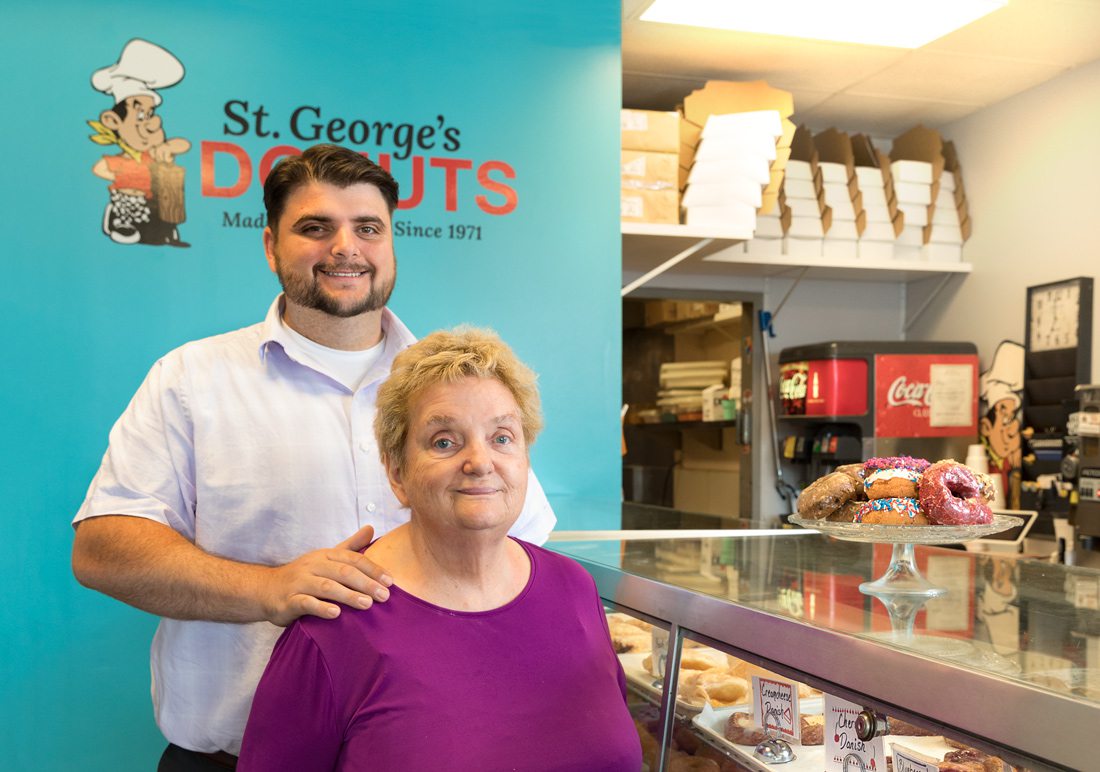 Few can say their earliest childhood memory is sleeping on flour sacks in the back of their family's doughnut shop. For Nick St. George, however, this memory is an extraordinary thing. St. George is the 35-year-old, second-generation owner of the east Sunshine Street location of Springfield's St. George's Donuts, a business that's been in his family since 1971.

At the age of 16, Nick's mother, Katy, learned to make doughnuts in her family's doughnut shop in Covina, California. While working in the shop, Katy met Charles St. George, and in 1964 the two married. Seven years and a few kids later, the family moved to the Ozarks where they opened the first St. George's Donuts on Grand Street and Glenstone Avenue. Along with his five older siblings, Nick grew up in the shop performing tasks such as making boxes and washing dishes. When he was old enough, his sister taught him how to count back change so he could help customers. To this day, customer service is one of Nick's favorite things about owning a doughnut shop. "I want to be known for always giving friendly, helpful service," he says.

Nick's fondest childhood memories are of the people he's met. He describes the former shop on Scenic Avenue and Mount Vernon Street. "We had a whole lot of older gentlemen that came in there," Nick says, "They came every day and ordered the same thing. It was just neat to know them, and each one of them was a real character."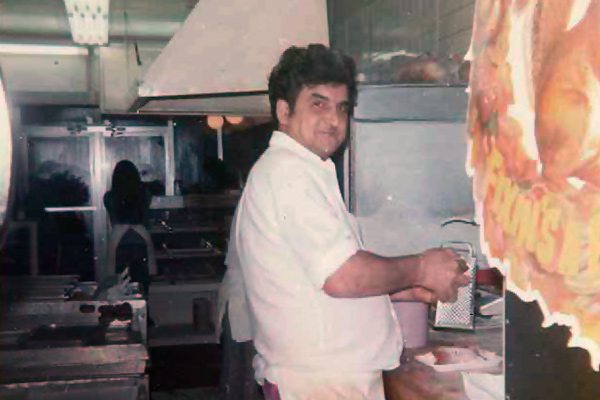 Photo courtesy St. George's Donut
Nick's father, Charles, made the first St. George's doughnuts at the store's first location on Grand and Glenstone Avenues around 1972.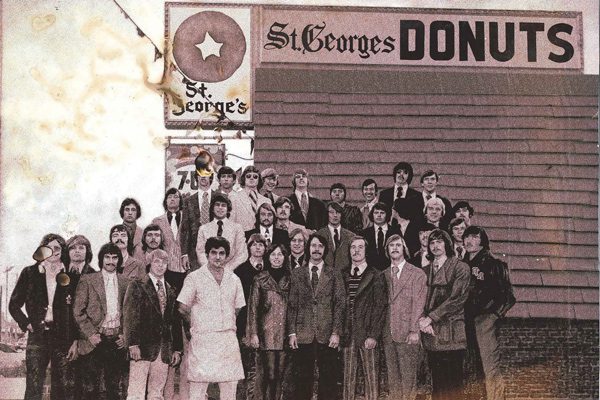 Photo courtesy St. George's Donut
Charles St. George became a mascot for an old Southwest Missouri State University fraternity that relished the late-night garlic bread and company he provided at St. George's first location.
Photos courtesy St. George's Donut
In 2014, while on a family road trip, Katy told Nick that she was considering selling the business to someone outside of the family. For the past decade he had been working as a barber, but he could not bear the thought of an outsider taking over the family doughnut shop. He bought the business the next year. Although many sons might have felt a familial obligation to take over the family business, Nick says he felt no pressure and instead saw it as an "opportunity to take what my mom has built and take it even further."

The transition of leadership was not without its challenges, though. "It was difficult, mainly because my mom was very old-school," Nick says. "She doesn't own a computer, so I had to take everything that was in her head and put it into a computer in a way that I could understand." He explains how their mother-son dynamic has shifted since he took over. "Some things, I think of differently, and I do it differently than the way she has done it for 50 years," he says. Still, they both strive for compromise and always seek to learn from each other, and Nick has remained unwavering in his desire to carry on the family legacy. After all, doughnuts come naturally to him. "This is something I've done my whole life," he says. "I understand it." 

Nick is optimistic about the business's future and confident in the decisions he has made. He has moved the business onto social media and built a website—both crucial parts of running a successful business in the 21st century, he says. He is also working to open a new location in Ozark this August. Although he has updated and rebranded, Nick is keenly aware of which aspects of the company's brand should remain unchanged. He points to the St. George's Donuts logo as one of those things. The logo is a colorful illustration of a man wearing a chef's hat leaning on a rolling pin; it was created in memory of his father, Charles, who died in 1985.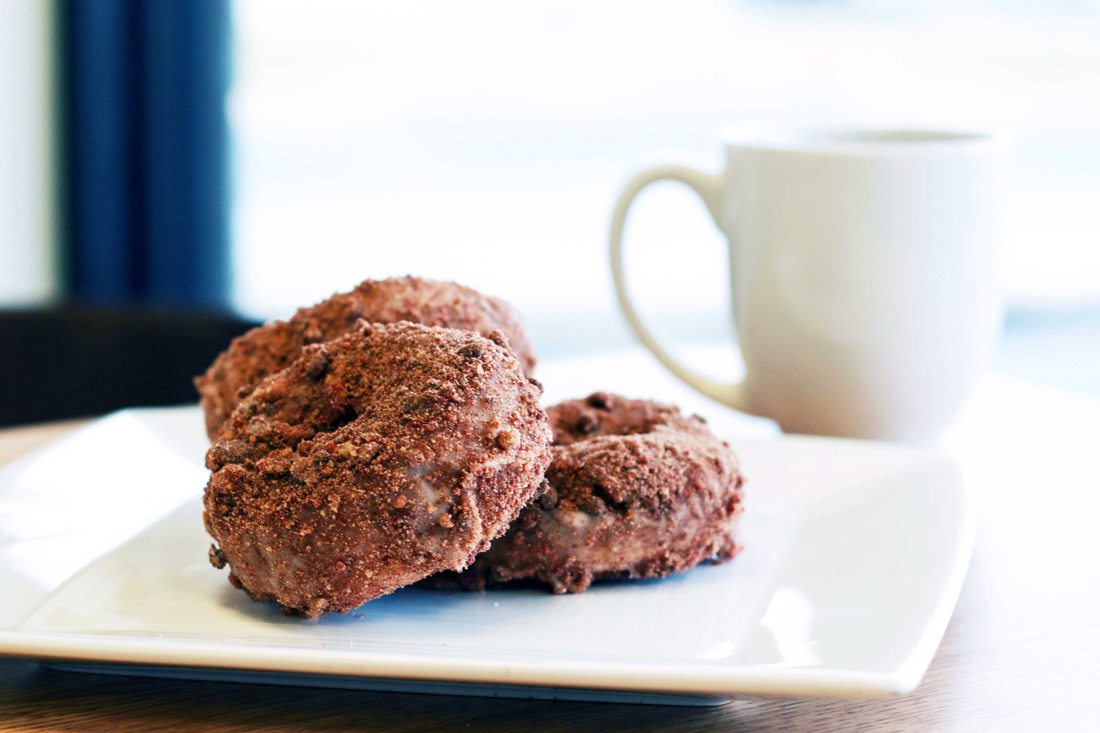 Nick also takes pride in being one of the few doughnut shops to still make doughnuts the "old-fashioned way." At St. George's, the staff makes the dough from scratch in small batches and cut each doughnut by hand. Nick knows how imperative it is for the product to remain consistent and timeless. He wants the shop to be recognized for "having the best doughnut at a fair price," he says.
Despite Nick's acknowledgement of the always-present potential for failure, he doesn't let this stop him from forging onward. He advises anyone who is considering taking over a family business to know that there will be bumps in the road. "I know it's hard, but listen to your parents," he says, "They do have good advice." He also stresses the importance of dedication and commitment—his personal secret for success. "The shop's like a little baby," he says with a laugh, "If something happens, it doesn't matter what I'm doing. I gotta be here to take care of it." Perhaps his best advice is which kind of doughnut is the best: "The hot one," he says. "The hot one that just came out of the fryer."