Family-Owned
Growing Up with Nixon & Lindstrom
What began as a business run from the Nixon family's garage is now a prosperous company with 47 staff members that racked up $78 million in sales last year. Some of Luke Nixon's earliest memories include the business, and now he's taken charge.
By Jenna deJong
Jul 2020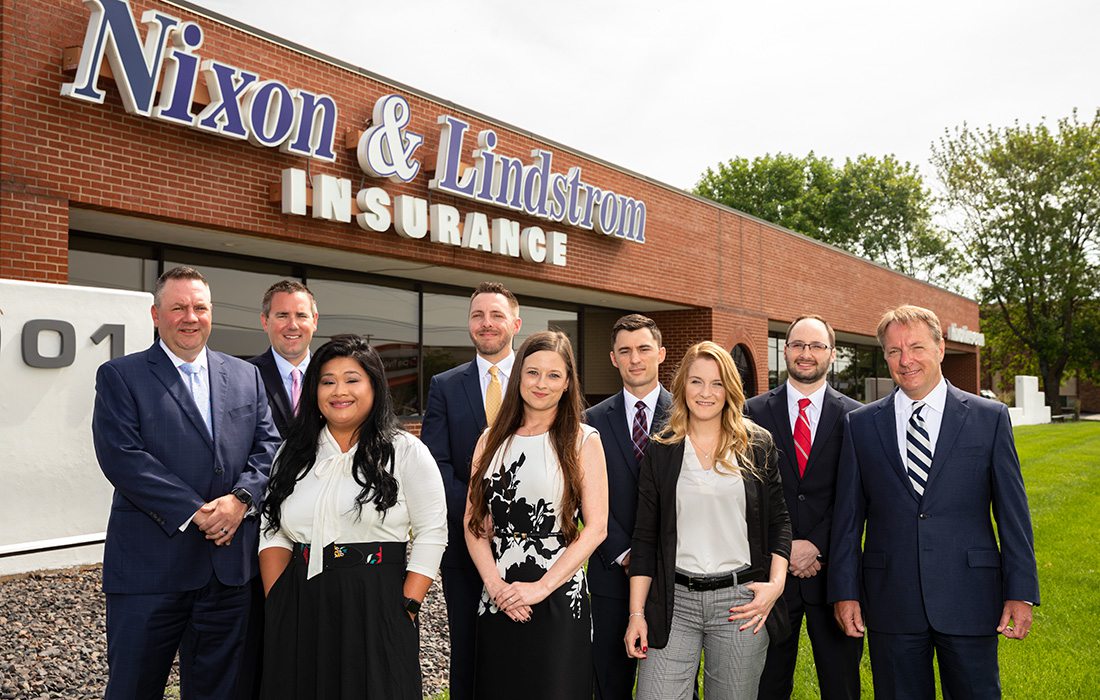 Luke Nixon isn't exactly sure why his father, Jerry Nixon, started the business in the first place. At the time, Jerry had recently returned to his hometown of Springfield after serving a term as a Naval officer in the Korean War. He had a short stint with Travelers Life Insurance Company before he struck out on his own in 1955. "He had a very entrepreneurial bend to him and just always wanted to be his own boss, and the insurance business gave him the opportunity to do that," Luke says. For the first year, the business was run from the Nixon home, and after that, the company gained enough traction to hold down a commercial lease.
A Growing Business, A Growing Family
As years passed, the business grew and so did the Nixon family. Jerry and his wife, Barbara, raised seven children, and Luke, the second youngest, was born in the mid-60s. Like all of the Nixon children, Luke's childhood is reminiscent of his dad's business. "All of us kids twice a week would go to his office after school and clean the office, and each of us had certain jobs that we would empty trash cans or vacuum or dust," Luke says. "We all grew up being around the business, taking care of the office building and mowing." And it wasn't just Jerry who had a stake in the business, either. "When you grow up in a family that owns a business, especially a smaller business, everybody is kind of invested in it, and that's kind of how we all felt," Luke says. "We all contributed in our own way, whether you're 7 years old emptying the trash can at night or painting or mowing the lawn during the summer when you were a teenager."
Over the years, the agency had a few different names, and it wasn't until 1985,  when Roger Lindstrom joined the business, that it became Nixon & Lindstrom. The 1980s is also when Luke and his brother, Mark, joined the business. The two were salesmen, and to Luke, their addition to the staff directory was a turning point. "I think when my brother and I joined the company as salespeople in the '80s, that was a big change in the whole dynamic because up until that time, it had just been my father," Luke says. A few years later, Luke and Mark's sister, Clare, joined too. For Luke, these might be considered the good ol' days. He and his brother "were suited" for sales and both enjoyed it. Now as adults, the two were also raising their own families. Luke and his wife, Cynthia, have four children of their own, and four from a previous marriage. Mark and his wife, Jane, also had a daughter.
In the 1990s, things began to change. Jerry died in 1995, and Luke says he was pushed into a managerial role. He and his brother, the second generation, took over the family business, but things changed again in 1999 when Mark died. Shortly after, Clare moved out of state, and Luke took on an even bigger role at the agency, now managing the firm as president.
The Next Generation
Though the 1990s were a transitional period, Luke wasted no time making improvements. He developed an internal sales training program and trained nearly all of the salespeople. He focused on reinvesting in the company by rolling profits into infrastructure, training and education. The company did a ton of hiring and ballooned from 12 employees to 47. In 25 years, sales grew from $8 million to $78 million. "[We were] really trying to make one plus one equal four," Luke says.

For 11 years, Luke was the only Nixon working at the company. It wasn't until 2011 when the next family member, his nephew Carmine Ingenito, joined the family ranks. Today, the agency employs nine family members, including cousins, husbands and wives, sons-in-law and Luke's own children, Isaac and Joseph. The new dynamic has given Luke, still at the helm of the company, a new perspective on long-term planning. "When my sister, my brother and I joined the agency, that was a real change," Luke says. "It was years later before I really understood exactly what my father was going through and what his thought process was. When my own kids and younger members of the family started coming into the business, it changes your outlook. You start thinking differently, you start planning differently. You think beyond this year. You start thinking of five years, 10 years, 20 years. When you do that, that's a huge benefit for the company because short-term thinking only gets you so far. When you start planning long term and you start to see those plans really develop and you see the family members start to contribute, and everybody takes ownership in it, good things happen."
According to Luke, one component that keeps the business strong "is the fact that our management team is comprised almost entirely of non-family members." Though Luke is president, other leadership members like CEO Trevor Crist help maintain a balance within the company.
Luke says he currently doesn't have any plans to retire, and as for who is next in line, that's to be determined, too. "As far as passing the torch, the succession planning financial part is the easy part because that's just a matter of coming up with a structure and a plan to make that happen," Luke says. "As far as who will take over and who might lead the company into the next generation, it's really too early to tell. Of the family members that are here that are in some way related to the family, there's eight younger members and they're all under the age of 40. So I think we've got time."
Which family members work at Nixon & Lindstrom?
Nixon Family
Jerry and Barbara Nixon
Both deceased
Children in order of Birth
Nancy (Ormsbee)
Springfield, MO
Two children (Carmine and Vinnie Ingenito)
Pamela Nixon
Retired, Springfield, MO
No children
Jim Nixon
Retired, Springfield, MO
Two children, both live out of state
Mark Nixon
Deceased
One child, lives in Oregon
Sarah Nixon
MSU Professor
No children
Luke Nixon
Nixon & Lindstrom President
Eight children
Clare Nixon
Resides in Flagstaff AZ
No children
Luke Nixon's Children
Mary Ballard
Husband Jared works at Nixon & Lindstrom
Isaac Nixon
Works at Nixon & Lindstrom
Joseph Nixon
Works at Nixon & Lindstrom
Leah Lane
Husband Gordon works at Nixon & Lindstrom
Joshua Nixon
MO S&T Grad, Nuclear Engineer, lives and works in New Hampshire, studying for MBA
Hannah Nixon
University of Arkansas graduate, works in Kansas City, studying for CPA
Zachary Nixon
Junior at University of Missouri, studying business management and wants to return to NL after graduation.
Sophia Nixon
Will be a freshman at University of Arkansas, studying business.
Additional Family
Carmine Ingenito
Nephew of Luke Nixon, been with the agency for 10+ years. Works in commercial P&C department.
Jared Ballard
Son-in-law of Luke Nixon. Married to Luke's oldest daughter, been with the
agency for 9 years. Works in commercial P&C department.
Isaac Nixon
Oldest son of Luke Nixon, Works in the personal risk department as an account 
manager.
Gordon Lane
Son-in-law of Luke Nixon, works in the commercial P&C department.
Joseph Nixon
Luke Nixon's Son, works in the employee benefits department.
Sophorn Yim
Married to Carmine Ingenito. Works in the employee benefits department. 
Has been with the agency for 18 years.
Tricia Guinn
Engaged to Vinnie Ingenito (Carmine's Brother). Works as an account executive 
in the employee benefits department.
Crystal Nixon
Married to Isaac Nixon, works in the commercial P&C service department.