Family-Owned
Pineapple Whip's Been Whipping Up Summer Since 1974
Three tropical concessions topped with hula girls signal summer's arrival in Springfield. Pineapple Whip's sweet success story began at the fairgrounds in 1974. Today, the third generation of the family business serves the iconic frozen favorite.
By Sony Hocklander
Sep 2019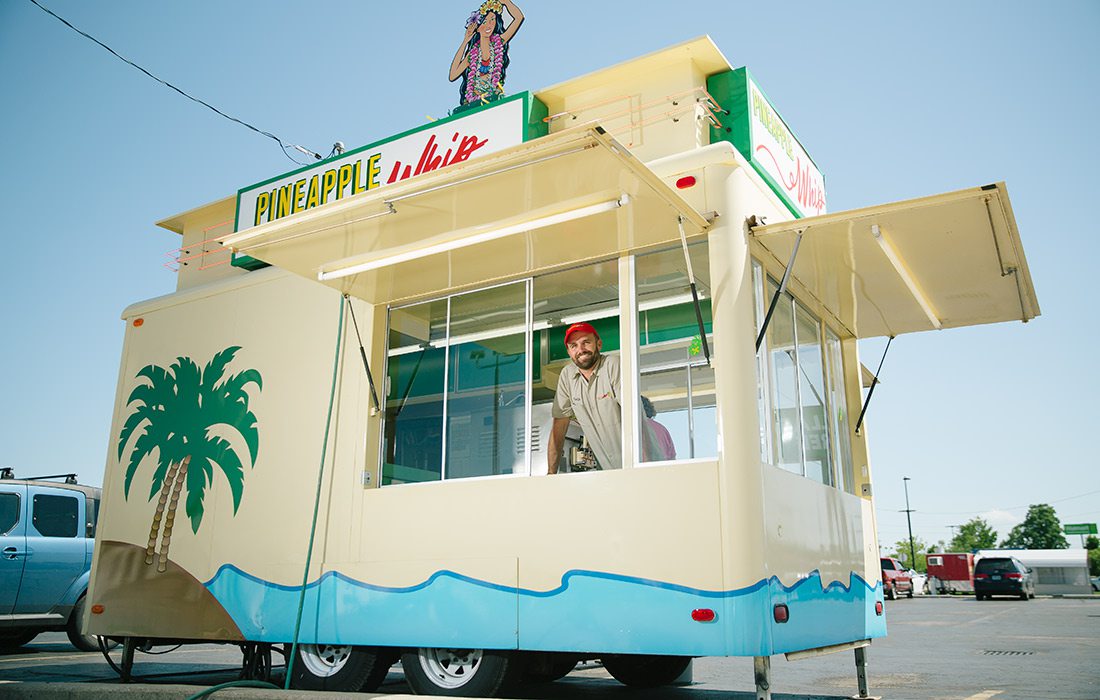 Zach Fortner says his grandfather, Dan Fortner, as "MacGyver's dad." He wasn't afraid to try new things, and, in 1974, that included introducing a pineapple-flavored soft serve to fair-goers as part of his concession business. That fairground treat would eventually win fans throughout the Ozarks and launch a business spanning three generations.
It probably wouldn't have happened if Zach's grandfather (who died in 2018) wasn't joined by sons Chris and Mike, Zach's father. The first independent stand got its start when customers started asking for the treat outside the fair. Today, there are four trucks: three that park in specific Springfield lots in the summer and one that travels to events.
Family Recipe
Fortner doesn't remember a time when he wasn't hanging around Pineapple Whip trucks. As might be expected in a family business, pumping his grandfather's signature soft serve treats for customers was his first summer job. After earning a college degree in finance ("which is what every ice cream man needs," he jokes), Fortner worked in banking for 10 years. He joined the family business at his father's request, shortly before his father died in 2014. Zach has since been running it with his uncle and his mother, Diana—and now with his younger brother Anthony Fortner, who recently joined the business.
In the 1980s, grape-flavored whip was added to the mix of flavors, and today the company serves six different options. The Fortners don't mess with success, however. Fortner says that Pineapple Whip is still made according to the same recipe his grandfather originally used more than 40 years ago. But it's only in the last 10 to 15 years that Pineapple Whip has become a self-sustaining company, and not just another part of the family's former, larger concession business.
Home Team
For Fortner, leaving a salaried position was a huge leap but not one he regrets. As simple as the product seems, it takes more than just filling a cup. It takes patience to build a customer base, he says. Like all businesses, it requires meeting payroll, balancing books, paying taxes—all tasks that fall to Fortner.
He's found both perks and challenges to co-owning a family business like Pineapple Whip. With small children, working all summer isn't easy. "There are days I'd wake up before the sun and I'd be home after [my daughter] was asleep." On the flip side, if his kids get sick during the colder months, he says he has the flexibility to take care of them while his wife works.

He enjoys working with his family, and has no great secrets to impart for getting along in business. "We've never been a family that fights," he says. As third-generation co-owner, Fortner didn't try to overhaul what was already working, other than using his skills to update some processes and improve their online presence. He and his wife polished up their website ("It wasn't pretty") and improved social media content. He worked to establish consistent concession hours—for instance not shutting down in slow hours or rainy weather. And they've designated one truck for events so the other three aren't pulled from their regular locations.
In 2015, Fortner came up with the "kind of hairbrained idea" to open for a limited Whip Solstice event in January. It was a hit, with "crazy long lines" forming to get a taste of summer. "It's more of a fun marketing thing for us than anything," Fortner says. "And it's nice to reconnect with our customers." Fortner would not disclose the company's financials but said the decision for the Whip Solstice ignited with a customer's suggestion.
Sweet Success
As for how to make a multigenerational family business run smoothly, Fortner stresses he's no expert. He just knows what works for his family. For one thing, he takes every idea to his mom and uncle, and the three make decisions together. The second-generation owners give him plenty of autonomy, and each family member works within their strengths. You have to be careful to not have "too many chefs in the kitchen," he says. It's also important to understand other perspectives. His mom and uncle were more active when Pineapple Whip was the "side" to their concession business. For Zach, it's his full-time job.
Fortner knows there can be failures in second and third generation businesses. The key, he says, is recognizing you're a family, and you won't have that business if you don't make smart decisions. He advises anyone who might join their family's business to consider their motivation. If you want to be your own boss, think again. "My employees are my boss," Fortner says. "I am accountable to more people as a business owner than I ever was."
That said, co-owning Pineapple Whip is a sweet career in the Springfield community. "It's really nice to contribute to our community by creating a space people can go and enjoy their summer a little bit more," Fortner says.