Corporate
Mike Ingram Talks About the Fireworks Supermarket
How a 417-lander turned a summer pastime into a fireworks empire.
By Jennifer Swenson
Sep 2023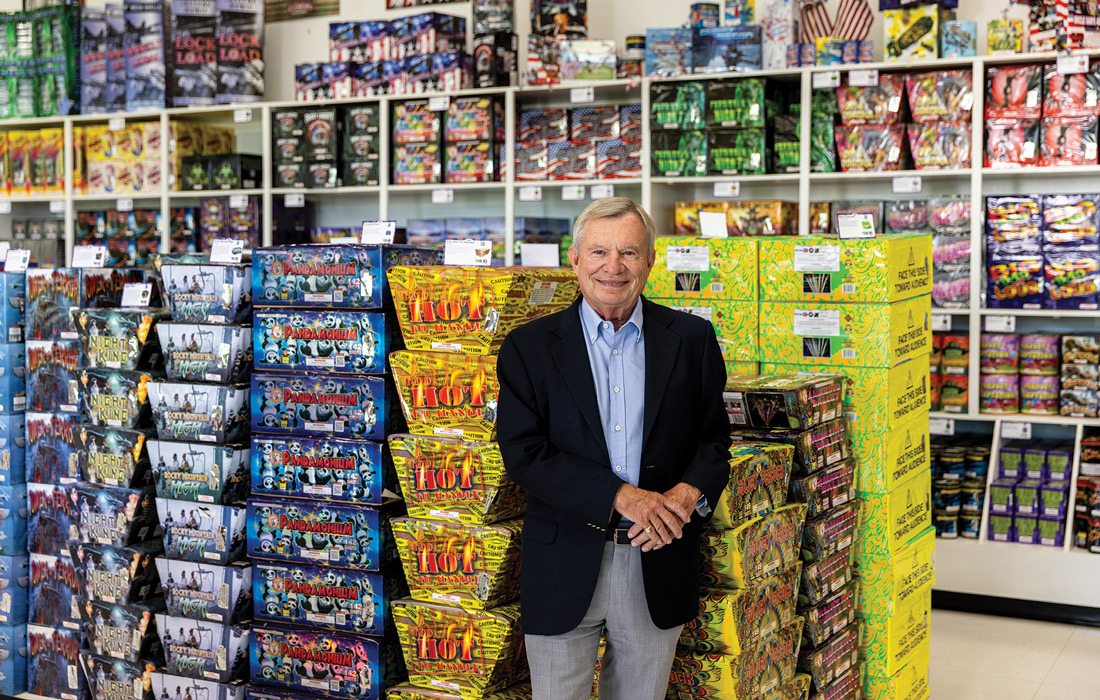 With its bold, festive signage and gleaming windows, Fireworks Supermarket is impossible to miss. Adjacent to I-44 in the northeast corner of Springfield, the showroom attracts thousands of locals and interstate travelers each year. The 105,000-square-foot facility is also home to a large warehouse and, most importantly, it serves as the headquarters of nationally known Fireworks Over America. President Mike Ingram is the beating heart of the company, which has grown up right here in 417-land, expanding from a local niche business to a major distributor of fireworks throughout the United States.
Back in 1964, Ingram's current success was a distant dream. He simply knew that he loved fireworks, and he loved the Fourth of July. Using every dime he had, he ordered a batch of fireworks from a retailer in Little Rock, Arkansas. "I had absolutely no money," he says. "The retailer didn't know I was just 15 years old, and I didn't tell my parents about the order." When the fireworks were delivered to his parents' Branson house, Ingram was forced to confess. "Fortunately, my mom let me unload the order, but my dad was very unhappy." 
The young Ingram persevered. He purchased a $2 license from the city of Branson, and he and his brother built a fireworks stand using scrap wood from a lumberyard. "We were so poor that the stand had no roof," Ingram says. "Back then, Branson was much different. It didn't have a highway bypass; it was just getting started as a tourist destination. We placed [our stand] on Branson's main road, and we were open from June 20 to July 4." 
That first year, Ingram netted $150. "I thought I was rich!" he says. The next year, he profited $500. In the third year, Ingram and his brother operated an additional fireworks stand in Branson. By the time Ingram started college at Southwest Missouri State College (now Missouri State University), he had opened a stand in Springfield. 
More Springfield locations followed in quick succession, and during his senior year of college, Ingram bought out his wholesaler and started Mid-American Fireworks. "I was just retailing and wholesaling at that point," Ingram says. Yet, as the business continued to grow, Ingram began importing products and distributing in other states, and in the mid-1970s, he changed the business's name to Fireworks Over America.
Today, Fireworks Over America owns 20 supermarket showrooms nationwide, including two in Springfield, plus a location opening in December in Loxley, Alabama. The company also operates packaging warehouses in Springfield, the Kansas City area, Indiana and South Carolina. In its warehouses, Fireworks Over America manufactures "assortments," purchasing high-quality products and packaging them in unique groupings. "We work with factories on the development of each item, and our art department designs the packaging," Ingram says. "We have nearly 300 private-label items that are exclusive to Fireworks Over America. We register these items with the U.S. Patent and Trademark Office and sell them all over the country."
It's a challenging, high-stress business, but Ingram loves the whole process. When July 5 rolls around each year, the company takes a deep breath—and then immediately begins planning for the next year. "We are financially conservative," Ingram says. "We believe in controlled growth, and we are constantly looking for opportunities."
In spite of its national reach, Fireworks Over America is firmly rooted in 417-land. "I'm a native to Southwest Missouri, but it is a great place to do business," Ingram says. "The work ethic of the people here is as good or better than any place in the country." In fact, his son, Michael, is now the executive vice president and has worked for the company all his life, first during summers and then joining full time after graduating from college. 
Outside the workplace, Fireworks Over America is committed to bettering the community. Ingram is a former chairman of the Missouri State University Foundation, and the company supports organizations including Help Give Hope, Care to Learn and St. Jude Children's Research Hospital. 
Ingram has come a long way from that little scrap-wood roadside stand, but he hasn't forgotten his beginnings. His parents may have disapproved of his initial fireworks purchase, but "they were around for a long time, and they saw the business grow," Ingram says. "They were very happy for me."