Family-Owned
Trailiner Corp.
Thanks to the guidance of her grandfather H.E. "Spook" Whitener, Amber Edmondson is leading refrigerated truckload carrier Trailiner Corp. into its fourth generation of business and showing no signs of slowing down.
By Claire Porter | Photos by Brad Zweerink, courtesy Trailiner Corp.
Jul 2017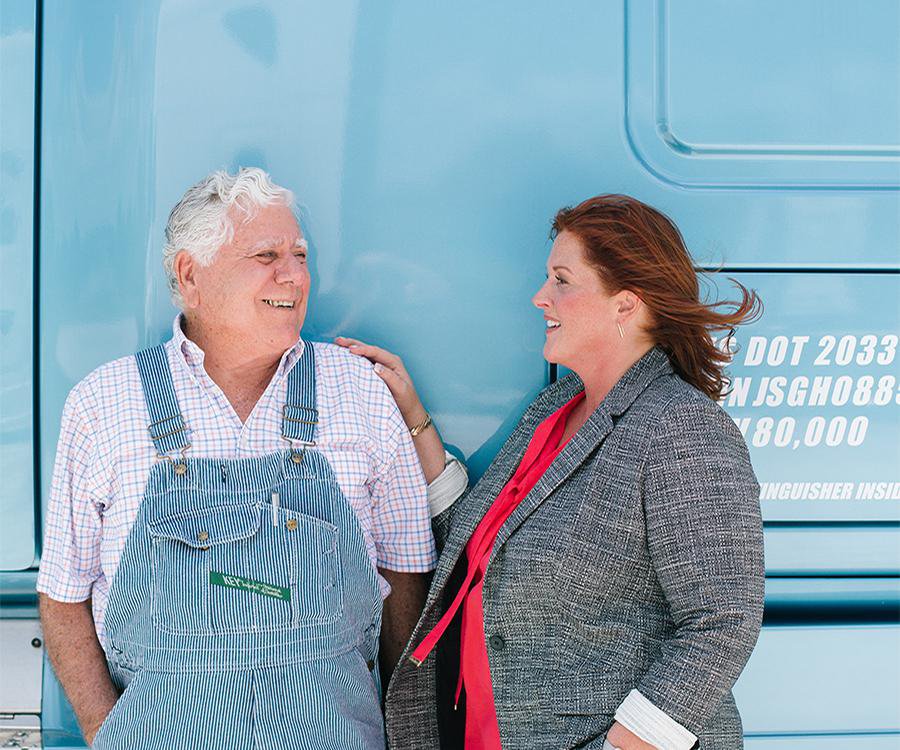 When the summertime heat kicks in and you crave fresh fruit, you have the trucking industry to thank for ripe produce. But getting a strawberry from the field to your fridge before it spoils takes the coordination of skilled teams of drivers and dispatchers, and it takes people like Amber Edmondson leading them. 
Edmondson is president of Trailiner Corp., a refrigerated truckload carrier that hauls produce, food products, pharmaceuticals and health care products across the country. The company picked up steam in 1976 under Edmondson's grandfather H.E. "Spook" Whitener. "My great-grandfather was all about nicknames," says Edmondson, who went by Ber. "He never called me by my name my whole life." Whitener owned a dairy farm before joining a family member's struggling trucking business. Whitener took over the business, bringing his daughter Brenda Keithley into the fold.


Back in 1956, H.E. "Spook" Whitener drove this truck, his first as a professional driver. He later went on to run Trailiner Corp.


It wasn't long before Edmondson—Keithley's daughter—jumped in, too. "I wouldn't say [working here] was something I ever really thought about," she says. Edmondson started at Trailiner in 1999 while working toward her business administration management degree at Drury University. In 2005, Larry Beets, the vice president of operations, announced his plan to retire and began training Edmondson to take over his position. "I don't know that it was ever really a conscious decision until that happened," Edmondson says.
Now Edmondson oversees the entire company, which encompasses 200 trucks, 300 trailers and 200 employees. And Trailiner is still very much a family business. Edmondson's father, uncle and aunt have trucks with the company, and her mother, three of her cousins and Whitener's wife work at headquarters. And of course, Whitener comes in daily and serves as a mentor when needed. 
Despite her 18 years at the company, Edmondson faces insecurities many second and third generations face. "I still find myself from time to time looking for that need to impress," she confesses. "You want to do a little bit more and a little bit better just to show people that you deserve the position you were given." Further driving Edmondson is the knowledge that, according to the Family Business Institute, family businesses have only a 30 percent success rate by the third generation. "Seeing those statistics, it is scary," Edmondson says. "You do feel that pressure on your shoulders of making sure you can keep things going for your family. It's a heavy mantle to wear."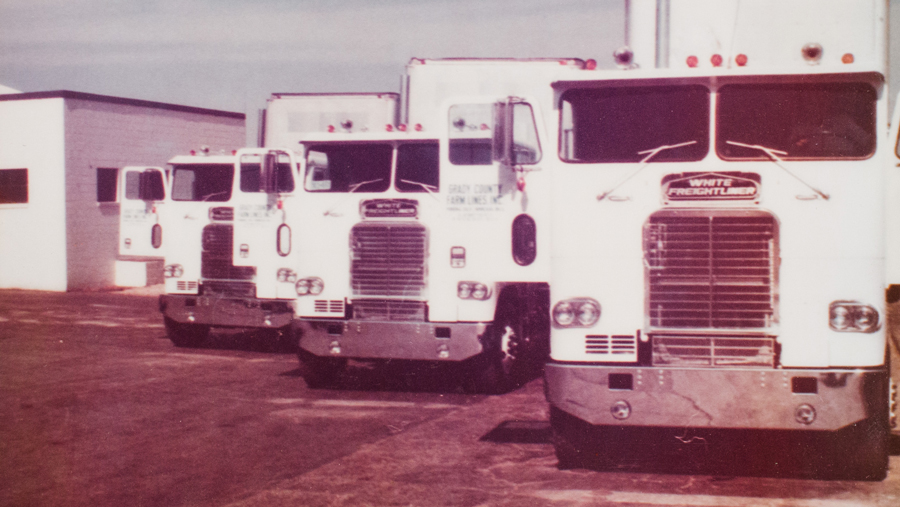 These trucks are part of Trailiner Corp.'s first fleet in 1975, back when the company was known as Grady County Farm Lines.


Unfortunately, trucking doesn't have many female leaders for her to turn to for guidance. "This industry in particular, it's extremely male-dominated, so not only do you come into it with that pressure of, 'I didn't just get this job because I'm family,' but also, 'I can do this job just as well as a man could,'" Edmondson says. "I definitely felt that pressure, and I think it was more pressure from myself than pressure from the outside, but you don't want people to get the idea that you're just going to float through the job and not put your all into it." So that's exactly what she did by working every job in the company except one. "I did not go through the driver training program, not because I think I am above it by any means; I just don't think I can back up an 18-wheeler!" she says. Additionally, Edmondson has joined industry associations to make connections with experienced leaders.
Under Edmondson, the company has expanded its presence as a leading carrier for pharmaceuticals, and she ensures the company stays at the forefront of the industry's technological advancements. Her secret is asking questions. "Don't be afraid of looking like you don't know what's going on or like you don't understand," she says. "Ask questions. It's only going to help you in the long run."