Small Businesses
Local invention: RockDolly
Lengthy sound checks led this 417-lander to develop an all-in-one sound system.
By Savannah Waszczuk
Jan 2018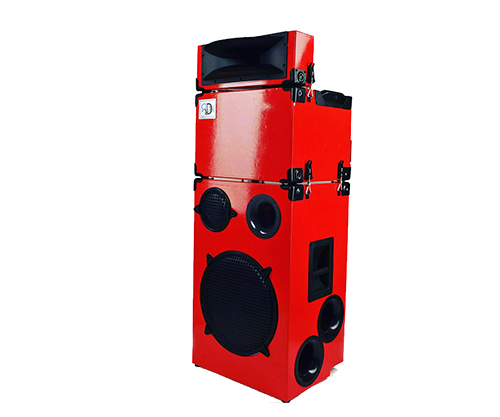 The Problem
Although 32-year-old Cameron Eaton currently spends many of his waking hours working a full-time gig at Southern Missouri Containers, he spent a lot of time in his 20s performing. "I was with a band called Werkhorse," Eaton says. "I played guitar and was the lead singer." As the band traveled around Springfield to perform at various venues, it always took them an hour or more to set up and do a sound check. Eaton thought this time could be better spent doing other tasks.
The Big Idea
Eaton knew there had to be a way with today's technology to create a system that allowed bands to dial in most of their settings at home. That's when he researched, brainstormed and created RockDolly, a single unit that replaces a guitar amp, bass amp and PA system. "The idea is that a band can roll in with a RockDolly, set up in a couple minutes and be ready to play the show," Eaton says. It also has a three-way speaker system, which creates better sound output.
The Learning Curve
In the beginning, Eaton had zero experience with product development. "I started out with primitive concepts of what I wanted it to be," he says. "My first prototypes were created from sketches, just imagining what size it would be and how the electronics could work." 
The Takeaways
Eaton crafted his idea into a real product and taught himself along the way. He researched and learned the necessary technology, and he even learned how to design in 3-D so he could print some needed parts. He also became involved in various networking, business and product development groups online. RockDolly is currently sold online, and at press time, Eaton was presenting his idea to potential investors in hopes of growing his concept.