Small Businesses
Meet the Central High Staffer behind Sarah'ndipity Designs
Sarah Gugliotta created a few necklaces for gifts, and now her jewelry line is sold in local businesses and has flourished on her Facebook page.
By Jenna DeJong
Jan 2018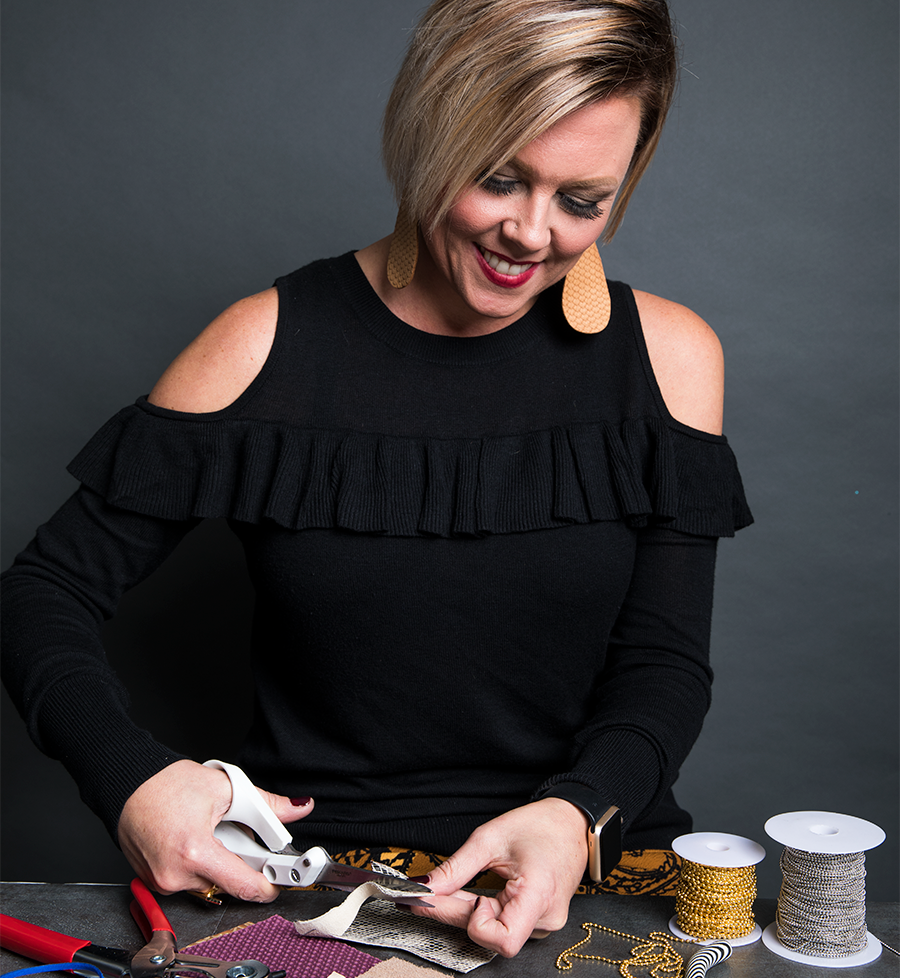 Businesses usually demand plans, outlines and long-term goals, but for Sarah'ndipity Designs, everything seemed to fall into place. When Sarah Gugliotta began making necklaces for friends and family two years ago, she intended to make creative and unique gifts for the holiday season. 
Experimenting with charms and chains eventually led to the creation of her Forget-Me-Knot necklaces. Working as a full-time library media specialist at Central High School, Gugliotta spent her free time crafting unique designs, hoping her one-of-a-kind designs would touch the heart of each recipient. Each piece is made from different metals and includes a few charms. 
Love for the designs grew quickly, and word spread about the trendy jewelry. Gugliotta created a business page on Facebook, and Sarah'ndipity Designs was born. After numerous inquiries about additional handmade jewelry, Gugliotta added leather earrings and later wrap bracelets in March 2017, less than a year after starting the Facebook page. 
Behind the Business
Date Opened: January 2016 

Number of Employees: 1 

From Mind to Market: Once the product is requested, it takes one week to produce and ship to clients.

Most Popular Item: Leather earrings

Maker's Choice: "I love making the necklaces because I can be creative when putting the charms together for a certain look," Gugliotta says. "The earrings I love to make because I get to work with my hands." 
Gugliotta's products range in price from $18 to $30, depending on the material and time spent crafting. "Every one of them is unique," she says. "I have not made one design that is the exact same, so people know they are getting something just for them."
As the brand's name suggests, finding a home in stores for her jewelry was almost as inadvertent as the business itself. Carissa Greenlee, Gugliotta's friend and owner of Torn Boutique, encouraged Gugliotta to sell her necklaces at the boutique and now also carries her earrings. When Gugliotta visited The Market, owner Lauren Haik noticed Gugliotta's leather earrings and asked to carry them as well. And thanks to a family friend, Gugliotta's earrings are now sold at a small boutique in Jacksonville, Illinois. Gugliotta is still taking requests on her Facebook page for custom orders and periodically releases photos of new designs.  
Perhaps the biggest lesson she has learned as she balances a full-time job and flourishing business is patience and the importance of time management. "Time management is the biggest challenge," Gugliotta says. "I can spend hours making jewelry and lose a whole day."
Behind the Design: Sarah'ndipity Designs
Sarah Gugliotta, library media specialist at Central High school and owner of Sarah'ndipity Designs, balances the workload of a full-time job and creative business. She gave us an inside look at what it takes to make her Forget-Me-Knot necklaces, the first product to kick off her trendy jewelry business. 
She begins by visiting local hobby shops and scouring online sites like Amazon for metal chains and Etsy for unique little charms. She usually picks up anything that catches her eye but will visit Etsy specifically if customers are wanting a defined look to their necklaces. 
After her materials are laid out, she measures a length of bead chain and mixes and matches the charms she thinks would best complement each other until she's satisfied. She uses flat-nose and needle-nose pliers for putting rings on charms and heavy duty scissors to cut the chain. In each necklace, different combinations, styles, shapes and textures are used so no two necklaces are the same. Each necklace has a jump ring on which some charms hang. The last step is tying the chain into Gugliotta's signature knot, from which the necklace gets its name.