Manufacturing
Find Your Perfect Career with SRC Holdings
SRC Holdings Corporation helps OEMs sell parts and whole goods through custom remanufacturing programs for the agricultural, industrial, construction, truck, marine and automotive markets.
Nov 2019
WHO WE ARE
SRC Holdings Corporation is the oldest employee-owned remanufacturer to original equipment manufacturers (OEMs) in North America. We have spent the past 36 years helping OEMs sell parts and whole goods through custom remanufacturing programs for the agricultural, industrial, construction, truck, marine and automotive markets. Our expertise has grown to include warehousing, logistics, core management, kitting and packaging, material salvaging and more.
We are known world-wide for our open-book culture, The Great Game of Business®, which focuses on transparency, integrity and business literacy. Our 2,000 associates take pride in their roles as businesspeople, which has become our legacy in the industry.


Work with SRC Holdings Corporation
BENEFITS AVAILABLE
• Dental Insurance
• Health Insurance
• Vision Insurance
• Life Insurance
• Disability Insurance
• Flexible Spending 
• Accounts
• 401k* 
• Paid Vacation
• Employee Stock
• Ownership Program
• And more 
CLIMB THE LADDER
• Industrial Manufacturing Apprentice: $17+/hr
• Parts Cleaning & Sub-Assembly: $19+/hr
•  Inspecting & Machining: $22+/hr
• Group Lead: $24+/hr
• Production Supervisor: $30+/hr
Hourly associates can earn up to 13% of their pay in annual bonuses.

The figures above reflect starting pay averages of base wage, healthcare benefit and retirement benefits. Pay ranges are subject to change based on department, facility, experience and more.

COMPANY CULTURE
Our culture is characterized by three principles — open-book management, employee ownership and team-oriented competition – and they're all rooted in one mentality: business gamification. Our management system, The Great Game of Business, is our way of teaching our associates how they impact our bottom line so they may have a voice in how our businesses operate and, in return, have a stake in the outcome of company performance. Our employee owners know how to celebrate the wins. From fish fries and Taco Tuesday, to golf and bowling, plus wellness programs and on-site workout facilities, we strive to create a fun atmosphere for both our associates and their family members.
STUFF WE MAKE
Rotating electrical • Electronics • Natural gas engines • Cylinder heads • Earth moving machinery • Axle components • Diesel engines ranging from 0.7L to 72.0L • Natural gas and propane generators • Whole goods • Fuel pump and injectors • Turbochargers • Kitting and packaging • Motorcycle engines • Racing engines • Marine engines and components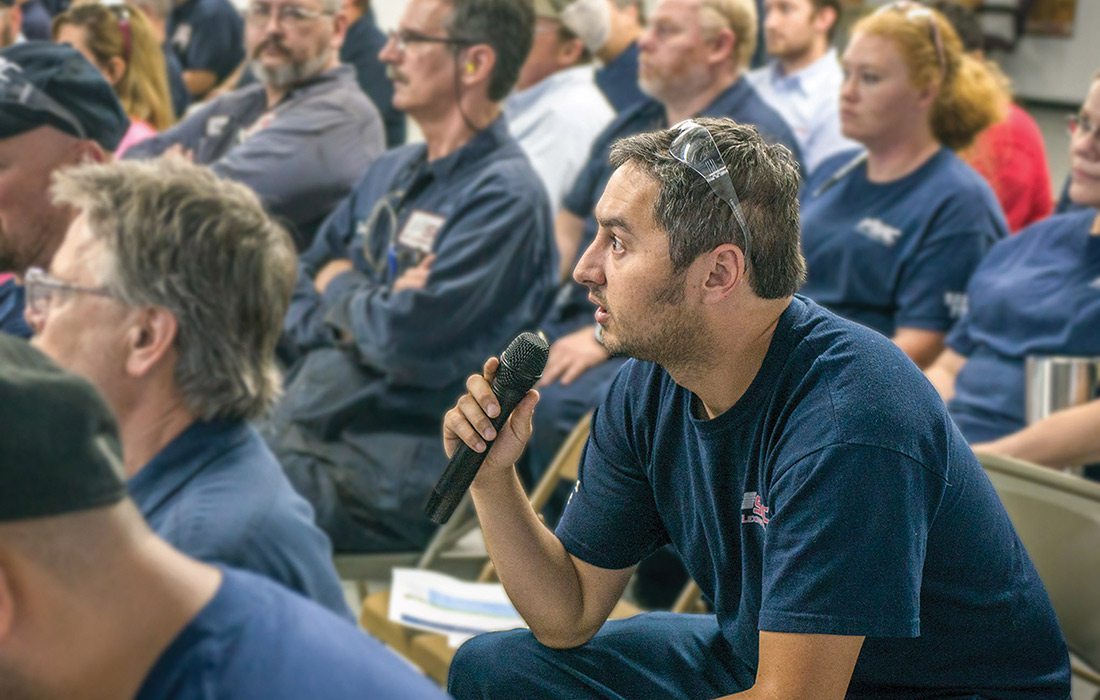 COOL CUSTOMERS
When it comes to cool customers, we've got them! Some of our big names include Harley Davidson, Navistar, Bobcat, Paccar, Case New Holland and John Deere. Heard of them?

CAREER OPPORTUNITIES
At SRC, we pride ourselves on developing talent from the bottom up. We build leaders and business people through specialized training and education at all experience levels. In fact, a number of our senior leadership executives got their start on the shop floor. We are always looking for great talent in production and operations, engineering, warehousing, maintenance and more.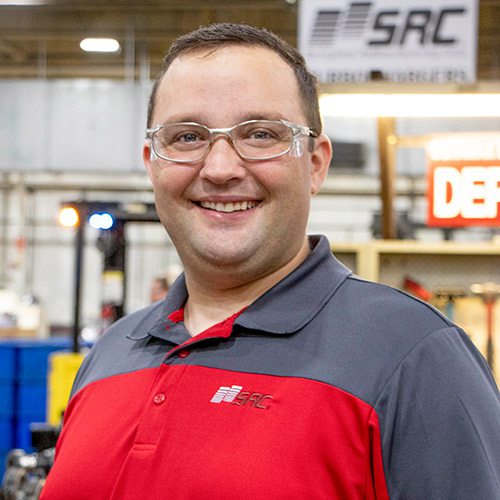 Aaron Doucette | Safety Coordinator, Springfield Remanufacturing Corp

Age: 29 | Years at SRC: 6

JOB DUTIES
I assist in the maintaining of a solid safety culture through training and building relationships with our employees. I am responsible for making sure all of our safety training is up to date and that it will be retained. I also build relationships with employees so that they understand not only the "what" of safety, but the "why" as well. This is key to driving a successful safety culture.

WHAT DOES THE JOB MEAN TO YOU?
Working at SRC means job security, long-term financial gains and a good work environment. I know how our company is doing because I can not only see the financial numbers, but I've been taught them as well. We are an ESOP company, which means the better we work together, the better our company does, which means our stocks grow. Our culture at SRC is the best I have ever worked with.

REQUIREMENTS
• Bachelors degree or equivalent experience
• Attention to detail in writing
• 1-2 years of experience in safety preferred
SKILLS
• Strong interpersonal skills
• Ability to communicate effectively and professionally
• Proficient computer skills (Microsoft Word, Excel)
WHAT YOU'LL DO
On this team, you'll support the Safety Manager in providing OSHA compliance guidance on processes, equipment, supplies and environment matters and recommend measures to protect workers. You'll also maintain safety records, analyze and communicate key performance indicators relative to safety. This position conducts environmental health and safety evaluations and inspections, monitors progress of environmental improvement initiatives, plus educates and leads fellow associates in making positive changes within the organization. Finally, you will also assist on research and special projects as needed.
CAREER PATH
From here, the next obvious step is taking on the role of EHS Manager, but the opportunities are endless. You may be just starting out, but SRC can give you the opportunity to do whatever you want. You have to stick with it. Work safe and work hard each day, and accept every opportunity you are given. I did, and it's been a great six years. I'm looking forward to many more.
CONTACT
To learn more about each of our companies and their career opportunities, visit srcholdings.com and find the right fit for you!