Manufacturing
Work with WestRock and Be a Leader in the Paper Packaging Industry
Westrock is a leader in the paper and packaging industry—number one in consumer paperboard and number two in container board production in the world.
Nov 2019
WHO WE ARE
Westrock is a leader in the paper and packaging industry. We are number one in consumer paperboard and number two in container board production in the world. Our Springfield facility was built in the mid 1950s as a corrugated box facility, and that's still what we produce here today. Many names have been on the side of the building since it began—from Hoerner Waldorf in the mid 1950s to Champion Container, Stone Container, Smurfit-Stone, RockTenn and now Westrock. The facility has a long history, and we are proud to continue the legacy of locally producing corrugated containers there.


BENEFITS AVAILABLE
• Dental Insurance
• Medical Insurance
• Vision Insurance
• And more
CLIMB THE LADDER
• Probationary
Employee: $14.50/hr
• Non-Probationary Employee: $18.50/hr
• Maintenance Mechanic: $24.50/hr
COMPANY CULTURE
Westrock's vision is to be the premier partner and unrivaled provider of winning solutions for our customers. Our culture revolves around our core principles of integrity, respect, accountability and excellence. Some of our company highlights include the fact that we operate 320 facilities around the world, consume 5.1 million tons of recycled fiber, and have 31 paper mills with the capacity of 16.4 million tons of containerboard!
STUFF WE MAKE
Corrugated containers for: Industrial • FoodService • Food (Candy/Dairy) • Protein • Ecommerce
COOL CUSTOMERS
Some of our customers with names you might recognize include Kraft Foods, Russell Stover Candies and Amazon.
CAREER OPPORTUNITIES
Westrock Springfield has many opportunities for employment in a manufacturing environment, from machine operators to material handlers and shipping/warehouse personnel. Westrock Springfield also has positions in Safety, Quality, Sales, Shipping/Warehouse Management and Operations Management.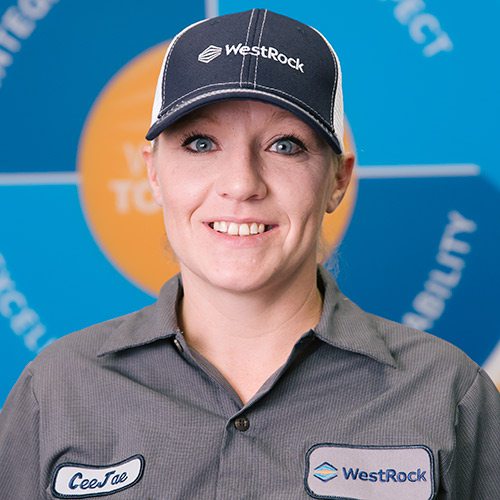 Ceejae Coberley | Maintenance Mechanic

Age: 35 | Years at WestRock: 3

JOB DUTIES
General maintenance on equipment and our building facilities.

WHAT DOES THE JOB MEAN TO YOU?
I love working with tools; gives me a sense of accomplishment. When something malfunctions or breaks in the facility and knowing you had a part in getting it back up and running – I can walk away feeling that I had an impact on fixing that. I love the Westrock way, and how it promotes safety above anything else. Everyone looks out for one another. This Westrock job gives me some security and freedom with my family; gives my family happiness, and my kids show how proud they are of me.

REQUIREMENTS
• Follow all established processes and procedures and follow specific instructions
• Ability to work safely and follow all safety regulations and practices
• High school diploma or equivalent
• Prior manufacturing experience preferred
• Successfully pass a math test, background check and pre-employment physical and drug screen
SKILLS
• Able to read a tape measure and perform basic math used in the manufacturing process
• Pick up parts, paper, objects and residue off the floor and around work stations
• Able to operate power hand tools
• Ability to lift 50–75 pounds consistently
WHAT YOU'LL DO
As a Machine Operator, you'll be required to operate various manufacturing equipment to produce corrugated containers in a fast-paced environment. You'll need to be available to work any shift in a three-shift environment, plus mandatory overtime both daily and weekend work as required.
CAREER PATH
When a person joins the Westrock team, they start as a probationary employee. Every 30 days, they earn an increase in wages, and at 90 days, they reach non-probationary status. At that point, they can continue to grow and take on more responsibility. Their career path can lead to Operator pay, Lead People and even into Supervisory ranks if they excel and are interested in moving up in the organization. Westrock also has opportunities for growth across the country in its numerous facilities.