Manufacturing
Build Solutions for Automated Systems with DT Engineering
DT Engineering works with Fortune 500 companies to dream up solutions for automated assembly lines that utilize robotics as well as other leading-edge technologies.
Nov 2019
WHO WE ARE
DT Engineering provides solutions for product assembly to its Fortune 500 customers by designing and building automation assembly lines. These lines assemble products using robots and other leading-edge technologies.


BENEFITS AVAILABLE
• Dental Insurance
• Medical Insurance
• Life Insurance
• Vision Insurance
• 401k
• Profit Sharing
CAREER PATH
Follow this path to achieve Senior Engineering Leadership:
• Engineer 
• Senior Engineer 
• Leadership 
• Staff Engineer
COMPANY CULTURE
DT Engineering has an open, flexible working environment. We align our culture around seven guiding principles: following the golden rule, having pride in our company, harmonizing commitments and plans, behaving ethically, serving our community and families, innovating and employing technology, and embracing an ownership mentality. We collaborate and problem solve using somewhat unique tools, such as billiards, ping-pong, arcade games and shuffleboard.
STUFF WE MAKE
Automated assembly and tooling systems • Robotics solutions • Independent cart technology • Forming and joining systems
COOL CUSTOMERS
Our customers include progressive Fortune 500 companies in white goods, pharmaceutical, agriculture, transportation and other general industries.

CAREER OPPORTUNITIES
We are currently seeking out engineers specializing in concept, manufacturing, mechanical and controls. We are also hiring technicians for automation, mechanical and electrical.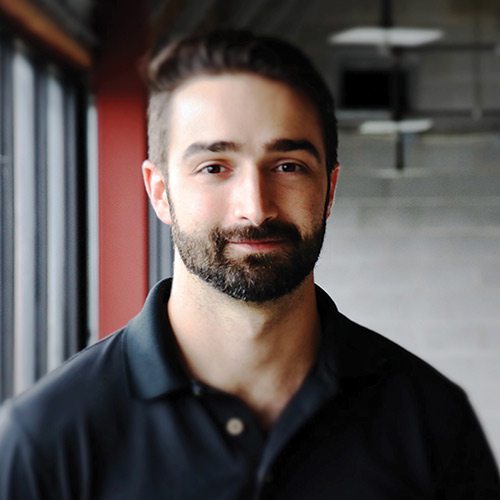 Damir Kolasinac | Engineering Lead, Mechanical Engineering FAS Group

Age: 30 | Years at DT Engineering: 3

JOB DUTIES
My job duties include mechanical design and analysis, fluidics, technical support functions, development and directing functions of my assigned group.

WHAT DOES THE JOB MEAN TO YOU?
Variety and innovation. At DT Engineering we work with many industries and unique customers to provide engineering design and integrated solutions for complex automated systems that ensure you will never be bored on the job. We are on a path to revolutionize the way an automation company behaves and performs by changing the way we do business. This desire for self improvement and enhancing the employee culture is very inspiring and motivates me to live this ethos.

REQUIREMENTS
• Training: computer aided drafting, finite element analysis, data management, leadership
• Personal Education: Master of Science in Mechanical and Aerospace Engineering
• Analytical mindset, strong problem-solving abilities, strong communication abilities, organized, ability to multitask and prioritize
SKILLS
• Computer aided design
• Computer aided drafting
• Finite element analysis
• Spreadsheets and data analytics
• Technical writing
WHAT YOU'LL DO
As a medium-sized company, we work as a team, which often means stepping into a variety of roles in order to bring a concept to life. At DT Engineering you will work with the customer and engineering team to bring a value-added solution by defining the scope of the project, providing a concept, design, drafting, machining and fabricating, assembly, controls programming and systems testing.