Offices
The Best Desks, Chairs & Stretches for Working From Home
Nix neck and back pain with these simple stretches and home office additions available locally.
By Ettie Berneking
Apr 14 2020 at 10:15 a.m.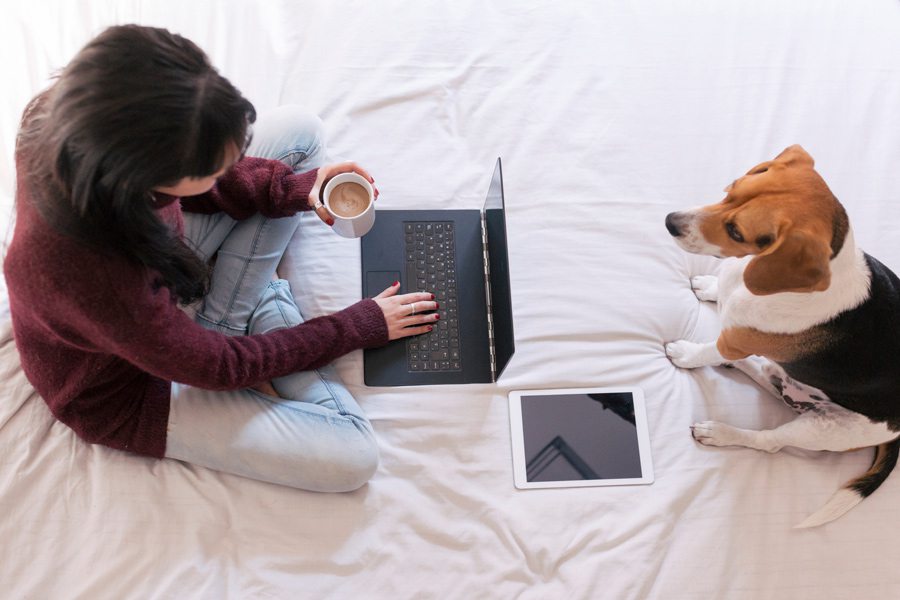 Working from home has plenty of perks. You can lounge in sleepwear all day, have total control over the coffee maker and take conference calls from the comfort of your backyard. But, more often than not, that cozy home office is sorely lacking in one area: ergonomics. Because let's be honest—how many of us are really working from a dedicated desk and office chair? If you raised your hand, get out of here, you overachiever! The truth is, most of us are working from our kitchen table, kitchen counter or the couch. These "workspaces" can be lovely, but by lunchtime, our necks are stuck at a slight 45 degree angle and our lower backs are screaming some serious profanity. To help improve your at-home workspace, Grooms Office Environments and Loehr Health Center share their tips on stretches that can relieve back and neck pain along with office accessories that will keep you limber and pain-free. 
PRESENTED BY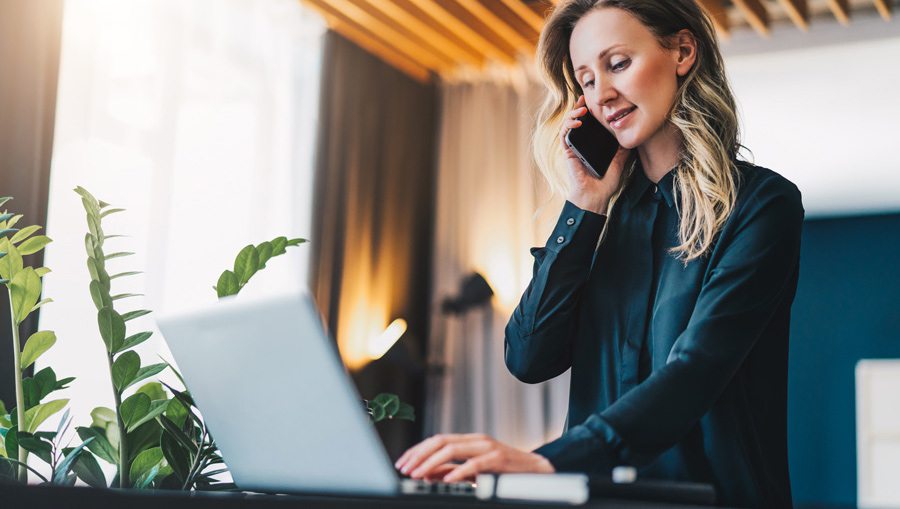 Photo courtesy Shutterstock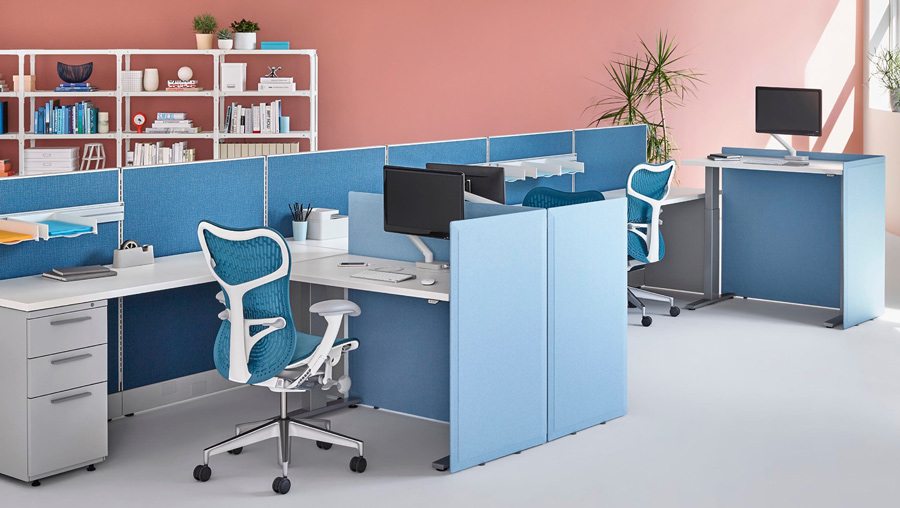 Photo courtesy Grooms Office Environments
Fix It: Neck Pain and Tension
"By looking down at a computer, laptop or phone for extended periods of time, it places extra strain on our neck muscles which leads to increased pain and tension in our neck," says Dr. Erica Bell with Loehr. To avoid this kind of pain, simply raise your computer, laptop or phone to eye level and sit with proper posture while working.
Try This Stretch 
To help relieve the tension felt in your neck, Bell suggests dropping your left ear to your left shoulder and letting your right arm hang completely at your side. Using your opposite hand, gently place pressure on the side of your head to further stretch your neck. Hold that for about 30 seconds and then repeat on the opposite side. Repeat as often as necessary. Click here for a visual.
Add This to Your Home Office
Standup desks (starting at $650) are all the rage right now, and for good reason. For starters, they allow you to ditch that office chair all together and work standing up, which for some people is a dream. But the adjustable height also means you can raise or lower your desk as needed even if all you need is a little more legroom. That's the feature Victoria Gorham, sales manager at Grooms loves the most. "We've all heard and understand that to minimize fatigue and promote healthy blood flow, a sit-to-stand desk is critical," Gorham says. "But in my opinion, a sit-to-stand desk is great for one reason: We are not all the same shape and heights, so why should our desks be? I can shape shift from my flat-footed 5'4" to 5'7" when I wear my favorite work heels. If I can adjust my chair to accommodate my height, why shouldn't I be able to also adjust my desk?" 

Fix It: Low Back Pain 
If you've found yourself sitting for more than a few hours at a time, you've probably noticed your lower back starts to ache. Bell says that's because most people sit for too long and sit in an improper position at their desk or workspace. To correct this, Bell suggests getting up every 30 minutes to move around even if it's just walking to get another glass of water. She also says you need to make sure you have adequate low back support from your chair, sit up straight with your hips at 90 degrees and keep your feet flat on the floor. 
Try This Stretch
Sitting in a chair all day leads to tight hip flexors, which contributes to low back pain. Start by kneeling with one knee on the floor. While maintaining a straight back, tilt your pelvis forward until you feel a stretch at the front of your thigh. Hold for 30 seconds and then switch legs. Repeat as often as necessary. Click here for a visual.
Add This to Your Home Office
When it comes to office chairs that won't cripple you with back pain, Grooms lists two that stand out from the rest: The Herman Miller Embody Chair ($900) was actually constructed to resemble a mattress, meaning its cushion-less seat and chair back (designed to resemble the human spine) support the whole body. 
The SitOnIt Focus 2.0 ($375) is a more durable task chair that can be adjusted to meet your needs. That means you can spend as much time as you want dialing in the lumbar support, arm height, width, tilt tension and seat depth.
About Grooms Office Environments: For more than 40 years, Grooms Office Environments has provided commercial interior design services including space planning, project and move management, healthcare and systems furniture as a full-service Herman Miller dealership. Whether you need to furnish a single office, a new building or even a single workout space, Grooms' expertise can work for you. Grooms clients include Jack Henry, Prime Trucking, Guaranty Bank and CoxHealth Network.