10 for the Next 10
What You Missed from Our 10 For the Next 10 B-School
Five of our honorees share their roots, biggest accomplishments, goals and visions for southwest Missouri.
By Jenna deJong
Aug 07 2019 at 3:20 p.m.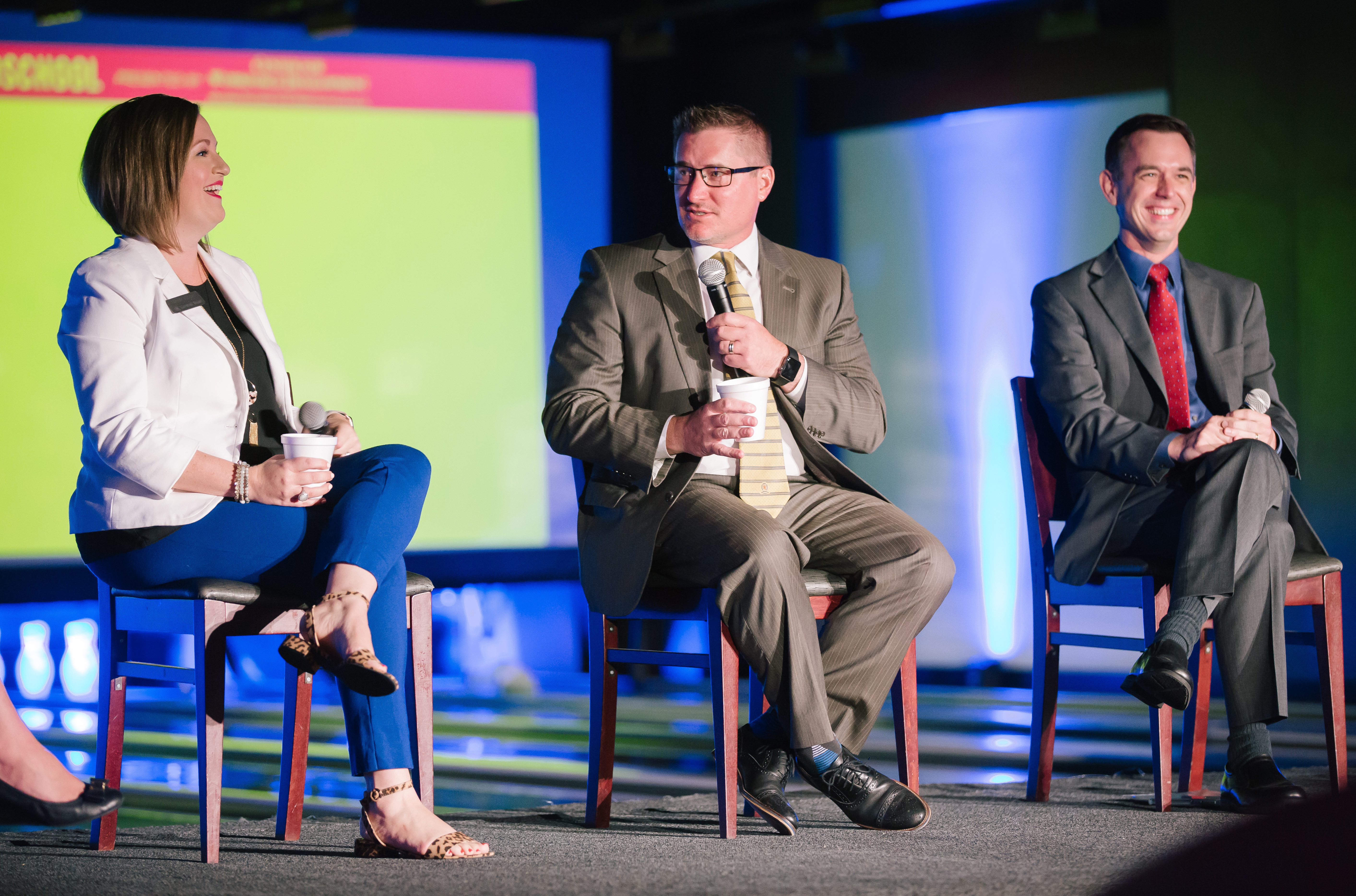 For our latest cover story, we featured our third 10 for the Next 10 class, and we got to know five of them a little better this morning at our August installment of B-School Breakfast Series. This morning, we heard from C.J. Davis, president and CEO of Burrell Behavioral Health; Paige Oxendine, program coordinator for the efactory; Stephen Hall, chief communication officer for Springfield Public Schools; Paden Wilcox, business development director for Computer Recycling Center LLC; and Kristin Carter, tax officer for Central Trust Co. They each touched on their past accomplishments, what they're currently working on, what they think is missing in 417-land, and how they've stepped up to civic engagement. 
A Little Known Fact 
We're limited to word counts when we write our cover features, so we decided to give our panelists the opportunity to share something about themselves or their companies that didn't make it to print. 
Though Kristin Carter is completely in love with the area, finding a job wasn't a piece of cake. While recommendations and word-of-mouth are always good recruiting techniques, she stressed that posting job openings online could reach people outside our market. Now, as a tax officer for Central Trust Co., Carter manages the day-to-day tax operations for the entire company, which has offices in Missouri and Kansas. 
C.J. Davis with Burrell Behavioral Health and Stephen Hall with Springfield Public Schools touched on making mental health more accessible. In fact, Hall said that with the help of Burrell, Springfield Public Schools has increased their mental health efforts to give more access to its 25,000 students. 
Though Paden Wilcox is originally from 417-land, he moved to Boulder, Colorado for a short stint before moving back to be closer to family. In addition to his role at Computer Recycling Center LLC, he is the chair of The Network. Though The Network, part of Wilcox's job is to increase young professional retention efforts. He acknowledged his own move and pointed out that young professionals who feel the need to have similar experiences as him will only improve the region's outlook and perspective if and when they come back. 
"I wish 417-land had…"
We asked our panelists what they wished 417-land had, or what they're especially appreciative of. Kristin Carter, C.J. Davis and Stephen Hall are not from the area and bring an outside perspective, while Paige Oxendine and Paden Wilcox's roots are firmly planted in southwest Missouri. 
Originally from Pacific, Missouri, around 35 miles west of St. Louis, Carter says she admires her hometown city for investing in community assets like Forest Park, the Missouri Botanical Garden and especially The Muny. As a child, Carter and her family took advantage of the free seats at The Muny and emphasized how crucial accessible outdoor gathering places are to a community. 
Wilcox and Oxendine are both from southwest Missouri, and Wilcox made a special note of the dramatic shift made in downtown Springfield. He told us that during his youth the district was boarded up, but that now the square flourishes thanks to surrounding businesses, nightlife, arts and culture. 
Oxendine also noted 417-land's more intangible characteristics, including an amplified voice. With more professionals working at the state level and increased collaboration, Oxendine notes how much more 417-landers are speaking up.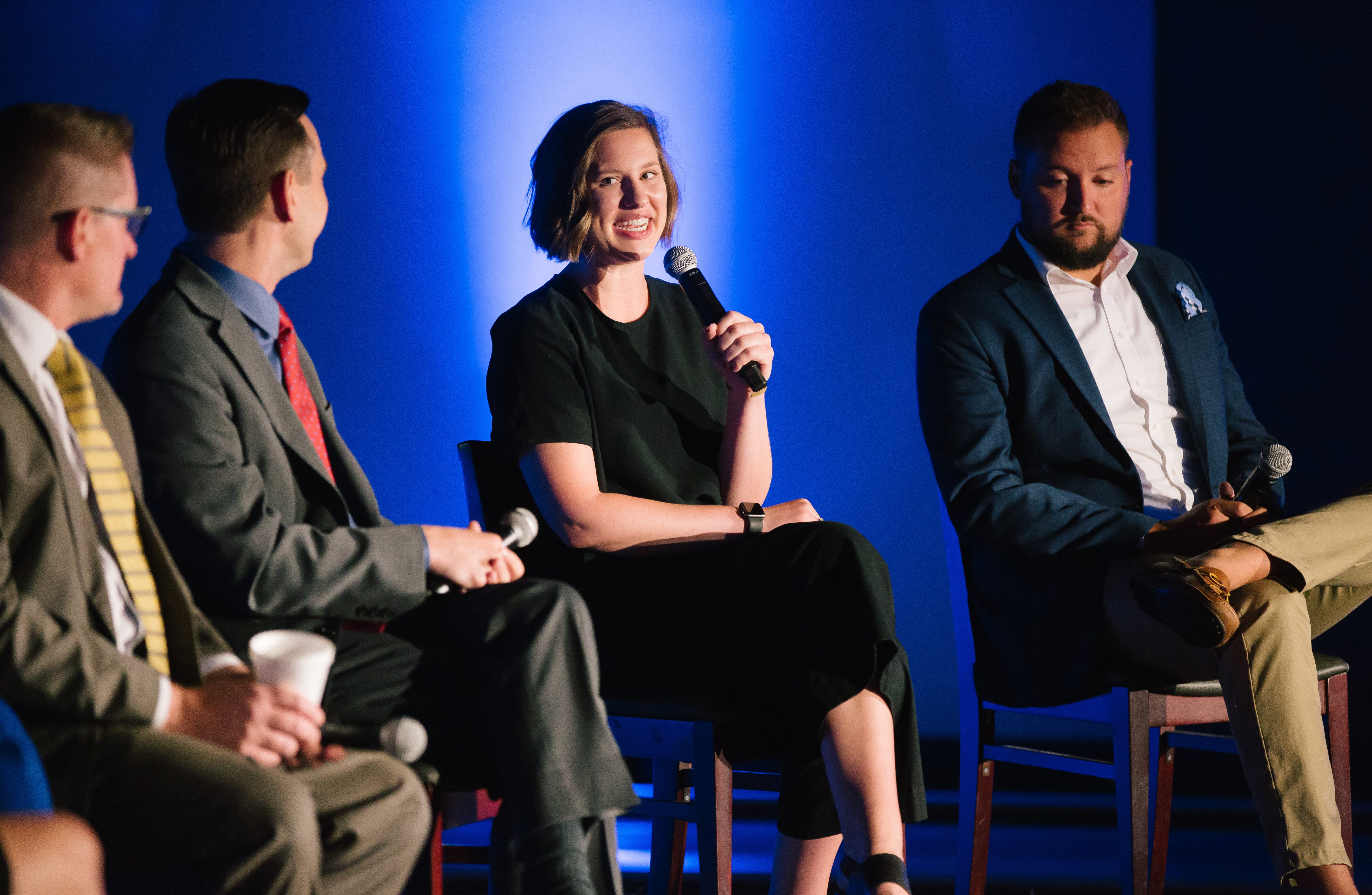 Photo by Brad Zweerink
As program coordinator for the efactory, one of Paige Oxendine's major goals is to make 417-land the best area to start and grow a business.
Purchase Photo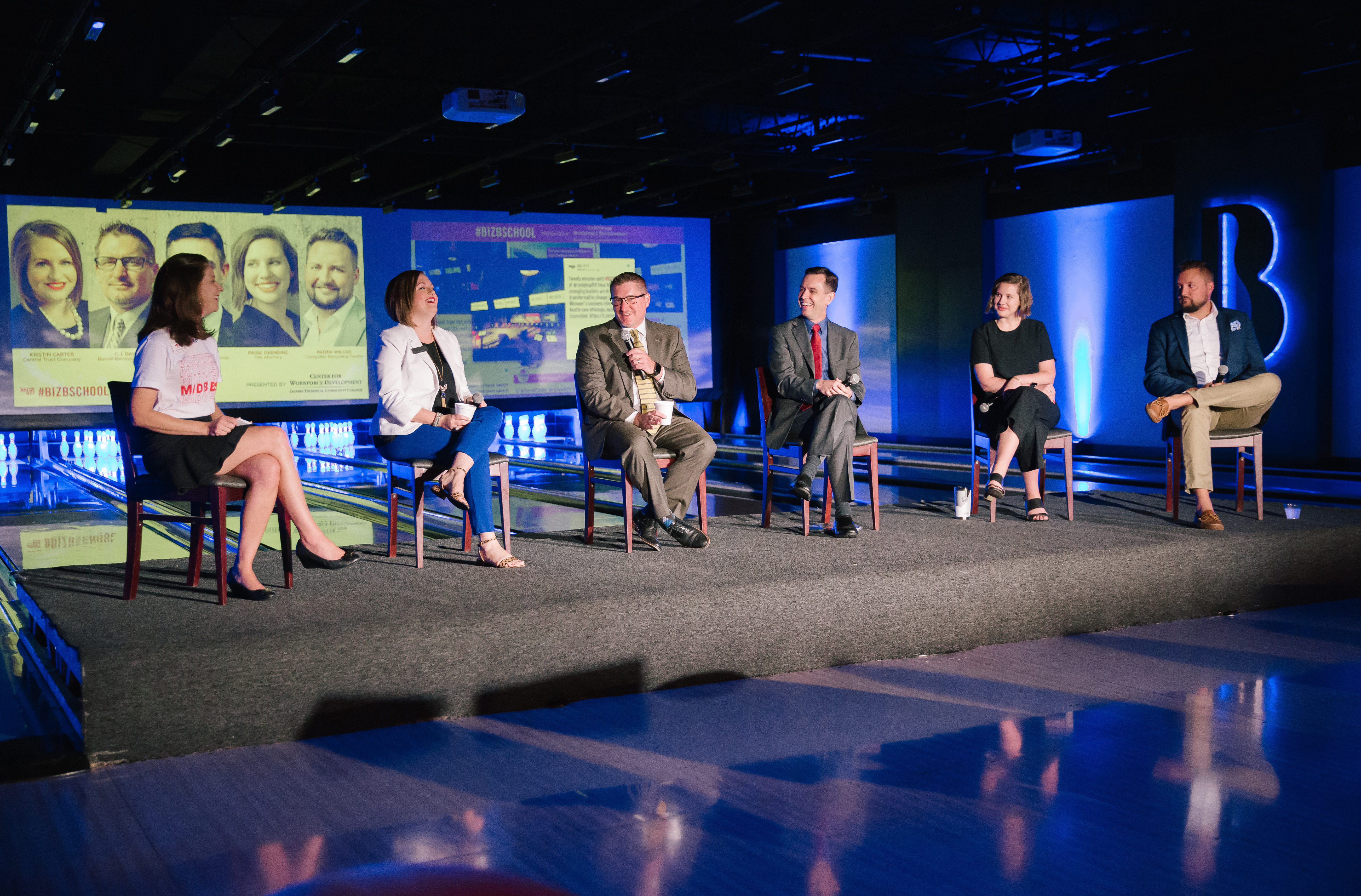 Photo by Brad Zweerink
Biz 417 president and associate publisher Logan Aguirre interviews Kristin Carter, C.J. Davis, Stephen Hall, Paige Oxendine and Paden Wilcox at our August 8 B-School Breakfast Series.
Purchase Photo
They're Knee-Deep in Creating Change
We pick our 10 for the Next 10 classes based on professional achievements and civic engagement. The five panelists who spoke today not only have impressive resumes, but also extensive to-do lists. 
Carter has lived in southwest Missouri for less than five years, but she's already led the charge on a local public policy issue. As chair of The Network last year, she realized she was in the driver's seat of a platform that could spread the word about a 2018 proposal for Ozark Technical Community College. Carter was one of the many faces who created opportunity for residents across the region while simultaneously working to lower the median voter age.  
Hall did the same just this year with Springfield Public Schools' Prop S proposal in April. Now that the issue has passed, Hall's long-term focus is collecting feedback from the community to help the district determine its long-term goals. 
A recent transplant to the region, Davis told the audience how impressed he was that southwest Missouri residents are vocal about their desire for mental health accessibility. He is setting his sights on expanding Burrell's employment and ensuring mental health care is available to all at any point in time, which includes implementing 24/7 services and creating an app. 
Paden's attention is focused on changing the attitudes in 417-land. He's taken it upon himself to be a champion for southwest Missouri and get people excited to live, work and play in the community. In fact, he's already been instrumental in educating college students about what our region has to offer. This year alone, The Network plans to reach 800 college students through a presentation highlighting the community's assets and opportunities, and the program's already seen promising results. 
As program coordinator at the efactory, Oxendine is working with director Rachel Anderson, to make southwest Missouri the best place in the midwest (and possibly even the country) to start and grow a business. Oxendine says there is already a rich entrepreneur climate, and the efactory's move toward expansion will only add her vision. 
Save the Date for our next B-School Breakfast Series: October 10