Leadership
What You Missed at the 10 For the Next 10 Virtual B-School
Addison Jones, Nicole Holt, Christina Angle, Travis Allen and Chelsey Bode dish on their upcoming projects and secrets to success.
By Jenna deJong
Aug 13 2020 at 11 a.m.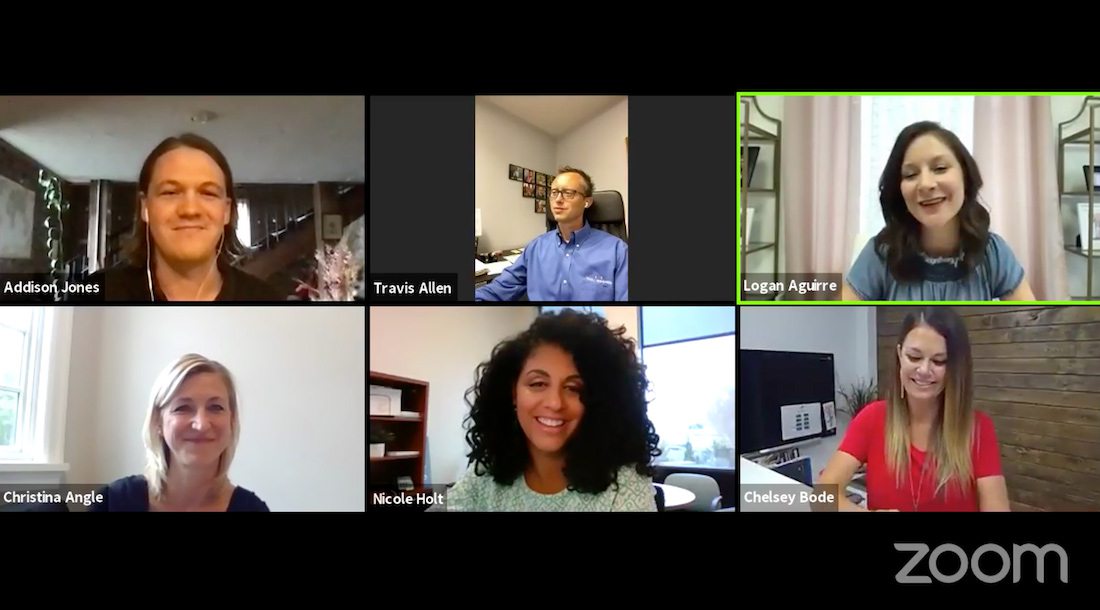 This summer, we're celebrating our 10 for the Next 10, a power group of rising stars ready to push southwest Missouri into the future. This morning, we heard from a handful of those leaders including Addison Jones, Design Associate at Dake Wells Architecture; Travis Allen, President of Total Highspeed Internet Solutions; Christina Angle, Chief Financial Officer and Vice President of Group Services at the Erlen Group; Chelsey Bode, President at Pearson-Kelly Technology; and Nicole Holt, Deputy Superintendent of Academics at Springfield Public Schools. Each shared their career journey and what they'd like to see in southwest Missouri. 
How They Got Their Start
If there's one thing this group has in common, it's that they possess a combination of ambition and drive, and they take initiative to make things happen. For Addison Jones and Travis Allen, that meant identifying a problem and taking the steps to find the solution. Jones began Better Block SGF, a spinoff of the Dallas-based Better Block Foundation, because he believes that land in southwest Missouri is underutilized. To illustrate his purpose, Jones used the analogy of a book where the cover is the city and the content is the people. The common saying "don't judge a book by its cover" doesn't always ring true, and Jones said he's working to "update our cover" so that Springfield and it's citizens get to tell their story. "My goal is really to help people make Springfield as cool as they are and to update the cover of our book so it matches the content," Jones says. 
Travis Allen's big thing also started with identifying room for improvement. At 13 years old, Allen said he would ride his bike and pull over to ask a lineman about his line of work. This ignited a curiosity and drive to deliver broadband to rural communities. "Back then, it was 2002-2003 timeframe when I was starting to think about doing something with [the] internet and I would look around and nobody had anything," Allen said. "So [I said], 'well, I'll look at doing something, I'll start putting up some towers, putting up some equipment, and getting service to people but maybe it would only last a couple of years. Surely, after two or three years, a big company will come in and build something really great, but that's never happened. It's been 15 years." 
Two speakers, specifically Christina Angle and Chelsey Bode, both work for family businesses, something that was not originally in the plan for either of them. Bode had her sights set on New York when she realized she could build the life she wanted in Springfield. She had her heart set on medical equipment sales, but when her father decided to start his own business, she became the fifth employee. In 2011, she experienced an 'ah-ha' moment when her father bought out his partner. Suddenly, she had the opportunity to buy-in and discovered it was running a business and working with people that she loved most. 
Unlike Bode, Christina Angles career in public accounting took her to new cities and even all the way to London. Angle said she doesn't attribute an enlightening "magic moment" to her success, but rather her openness to new opportunities and the hard work she put in afterward to make it worth her while. This brought along the opportunity to work for her third-generation family business the Erlen Group. 
Similar to Angle, Nicole Holt identifies her success with unexpected opportunities. Nicole Holt's career path starts and ends with Springfield Public Schools. As she left one position for another, she noted that why she was starting her next big thing, it didn't mean she was leaving behind a position that was "equally amazing." As she moved up the career ladder, she continued to take leaps of faith, which eventually led to her current position as deputy superintendent of academics. 
Their Wishlist for the Region
• Addison Jones would like to see a Trader Joe's and multi-model transportation. 
• Chelsey Bode is interested in more direct flights and creating a space that attracts and retains college students. 
• Nicole Holt would like to see more women and people of color in leadership positions. 
• Travis Allen is excited about the opportunity for more broadband access and would like to be a part of Ozark Greenways' trail development and expansion. 
• Christina Angle would like to see more opportunities for composting both on a large scale and a small scale to reduce climate change. 
Want to see more of this morning's B-School? Watch it on Facebook here.