Strategy
How Local Tech Companies are Bringing Faster Internet to Your Office
We break down gigabits and megabits to get you up to speed.
By Stephanie Towne Benoit | Illustration by Alex Wolken
Nov 2017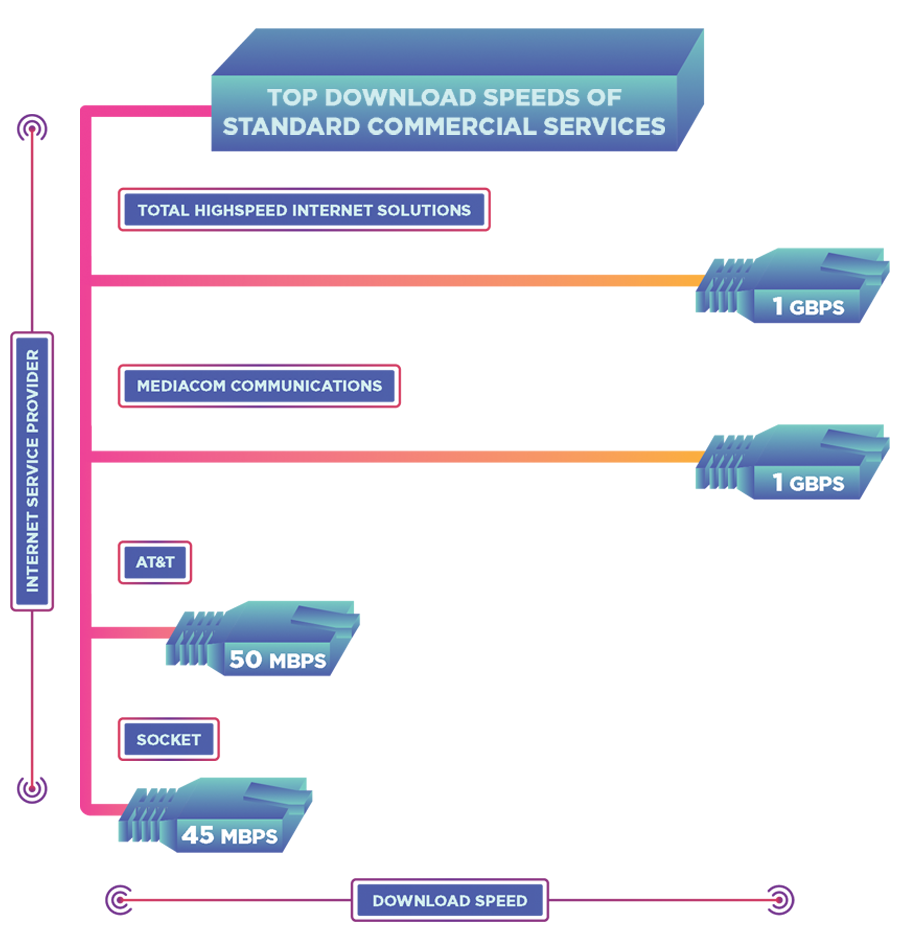 These days, reliable, fast internet is vital to companies of all sizes—and sometimes all it takes is a major slowdown for that dependency to come into stark relief for companies. "Anytime they are down, they are losing money," says Ken Thrasher, sales and marketing manager of Nixa-based Total Highspeed Internet Solutions, which brings up to 1 gigabit per second internet to businesses in 150 urban and rural communities across southwest Missouri and northwest Arkansas.
The good news is that 417-land internet service providers have been beefing up their local infrastructures. For example, AT&T, which began offering 1 gigabit per second AT&T Business Fiber in Springfield in 2016, poured $1.8 billion into its Missouri area wireless and wireline networks from 2014 to 2016. Mediacom Communications also increased the availability of 1 gigabit per second speed in 417-land with the launch of standard 1 gigabit per second commercial packages in 2017. The company has made major investments to upgrade technology at its local hub as part of its $1 billion commitment to improve its broadband network.
Speeds available to 417-land businesses can vary by location, even exact spots within cities, but this chart highlights the top download speeds available in Springfield with standard commercial service, as provided by each company. Companies needing even higher speeds could spring for alternatives like built-to-suit solutions from Mediacom or Socket's dedicated services, both of which could provide businesses with speeds of up to 10 gigabits per second, depending upon location. Such service can be more costly, but for some organizations, it's a small price to pay for blazing-fast internet in today's ultra-connected economy.