Manufacturing
Springfield's New Manufacturing Boom
Springfield is seeing a rise in manufacturing jobs. So what kind of skills are employers looking for, and what is Springfield doing to prepare the new in-demand workforce?
by Ettie Berneking
Jul 01 2022 at 8 a.m.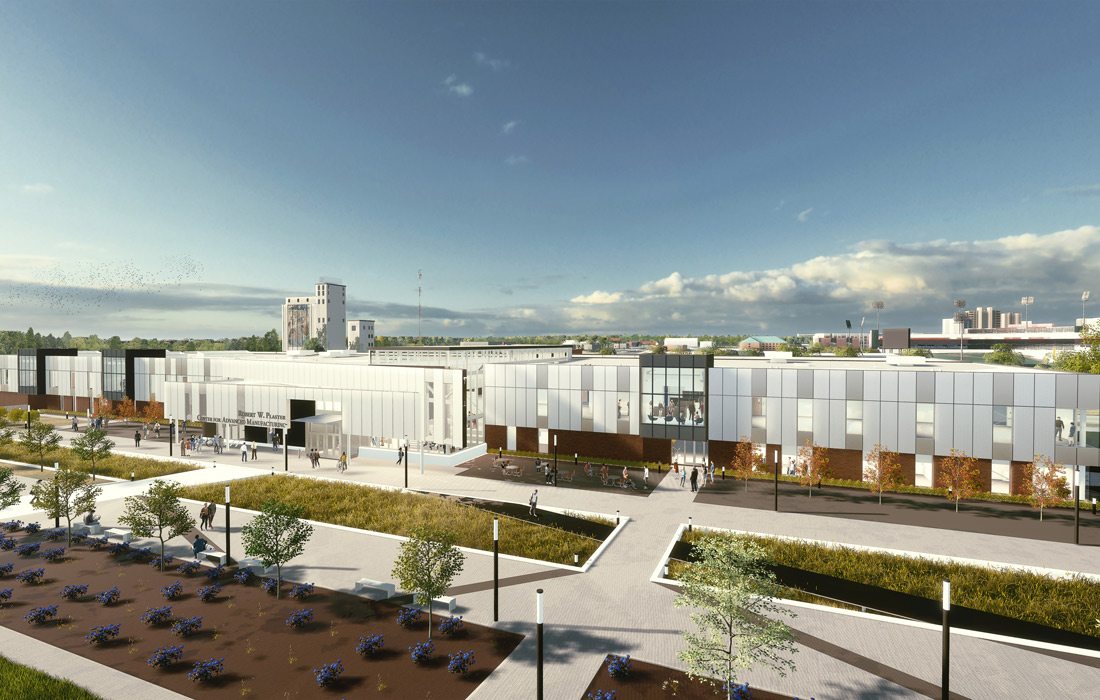 Next time you crack open a beer, pour some milk on your morning cereal or top off a glass of wine, take a moment to thank the Paul Mueller Company. Headquartered in Springfield, Missouri, the Paul Mueller Company is one of the largest manufacturers of stainless steel tanks in the world, and it's not the only manufacturing giant to call Springfield home. The Queen City has more than 70 manufacturing companies and at least eight re-manufacturers in town. Companies including John Deere Reman, SRC and CNH Reman are a few of the key players in the remanufacturing industry. According to Robert Randolph, executive director of the Robert W. Plaster Center for Advanced Manufacturing at Ozarks Technical Community College, those remanufacturing companies account for at least $100 million worth of payroll. That's a lot of jobs and, as Randolph says, a lot of potential growth in the industry. All of that potential growth means people like Randolph and OTC predict Springfield is poised for a new surge in manufacturing.
PRESENTED BY
The Current Surge
When you look at the numbers, it's clear Springfield's manufacturing scene is growing. In 2021, Biz 417 reported that manufacturing employment in the Springfield metro area grew by 4.7% from October 2020 to October 2021. On top of that, Kraft announced in 2020 that it was adding $48 million worth of new equipment to the Springfield plant. John Deere followed suit and unveiled plans to expand its manufacturing operations and add 130 new jobs.
As a state, Missouri's manufacturing output in terms of dollars, jumped from $31 billion in 2011 to $39 billion in 2020 according to data from the National Association of Manufacturers.
Plans to Meet That Surge
To prepare for more growth in manufacturing and make Springfield extra-attractive to companies looking to relocate, expand or build new facilities, OTC is rapidly finishing construction on its Plaster Center for Advanced Manufacturing. The $40 million center will serve as the regional hub for advanced manufacturing and technology-related education with the goal of training a new workforce that's ready to meet the needs of manufacturers in town. "We've been focused on workforce training for 32 years," says OTC Chancellor Hal Higdon. "The Plaster Manufacturing Center will allow us to train employees on all the new trades and skills employers need these days."
The idea of the Plaster Manufacturing Center came as OTC heard from its corporate advisory board that employers needed more skilled workers. "We keep hearing from employers like John Deere, Emerson and SRC that the jobs they're filling are more highly technical," Randolph says. Advanced technology skills like robotics is one of the new trades that's in high demand. "We talk a lot about upscaling and moving into technologies and solutions like machine learning or data analytics," says Jena Holtberg-Benge, general manager at John Deere Reman. "We see that coming, and it's coming fast."
"I'm particularly excited about that," Randolph says. "As we open this fall, we're launching an automation and robotics program. It's not about cutting labor— it's just another skill set that's required. For instance, someone running a robotic welding operation needs to know about welding, but they also need to know about robotics."
A New Kind of Career
This change in skillsets is one thing the OTC team hopes will help change the stigma around careers in manufacturing. Back in the day, Randolph says, many people came to this industry later in life, but now they're seeing younger applicants enter the field. "These are great paying jobs," Randolph says. "And as we see people move away from getting a college degree just for the sake of getting a degree, these jobs become more attractive. These are highly skilled positions." According to the Bureau of Labor Statistics, Missouri's manufacturing workforce made an annual mean wage of $67,000 in 2021. At John Deere Reman, they saw 800 applications come through within the last year, which to them, indicates these jobs are becoming more attractive. "We hope the Plaster Manufacturing Center will be a showcase that could build excitement in middle and high school students who are interested in a career in manufacturing," Randolph says.
Attracting New Employers
A new and younger workforce isn't the only thing OTC hopes to attract with the Plaster Center for Advanced Manufacturing. It also hopes to draw in more employers and industry leaders to town by providing 15,000 square feet of available industrial space. "This could be used for custom training solutions, start-ups and even product testing" Randolph says. David Ahlstrand, operations manager at John Deere Reman, agrees. Ashlstrand is on OTC's advisory board and helped the college shape its vision for the new center. He sees the Plaster Manufacturing Center as a hub to train John Deere's growing workforce on new technologies but also sees that 15,000 square feet of space as a major win for companies like John Deere who could use the space to test new equipment and ideas. "We have a major capital investment happening, and if we need some space to test it out without disrupting our production in the short term, the Plaster Center for Advanced Manufacturing could be a place to incubate an idea," he says.
When John Deere Reman announced it was expanding its operations, it looked at several locations including Springfield. Holtberg-Benge says after evaluating each option, Springfield came out on top, in part due to a reliable workforce, a growing population, available land and a central location with easy access to road and rail shipping. Now, the hope is that OTC's Plaster Manufacturing Center will be on the list of perks when companies like John Deere add Springfield to their shortlist of places to set up shop.
The 120,000-square-foot facility will be home to many of OTC's technical programs, including: Mechatronics, Manufacturing Technology, Precision Machining, Drafting and Design and Information Technology Infrastructure and Cybersecurity, and construction is expected to wrap up this fall.
About Ozarks Technical Community College
Ozarks Technical Community College is dedicated to providing affordable, accessible educational opportunities that transform lives and strengthen communities. As Missouri's third-largest community college, OTC offers more than 40 different degree programs. Whether you're looking to build a career in construction, engineering, computer sciences or education, OTC is here to bring that dream to life.