Offices
Inside Shallina Goodnight's Office
In this series, we head inside the offices of 417-land's business leaders to see what inspires them, what challenges them and what their work environments really look like.
By Ettie Berneking
May 07 2019 at 9:49 a.m.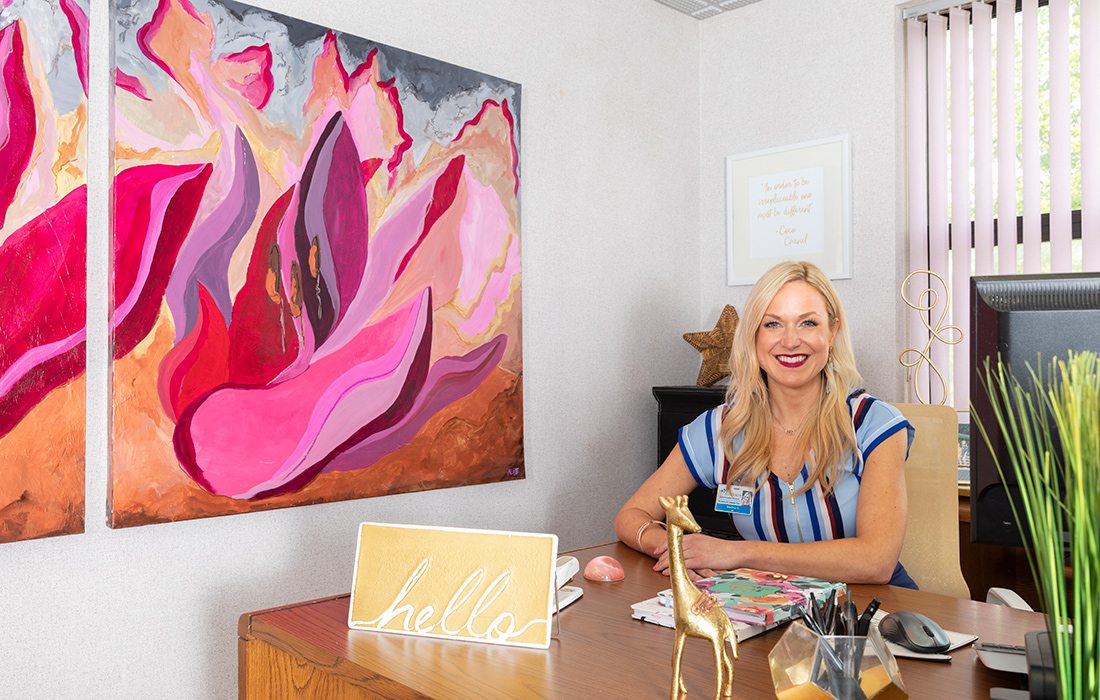 Those who have had the pleasure—or headache—of working in an outdated office will understand Shallina Goodnight's struggle. Goodnight is an administrative director of marketing and customer experience at Oxford HealthCare, which is owned by CoxHealth. When she moved into her "new" office two years ago, she realized she had her work cut out for her. With its faded mauve carpet and yellow oak desk, the office looked like it was still enjoying the '90s. There was just one perk: it had a big window. With plenty of natural light to work with and creativity, Goodnight brought new energy and a modern vibe to her office—all without changing the wall color, carpeting or furniture. 
If it sounds impossible, think again. "As an employee, you can't change everything," says Audrey Garard, co-owner of Grooms Office Environments. Grooms is working with CoxHealth to redesign a chunk of the hospital's public spaces to make the environment more welcoming for visitors and team members. But when it comes to redesigning a private office, Garard says you don't have to get all new furniture and paint colors. Instead, she says to focus on what's most influential, which is exactly what Goodnight did.
Work With An Existing Color Scheme
I started out by wanting great art. My husband, Marty, is an artist, so I'm pretty lucky. I asked him to make some pieces for me, and I used corals and metallics to pull the existing colors of gold, purple and mauve in. 
Organize Furniture To Create A Welcoming Environment
When I moved to this office, it had two big bookshelves and a big metal filing cabinet. The desk was shoved up against the wall, so when I looked in, the room felt heavy and overwhelmed with furniture. I wanted to bring in light and make it feel more welcoming, so I brought the desk to the center of the room and got rid of the bookshelves. I didn't want to feel trapped, but it was equally as important to me that when people looked in, my office felt open and inviting. Oh and my chair! I saw that chair at an event. It's a sparkly gold chair; I'd never seen such a thing, and then Grooms and Marty surprised me with it. But it's not just any chair, it's a trophy chair. It is legitimately a trophy, so I feel very special sitting in that chair.
Learn The Art of Decluttering 
I try to not retain paper. Ridding myself of a filing cabinet when I came into this office automatically forced me to limit what I keep. But the truth is that whatever space I do have, I will fill. All the little draws are completely full. Some of the stuff with Marie Kondo is definitely true, but within health care there are some things that don't bring me joy that I definitely have to keep.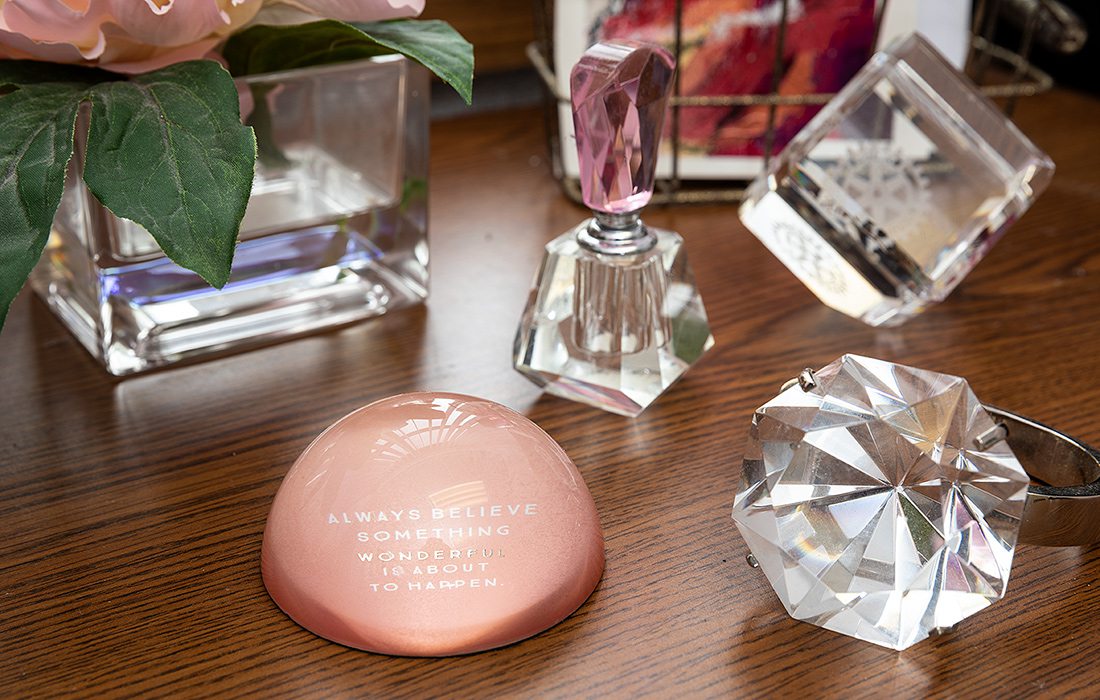 Find Creative Inspiration At Work
I need to make sure I'm not getting mentally stuck when I'm working on a task. When I do get stuck on something, I need to either get up and leave my space or take a second and look out the window. Having that source of natural light helps a lot. It allows me to disconnect for a second to get things moving again. As for stress, my method of destressing is waking up early and working out. Doing that every day helps control fluxuations of emotions that come with any job. 
Harness The Power Of Office Supplies
In the same way I'm expressive in my office environment and what I'm wearing, the same attention goes into my office supplies. Part of that is because I'm definitely a paper and pen person. Aesthetically I don't like having multiple screens in my face, but I do have six or seven project folders out on my desk at any given time. I also have multiple notebooks that I work in.  
Display What Means Most
Everything on my desk is there for a reason. Whether it's to inspire me or make me feel good. Behind my desk, I have a glass perfume vial that belonged to one of the members of my team who passed away from cancer. It reminds me of her and how vivacious and completely wonderful and charming she was. It also reminds me that things change all the time, and your time is not promised. There's also a big paper weight a team member gave me. I saw her overcome challenge after challenge and eventually work up and land her dream job. Then I have another chotskie that was given to me at the end of my sarge year at Rotary Club of Springfield Southeast. I was one of the first female sarges, and that pushed me outside my comfort zone. It was a really good experience, so I look at that and am reminded that it's okay to feel uncomfortable and take chances.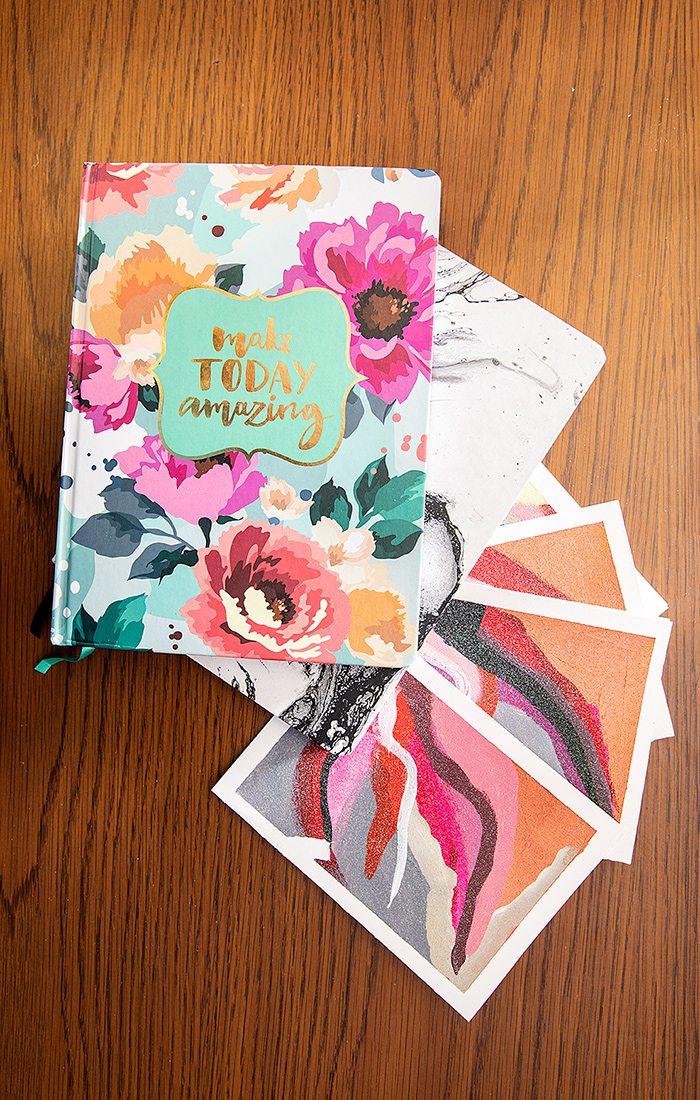 Photo by Brandom Alms
Shallina loves using colorful notebooks. She often has several out on her desk at any given time. She's also a big fan of personalized thank you notes. Her husband, Marty, painted the current stack of cards at her desk.
Purchase Photo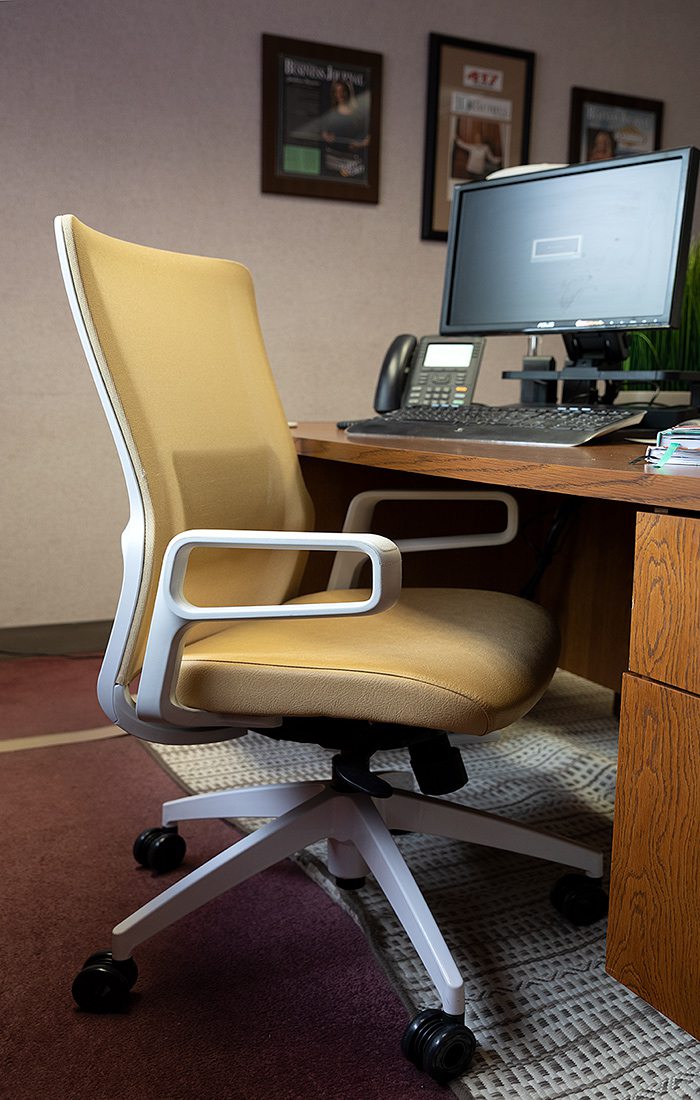 Photo by Brandom Alms
It's not every day you find a gold Herman Miller chair, so when Shallina spotted this glittery chair at an event, she fell in love with it. The chair is from Grooms, and was actually a trophy presented to the company. When Grooms and Marty learned Shallina was eyeing the chair, they gifted it to her as a surprise.
Purchase Photo
Tips from Grooms
Maximize your Space: If your office feels crowded, look at the orientation of your desk and storage, allow for better walkway flow and more floor space by evaluating if your desk size or the additional filing and storage is really necessary. You work with what you have, so get back to the essentials. 
Keep Things Minimal: Everyone loves their chotskies, but it's better to have a handful of items that are especially meaningful to you rather than 30 items that can quickly crowd your space.
Look for Contrast: The best way to deal with a color scheme you don't love is to add in contrasting colors. Instead of trying to match the colors, look for points of contrast to make the color scheme more modern. So if your furniture is a light oak, add in darker wood elements. 
About Grooms Office Environments: For 40 years, Grooms Office Environment has provided commercial interior design services including space planning, project and move management, healthcare and systems furniture as a full-service Herman Miller dealership. Whether you need to furnish a single office, a new building or even a single workout space, Grooms' expertise can work for you. Grooms clients include Jack Henry, Prime Trucking, Bass Pro Shops and CoxHealth Network.