Offices
Office Chair Horror Stories
Two Springfield businesses suffered through some of the worst chairs imaginable, but they lived to tell the tale. Could your workplace be filled with office chairs from hell?
By Ettie Berneking
Dec 04 2018 at 9:54 a.m.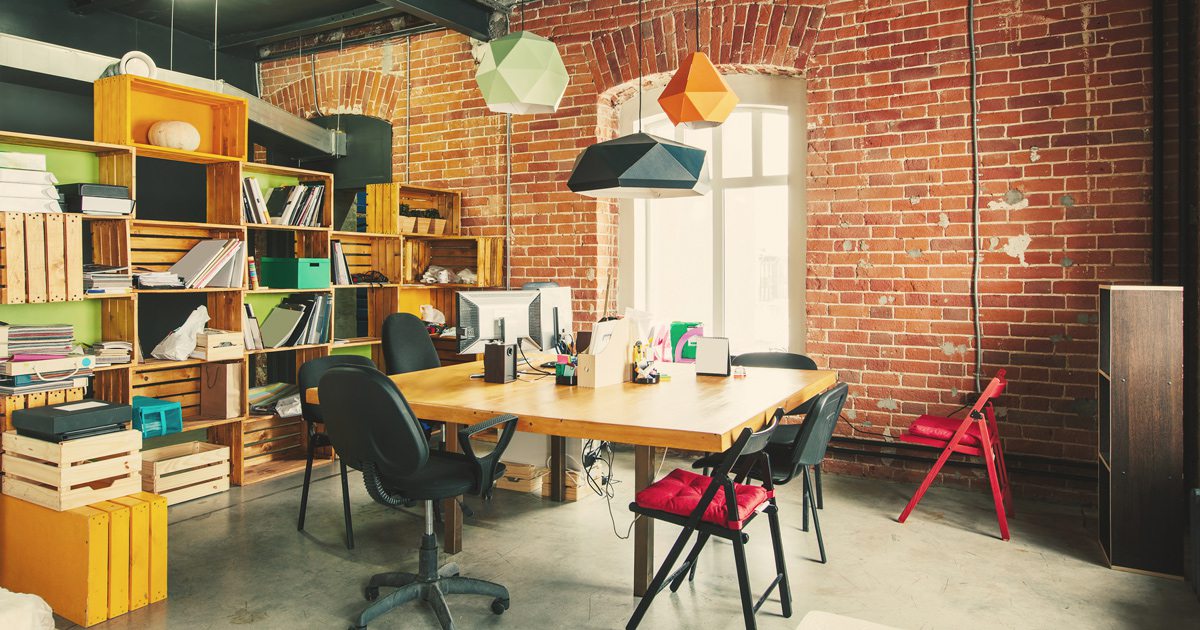 Let's be real. Is there anything worse than an uncomfortable, wobbly, outdated and ill-fitting office chair? The bad ones make it impossible to sit for more than 10 minutes, but the worst ones make you want to break your body in half by the end of the day. While finding a stinker of an office chair is a breeze, finding a comfortable one is a little like finding a box of free donuts. It doesn't happen often, and when you do find one, everyone calls dibs. Victoria Gorham, account executive at Grooms Office Environments, knows this problem well. "The No. 1 complaint we hear from new customers is how unhappy they are with their office chairs," Gorham says. "Employees often feel like it's Christmas Morning when their new chairs get delivered, and we're excited to give them that feeling!" There are a lot of bad chairs out there that need to be replaced, but first, let's hear a few office chair horror stories.
ADVERTISEMENT WITH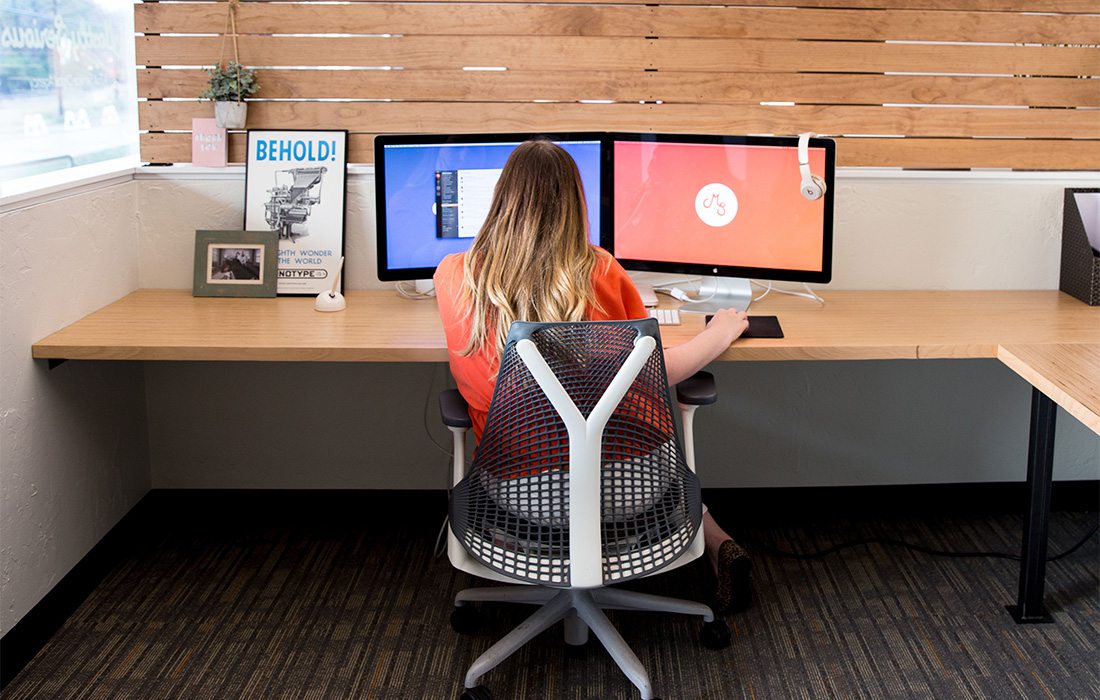 Cramping Creativity: Mostly Serious
Every new business has to start somewhere. Sometimes it's in the garage or a basement or in an at-home office. Not surprisingly, the furniture often takes a backseat in the budget, and when Mostly Serious—a full-service digital agency—was still in its early years, the one piece of office furniture most undervalued was the lowly office chair. And it showed—sometimes in unexpected and painful ways. "Most of [the chairs] didn't raise or lower," says Mostly Serious Founder and President Jarad Johnson. Those weren't even the worst of the collection. "One would randomly fly backward and knock you out of it," he says. Eventually, Johnson and the team had had enough. They vowed to never skimp on office chairs again. Even when they were expanding the office and some desks were cobbled together out of a few doors and wobbly table legs, the team had Herman Miller chairs. It was a bold move, but a wise one Gorham says. "Chairs are typically the last item thought about in an office remodel and the first thing subject to change when they are worried about budget. We encourage clients to flip that thought process to focus on the best quality for the most used products within the space."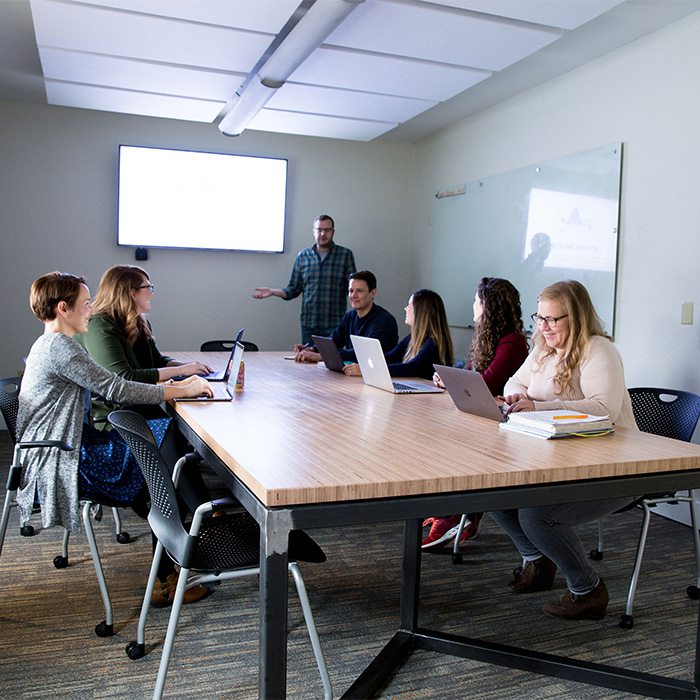 Photo by Jessica Spencer
The Mostly Serious team work together during a meeting.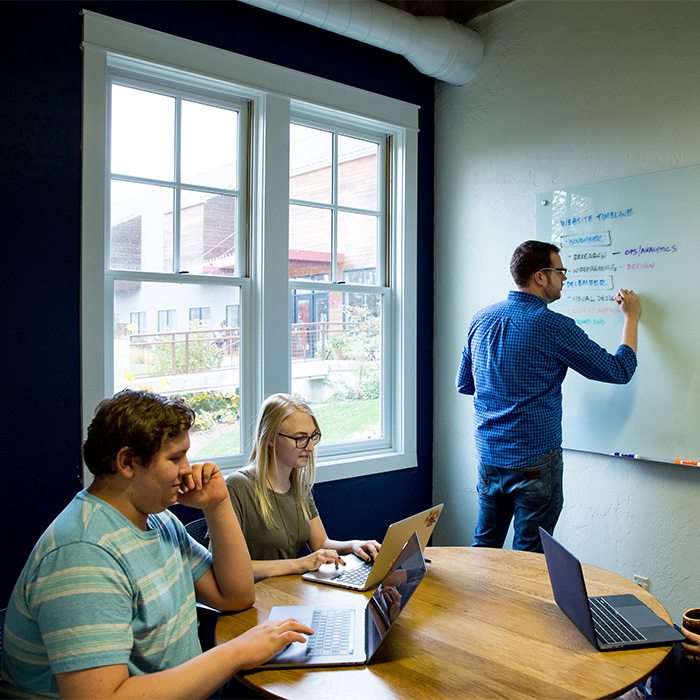 Photo by Jessica Spencer
Whiteboards in breakout spaces help the Mostly Serious team be as efficient and collaborative as possible.
A few years later as Mostly Serious experienced another growth spurt, Johnson created smaller break-out rooms where people could work. There was just one downside. There weren't enough of those comfy office chairs to go around, and the rooms were outfitted with metal folding chairs. "They were so uncomfortable that the rooms largely went unused," says Director of Design Jessica Spencer. So when the business moved into a new office in September 2018, the team ditched the folding chairs. Needless to say no one was sad to see them go. "In our line of work, we're sitting for long stretches of time," Spencer says. "It's crucial to be able to sit for long periods and not have the flow of work be interrupted by being uncomfortable."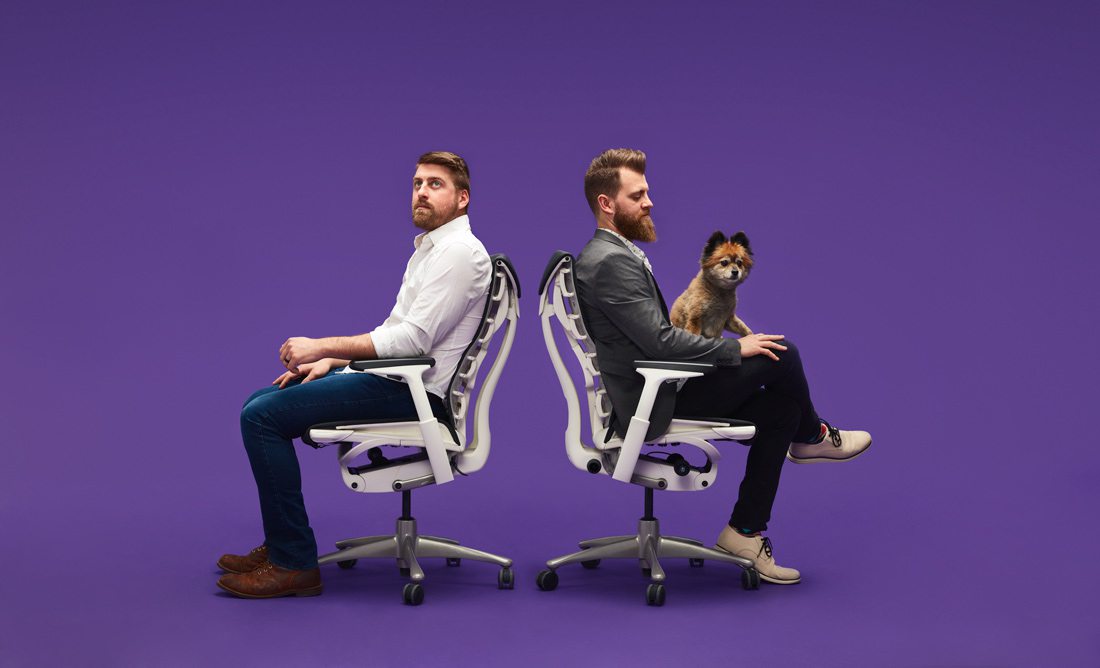 All the Terrible Options: Starboard & Port
Inside the Starboard & Port office, there must be at least 12 kinds of chairs. Styles range from modern country to standard bar stools, but they all have one thing in common: They're all uncomfortable. "They're great for sitting on for 10 minutes," says co-owner Chase Heilman. But when Heilman and fellow owner George Ferris are staring down a photo editing deadline and are gearing up to spend a few hours at a time seated in front of their computers, 10 minutes of comfort just didn't cut it. Then the two got a call to photograph the interior of Grooms Office Environments. When they arrived, their worlds were changed—or at least their office seating was. After a few hours of photographing and trying out the selection of Herman Miller office chairs, the two ended up upgrading their budget desk chairs for Herman Miller Embody Chairs. "We've had nothing but terrible chairs up until now," Heilman says. "We had some cheap at-home chairs, and they were all bad. We had no idea what these chairs were, but it was something we both knew we needed."

Before the upgrade, Heilman and Ferris were stuck in the same cycle Gorham sees every day—people using the same old office chairs they've always had. Why upgrade when you have functioning seating? "Often the worst chairs we see are when people use and abuse their seating past its lifetime," she says. "Cracking vinyl, missing foam from the seat or even an arm hanging down or missing—we've seen it all! Many of these are very low-cost, budget chairs that do not wear well after even five years." For the crew at Starboard & Port, the big draw behind the upgrade was the adjustable features. Although Heilman is a self-described squirrely worker who's constantly getting up and down during the day, Ferris spends hours editing photos on the computer. So with the swanky new chairs in place, all those bar stools and loungers have been retired to the photo prop collection.

The Chair Clinic
When it comes to office chair horror stories, Mercy Occupational Therapist Rick Pankiewicz and Mercy Ergonomics Physical Therapist Eric Weiskopf have seen it all. With stories of arm rests held together with Duct Tape, threadbare upholstery, wobbly chair legs and seat cushions pocked with eruptions of foam, the two of them have a collection of terrifying tales to make even Stephen King shudder. And, just like the doomed babysitter in every slasher film, the people using these broken down office chairs are setting themselves up for disaster. They just don't know it. "It's similar to an old T-shirt," Pankiewicz says. "The individual's body gets used to it. [But] without back support, an individual will begin leaning forward at the waist, slump at the shoulders, and their head will move forward. As the day progresses, eye strain becomes an issue, and the above positioning becomes even more exaggerated." Low back and neck discomfort soon follow. The problem is so prevalent that Mercy introduced its ergonomics and occupational therapy departments 15 years ago. You company's HR department or even your own physician can connect you to Pankiewicz. You can find him at Mercy Therapy Services on West Kearney or call 417-520-5483.
Just remember, even the most comfortable chair—the one you would nap in if your co-workers weren't watching—shouldn't be your day-long resting place. "The key," as Weiskopf explains, is "limiting how much time you spend in a chair."
But if you're stuck sitting at a desk for lengthy periods of time, there is good news. "In the last decade, many seating manufacturers have developed advanced ergonomic features," Gorham says. "New products are being released that accommodate how workspace behavior is evolving." Similar to standing desks, the classic chair is getting an upgrade with some much-needed lumbar support for back pains and seat pan sliders for height differences.
---
About Grooms Office Environments:
For over 40 years,
Grooms Office Environments
 has provided commercial interior design services including space planning, project and move management, healthcare and systems furniture as a full-service Herman Miller dealership. Whether you need to furnish a single office, a new building or even a single workout space, Grooms' expertise can work for you. Grooms clients include Jack Henry, Prime Trucking, Guaranty Bank and CoxHealth Network.