Offices
The Good, Better and Best When Remodeling Your Office
Whether you're giving your office a spruce or knocking down walls, the pros at Grooms Office Environments have a few words of wisdom.
by Ettie Berneking
May 01 2021 at 8 a.m.
Now that we're headed back to the office, it might be time to give your workspace a makeover, but hit pause real quick. Before you even start selecting paint colors, Audrey and Jonathan Garard at Grooms Office Environments have a few tips. The team at Grooms helps offices of all sizes do everything from remodel their floorplans to pick out new office chairs or artwork, so they've seen every size of project and every common headache involved. Now, they're sharing some of their wisdom in hopes of making the design process a little easier whether you're design budget and scale ranges from good, better to best.

PRESENTED BY: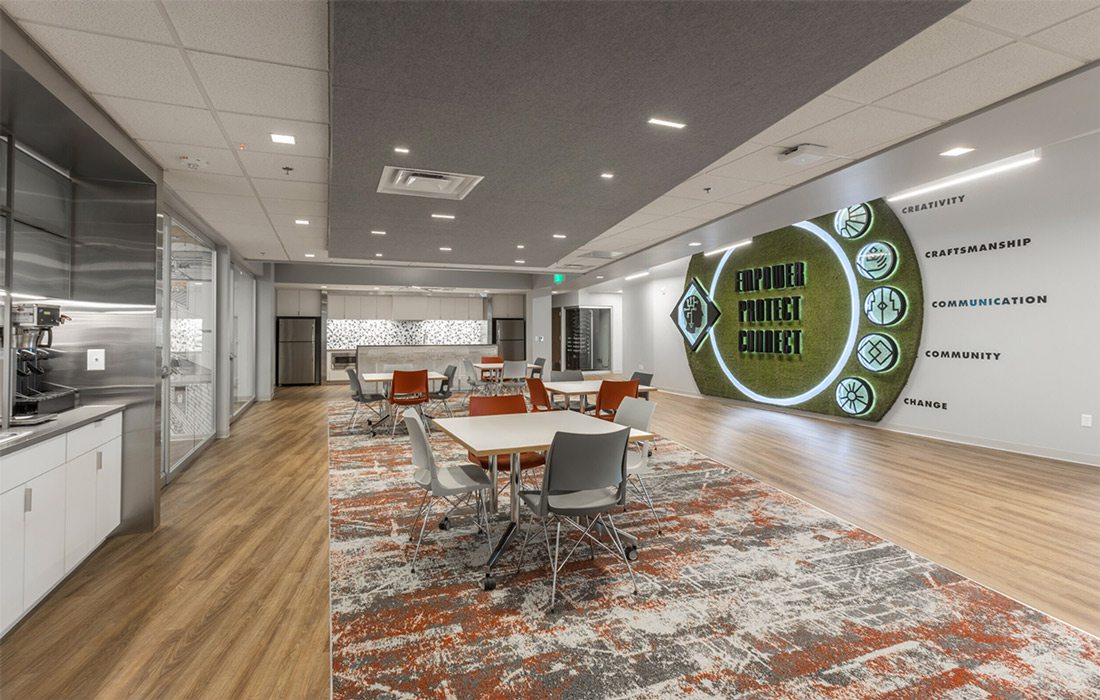 Good: For when it's time to freshen up your office without making major changes.
Items To Update: When you're trying to give your office a breath of fresh air, Audrey and Jonathan say you can make some big impact with quick updates including new light fixtures, new artwork, reupholstering sitting areas and updating signage.
For the Biggest Impact: "When this is your goal, focus on updating spaces that are considered first-impression spaces," Audrey says. "This includes your lobby. Updating your lobby chairs and furnishings can have an immediate impact since it's the first thing a new customer, client or potential hire will see."
What to Avoid: While it's tempting to bring in signage with phrases on them like Live, Laugh, Love, Audrey says to just say no. "Phrases are often a mistake in a professional setting," she says. "It's important to remember that your office is not your home, and it's important to create an atmosphere that has the widest appeal. So maybe you love photos of coyotes howling at the moon, but you wouldn't put that in your office." Instead, Audrey suggests adding in new artwork that's more abstract or that pulls in natural elements like greenery.
Tip: Declutter! Audrey says sometimes the best way to brighten up a space is to go through and declutter. Putting things away and finding storage solutions is a quick and affordable way to give your office a clean and organized look.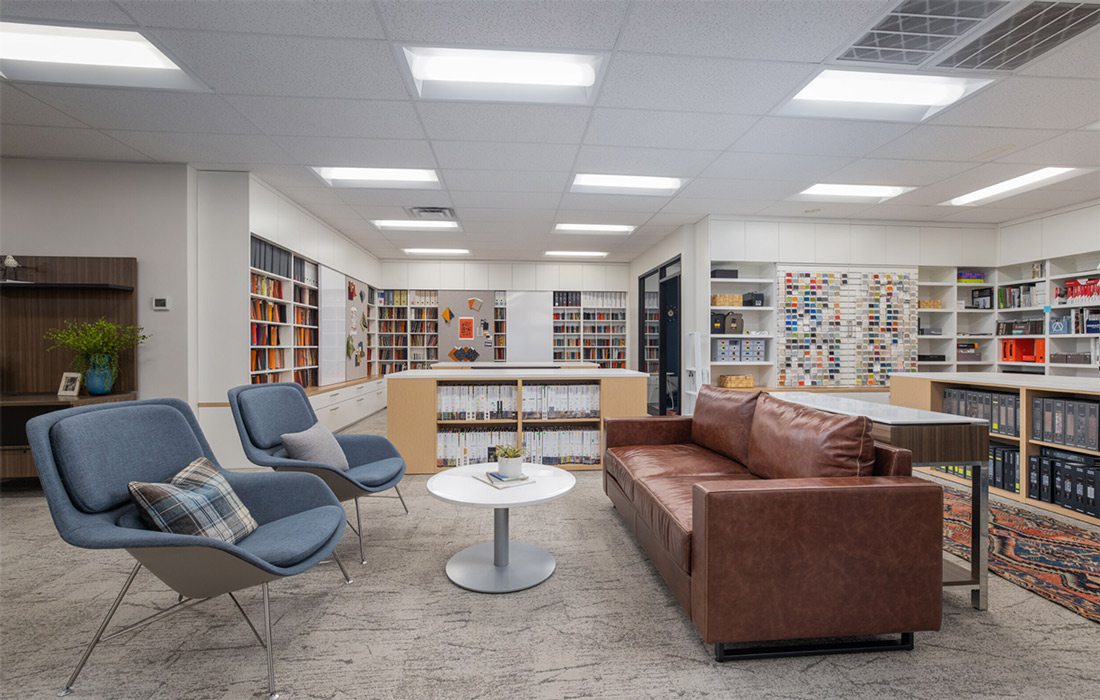 Better: For when your remodel calls for bigger changes.
Items To Update: If you're ready to really give your office a new look but aren't ready to move walls just yet, Audrey and Jonathan suggest focusing on new paint, carpet, millwork including cabinetry and updating finishes such as countertops.
For the Biggest Impact: To get the most out of your budget, Jonathan says to look at ways you can update larger spaces like conference rooms and break rooms without having to bring in all new cabinetry. Often, kitchen cabinets can look brand new with new hardware or new cabinet doors. Likewise, replacing colored laminate countertops with a more modern material will have an immediate impact.
What to Avoid: Wasting valuable space is a problem the team at Grooms see frequently. "So often, clients come in with three conference rooms, but when we talk with them more, we learn they really only use two of those," Jonathan says. This is so common that helping businesses make the most use out of their existing floorplan has become a specialty for Grooms. Jonathan says it's so easy to quickly waste space, so one of the first steps when remodeling your office is to evaluate how the space is used, what works and what doesn't work.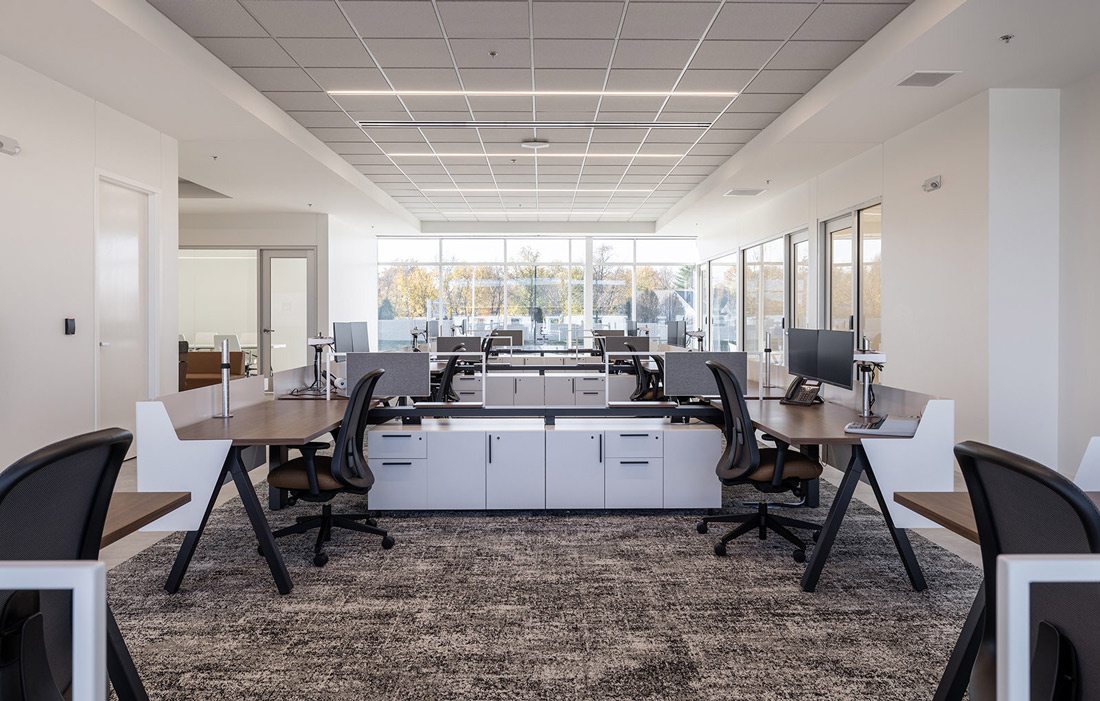 Best: For when you're ready to knock down some walls
Items To Update: This is the kind of remodel where a business can really plan their new space around the growth they expect to experience. This is also the size of project that calls for an architect and a mapped out game plan. "Whenever you're moving a wall, it's never that simple," Audrey says. "You can't move a wall without considering the return air or cold air. It's almost like Pandora's box."
For the Biggest Impact: This will depend entirely on what your goals are for your office. If your goal is to improve collaboration, then creating new conference rooms and smaller creative breakaway spaces might have the biggest impact. But if your goal is to maximize space or create a dedicated showroom for clients, then your dollar will be better spent elsewhere.
What to Avoid: Don't skimp on your budget. "Whatever your budget is, double it and double your timeline so you'll be prepared," Audrey says. "There are too many unknowns with labor and the supply chain right now, so be flexible."
Tip: "Have a plan at the beginning," Audrey says. "Come talk with us; it costs nothing." The big push behind mapping out a plan has to do with saving money down the road. It sounds obvious, but having a plan can prevent you from picking out new carpet or paint colors that match the old furniture instead of the new furniture. A plan will also help you narrow in on how you want the office to function, which can be really helpful down the road when you have to start making larger decisions about desk placement, breakroom amenities and so on. "Our goal is to make sure you're not wasting money," Jonathan says. "When you make a big investment, we want to make sure you get it right."
About Grooms Office Environments
For over 44 years, Grooms Office Environment has provided commercial interior design services including space planning, project and move management, healthcare and systems furniture as a full-service Herman Miller dealership. Whether you need to furnish a single office, a new building or even a single workout space, Grooms' expertise can work for you. Grooms clients include Jack Henry, Prime Trucking, Guaranty Bank and CoxHealth Network.