Leadership
10 Takeaways from Think Summit 2022
If you missed Biz 417's 2022 Think Summit, here are 10 of our picks for key takeaways from the event.
by Lucie Amberg
Feb 07 2022 at 8 a.m.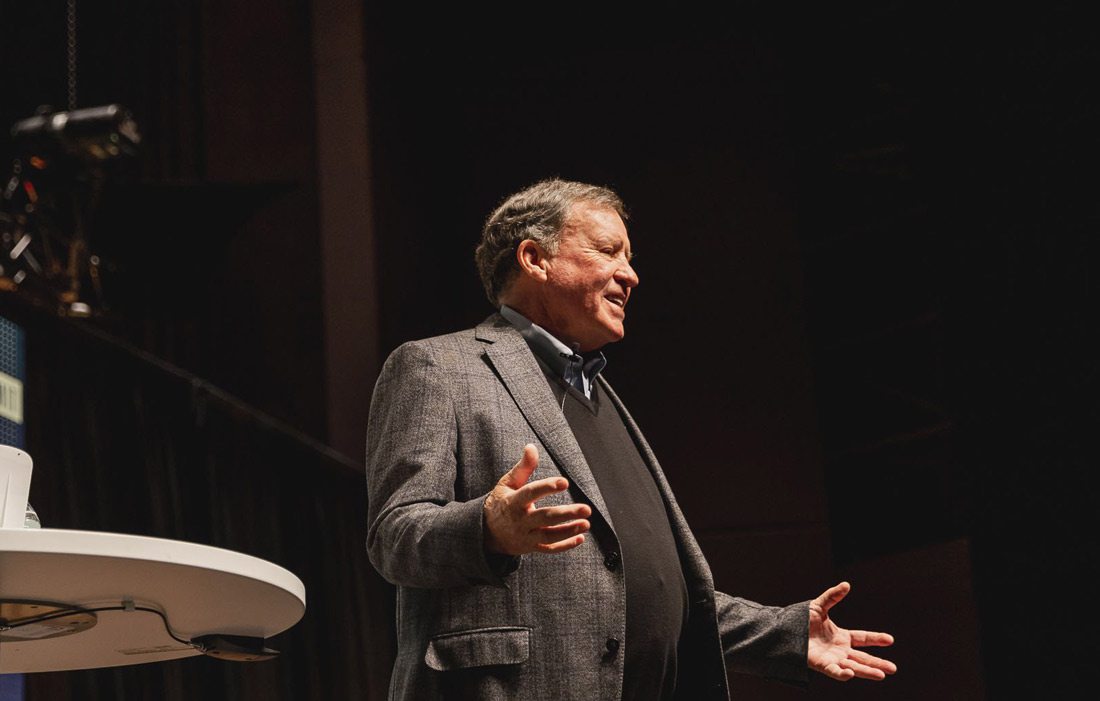 What an incredible day at Think Summit on Friday, February 4, 2022! 417-landers turned out to share, absorb and draw inspiration from forward-thinking local leaders like Jack Stack, Tim O'Reilly, David Cameron and more. There's no way I can fully catalog all the moments that caught my attention and deepened my understanding of southwest Missouri in one blog, but here are a few highlights.
1. "I really do think Springfield is unique. When I travel around the country for projects, people have heard about Springfield. They've heard about Jack Stack and the Herschends, and they ask: 'What is it about that place that produces such great leaders?'"—Tim O'Reilly, CEO of O'Reilly Hospitality Management, on that special SGF something.
2. "We can't say our employees are our greatest asset and not treat them as such when they have to go home."—David Cameron, City Administrator of the City of Republic, on creating a culture that values employees.
3. "There's opportunities ahead whether you're an employee or employer. Employees are discovering that they deserve a great job. Employers are starting to discover what's important and what's not important."—Don Harkey, owner and CEO of People Centric Consulting Group on the changing workforce equation.
4. "If the organization can't function without me, something's wrong, I'm holding it too tight."—David Cameron on leadership.
5. "The flag is a way to express that we know who we are. If we don't know those things, how can we expect bright, young people to want to stay here?" —John McQueary, co-owner of Hotel Vandivort on the importance of city pride.
6. "There's a time to persist, and there's a time to pivot."—Paul Longman, Founder & CEO of isense, on getting the timing right on business decisions.
7. "When you look at the math, the best investment we can make in downtown Springfield is the arts."—Geoff Steele, owner of The Gillioz, on how cultural institutions like The Gillioz spur spending at other businesses.
8. "Affirm people through their aspirations, not their deficits."—Dr. Tyrone Bledsoe, founder of Student African American Brotherhood, on the power of mentorship.
9. "You have to ask yourself: Why am I doing it this way?"—Jonathan Garard, co-owner of Grooms Office Environments, on Grooms Office Environments' philosophy of "soaring with the eagles." 
10. "When people are planning for the future, it makes the present look a little simpler."—Jack Stack, CEO/Founder/President of SRC Holdings Corp. on the power of a long-range plan.
Check out some more highlights and photos from the event over on the Biz 417 Facebook page.
Feel like you missed out? If you couldn't make it to this year's Think Summit, you can still watch by purchasing virtual access. Keep an eye on the Think Summit website this week for updates.