Leadership
Jack Stack's $100 Million Plan
SRC Holdings Corp. is pursuing a big, ambitious goal. CEO/Founder/President Jack Stack believes it's the right plan for the economic conditions on the horizon.
by Lucie Amberg
Jan 2022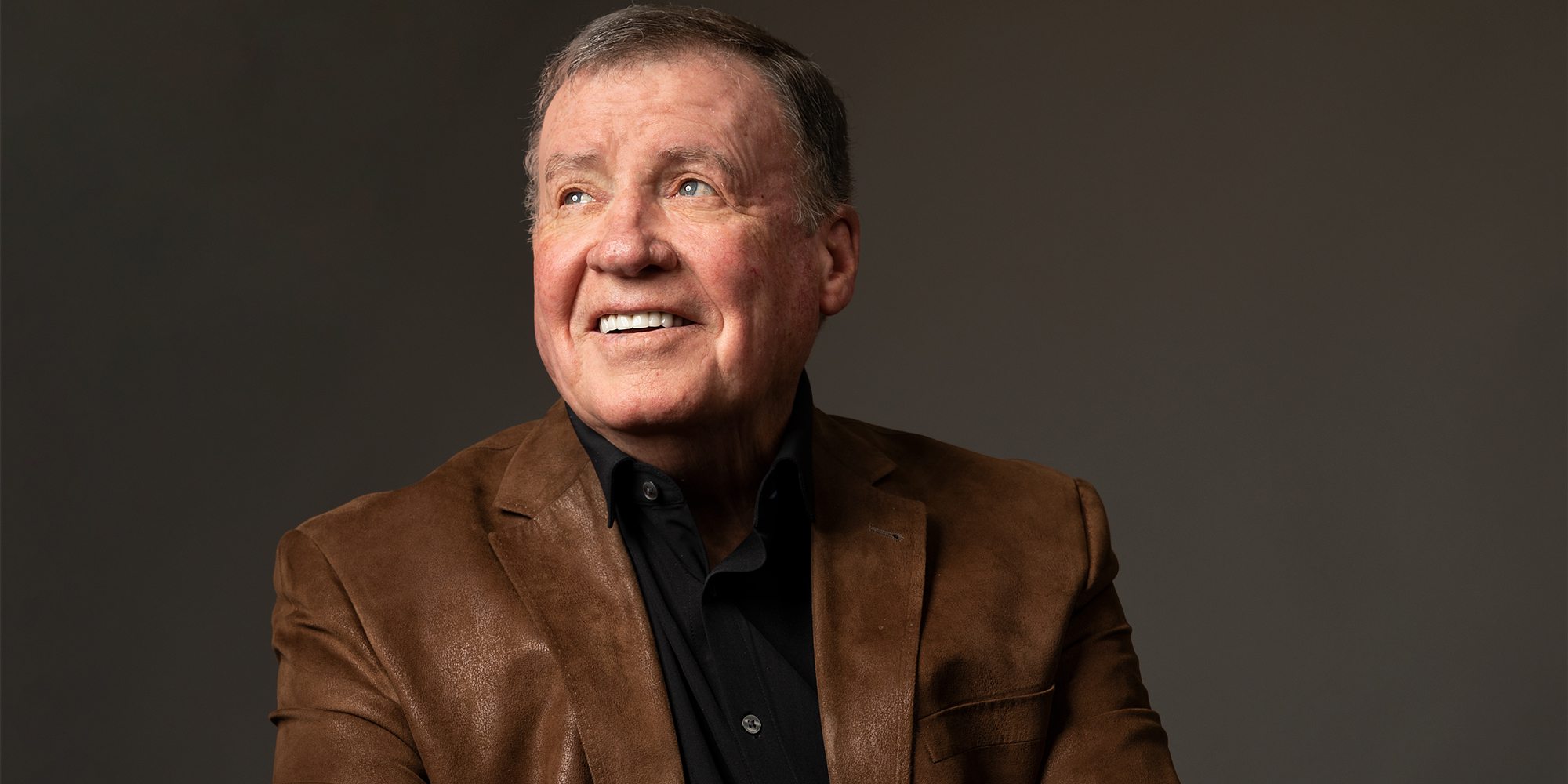 According to Hollywood lore, Alfred Hitchcock essentially finished his movies before he ever stepped on set to film them. He put so much energy into the planning process—dissecting the script, perfecting the storyboard and plotting every camera angle—that by the time he started filming, the movie already existed in his head. As long as he'd planned properly, if he'd identified the problems and figured out how to manage them, filming was a straightforward matter of executing his vision.
This is a little like the vibe you get when you talk to Jack Stack about the $100 million plan his company, SRC Holdings Corp., is working toward. It's a splashy number—$100 million—and it grabs your attention. But Stack really gets excited when he talks about why and how the plan came to be. It all started, he says, because SRC spotted a looming problem: a worker shortage, and he's not just talking about the shortage that's currently stressing C-suites. He's talking about something even bigger in 2030.
"The biggest problem with 2030 is baby boomers will be sidelined. We'll all be out," he says. New workers from subsequent generations will continue to enter the labor force, but there aren't enough of them to replace the people who are retiring. So, Stack says: "You'll have 71 million people sucking down healthcare, social costs, social security. That is very troublesome for us, and we don't see anything being done about it now."
As a result, he predicts a labor market with fewer available workers to support economic and societal needs. If you've read Stack's bestselling management book, The Great Game of Business, you might guess that in such conditions, he'd call for diversification, and you'd be right. That's where the $100 million plan comes in. While SRC has diversified through strategic partnerships in the past, this plan allows for new moves into commercial real estate, along with key expansions of SRC's core business, manufacturing. Rental income is a good bet, Stack says, even during recessions. People may put off purchasing big-ticket items like cars or boats, but historically, he says they've continued to make rent and mortgage payments. With this strategy in mind, a new subsidiary, SRC Realty, is leading the effort to capitalize on existing SRC properties and acquire a few additional ones, all with the goal of creating new revenue streams.
SRC's Property on East Sunshine
This property was the Regal Beloit manufacturing plant until 2015, when it went up for sale. A potential buyer backed out, and Stack says:

"We thought, okay, tell them what we can afford to buy it for, and if God wants us to have it, we'll have it. That's the kind of attitude we have."
— Jack Stack
SRC offered 81 percent of the listed price; the seller accepted because SRC could close quickly. The existing structure on the property—a 325,000-square-foot building—became home to four SRC entities: Ceramex, SRC Electrical, Global Recovery Corp. and the Great Game of Business. The deal came with extra acreage, too. In total, it's 43 acres in a desirable Springfield location, and SRC is ready to develop it.
Over on the north side of the property, SRC Realty will start building storage facilities this spring. It's a smart investment, Stack says, because storage units provide stable lines of income with limited overhead. Plus, some of those retiring baby boomers may want to 
downsize, so they'll need secure places to store their things.
Dick Moger, SRC executive vice president and a leader of SRC Realty, says the southeast corner of the property will be a good spot for retail and restaurant tenants, especially after two planned improvements. In February, SRC is scheduled to begin conversion on the traffic stop at East Sunshine and Lone Pine. Once the traffic stop is converted to a four-way intersection, people will be able to drive directly in and out of the SRC complex via Lone Pine. And Ozark Greenways (OG) intends to work its magic on the old Chadwick Flyer railroad route that runs alongside the SRC property's eastern border, according to OG Executive Director Mary Kromrey. This means the proposed commercial spaces at SRC could overlook an inviting pedestrian path.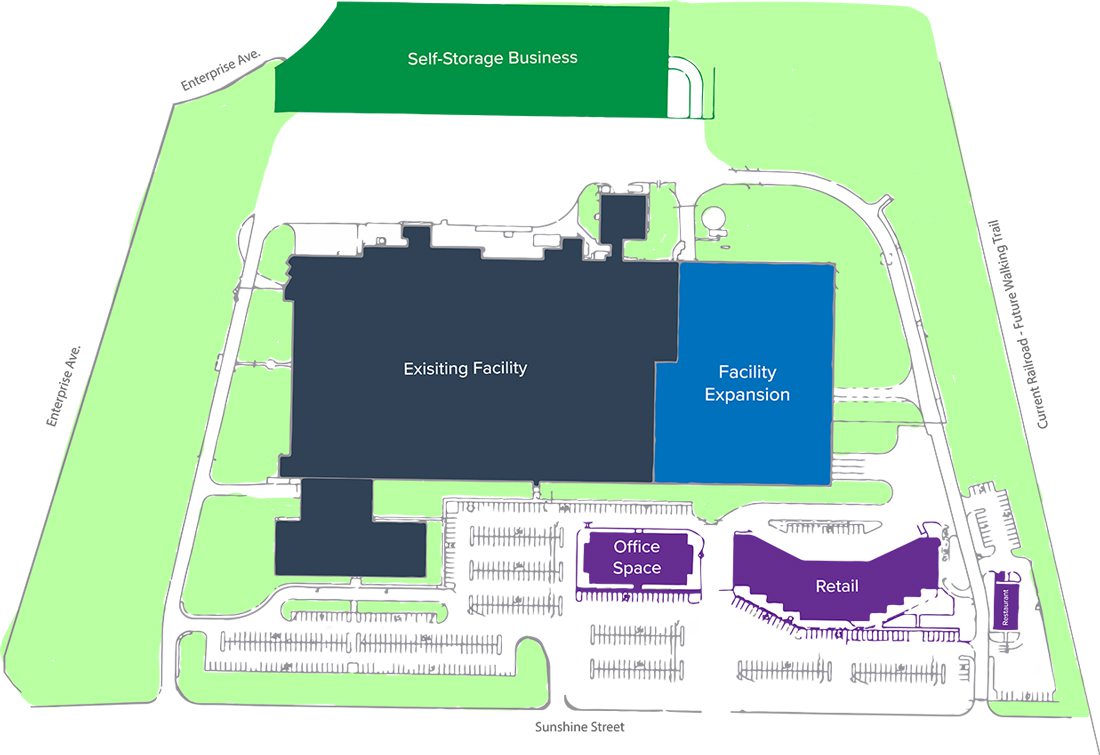 North Mulroy Road Property
A couple of decades ago when SRC purchased 75 acres at North Mulroy Road and East Kearney Street, it wasn't practical to develop. But it was a good buy, and in time, the neighborhood attracted more businesses, including a large FedEx facility across the street from the SRC acreage. Nearby infrastructure improvements happened as well, like the addition of a railroad crossing at the East Kearney intersection. So SRC built a massive, new facility for its logistics division. The first phase, a 162,000-square-foot building, was completed during the summer of 2020. A 150,000-square-foot expansion is expected to complete construction early this year. And construction is currently underway on a 413,000-square-foot warehouse. Stack says the warehouse is on track to finish by December, and it should be an appealing space for a large, commercial tenant that's seeking loads of square footage and easy access to shipping.
All that construction still leaves 10-15 acres on the northeast corner of the Mulroy property for potential development, and SRC Realty has begun taking inquiries from possible retail and restaurant tenants. With the construction of the SRC facilities, the opportunity for a company in the new warehouse and the FedEx folks working across the street, there should be plenty of customers. Once restaurants move in, Stack says, "Our people are really going to enjoy going somewhere to get something to eat."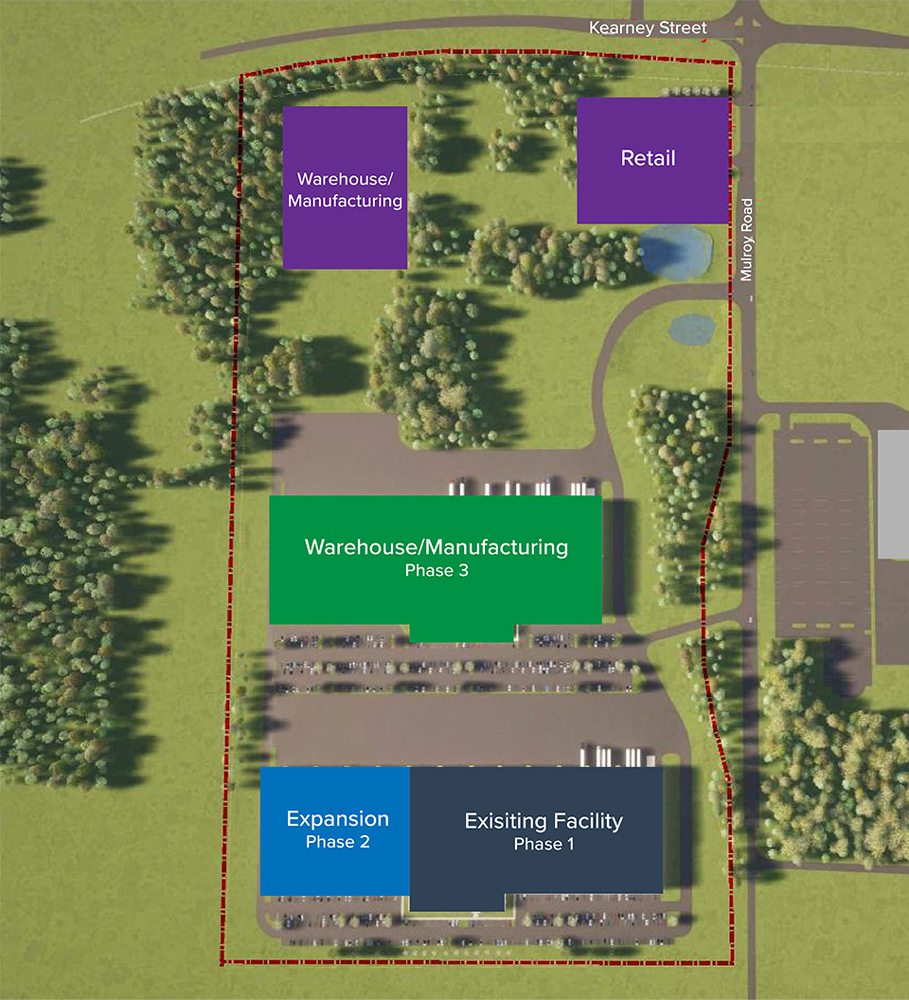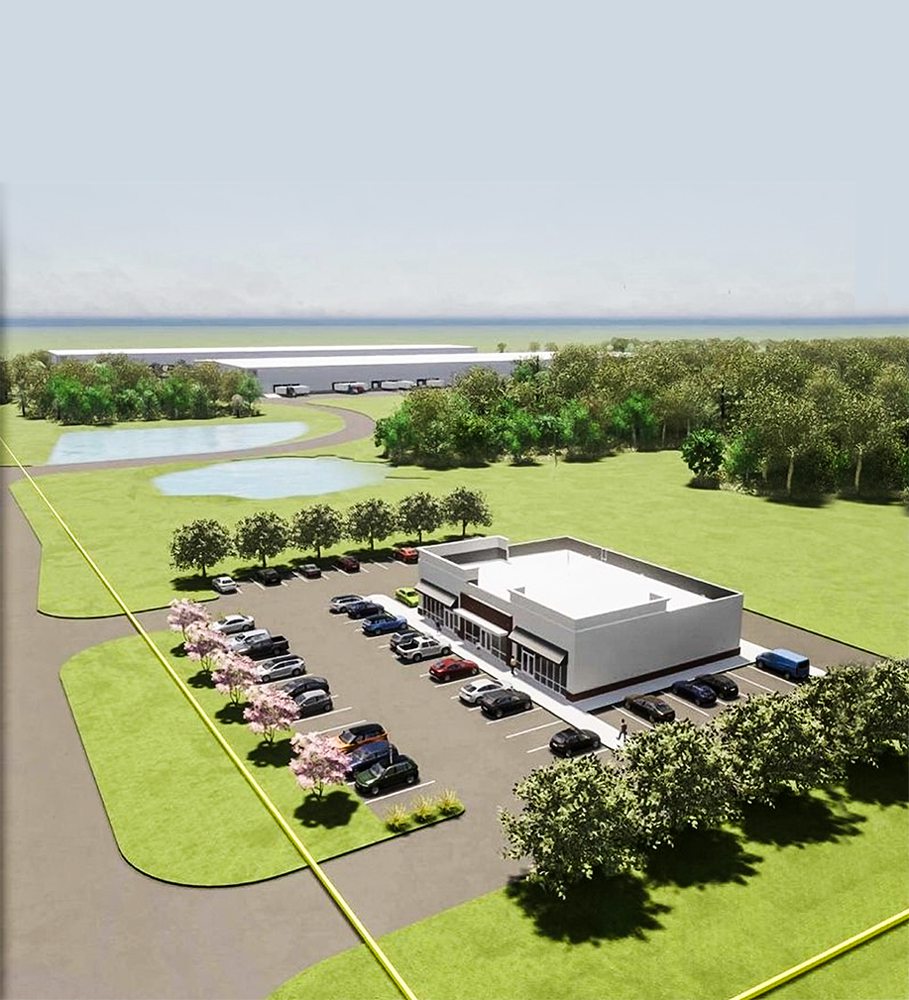 Images courtesy SRC Holdings Corp Construction for a warehouse/manufacturing facility is underway on Mulroy Road while SRC Realty is taking inquiries for commercial and retail space.
Other Potential Developments
Over on East Chestnut Expressway, SRC has been leasing the headquarters for another of its entities for the past 10 years. Now, SRC Realty has the option to purchase the property, and Moger says it will exercise its option this year. The existing space will continue to be the headquarters for SRC's NewStream Enterprises, and there's potential for 140,000 square feet of development with commercial tenants in mind. Stack says he can see it as a convenient location for something like a bank branch.
On Springfield's west side, there's potential for development at SRC Automotive, and SRC Realty has a planned acquisition for its holdings in Lexington, Kentucky. All this construction and acquisition, the company estimates, will total more than 1 million square feet of development by 2030 and amount to approximately $100 million in real estate value.
The plan is so tidily laid out that it's easy to lose sight of how big and ambitious the goal is. And Stack insists he wants to "just finish this thing and say goodbye." After all, he's already envisioned $100 million of development. He's analyzed the problems, found solutions; now, it's just about executing the vision.
"Maybe what I'll do," he says, "is slowly sneak out and fish every week."
PLANNED DEVELOPMENTS
Planned Square Footage: 1, 130, 000
What's Happening 
at 2607 North 
Mulroy Road?
A new facility for SRC Logistics is complete.
Details: 162,000‐square-foot building, completed during the summer of 2020.
Status: 150,000-square-foot expansion, scheduled to finish construction in early 2022.
Construction for a warehouse/manufacturing facility is underway.
Details: 413,000-square-foot facility.
Status: Currently under construction.
SRC Realty is taking inquiries for commercial and retail space.
Details: 10–15 acres for potential development on the property's northeast corner. 
Status: Accepting inquiries from potential tenants.
What's Happening at 1925 East Chestnut Expressway?
SRC plans to exercise its option to purchase the property.
Details: Will continue as the headquarters for NewStream Enterprises.
Status: Spring 2022.
Following the purchase, more development is possible.
Details: Up to 140,000 square feet for commercial tenants.
Status: Driven by demand.
What's Happening at 2401 East Sunshine Street?
The existing SRC facility will remain and possibly expand.
Details: Currently 325,000 square feet with potential for expansion.
Status: Dependent on growth.
A new self-storage facility will soon begin construction.
Details: The first phase includes 350 storage units with the potential to add another 350 units.
Status: Construction scheduled for Spring 2022.
New commercial space (for offices, retail establishments and restaurants) is planned.
Details: On the property's southeast corner.
Status: In development, driven by demand. 
When Employees Are Owners
The $100 million plan isn't only about the health of SRC as a company. It's also about the financial wellbeing of its employees, who are shareholders. In what's become a famous—almost legendary—move, Stack and his business partners purchased the company in 1983. Back then, it was a division of International Harvester, and Stack was in management. When a recession hit, Stack's division was on the chopping block. For International Harvester, closing the division must have seemed like the logical move; for Stack, it was personal. So instead of shutting the division down, he and his partners bought it with $100,000 in cash and an $8.9 million loan, an 89:1 debt-to-equity ratio. We all know how it turned out; at the time, it had to have felt scary. But not as scary, Stack says, as the alternative.
"I did not want to lay people off," he says. "There were no jobs in Springfield. None. There were no soft landings. There were no loans because interest rates were variable. Whatever you want to call it, whatever, it was a cowardly way out of not wanting to be the person who was going to lay everyone off."
Next, Stack and his partners bet that SRC's employees could be taught to understand the ins and outs of company financials as well as they understood the mechanics of an engine. They asked every employee to participate in shifting the balance sheet toward the right direction.
"We found out fast that people are cool and people are smart, and they're willing to learn," he says. "And they're turned on by moving in the right direction. So we just took the lid off the place, and we went like crazy." Stack became an evangelist for open-book management and employee-ownership culture, and now, SRC's biggest shareholders are hourly employees. Several of them have earned seven figures of equity for retirement—all because of what happened when Stack took the "cowardly way out" back in 1983.