Commercial Design Awards
Commercial Design Awards Winner: Adah Fulbright Early Childhood Center
The Adah Fulbright Early Learning Childhood Center was created as a learning earning facility for 4- and 5-year-old Springfield Public School students.
By Tessa Cooper
Jul 2021

CATEGORY: Lifestyle

Director of Interior Design: Cheryl Doran, Sapp Design Architects
Project Manager: Devon Gengler, Sapp Design Architects
Project Manager: Nathan Burkholder, Paragon Architecture
Interior Designer: Patrice McDonald, Paragon Architecture
The goal of this project was to create a learning facility for 4- and 5-year-old Springfield Public School students.

---
Completed in July 2020, the Adah Fulbright Early Childhood Center is one of the newest Springfield Public Schools facilities. This building, nestled on a sloping hill, overlooks the wooded Southcreek Trail. With such a storybook-worthy setting and an interior to match, a day at this school inspires curious 4- and 5-year-olds to learn.
Sapp Design Architects worked closely with Paragon Architecture to create this 36,000-square-foot building modeled as an abstract, modern treehouse. Sapp Design Architect's project manager, Devon Gengler, says the building's site allowed them to create a two-story plan with a roof-top deck play area that allows students to imagine they're playing in their very own treehouse. "We took inspiration from the elements of the iconic treehouse for the materiality, light, form and space of the building," she notes.
Cheryl Doran, interior designer at Sapp Design Architects, says one of the project's primary goals was to draw inspiration from the surrounding nature by using a soft color palette. Slat wood ceilings, walls and tree sculptures add texture, color and style to the interiors.
Patrice McDonald, interior designer at Paragon Architecture, also contributed to the overall design. "The project site and outdoor views not only gave the design team inspiration for the project, but they gave us a bit of a challenge," McDonald says. "We had to make sure the design complemented the outdoor views rather than [took] away from them."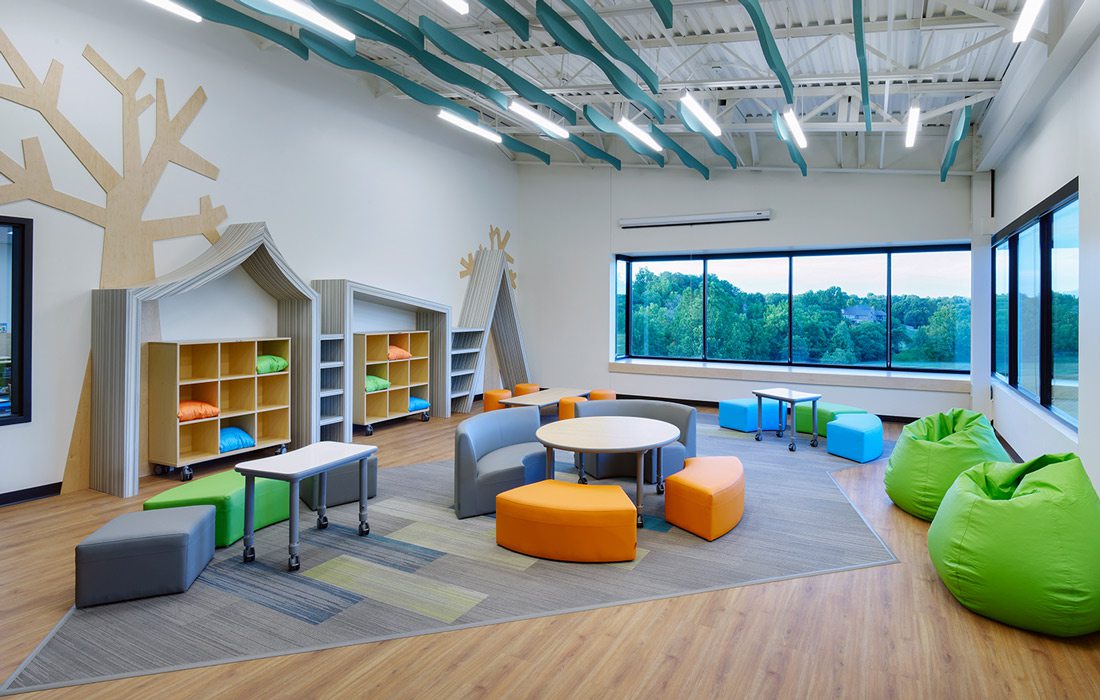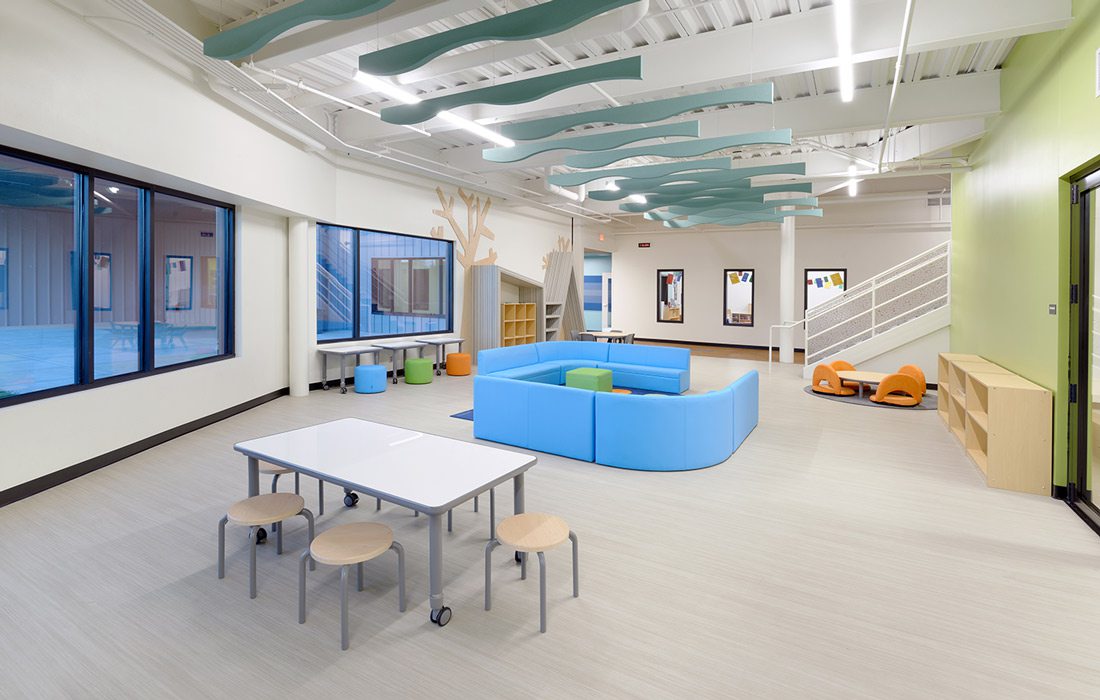 According to Nathan Burkholder, project manager at Paragon Architecture, while the building's surrounding environment served as the project inspiration, it also presented a challenge from an overall project standpoint. But the beautiful views for students and teachers made the extra effort well worth it.
"Probably the toughest but most beneficial challenge we faced was the site," Burkholder says. "The project sits on an approximately 16-foot-tall rolling sledding hill with large rock just below the surface. We had to situate the building on the site in a way to complement the views while being cognizant to limit the amount of rock removal necessary due to cost. The shape of the hill ended up forging the building and the human experience with its views like a treehouse in the woods."
RESOURCE LISTINGS
Where to find the looks and materials used to create this winning business space in Springfield, Missouri and surrounding areas.