Strategy
Thank You, Next
Amidst pandemic recovery, five local cities in southwest Missouri are focused on long-term economic development and community projects that will turn this region into the next big thing.
by Ettie Berneking
May 2021
Jump to a city to find out more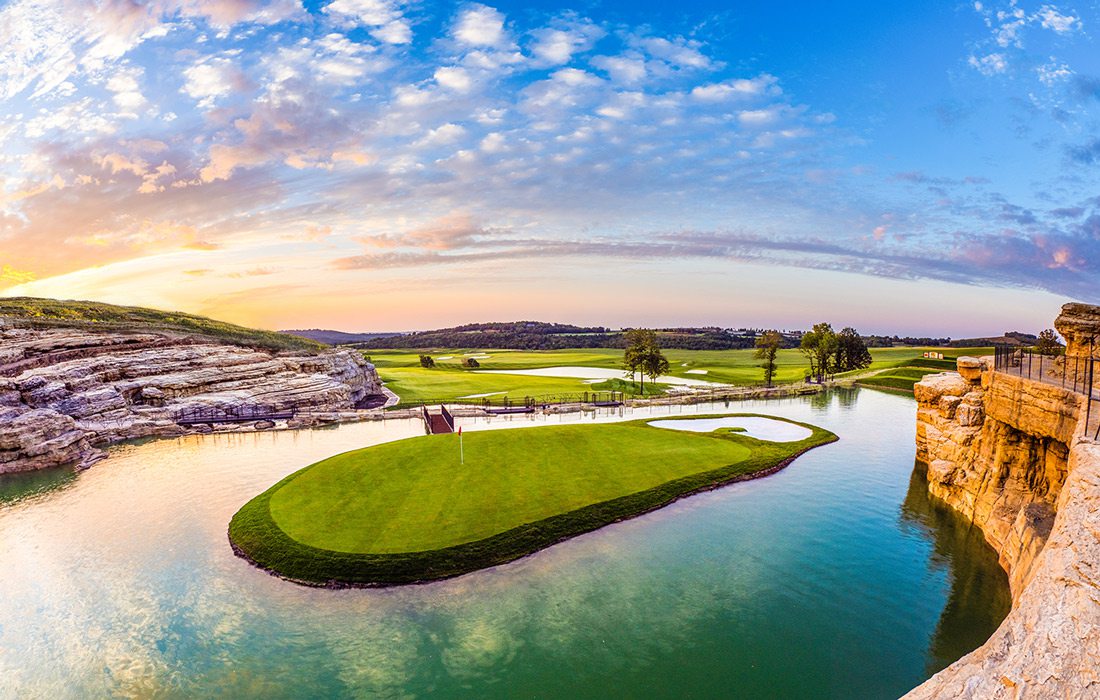 If Branson, Missouri has one major strength, you could argue it's shapeshifting. In the early 1900s Branson was a bucolic retreat for anglers and outdoor enthusiasts who couldn't wait to venture down into Marvel Cave. By 1990, country music had taken hold, and 60 Minutes crowned Branson the "live music capital of the universe." Then, in the mid 2000s, the rides at Silver Dollar City caught the attention of thrill seekers. By 2020, USA Today's readers choice awards dubbed SDC the best amusement park in America. Now, Branson has morphed yet again. This time around, the big draw is sports tourism, the City and major players including the Chamber, Big Cedar and Ballparks of America are taking note.
The obvious sport of choice these days in Branson is golf, and the key player to thank for this development is Johnny Morris. Morris has spent several years building a golf empire along the hillsides, and it's paid off big. Morris teamed up with golf legend Tiger Woods to unveil Woods' first public-access course, Payne's Valley, on September 24, 2020. Morris first started putting around with building golf courses in 1995 when he bought the Top of the Rock property. The par-3-course at Top of the Rock was eventually designed by Jack Nicklaus and re-opened June 6, 2014.
That same day, Morris also opened Buffalo Ridge 8 miles away, which was designed by golf course architect Tom Fazio. The 18-hole championship course is now one of five golf courses in the Big Cedar portfolio. With stunning views of the lake and surrounding Ozark National Forest, plus the typical pristine setting Big Cedar is known for, Big Cedar Lodge has been named the number one resort in the midwest three years in a row by Travel+Leisure and was named North America's No. 1 family resort by Golf magazine in 2020. Clearly, Johnny Morris is invested in making Branson a golf destination.
Even when the pandemic crippled destinations and hotels, Big Cedar Lodge was booked. Janet Glaser, senior public relations manager at Big Cedar, says the resort did particularly well because Big Cedar's attractions are centered around the outdoors and can be enjoyed while socially distancing. "We're seeing a huge spike in visitors—especially for socially distanced activities," she says. To accommodate the growth, Glaser says Big Cedar is building new private cabins on the golf courses that are scheduled to open Memorial Day weekend.
Golf isn't the only sport in Branson. "Branson is seeing the numbers that the sports side of tourism can generate," says Scott Bailes, general manager of Ballparks of America. Since it opened in 2016, Ballparks of America has hosted youth baseball tournaments, and the park will welcome 700 teams this year. "That translates into close to 20,000 hotel room nights and another 5,000 condos and cabins booked," he says. That sustained audience is why the park is now building more facilities. Bailes says the park is wrapping up construction on a 5,000-square-foot industrial kitchen and restaurant that will open by Memorial Day plus an arcade room with about 3,000 square feet of ping-pong, batting cages and video arcade games.
Even cornhole is coming to Branson. Kirk Elmquist, VP Strategic Initiatives for the Branson/Lakes Area Chamber of Commerce, says Branson will host major cornhole tournaments over the next three years including a regional, national and international championship tournament. To accommodate tournaments like this, Elmquist is in discussions for new basketball facilities, pickleball facilities, tennis facilities and sand volleyball courts.
"This growth all started about 10 years ago," he says. "The city-owned RecPlex is really the foundation." The RecPlex opened in 2005 and has already hosted "50 national and World Series Baseball and Softball tournaments in collaboration with organizations such as AAU, USSSA and FASA. Branson hosted the National Division II girls 11 and under basketball championships in 2006, 2008 and 2010," writes Cindy Shook, director of Parks & Recreation for the City of Branson. Even the Branson Convention Center hosts its share of athletic events from cheerleading to cornhole and basketball competitions.

Projects to Watch in Branson

---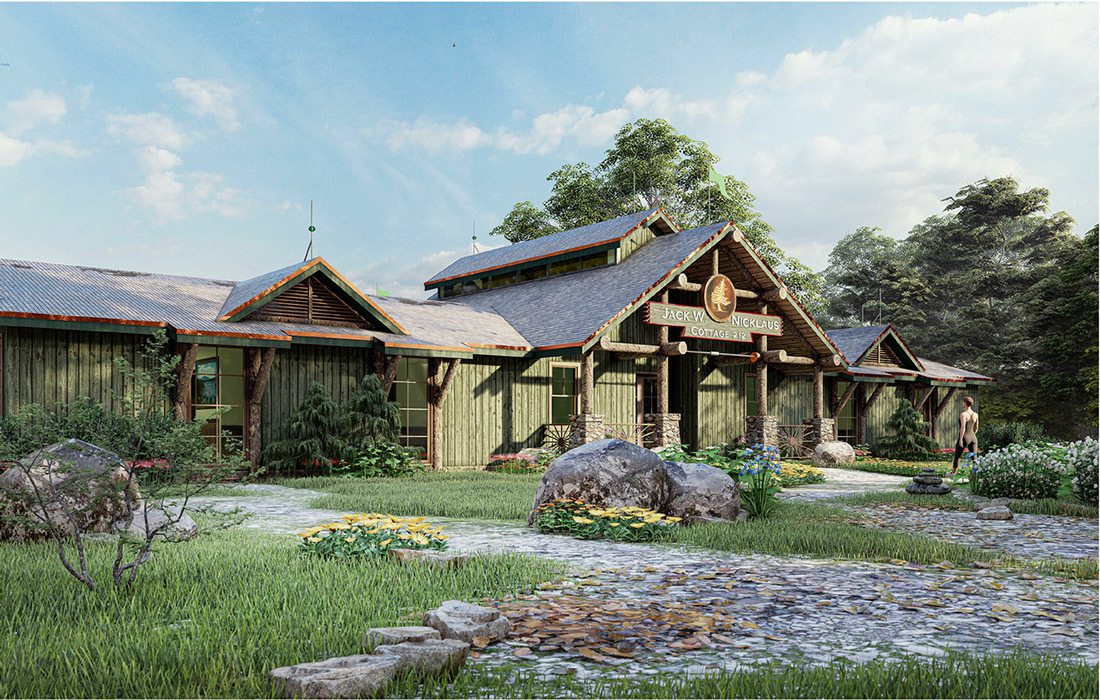 Image courtesy Big Cedar Lodge
To keep up with demand, Big Cedar is building new private cabins at Buffalo Ridge.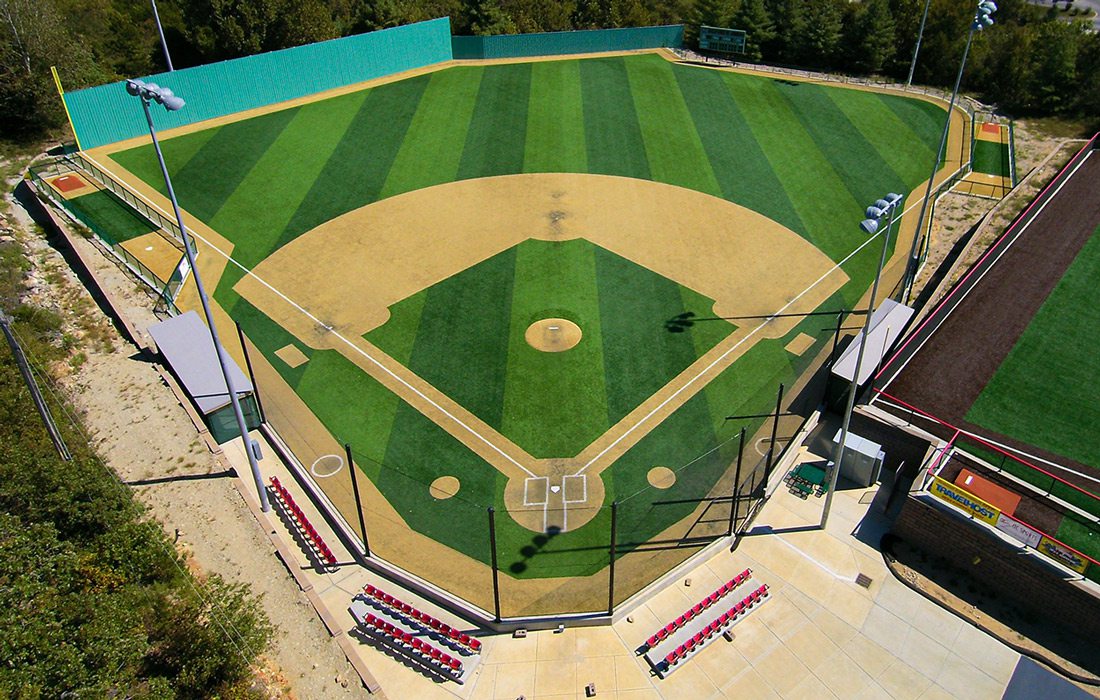 Image courtesy Ballparks of America
With the number of visitors on the rise, Ballparks of America is building a new kitchen and arcade center.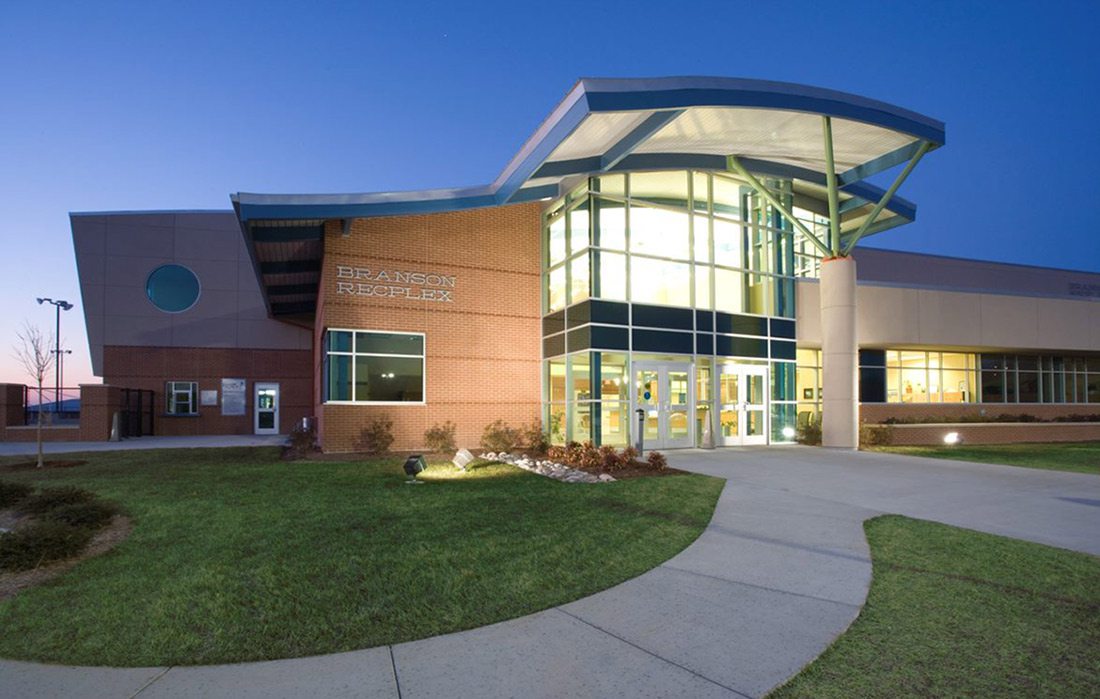 Image courtesy Branson Parks and Recreation
For many, the Branson RecPlex is part of what helped launch Branson's sports tourism. The RecPlex has hosted more than 50 national and international tournaments since it opened in 2005.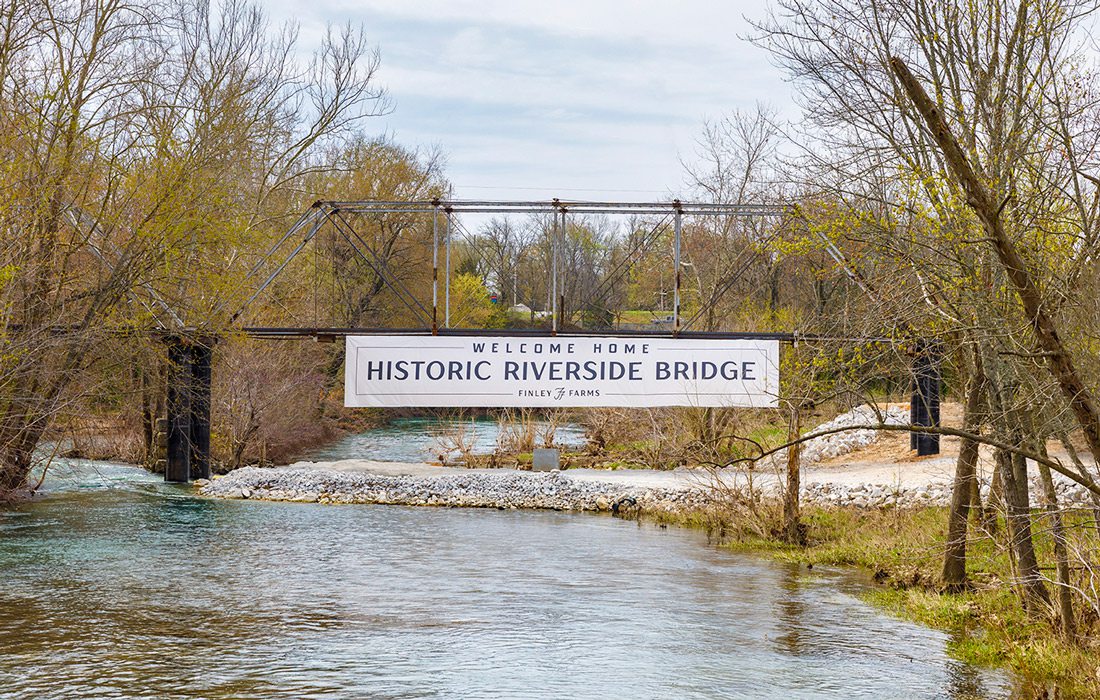 If you ask Jeremy Parsons, public works director at the City of Ozark, what he is most excited about, he'll tell you it's the idea of regionalism. "It's an exciting time to live in Ozark," he says. For Parsons, the concept of regionalism is all about making Ozark a hub that connects visitors and residents to surrounding towns including Springfield and Nixa. One of the City's biggest efforts toward this goal is the Chadwick Flyer trail. This rail-to-trail project will be approximately eight miles long and will connect the James River Greenway Trail in Springfield with the Finely River Trail in Ozark. Parsons and the City of Ozark got the idea after visiting Bentonville in 2017. "They kept preaching the power of regionalism," Parsons says. "We've taken that idea and run with it."
Ozark and its partners on the project found land for the Chadwick Flyer after spotting an old railway corridor on a map that connects Commercial Street in Springfield to Ozark. More than $2 million worth of funding has already been secured, more than 5,000 linear feet of trail has been built, and the City teamed up with Ozark Greenways to help with the project, and it has completed two pedestrian underpasses—one that will take the trail from the OC to the Finley River and one that will serve as the gateway to the Chadwick Flyer trail at the OC—Ozark's community center. "All these nodes of connectivity are starting to connect," Parsons says.
Besides the trail, major destinations like Finley Farms and The Mill are part of what Parsons is so excited about. By having the Chadwick Flyer connect to the Finley River Trail, it means trail-goers will be able to access destinations like Finley Farms and The Mill. "The Mill was a gathering spot for so many people back in the day," Parsons says. "That building had great bones. Thank goodness Megan Stack and her father were able to see that hidden gem."
Finley Farms says the decision to preserve The Mill was an effort to save a piece of Ozark's history. "The Ozark Mill is the heart of Finley Farms and a cornerstone of Ozark's history," they say. "In the 1800s, The Mill served as a gathering center for community members as many were employed by The Mill." It also served as a post office, and the Chadwick Flyer rail line ran through the property. "I grew up in Ozark about a mile from The Mill, and my grandparents had a cabin on Fourth Street," Stack writes. "So there are a lot of special memories tied to the Finley River and that area."
Part of the restoration at The Ozark Mill included mitigating flood risks since the mill sits along the bank of Finley River. Dayle Duggins, Marketing Manager at Finley Farms, says to reduce the chance of flooding, the structure was moved off its foundation in 2019 while a new and higher foundation could be built. "In addition, 450 micropyles were installed and screwed eight feet into the bedrock," she says. "The complex anchoring system and substantial foundation work together to withstand flood pressure."
Restoration of The Ozark Mill is ongoing, but Duggins says Finley Farms is currently restoring The Mill's original hardwoods, adding interior details like historic light fixtures and restoring the original tin siding. Finley Farms also helped restore the historic Riverside Bridge, which was at risk of being demolished. The restored bridge now serves as a pedestrian bridge and event venue over the Finley River. "We are so honored to be part of the growing regional trail system and look forward to enhancing the outdoor recreation opportunities in the Ozarks," Duggins writes. "Finley Farms will act as a regional hub and spoke, connecting the community and visitors to trails that lead to the Finley River, Finley River Park, Ozark's historic downtown and beyond."
It's not just Finley Farms and The Ozark Mill that have gotten attention. The Ozark square is also undergoing its own facelift, although part of it is hidden underground. Last year, the city installed more than 8,000 feet of water main and more than 6,000 feet of sewer in order to be ready for the next boom in development. The Ozark Historic River District is also working to beautify the square by upgrading the gazebo area with new brick paver patios where people can dine outdoors, and two new pergolas on the north and south corners will provide additional seating. Already, the Ozark Historic River District is planning on putting these improvements to use. It's working on an Oktoberfest the first weekend in October, which happens to be the same weekend as Ozark's annual Arts & Craft Show that takes place in the park.
"The goal is to connect these two events," says Abbye Torgerson Bobbett, who serves as vice president of Ozark's Historic River District. It's easy to understand why Parsons, Bobbett and Stack are excited about development in Ozark. Stack, who was a Historic River District founding board member, says part of the excitement comes from the common goal the City and private developers share. "There are a lot of goals between our groups in terms of historic conservation and economic growth in addition to creating activities that improve quality of life for the Ozark community," she says. So far, the city is moving full-steam ahead, and it's tapping into its regional partnerships to make it all happen.

Projects to Watch in Ozark
---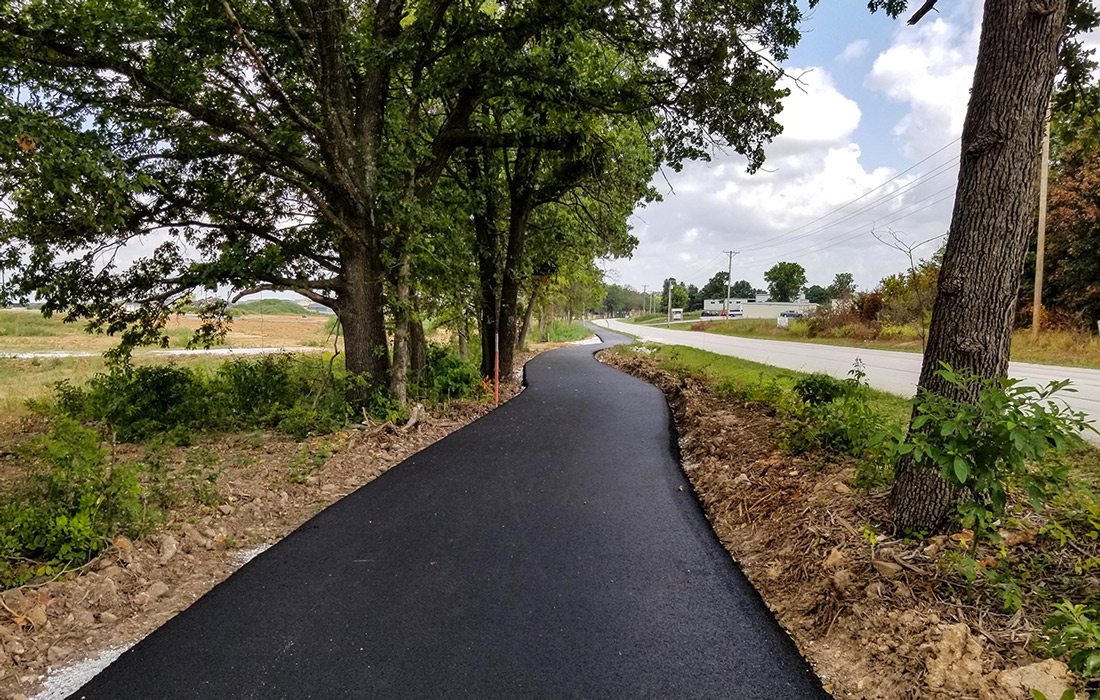 Photo courtesy Ozark Greenways
This Chadwick Flyer Trail project will create approximately 8 miles of pedestrian trail connecting Ozark to Springfield.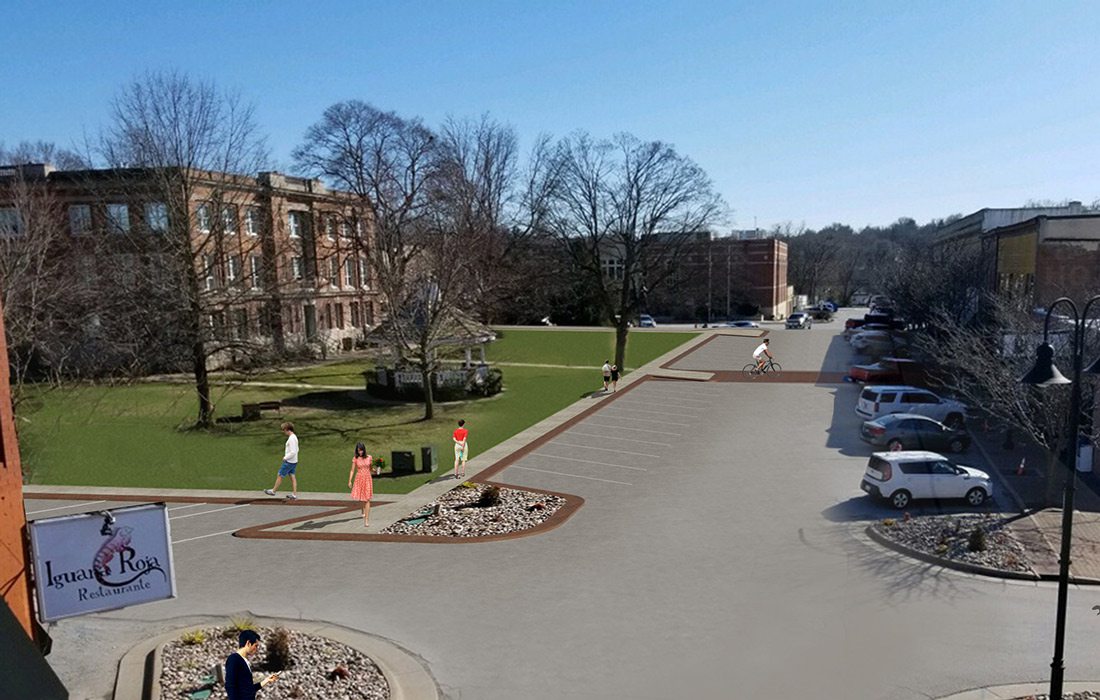 Image courtesy the City of Ozark
The City of Ozark and the Ozark River District are updating the square with new sewer and electric and new public spaces in anticipation of a business boom.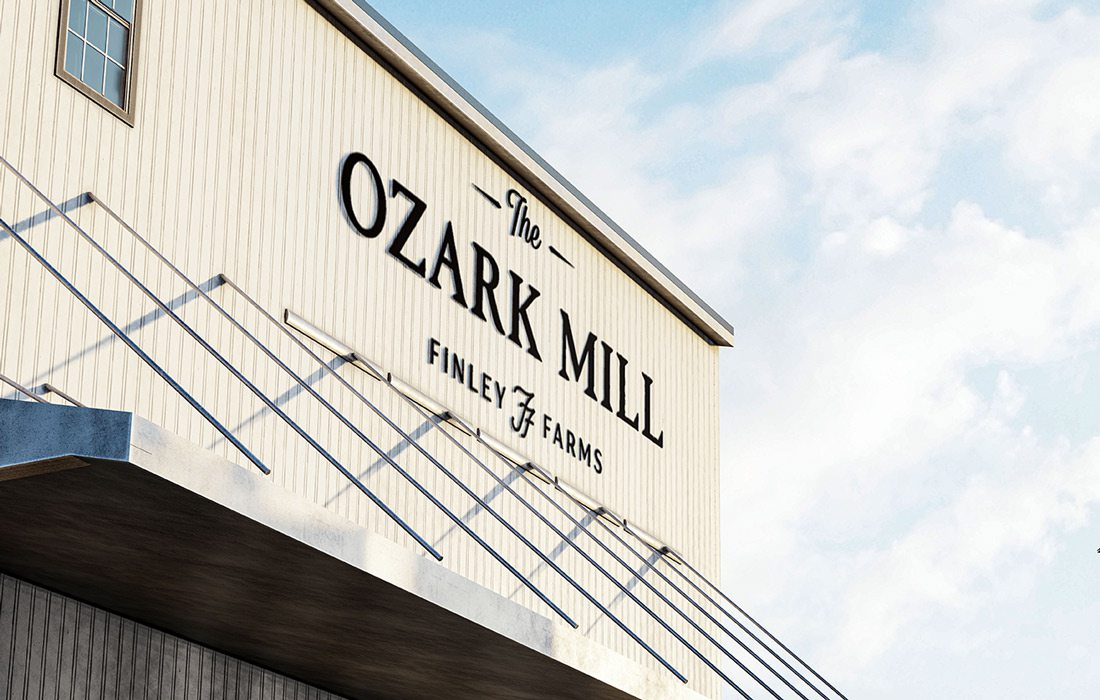 Photo courtesy Finley Farms
By renovating The Mill, Finley Farms is preserving a piece of Ozark's history. The finished structure will serve as a restaurant and event venue.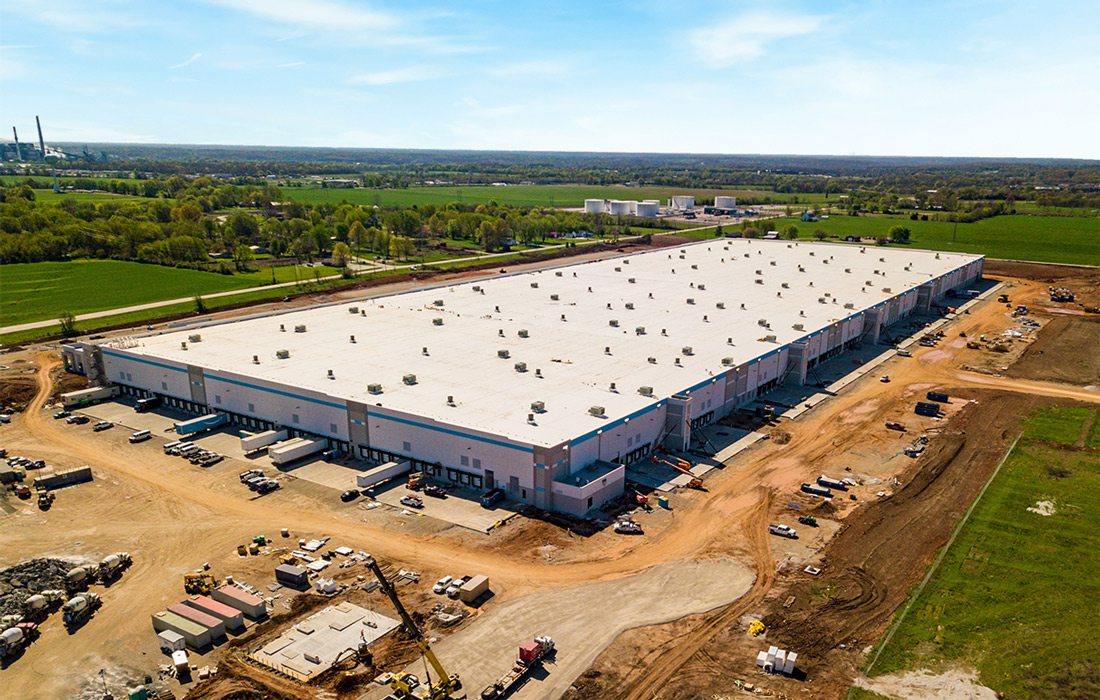 In case you somehow missed the news, Republic, Missouri will be home to one of Amazon's fulfillment centers soon. The news broke in November 2020, and construction on the 1.3 million square-foot facility is scheduled to be complete by the end of August. This was huge news for southwest Missouri.
"We are certainly excited about the impact that Amazon is having, and will have for not only Republic, but the entire region," says Republic City Administrator David Cameron. "The new job creation in our region equates to more employee wages being introduced back into the local economy, which in turn provides economic growth for other business." And while some wondered how Springfield missed out on such a big opportunity, Ryan Mooney, senior vice president of economic development at the Springfield Area Chamber of Commerce, says the Queen City didn't miss out at all. Instead, he says the region as a whole will benefit, and there's a good reason Amazon chose Republic.
"It's about readiness," Mooney says. "Our region had sites ready to go that had significant amounts of investment in infrastructure." Specifically, Mooney is talking about $70 million in investment that was funneled into Republic. "We spent $30 million extending James River Freeway," he says. "The City of Republic also ran water and sewer, and [City Utilities] has put significant investments in the power infrastructure out there." All in all, Mooney says the Springfield region and Republic spent about 20 years investing in the site that Amazon chose.
Here's why that's good news for Springfield—it means more jobs in the region. It also means Amazon has long-term interest in 417-land, and that's already paying off. In February of this year, Amazon announced it will be building delivery centers in Springfield and Joplin. The Springfield site will be part of what Amazon calls its "last mile" facilities, which deliver larger items such as furniture. The facility will be built in north Springfield at the old Coca-Cola bottling warehouse.
"I strongly believe this is just the beginning," Mooney says. "I think Amazon will continue to make investments in the region." More investment means more jobs—current plans include at least 500 jobs in Republic—and more options for 417-land residents. It also means more tax revenue for governments to invest in things like roads and amenities such as trails. "Growth generates excitement, which generates more growth," Mooney says. "There's a lot of momentum in our region, and we don't see any reason that will stop."
That momentum is part of what attracted Drew Beine and Alex Paulson, co-owners of Easy Mountain to Republic. The duo were looking for a place to open their cannabis dispensary but were striking out finding available retail space in Springfield. "There was virtually no one willing to work with us," Paulson says. "We ended up building on a piece of property already owned by Drew's family in Republic." After demolishing the 100-year-old barn on site, Paulson and Beine set about building Easy Mountain.
The two grew up in Republic and say both of their families have a history of starting businesses in town. They broke ground in July 2020 and opened to the public on February 23, 2021, after a surprisingly easy build. "Republic worked with us really well when it came to permitting and the certification process for building permits," Paulson says. "They showed us they were thankful for us being here."
Throughout the build, Beine says people would stop and ask about the opening date. Overall, public reception was positive, which the two credit in part to the building's neutral design. "We made sure we fit a progressive image," Paulson says. "We didn't put a big green cross on the front. This building could have been a high-end computer store or a clothing boutique."
Now that they're open for business and have invested seven figures in the build, their only struggle is keeping up with demand for product. "I think it's a really progressive time for Republic," Beine says. "I grew up here, and it always seemed like Republic was the smallest suburb compared to Ozark and Nixa, but in the last 10 years, there's been an overhaul. It seems like everything is falling into place at the right time."
Projects to Watch in Republic

---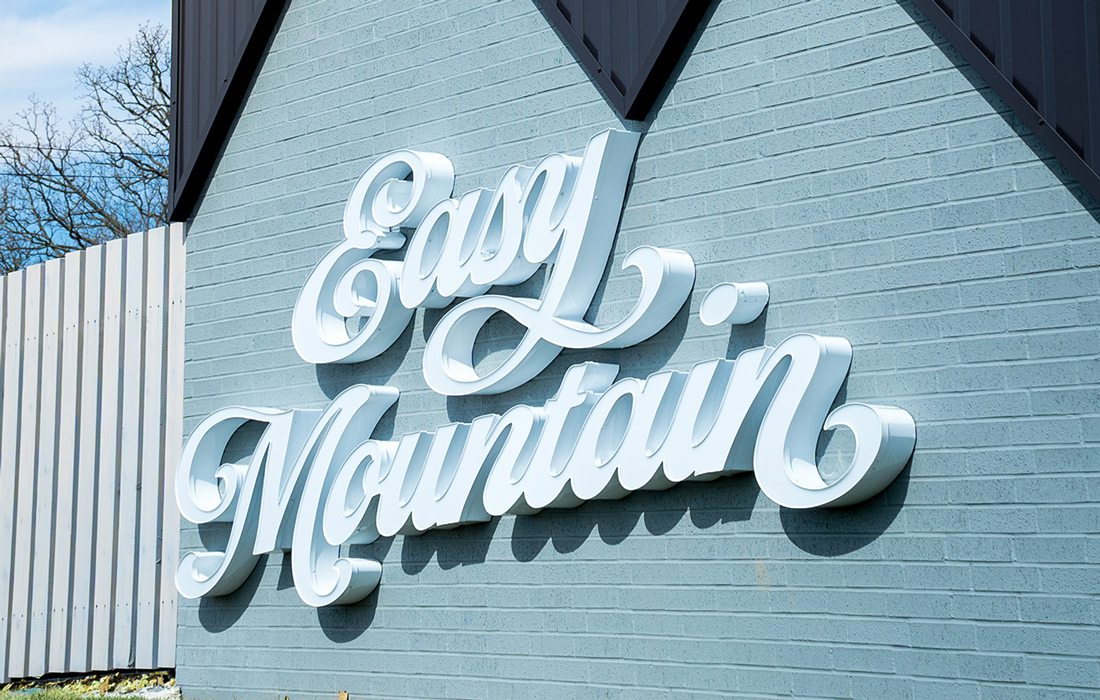 Photo courtesy Cory Sanders
The owners of Easy Mountain say they picked Republic because of the city's momentum and access to land.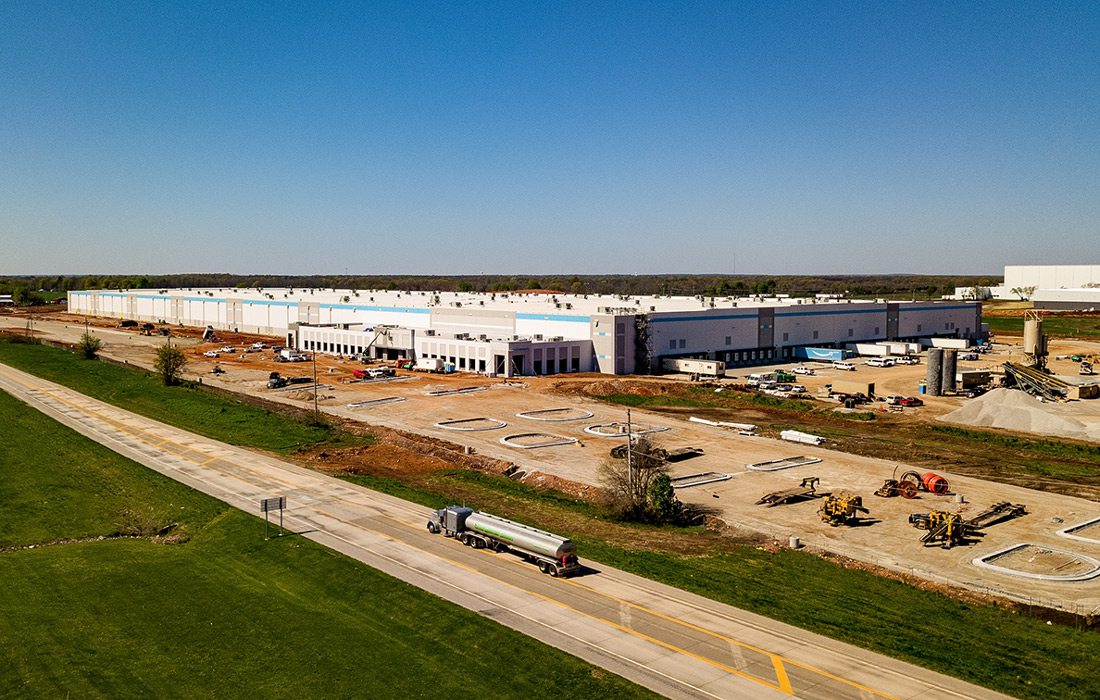 Photo courtesy the City of Republic
The new Amazon Fulfillment Center is estimated to bring 500 new jobs to Republic.
Springfield

City on the Verge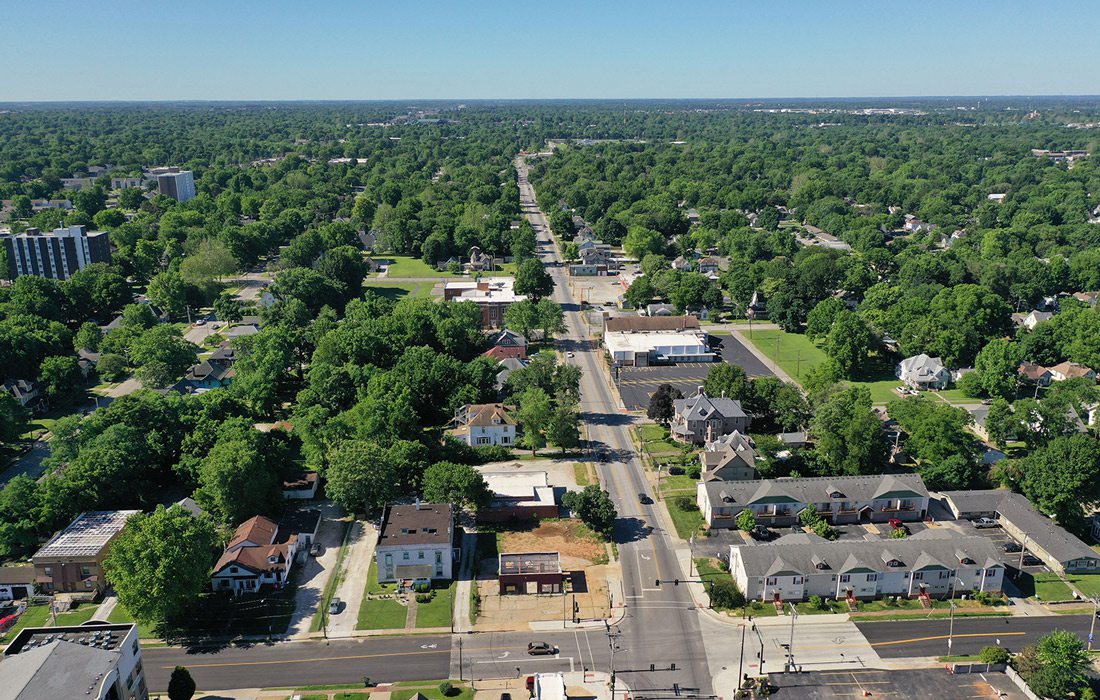 Despite everything 2020 threw at Springfield, Missouri, things are looking rosy for the city. The population continues to increase at roughly 1% annually or about 4,000 net new residents, unemployment is at 3.9% and Springfield has consistently ranked in the top five metro areas in the nation each month for year over year growth in construction jobs according to Ryan Mooney, senior vice president of economic development at the Springfield Area Chamber of Commerce.
Take a quick drive through the city, and you'll see evidence of the growth that excites city leaders including Randall Whitman a principal planner with the Planning and Development Department, Division of Planning and Neighborhoods for the City of Springfield. Costco has broken ground off of Chestnut Expressway, the Springfield Art Museum is making floodplain corrections as part of its new master plan, and infrastructure improvements are happening all over, including downtown where Whitman is working on a new Downtown Plan.
Whitman is also the Project Manager for Forward SGF—the City's overarching comprehensive planning initiative that focuses on creating a 20-year vision and blueprint for Springfield's future. "It's a plan to establish a vision for what we want the city to look like 20 years down the road," Whitman says. "The Downtown Plan is one piece of that," and the goal is to figure out what Springfield residents want out of their downtown and how it should evolve as a place for entertainment, residential and business. Whitman has had one meeting so far with the Downtown Advisory Team, but attendees made it clear they want to make downtown more diverse. "They want to create an environment that attracts more retail and office investment, and they want people to live downtown who will shop there and take ownership of the area," Whitman says.
Community feedback like this is part of what will shape The Downtown Plan, which is still in the discovery and community input phase. The push for a more eclectic and diverse mix of retail, business and entertainment uses is something Whitman and the City are also applying to another study area, the East Trafficway Corridor Subarea. This corridor represents the eastern gateway to downtown and generally includes Trafficway and St. Louis streets, from Chestnut Expressway to National Avenue.
"It's a junk drawer with everything imaginable," Whitman says. "It has housing, antique stores, manufacturing… It's eclectic, and the buildings have a texture to them... but it's not the most attractive area." There are abandoned buildings and brown spaces that are itching to be developed, so Whitman says the City's role is to now facilitate input and identify public improvements that will make this stretch more attractive to residents and investors. Those improvements could be new parkscapes, landscaping, sidewalk repairs, signage… "all of the things that make the public realm more attractive," he says.
The same thought is being applied to the Renew Jordan Creek project—the City's longstanding effort to daylight portions of Jordan Creek near downtown. Around 1930, the City boxed the creek inside a concrete culvert to control flooding. Now, in an effort to beautify the area and address flood mitigation, the City is going to crack open parts of that culvert. Kirkland Preston, who works with the department of public works for the City, is project manager. He says it's rare for a stormwater project to also be about beautification and economic revitalization.
Once the creek is daylighted, Preston says the risk of flooding will be reduced, which clears the way for development. Tim Rosenbury, director of quality of place initiatives, sees this as an example of placemaking. "It will not only look different, it will smell different and sound different," he says. "It will be that sweet and sour combination of nature in the middle of the city." It's not his official title, but Rosenbury is basically Springfield's placemaking czar. He's taken the lead on several City-led placemaking efforts including the Grant Avenue Project, which will turn Grant Avenue into a pedestrian and bike friendly pathway.
The goal of this $32 million project is to connect central hubs of business and tourism including Bass Pro and Wonders of Wildlife to downtown. The 3-mile stretch will include Wi-Fi and 10-foot-wide sidewalks for pedestrians and cyclists. Overhead utilities will be moved underground, and existing greenspaces will connect with the route. Rosenbury's hope is that this project will connect some of Springfield's biggest attractions and be the catalyst for neighborhood improvements along Grant Avenue.
Another major project about to begin is at the Springfield Art Museum. Estimated at $20 million, this redesign will give portions of the museum a total facelift, increase parking and outdoor exhibit space and tie the museum into its natural surroundings. The first stage of the project—flood mitigation efforts to Fassnight Creek—is set to begin this summer. The biggest change will be the addition of glass-fronted wings, one of which will face National Avenue. "Nothing we put outside will be better than what we have happening inside," says Museum Director Nick Nelson. "But we wanted to connect nature and art."
As part of that effort, Fassnight Creek Greenway Trail will extend around the museum. "Think of this as a connector between spaces," Nelson says. The goal is to connect Fassnight Trail to Grant Avenue, which connects Wonders of Wildlife to downtown where placemaking is already underway.

Projects to Watch in Springfield

---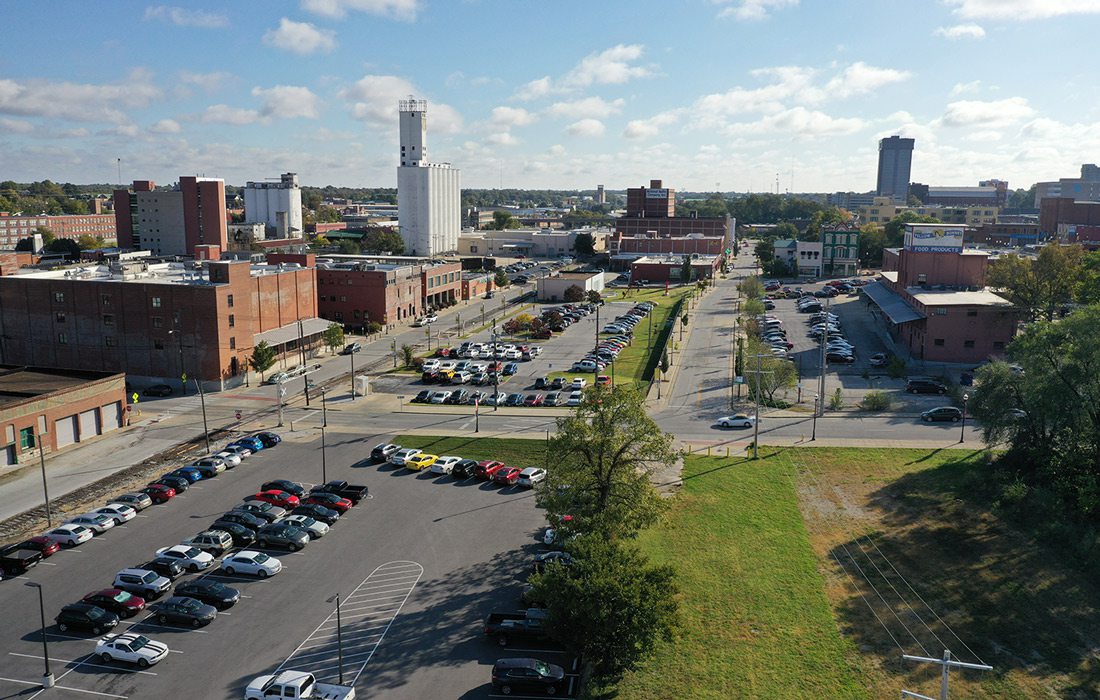 Photo courtesy City of Springfield
The effort to daylight portions of Jordan Creek is seen as a way to mitigate flooding in the area while also improving opportunities for new development.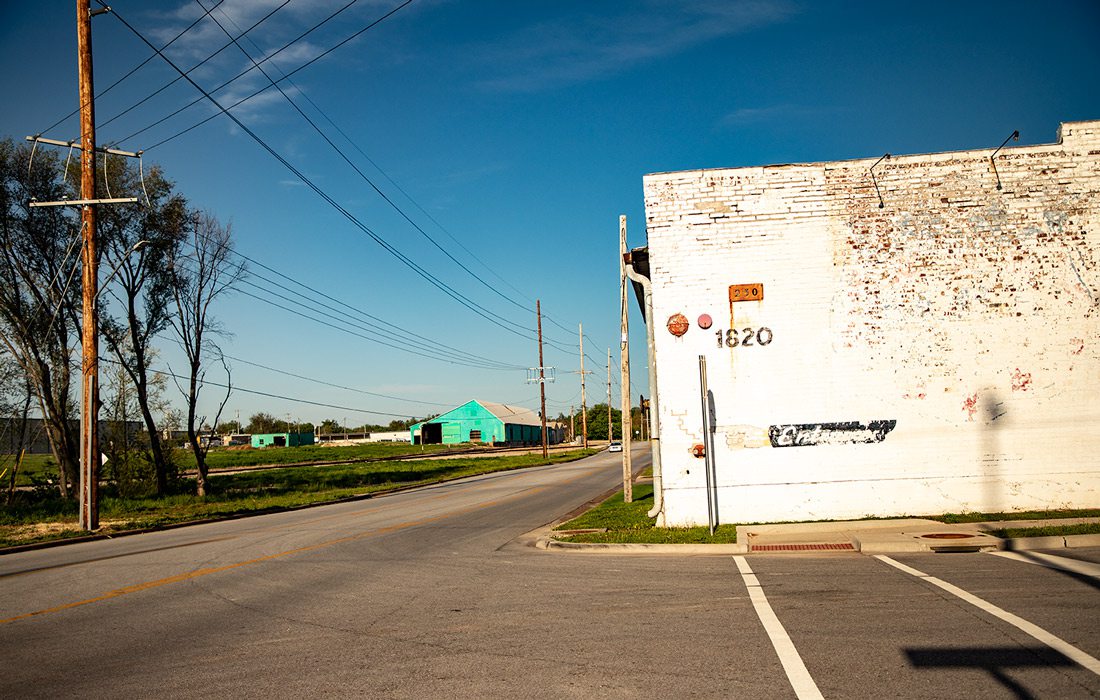 Photo by Leah Stiefermann
While this stretch of Saint Louis Street is often overlooked, the City sees it as a potential area of development. It could house a mix of residential and commercial spaces, so the City is in talks to figure out what infrastructure improvements can be made.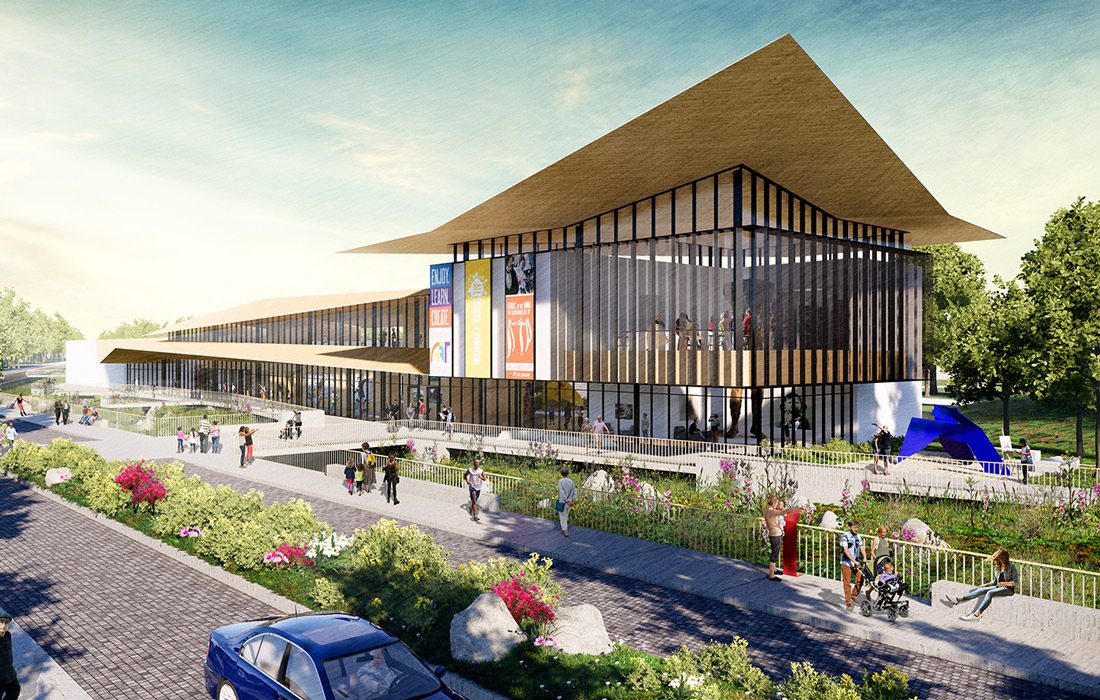 Image courtesy Springfield Art Museum
The art museum's master plan includes several stages, but the first stage is flood mitigation. The museum sits in a FEMA floodplain, so the museum needs to address the flooding concern. Daylighting sections of Fassnight Creek should solve this problem.
Strafford

Positioned for Success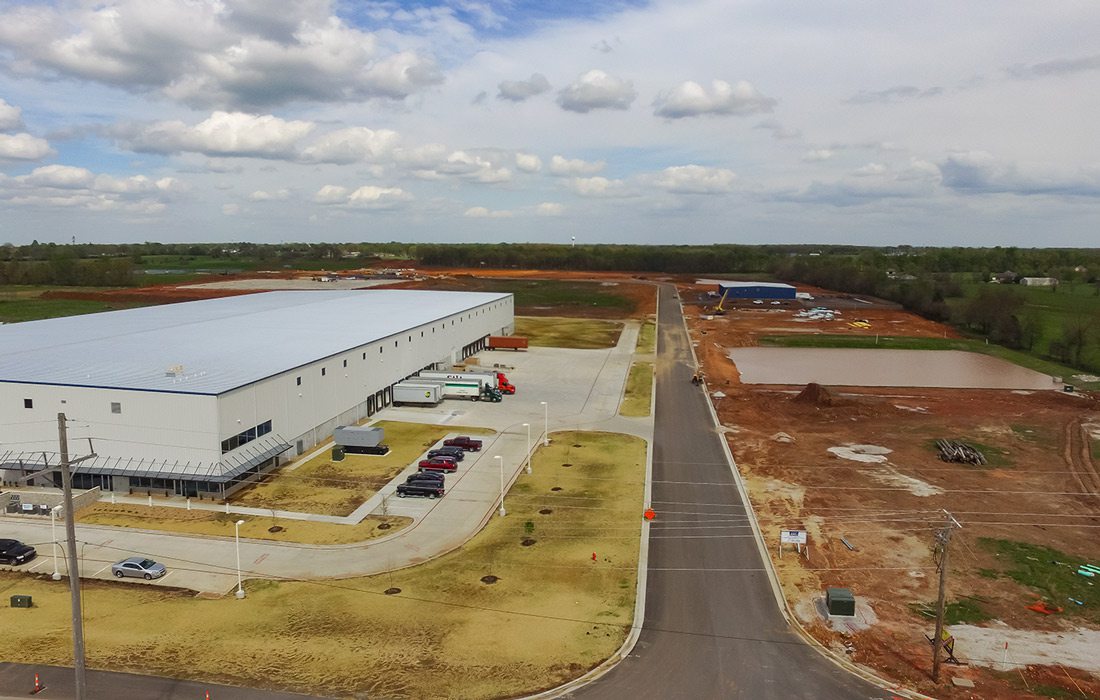 With land to spare and quick access to I-44, Strafford, Missouri has set its sights on becoming a hub for industry. It's already home to Camping World of Springfield, which set up shop on 12 acres near the interstate, and now Strafford is hoping to welcome more business with the opening of the Southwest Missouri Rail and Business Park.
Strafford City Administrator Martha Smartt says the 220-acre stretch of land was on people's radar as a potential site for an industrial park for several years, but movement in that direction didn't begin until 2018. With the help of some rezoning and the implementation of a TIF—a tax increment financing—the undeveloped land was platted into 15 lots and officially named the Southwest Missouri Rail and Business Park.
As its name suggests, the park has access to the BNSF railway, which Smartt says is a unique feature. Smartt says the City of Strafford, which has worked closely with developer Rich Kramer on the project, hopes to attract businesses looking for warehouse/distribution space. Already, the park has welcomed 417 Express Delivery and Warson Group Inc.—a St. Louis-based shoe distributor. "Progress at the park is ahead of schedule," Smartt says. "The original plan that was submitted to the City estimated it would take three to five years before moving in Phase 2, however with the progress in Phase 1, the developer has submitted plans and been permitted to moved forward with infrastructure in the Phase 2 to market all available lots to potential businesses. There's no doubt this development is ahead of schedule."
It's not just the new industrial park that's seeing growth. Smartt says the City been challenged to keep up with demand for housing as larger businesses such as Camping World, Great Escapes RV and Wilson Logistics move into town. "Strafford platted a new subdivision over a year ago, and it was the first one in 11 years," she says. "To meet the housing needs of the community, the City has been approached by a several developers who desire to build in Strafford. We are doing some strategic planning to be able to serve our growing community and plan for the future as the housing demand continues to ramp up even more with the amount of industry that's coming to the region."
This growth isn't just exciting for the City's bottom line, Smartt says it's also a boon for residents. "I think for the community, new jobs coming to the area is exciting, but it also means more retail and shopping and restaurants will follow suit. That's really something that benefits the residents who are here."