Culture
Biz 417's 2021 Best Places to Work
What makes a great workplace? From flexible hours and telecommuting, to free popcorn and foosball, a lot goes into making a company one of the best to work for. Here are 20 southwest Missouri workplaces that get the balance right.
by Lucie Amberg
Sep 2021
We're working with the Best Companies Group to bring Best Places to Work to 417-land again this year. Nominations for 2022 are now closed.
Companies took many routes to arrive on this list. For some, it was flexibility. Others implemented rewarding bonus systems or employee stock ownership programs. Some incorporated mentoring and professional development into their culture. Everyone doubled down on communication and trust. The unifying factor? These businesses make employee experience a priority. With recruitment and retention on every CEO's mind, you'll want to know why people are calling these organizations southwest Missouri's best places to work.
THE TOP 5 BEST PLACES TO WORK IN SPRINGFIELD, MISSOURI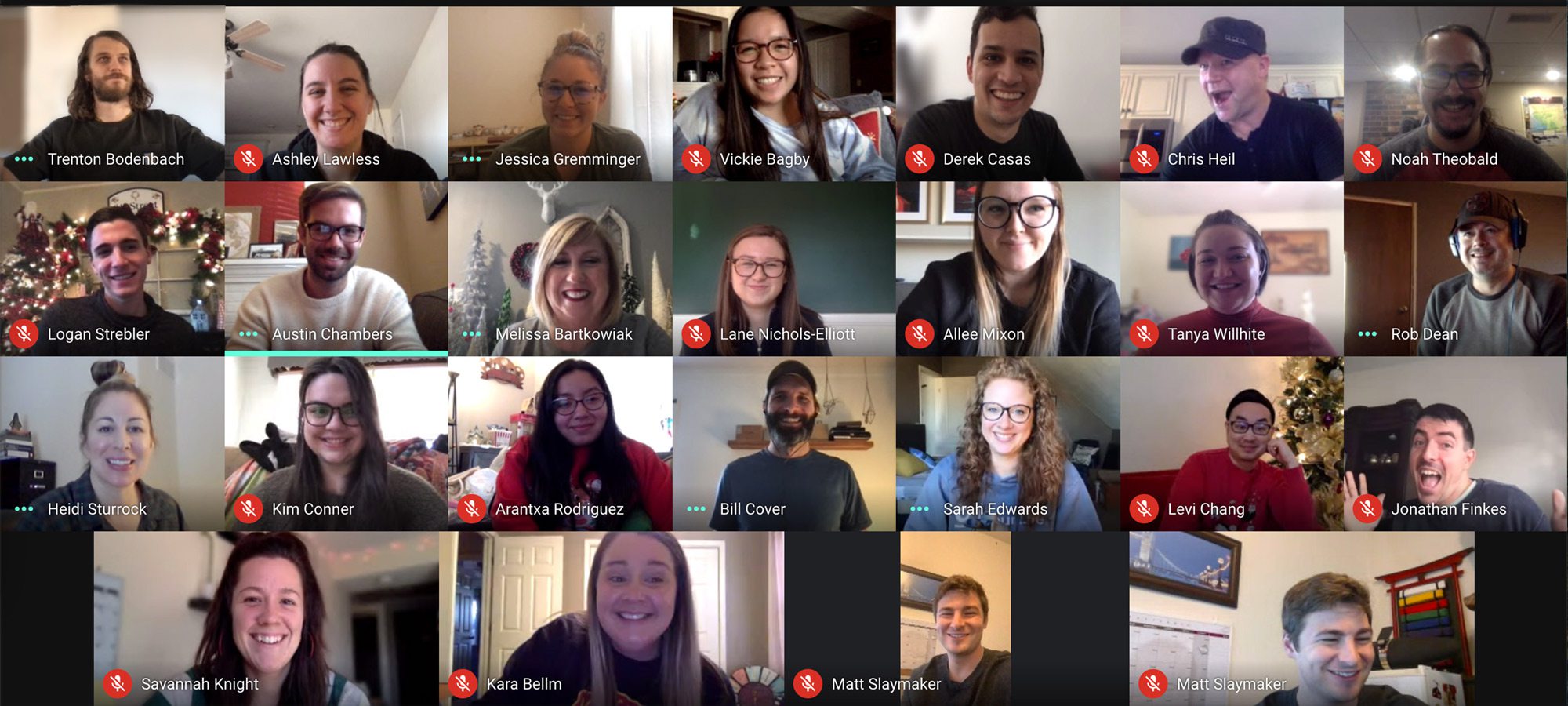 319 N. Main Ave., #130, Springfield, 417-315-8831
HQ: Springfield
No. of employees: 43
Industry: Advertising/PR/Marketing
CEO: Brett Curry
What does it take to hit the No. 1 spot on our list? For OMG Commerce, it was the right blend of freedom and fellowship.
Autonomy and camaraderie are the yin and yang of the working world. Everyone wants the independence and flexibility of remote work without sacrificing the sense of belonging you find in a happy office. Employers that offer both experiences have the potential to send their employees into a balanced state of bliss.
This might be why OMG Commerce finds itself atop the Best Places to Work mountain. Employees at the digital marketing agency enjoy telecommuting options and unlimited paid time off. If you're wondering what "unlimited paid time off" means, COO Sarah Still says it really means "unlimited," provided "the performance of your job isn't getting hurt, and your team isn't feeling negative impact in terms of having to cover for you." All staff have the option of working remotely two days per week, which allows for quiet, dedicated focus time. But the office is important, too. It's where spontaneous interactions happen, sometimes over activities like Ping-Pong, foosball and Jenga, but Still says these recreational perks aren't the essence of what makes OMG a fun place to work.
"The way we define 'fun' is more focused on having fun solving problems and delivering results together," she says. Sure, everyone loves group lunches, happy hours and games, but "as a team, the real enjoyment and fun we have together is doing what we do," Still says. Compensation is also critical. It's important to proactively offer pay raises, Still says. OMG has a guaranteed compensation plan, which ensures everyone receives an annual salary bump, and additional pay increases happen, too. These extra raises are calculated according to a set ratio system, derived from the business's bottom-line target numbers, which ensures raises are distributed in an objective, fair manner. Still likes to spice things up by offering them at times other than annual review sessions, when they might feel obligatory. "It's exciting and fun," she says, "if it happens when you're not expecting it." 
"The way we define 'fun' is more focused on having fun solving problems and delivering results together."
— Sarah Still, COO
TIPS FOR SUCCESS
Pay and Benefits
In the 78-question employee survey, employees of winning organizations reported greater satisfaction with their pay and benefits. In fact, seven of the top 10 difference-making survey questions—the ones where the scores of the 20 Best Places to Work most significantly diverged from organizations that didn't make the list—explicitly related to compensation packages.
Worth noting: The Best Places to Work survey didn't ask employees how much they're paid. Instead, it asked if they agreed with the statement, "My pay is fair for the work I perform." 90% of Best Places to Work employees agreed. 69% of employees in organizations that didn't make the list agreed.
2. Ollis/Akers/Arney Insurance & Business Advisors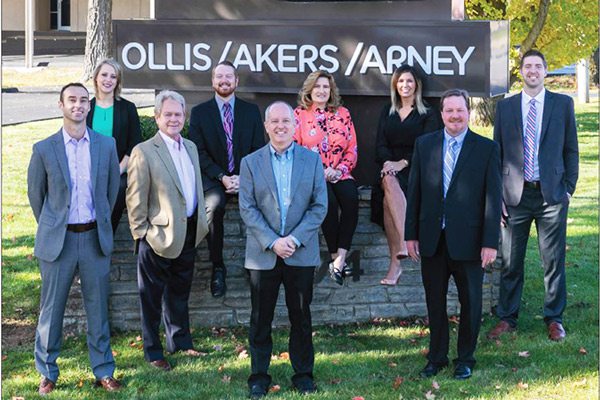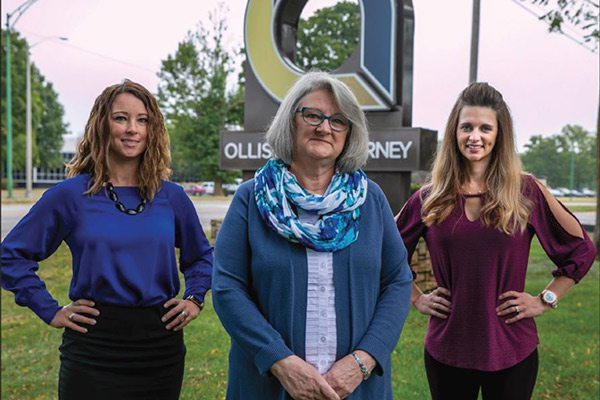 Photos courtesy Ollis/Akers/Arney Insurance & Business Advisors
2274 E. Sunshine St., Springfield, 417-881-8333
HQ: Springfield
No. of employees: 63
Industry: Insurance
CEO: Richard Ollis
Since transitioning to an employee-owned model, President/CEO Richard Ollis has found, "The more empowered our people have become, the more successful we have become."
Stability is a common trait among the 20 Best Places to Work, and the business that came in at No. 2 has an abundance of it. The legacy of Ollis/Akers/Arney Insurance & Business Advisors (Ollis) extends back to the 19th century. Current President/CEO Richard Ollis joined the company his great-grandfather founded in 1984—about the time Indiana Jones was sneaking into the Temple of Doom.
Yet even with such deep roots in the business, Richard says the company can still surprise him. For instance, at the beginning of 2020, Ollis was just beginning to implement remote work policies, an experiment Richard wasn't sure would work. When the pandemic struck and remote work became a necessity, he found that productivity actually increased. As a result, Ollis now offers the option to work from home up to 50% of the time.
"The more freedom and flexibility we've allowed, the better we're able to serve clients as a result," Richard says. "It's been a real game-changing experience for us." Since 2008, Ollis has been completely employee owned, a transition that began in the 1980s because, Richard says, the family business "needed new 'family members,' so we did it through an employee stock ownership program." This model is now a foundation to company culture. Personnel are referred to as "employee-owners," and Richard says trust, commitment and respect flourish when everyone has a literal stake in the business.
In turn, "employee-owners" maintain their environment through transparent, intentional communication. In regularly scheduled meetings, teams gather to anticipate, discuss and solve problems together. These sessions not only strengthen bonds between colleagues; they also limit interruptions during the work week. And they're critical to the company's mission: addressing risk in the organizations and households they serve. As Richard says, "We are in a business of trust."
"The more freedom and flexibility we've allowed, the better we're able to serve clients as a result."
— Richard Ollis, President/CEO
TIPS FOR SUCCESS
Flexibility
If it seems like everyone's talking about flexibility these days, it's because many workers are prioritizing work-life balance. By big percentages, the 20 Best Places to Work were more likely to report offering either telecommuting options and/or some degree of flexible scheduling options. And among the Top 5 organizations on the list, it was 100%.
For many companies, COVID-19 sped up a movement toward remote work that was already on the horizon. As Abacus CPAs (No. 15 on the list) reported in its Best Places to Work application, "The pandemic reinforced [the maxim], 'Crisis accelerates trends,' and our firm's 'why,' which is 'People deserve better.' We knew employees would serve clients, no matter the circumstances. And we were right. We adapted, embraced change and thrived."
100% of the top five Best Places to Work offer telecommuting and/or some flexible scheduling.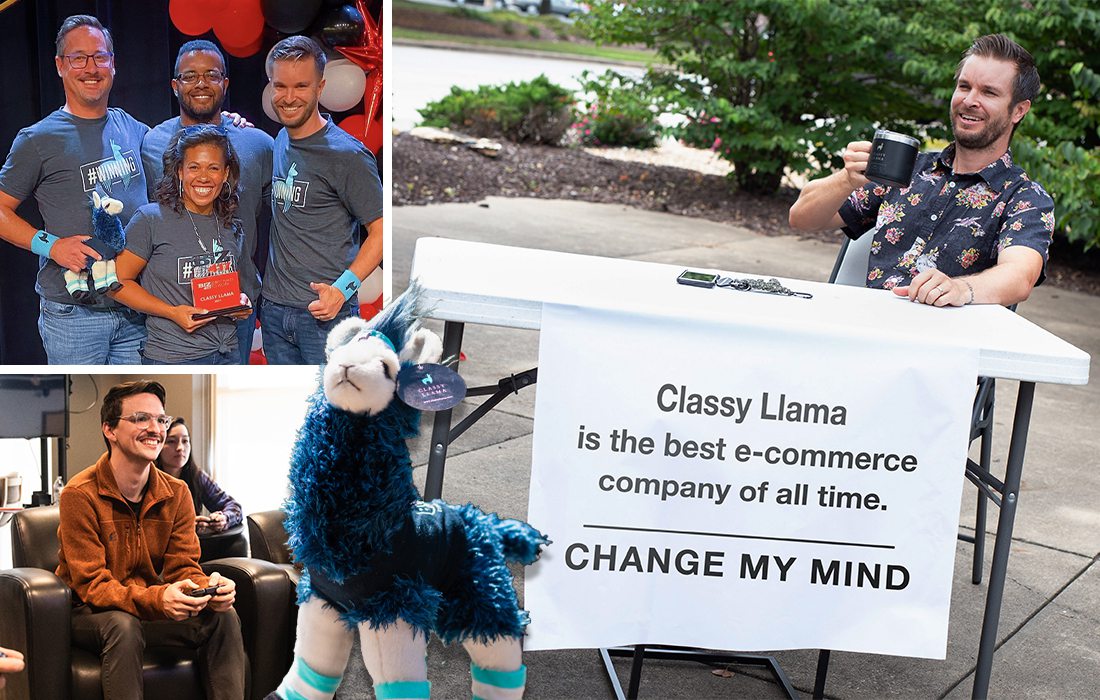 2215 W. Chesterfield St., Springfield, 417-866-8887
HQ: Springfield
No. of employees: 70
Industry: Technology
CEO: Kurt Theobald
This e-commerce agency has a clear strategy for being a great place to work: Treat everyone like they're part of the family.
In its Best Places to Work application, the company at No. 3 on our list stressed the importance of making everyone feel included. Or, as Classy Llama CEO Kurt Theobald puts it, "My favorite thing about working here is that I have the freedom to be fully myself. That's what I want for every person working here."
Even the offices of this e-commerce agency feel a lot like home. Designated "stress-free zones," let employees connect through Ping-Pong, gaming and movies, and the snack cupboard is kept stocked. Classy Llama provides plenty of family-friendly perks, too, like flexible work schedules and telecommuting options. One year in, employees receive unlimited personal, vacation and sick days, a policy Theobald says evolved out of practicality. "I got tired of trying to nail it down," he says. "We want to operate by values and not by rules, and that's what defined PTO is—just a rule set."
The company maintains its environment through intentional hiring and growth and by creating opportunities for staff to really get to know each other. At monthly parties, everyone shares a meal and takes part in contests or competitions designed to help break the ice.
The team also makes time for employees' "real" families and work families to meet and meld. "We believe people are only living one life; there is no clean demarcation, no matter how much corporate America tries to create that hard line," Theobald says. "We want to engage with the whole human and all aspects of their lives."
As Classy Llama wrote in its application, its culture "puts relationships first," and that includes all relationships—"with employees, clients and self."
"My favorite thing about working here is that I have the freedom to be fully myself. That's what I want for every person working here."
— Kurt Theobald, CEO
TIPS FOR SUCCESS
Communication
The 78-question employee survey revealed that employees of the 20 Best Places to Work are happier, on average, with their organizations' communications than employees of companies that didn't make the list.
The 20 Best Places to Work had big advantages on questions that asked employees to evaluate the openness and transparency of their companies' communications, like the ones to follow:

"I have a good understanding of how this organization is doing financially."
91% of Best Places to Work employees agreed. 78% of employees in organizations that didn't make the list agreed.

"I feel I can express my honest opinions without fear of negative consequences."
89% of Best Places to Work employees agreed. 76% of employees in organizations that didn't make the list agreed.

"Changes that may affect me are communicated to me prior to implementation."
88% of Best Places to Work employees agreed. 73% of employees in organizations that didn't make the list agreed.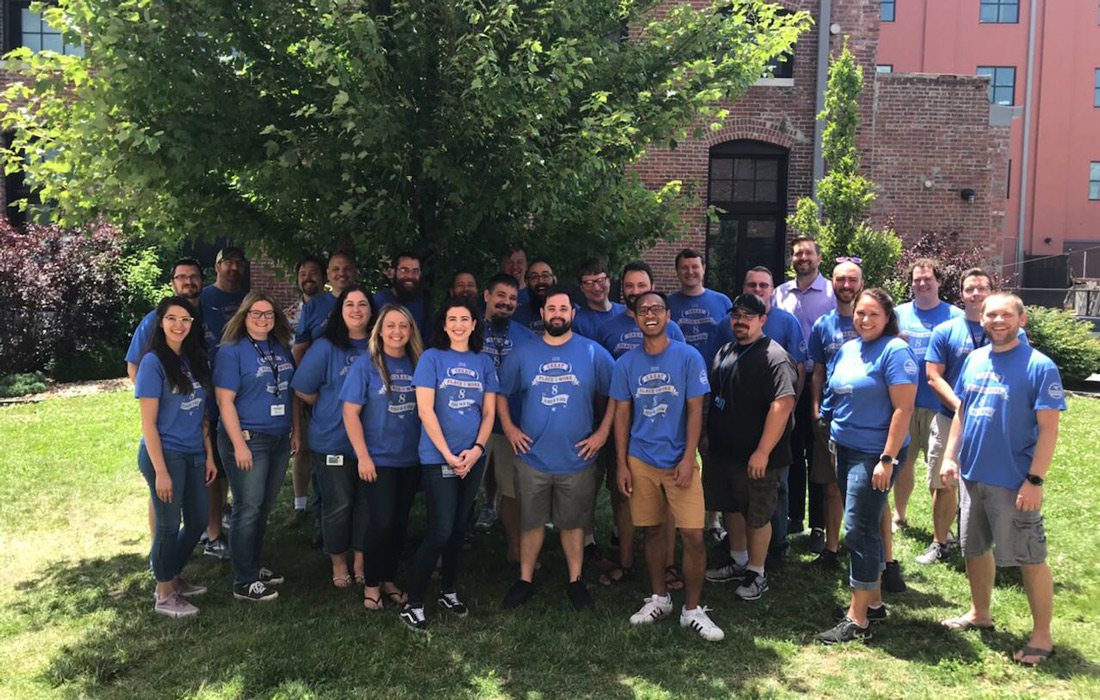 440 N. Campbell Ave., Springfield, 417-351-6634
HQ: St. Louis
No. of employees: 6,654 (37 in Springfield)
Industry: Technology
CEO: Jim Kavanuagh
This technology provider looks for people who will connect with its core values, which are collectively known as "the path."
It's hard to define what trust means, but if you have it, you know it," says Ben Pomerenke, technical operations manager for the Springfield office of World Wide Technology (WWT), which came in at No. 4 on the Best Places to Work list.
At WWT, more than 6,000 employees manage to work together from cities as far apart as Mumbai, Phoenix and London. And they maintain that long-distance teamwork while serving the integrated technology needs of big brands, including Fortune 500 companies. Most of the 37 WWT employees working in the Springfield area focus on custom software development, and Pomerenke believes their work is efficient because they trust each other.
For example, WWT often utilizes pair programming, a technique in which two programmers work together as they write and review code—functioning almost like one entity. Teams also conduct brainstorming and ideation as a group. "If you don't have trust in those scenarios, it can turn into politicking to find a solution," Pomerenke says, "and then you don't get to the best solutions."
To find new employees who will thrive in this culture, some divisions within WWT include "a specific interview called the values interview," Pomerenke says. "It touches on what it means to be an ideal team player." During interviews, candidates answer questions designed to shed light on their ability to rely on others and flourish in the WWT world. This process helps confirm that new hires will relate to the company's core values, collectively called "T-H-E P-A-T-H" (trust, humility, embracing change, passion, attitude, teamwork, honesty).
Pomerenke says it's fitting that trust—the lifeblood of collaboration—is the first "T" in "the path." It's what helps WWT deliver innovative solutions for clients all over the world, and that's the whole point.
"(Some divisions within WWT include) a specific interview called the values interview. It touches on what it means to be an ideal team player."
— Ben Pomerenke, Technical Operations Manager
TIPS FOR SUCCESS
Team Building
Sometimes it's the little things. When it comes to small gestures and creative activities that help relieve stress and break up the work day, the 20 Best Places to Work are pros. Next time you're seeking a treat, contest or activity to boost morale, take a cue from these experts .
"We bring in food trucks or mobile vendors so employees can try something new. We've had wood-fired pizza, coffee and ice cream trucks. Once we even had a shopping break with a mobile clothing boutique."—BKD CPAs & Advisors (7)

"We look forward to regular 'fun days,' things like cornhole contests or themed dress days, when we show support for specific sports teams or causes."—West Plains Bank and Trust (9)

"We host frequent contests with cash rewards or prizes like canoes, branded attire or a night out for your team."—Sun Solar (17)
"We have a wellness program with cash bonuses for completing objectives and fun mini-challenges. For example, last year, we were challenged to walk enough steps to span the distance between every state where a JMARK employee lives."—JMARK (11)
"Multiple times a year, a local coffee truck comes by to provide a pick-me-up, courtesy of the firm."—KPM CPAs & Advisors (18)
"Our holiday parties are usually themed and highly competitive. For example, during the weeks leading up to Christmas, we divide into teams and compete by making food and decorating the office."—Sapp Design Architects (20)
"We host a team member appreciation night at a Springfield Cardinals game. It includes a pre-game mixer and Cardinal Dollars for every team member and family member."—Commerce Bank (16)
"The second Tuesday of every month, we bring in a gourmet breakfast to show appreciation to our employees."—Cabinet Concepts by Design & Simply Organized by Design (8)
"Every week, we enjoy 'Popcorn Thursday' with plenty of popcorn for everyone. Once a quarter, we set up a whole popcorn bar with extra add-ins."—Next Level Solutions (10)
"After tax season, employees receive $75 gift cards to a local restaurant, so they can treat their families to dinner."—Elliott, Robinson & Company (12)

5. Pearson-Kelly Technology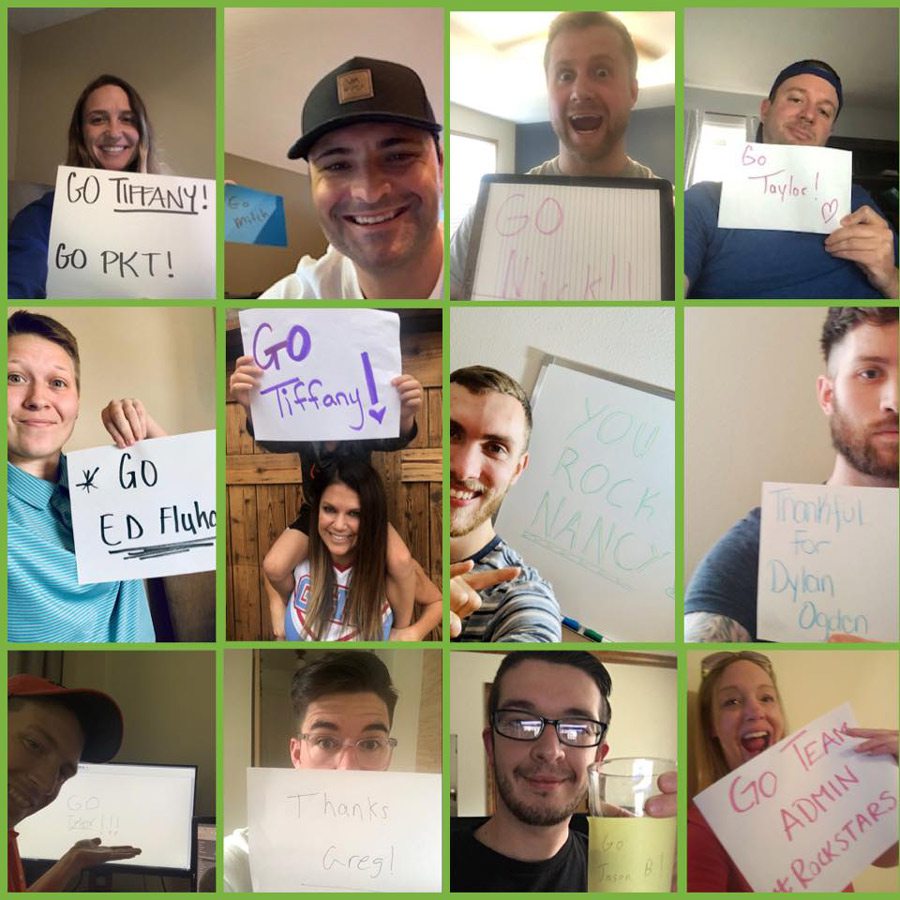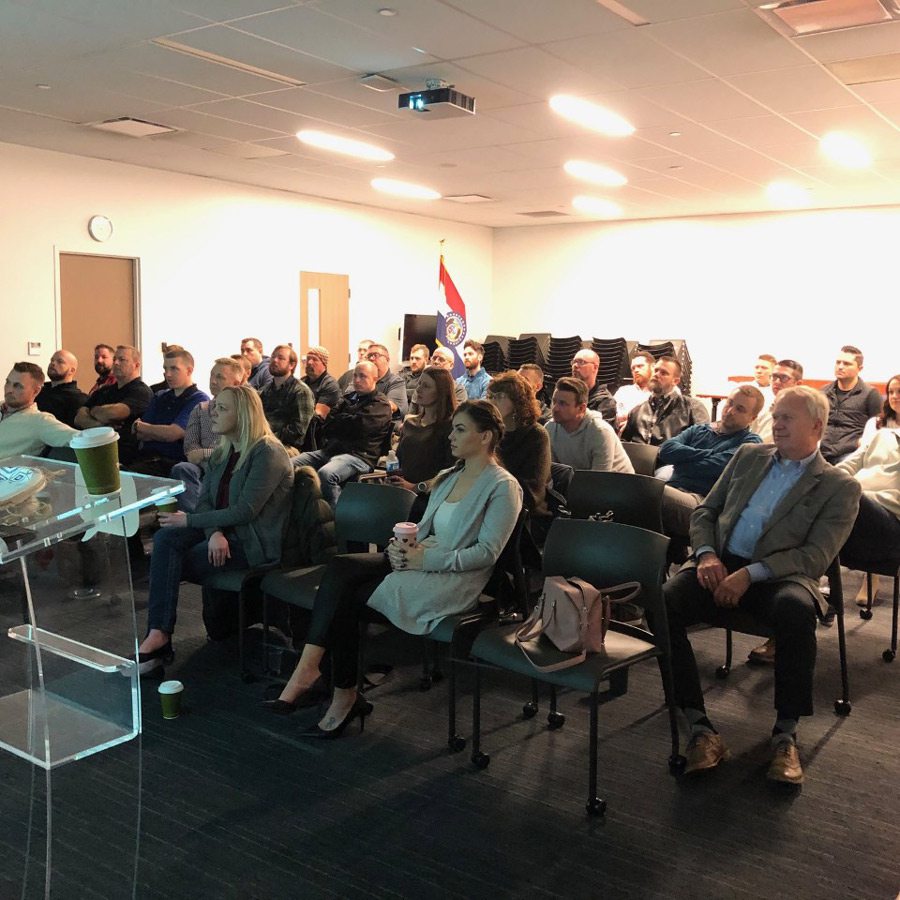 Photos courtesy Pearson-Kelly Technology
2013 W. Woodland St., Springfield, 417-877-0003
HQ: Springfield
No. of employees: 40
Industry: Technology
CEO: Chelsey Bode
Employees say they're looking for opportunities to develop as leaders. Chelsey Bode, president of Pearson-Kelly Technology, says that's also good for business.
Chelsey Bode's story might sound familiar to other family business owners. When she first joined her dad, CEO Mike Kelly, at Pearson-Kelly Technology (PK Tech), she was "employee number six." The business grew rapidly, and it grew up around the family that founded it. Bode says this left PK Tech with "an underdeveloped leadership platform. Because we'd grown so fast, we weren't aware until it really became a problem."
Bode and Kelly were directing every project and process—pitching in the way a family does, but the company had matured and needed a new management structure. "My light bulb was: I'm holding awesome people back because of how we're structured," Bode says. "I was trying to do too much."
Her "light bulb" led to more reflection. PK Tech's leadership team embarked on a process that helped them identify skills and traits they'd consider desirable in new hires. These attributes were used to develop a set of core values that could be clearly articulated as the company's culture and vision.
This new articulation of the vision wasn't a good fit for everyone. According to Bode, 17% of staff positions turned over during the next 18 months, but she considers these growing pains healthy. People who wanted something different had the clarity they needed to move on, and those who sparked to the new vision had pathways to thrive.
The current structure of PK Tech includes double-digit supervisory leadership roles, and all employees receive ample mentorship and professional development opportunities, including coaching sessions that are targeted toward individualized goals, workshops designed to promote healthy teams and cross-departmental focus groups.
This kind of robust communication and management style requires intentional effort, but Bode says it's absolutely worthwhile since it develops the team.
"There are businesses who offer similar services or products. What they can't copy is our people," she says.
"There are businesses who offer similar services or products. What they can't copy is our people."
— Chelsey Bode, President
The 20 Best Places to Work in Springfield, Missouri

14. Nabholz
HQ: Conway, Arkansas
1,205 employees (45 employees in Springfield)
Construction
CEO: Greg Williams
15. Abacus CPAs
HQ: Springfield
78 employees
Accounting
Managing Partner: William A. Dunton
16. Commerce Bank
HQ: Kansas City
4,597 employees
Banking
CEO: John W. Kemper
17. Sun Solar
HQ: Springfield
104 employees
Residential and Commercial Solar
CEO: Caleb Arthur
18. KPM CPAs & Advisors
HQ: Springfield
83 employees
Accounting
Managing Shareholder: Sean Balisle
19. Paragon Architecture
HQ: Springfield
17 employees
Architecture
Principal Architect/Owner: Brad Erwin
20. Sapp Design Architects
HQ: Springfield
25 employees
Architecture
Founder/CEO: Michael J. Sapp
Biz 417's Best Places to Work is a celebration of elite employers who have proven that they know what it takes to create environments where people love to come to work. Identifying and recognizing these outstanding workplaces was a joint effort of Biz 417 Magazine and Best Companies Group.
The Best Places to Work program was open to all publicly or privately held organizations in the 417 region. To be eligible for consideration, organizations must have at least 15 employees in the region, being headquartered in the region was not a requirement.
The "Best Places to Work" survey process was managed by Best Companies Group (BCG). BCG, an independent workplace excellence research firm, managed the registration process, conducted the two-part survey process, evaluated the data and ultimately chose the employers that were good enough to make the list. To go through the assessment process, employers needed to register by February 12, 2021.
Part one of the assessment (one-quarter of each organization's score) consisted of the BCG Employer Questionnaire (EQ), used to collect information about each employer's benefits, policies, practices and other general information. Part two of the assessment (three-quarters of each organization's score) involved the confidential 78-question Employee Engagement & Satisfaction Survey (EESS) which was used to evaluate the employees' workplace experience and culture. The combined data allowed the experts at BCG to conduct an in-depth analysis of the strengths and challenges that exist in each organization. BCG's workplace assessment experts determined who was good enough to make this year's list.
Participation was free and each organization had the option to purchase access to the "BCG Insights Reportal" organizing the employee data collected through the employee survey process. In addition to the employee opinion data, the "Insights Reportal" also included transcribed employee written comments, as well as benchmarking data from the winning and non-winning organizations. This data will help each company understand their workforce better and equip them with the information to make improvements.
Email Lara Cohen for more info.
Thank you to Penmac Staffing for sponsoring our Best Places to Work celebration on Wednesday, September 8, 2021 at the Oasis Hotel and Convention Center.