Corporate
Costco Opens in Springfield, Missouri
After months of rumors, investigating and reporting, Costco finally opens its first location in Springfield, Missouri.
By Jenna deJong, additional reporting by Jo Everhart, Caroline Mund
Aug 18 2021 at 8 a.m.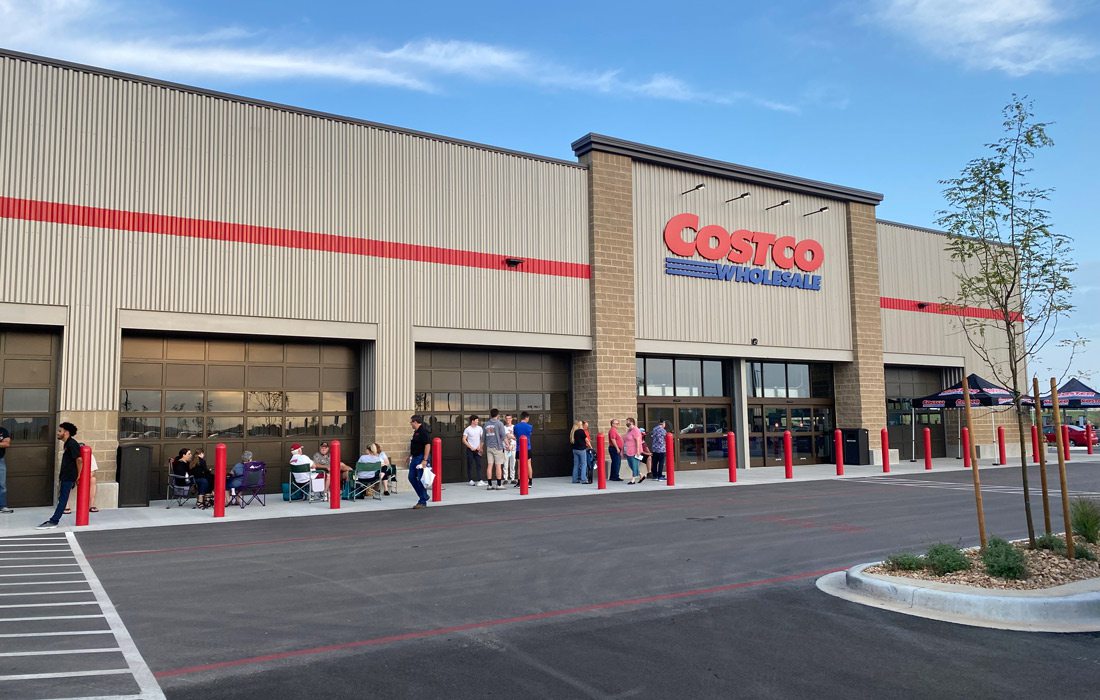 This blog was updated with new information on August 18, 2021

On Wednesday, August 18, Costco held its official grand opening ribbon cutting at the new store location at 279 N. Eastgate Ave., Springfield. There was plenty of excitement in the air to celebrate the grand opening, with a line all the way down the sidewalk waiting to get in the doors. Mayor Ken McClure assisted the store's General Manager Angela Bauer in cutting the ribbon at the door.
Here are some things you should know about the new Costco Store:

Members Only
Costco is a membership-based store. A Costco membership allows you to shop in stores or online, with the main aim of the store being to buy in bulk and save money. The new Springfield store has a large selection of the newest electronics including Xbox Series X, Playstation 5 (at the time of writing, at least) and Apple products, plus toys and games including an enormous stuffed bear.

Home Shopping, Decor and Food
The store offers a range of flowers and plants to decorate your home or garden, plus a wide selection of furniture options for both indoor and outdoor. The food section has all your typical snacks that you might need as well as fresh produce and gourmet meats. Also included is a bakery and a deli counter. The store also offers name-brand clothes including Hunter Boots, Birkenstocks and Louis Vuitton handbags.
Shopping can make you work up an appetite; luckily Costco has their own food court with hot foods like pizza, hotdogs and burgers so that you can take a break before venturing back into the store.

Community Health
In light of COVID-19, Costco will be following the face mask regulations of the applicable state and local jurisdiction. Costco strongly recommends that members and guests wear face masks inside their locations. Check the Springfield Greene-County Health Board website for current information about masking and vaccinations.

See previous information and revisions of this blog below.

---
At the City of Springfield's June 15 city council meeting, the good news was confirmed: Costco is coming to town. According to the city council summary statement, the City of Springfield and Costco agreed to a $4.8 million plan to improve South Eastgate Avenue and East Olive Street. The end result will be a 160,000-square-foot  wholesale and retail general merchandise facility. 
According to the ordinance, the City of Springfield will reimburse the Costco Wholesale Corporation "using a portion of local sales taxes generated by the facility." In addition, Costco "has indicated the requested incentives are necessary to make the project financially feasible." 
---
 The store is set to open in fall 2021. "I'm pleased to announce and also confirm the rumors are true that Costco Wholesale Corporation is considering a membership warehouse retail store in Springfield," said Mayor Ken McClure. "We are so pleased to welcome Costco to our community. We know that there has been a strong interest from our citizens for this store and, in fact, that some Springfieldians drive the 150 miles to get to the nearest Costco. I am positive that Costco will expand our retail base, bringing new customers to Springfield who will surely shop elsewhere while they're in town. In addition, Costco has a reputation for being a quality employer, offering some of the highest retail wages and a robust benefits package."
According to the release, "Costco expects to hire a minimum of 125 people in Springfield – a figure that could rise well above 200." The average hourly rate of pay for Costco employees is $25.50, and a full-time cashier's annual salary after five years is $52,944, a much needed employment opportunity in the midst of COVID-19. In addition, Costco employees receive a health benefits package. 
The construction site is located near Chestnut Expressway and Highway 65. According to the release, "in order to provide an adequate building site for Costco, Eastgate south of Chestnut Expressway will need to be relocated and other street and storm water improvements are required."

---
Rumor has it that Costco is coming to town, but is it true? 
Well, maybe. 
There isn't a whole lot of information on the subject, but what we do know is that Costco is definitely "looking at a site in Springfield" but that "they have not submitted a zoning or building applications," according to Mary Lilly Smith, Planning and Development Director for the City of Springfield in an email. Smith said her understanding was that only Craig Jelinek, CEO of Costco, was authorized to speak with the press. Biz 417 called Costco's corporate office and could not reach Jelinek for comment. We were instead transferred to a representative from the real estate department who said there is nothing definite at this time. 
The Planning and Development Services arm of the City of Springfield reported that there was no building permit on file for this project. The Greene County Recorder of Deed's office confirmed that there was a survey done on August 13, meaning the company did look at a piece of land but has not yet decided to build. 
A representative from Green County's business licensing department said she had asked a Kansas City Costco representative if there were any plans to build a location in Springfield. The Costco rep said the company was interested in coming to Springfield, and had land, but that they haven't done anything with it yet. Both Greene County and the City of Springfield's licensing departments do not have anything on file for a Costco location. 
Springfield is not listed on Costco's website page of "Locations Coming Soon," and when Biz 417 submitted a media request form through the wholesaler's website, the returning page said the company "cannot comment on locations that will be opening more than three months from today." A follow-up email from a Costco representative reiterated the same message. Currently, Costco's website only lists seven cities getting a location with the closest being Loves Park, Illinois. 
We also reached out to the Springfield Area Chamber of Commerce. Both Ryan Mooney, Senior Vice President of Economic Development, and Danny Perches, Project Manager of Economic Development, said the City of Springfield is a close partner of the Chamber's, provided Smith's response, and said at this time, this is the only information they can give.