Offices
CAST at Farmers Park
Farmers Park is always full of activity, and CAST, a workspace cooperative run by Green Circle Projects, is no exception. The current 10 tenants enjoy the laid-back atmosphere full of natural lighting and adjustable music in every area.
By Karlee Renkoski | Photos by Brad Zweerink
Sep 2016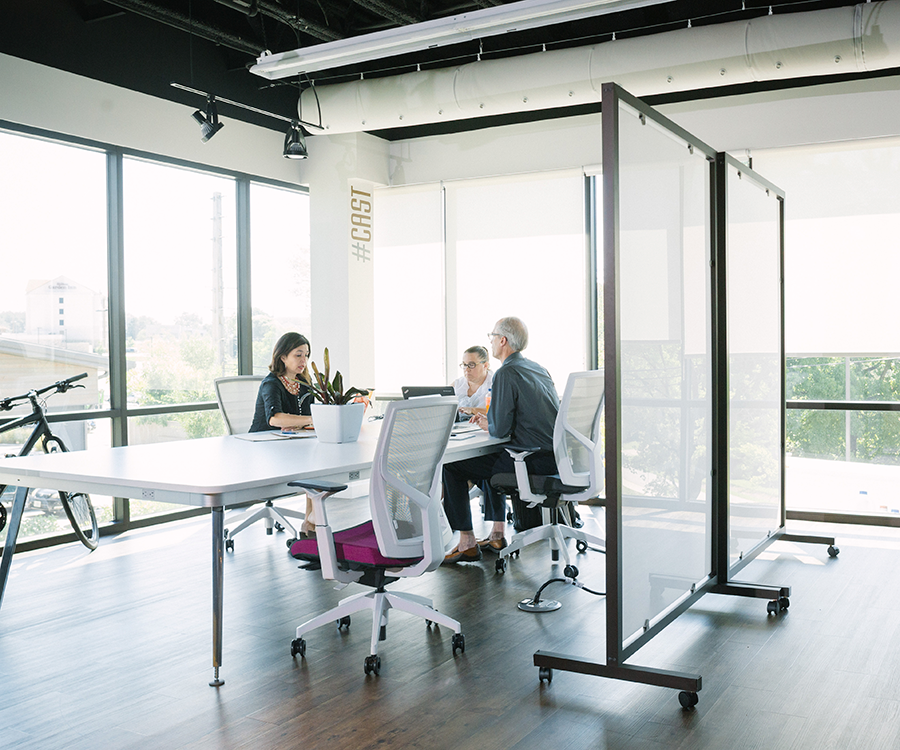 1. CAST recently added rolling partitions around their semi-private conference area. "The space is very popular with our coworkers," Pearson says. "They love the natural light combined with the ability to arrange the partitions." In addition to serving as space separators, the partitions are made out of whiteboards, a useful quality during meetings. 


2. If you're wondering where to find the headquarters for the Springfield Batman, CAST is the first place to look. On his desk is one of his many collection pieces, a Batman piggy bank that serves as a reminder and symbol of his goal to give back to the community.
3. Business employees can check out books from the CAST library at any time and return them when they're finished. The books sit on a pipe shelf that hangs on the wall, which was inspired by Pinterest and made in-house. 
4. The glass enclosed conference room makes it easy to hold private meetings and includes an Apple TV for presentations, bulletin boards and a large glass garage door on one of the short walls. "Open the garage door, move chairs around and you have a very flexible space to accommodate large groups," Pearson says. Employees often pull the blinds down and use the glass as a dry erase board as well.


5. Two insulated rooms—dubbed "Padded Rooms for Disturbed Individuals"—are perfect when workers have a private phone call. The small rooms include a chair and desk, an outlet and padded walls for sound absorption, making it easy to take care of business. 


6. If the coffee, creamers and sugar covering the kitchen cabinets at CAST don't give you an idea about what the employees like, the chemical formula of caffeine on the wall is sure to make a statement. "Coffee is king," Pearson says. "We all have an appreciation for brews of all varieties." CAST has a wholesale account with Brick & Mortar Coffee, and to add to their love of drinks, there is also a kegerator in the kitchen with cold beer.
7. Paintings by local artists brighten the walls with bursts of design and color. "I love the fact that we support local artists, and our white walls are perfect backdrops for highlighting the art," Pearson says. One of the most popular paintings in the office is Brahma by Brad Noble, which glares at passers-by and reminds tenants to grab the bull by the horns.


8. An antique Hammond No. 12 typewriter from Ellecor Design & Gifts floated to different areas in CAST until Community Coordinator Danielle Hartzler started working there two years ago. Now it fits perfectly in the space on her desk at the front of the room as a conversation piece. "It's just one of those pieces that you walk in a store and know you really want it as soon as you see it," Hartzler says.


9. A cardboard cutout of Chewbacca that has made appearances on CAST's social media is often moved around the office. Chewbacca was a gift from an employee's family member, and everyone in the office has a lot of fun with it. Although the placement of Chewbacca can give everyone a good laugh, Pearson says the Wookie has also given her a good scare after being placed right in front of the door.