Offices
Group Benefit Services' High-Tech Remodel
Group Benefit Services' office remodel inside Plaza Towers is a reflection of this insurance claim technology organization's business model: cutting edge and high tech. GBS is a breath of fresh air.
By Hanna Flanagan
Jan 2019
Looking at the Group Benefit Services office, it's hard to believe president and CEO James M. Deren doesn't have a background in design. He poured a full two years into the office's remodel and executed every last inch of the project flawlessly. So, it's only fitting that he gets to reap the benefits of his hard work. Deren's office, which features a curved monitor screen and a 200-terabyte mini server, is beyond a tech nerd's wildest dreams.

With an automatic front door that could easily appear in the next sci-fi box office hit, GBS wastes no time in taking its clients on a time-traveling adventure. In lieu of a traditional sign-in sheet, GBS has an iPad, on which guests can select their names from an appointment schedule, then take a selfie, both of which are automatically sent to a GBS employee to notify them that an office guest has arrived.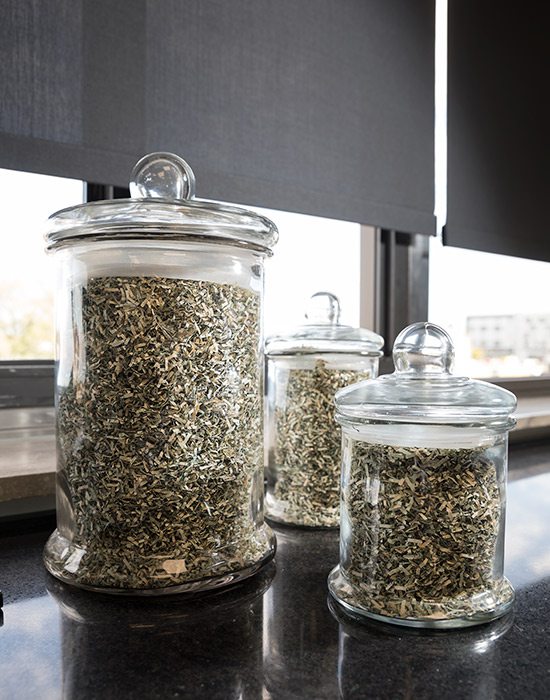 Jars of shredded dollar bills that represent the millions of dollars in claims GBS pushes out every week.
Purchase Photo
Photos by Brandon Alms
The Claims Department feels a bit more laid-back than the rest of the rooms, thanks to a nautical design, which is an ode to one of Deren's favorite hobbies: deep sea fishing in Florida. The impressive decor includes a 550-gallon saltwater fish tank, a waterfall and a U.S. Navy diving helmet. To say the room is on-theme would be an understatement.
Deren appropriately accessorized the Accounting Department space with a jar of shredded dollar bills from the U.S. Bureau of Engraving and Printing. It represents the millions of dollars in claims GBS pushes out every week. GBS's average turnaround rate was less than a day at press time.
The collaborative table inside the Marketing Department room is made up of a 14-foot section of the fuselage from a DC-9 McDonnell Douglas jet topped with a complex LED lighting system. Deren, who sourced the table himself, says he has pictures that document the history of the exact jet from which the piece came. 
Deren says the technological capabilities of GBS are years ahead of industry competitors. And, nowhere is this more evident than in the Eligibility Department—because what's more futuristic than outer space? The walls are embellished with images taken by the Hubble Telescope and columns that are customized to look as though the paint is filled with space dust.